Homes
#EDLoves these lavish bathrooms by Aparna Kaushik
MAY 10, 2021
| By Vedika Nair
Have you ever seen a bathroom so beautiful, you want to live in it forever? We're with you on this one! When your entire home is dressed to impress, why should your bathroom be left behind? Take cues from these ensuite facilities by Aparna Kaushik, who says: "Design is inherent in everything. I design to accentuate the natural qualities of a space; amplifying its particular beauty through seamless functionality and unique form."
Famed for fashioning versatile projects with a comprehensive range of luxury options, she maintains a unique balance between aspirational design and precision.
Fascinated by art and architectural history, Kaushik's work pursues a studied style fusion of both contemporary and classical forms. Get inspired by these opulent bathroom designs…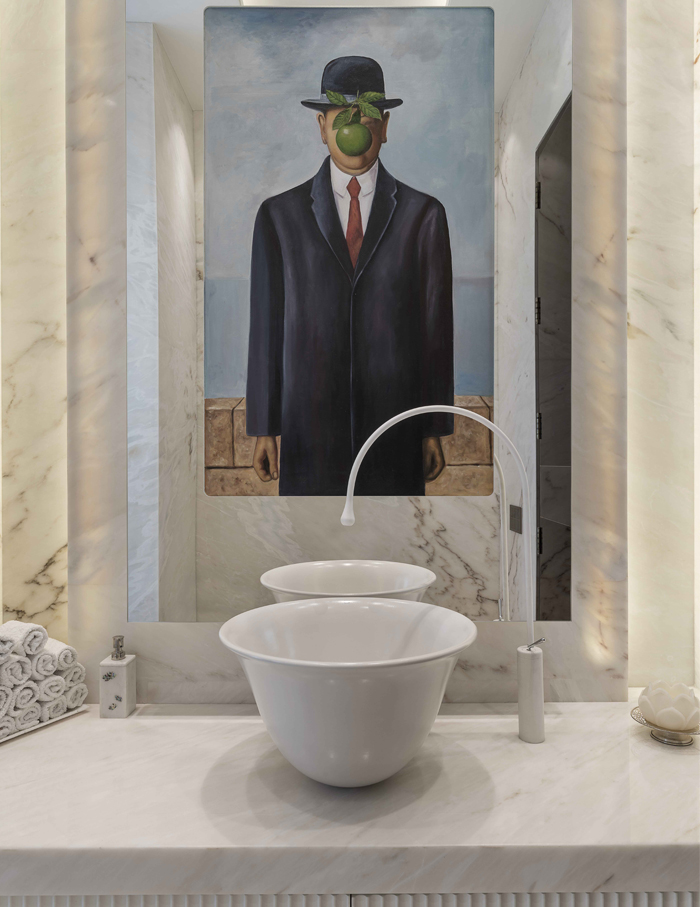 While this bathroom might look simple, the famous self-portrait by Rene Magritte titled The son of man adds an element of surprise and creates an unexpected juxtaposition that exaggerates drama and accentuates the Michelangelo stone!
8. Stable House (see scroll above)
This spacious bathroom is a breath of luxury fused with decor that blends the spirit of renaissance. Seen here is a vintage portrait that accents the space paired with Michelangelo stone.
7. Sunit Jain's Residence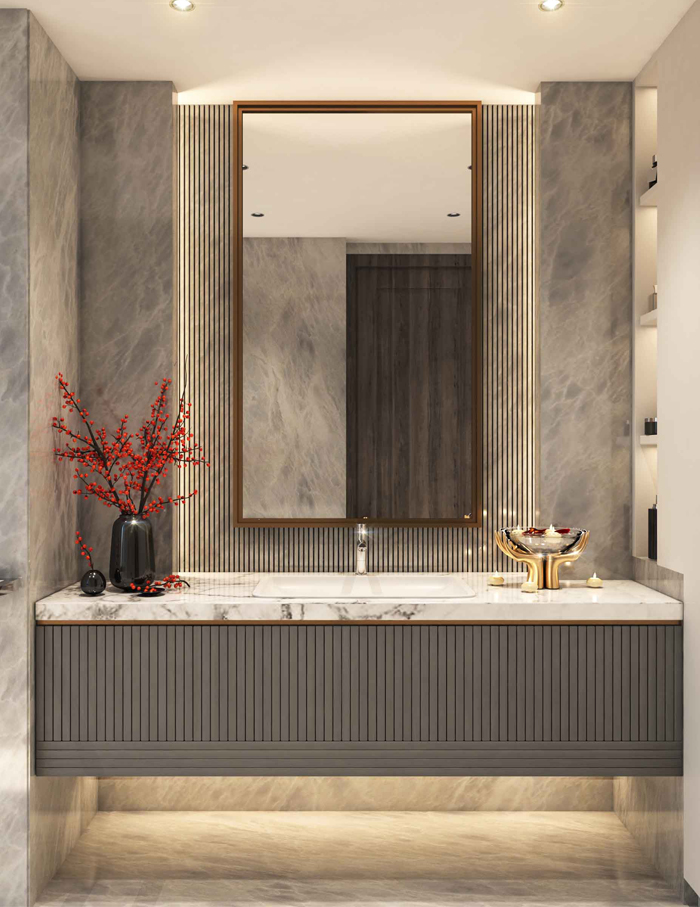 A luxury bath is almost incomplete without a chic vanity space. A grey and white vanity done in grey fury with stone ribbing in this bathroom exudes elegance and makes getting dressed a fun ordeal!
6. Gaurav Mittal's Residence (see scroll above)
This warm and chic bathroom features a Burberry beige stone with grooves and is filled with intricate details that create an opulent aura. A metallic tint is used throughout, while quirky pendant lights illuminate the space.
5. La Maison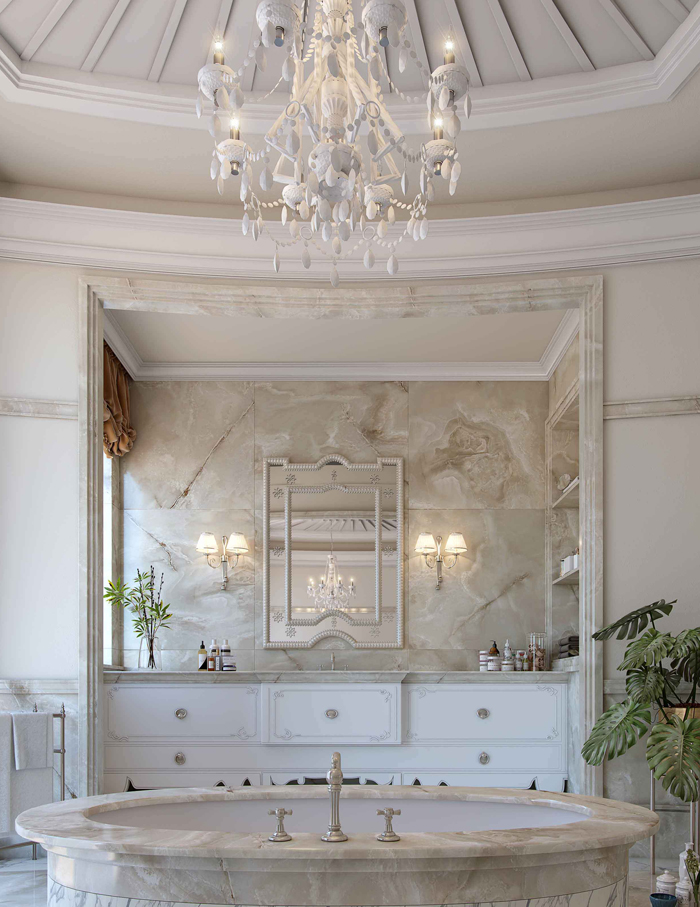 If you're as obsessed with period drama as we are, this luxury bathroom is the one for you! Dressed in white onyx, not only does this space have a vanity room, it recreates a period charm with contemporary sensibilities.
4. Panther House (see scroll above)
In this bathroom, white marble veins direct the mirror above the vanity imparting a sense of depth to the space. A bookmark pattern in Michelangelo stone makes the design seamless and creates a mirror effect.
3. La Maison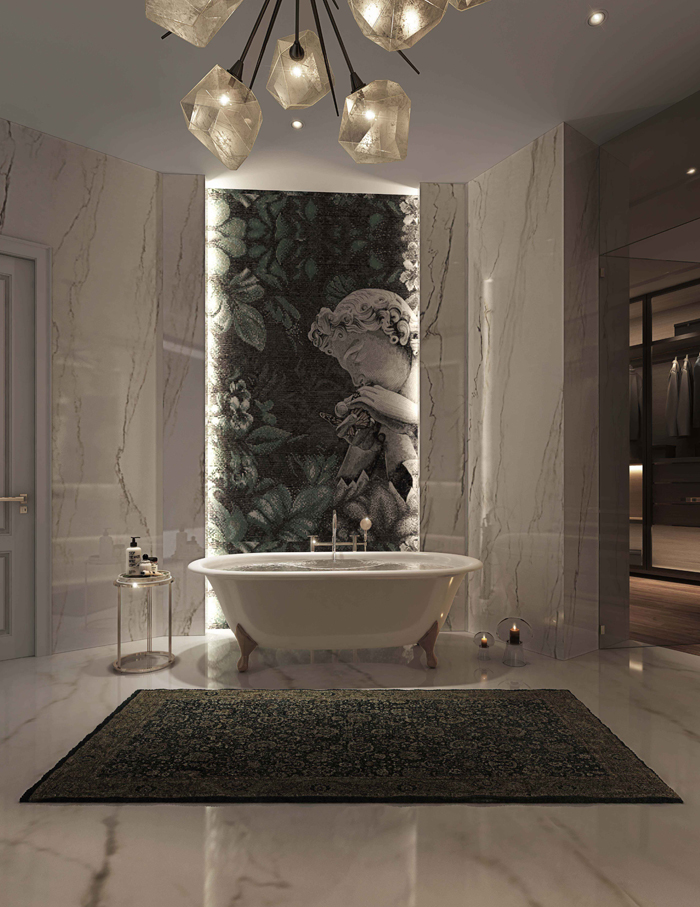 Soothe away troubles with bubbles! This luxury bathroom features a Statuario stone feature wall with a mosaic design, which serves as a charming backdrop to the elegant space as well as the traditional tub.
3. Edwardian House
This marble-clad bathroom is elegant and refined to be visually light. Illuminated by a quirky luminaire, it also features a Statuario stone feature wall behind the bathtub to add edge.
1. Gaurav Mittal's Residence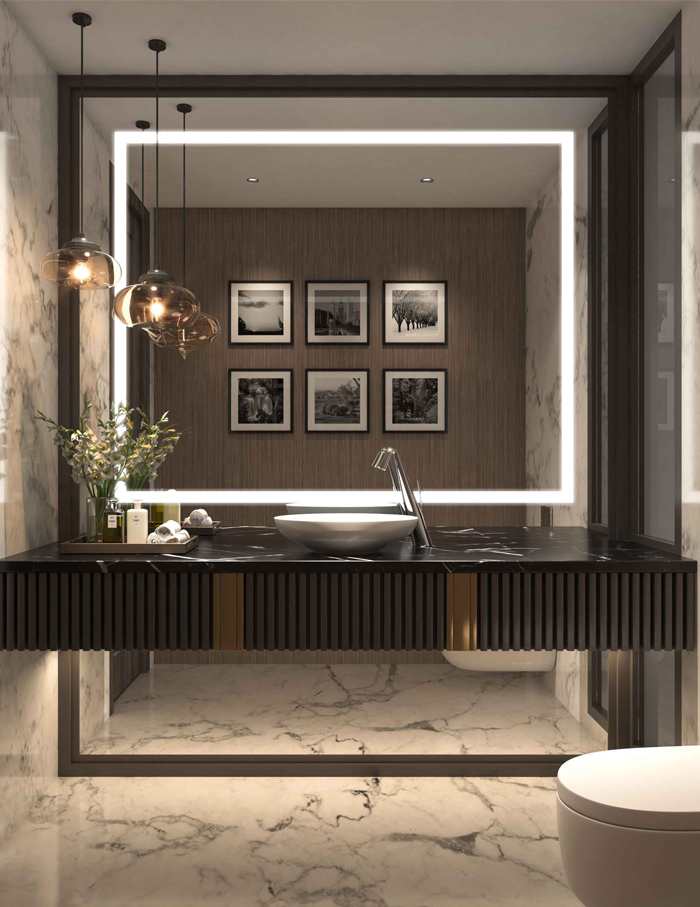 Woody and wonderful, this warm bathroom features timber influences fused with marble. A mirror light illuminates the space and a series of photographs accent the bath.