Lifestyle
#EDLoves these 11 restaurants that are sure to enthral your taste buds and allure your senses!
APR 1, 2021
| By Urvika Barua
Delectable cuisine paired with a captivating ambience! What more could you need to sort out the weekend? Our list of restaurant recommendations includes some of the coolest eateries across the country!
Bastian, Mumbai
The renowned seafood restaurant opens up a brand new and revamped avatar at Worli with a brazenly visionary architecture style. The latest outpost co-owned by Ranjeet Bindra and actor Shilpa Shetty Kundra boasts a 40ft-high ceiling and a 28ft-tall bar that's accessed through a funky elevator with art deco flourishes. Multiple seating areas, a bar lounge and a private dining section are all part of the luxurious decor.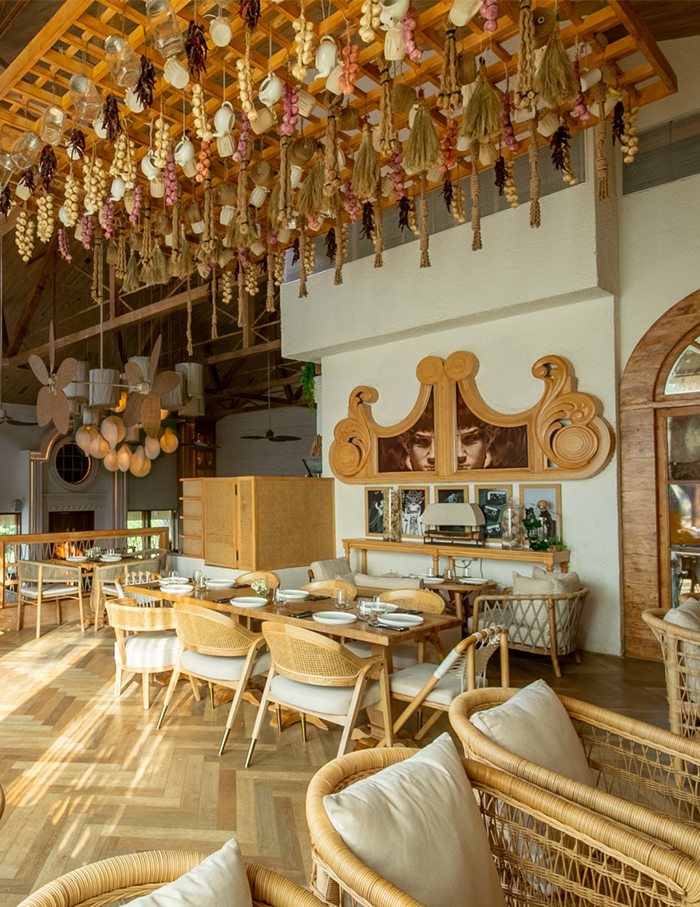 Bastian menu's distinct quasi-Asian and edgy-Californian flavours have now expanded to an even more diverse palette. Mexican, Latin American, Colonial, and European elements have been skillfully incorporated into an immensely extensive vegetarian and vegan menu. 
Notomoro, Udaipur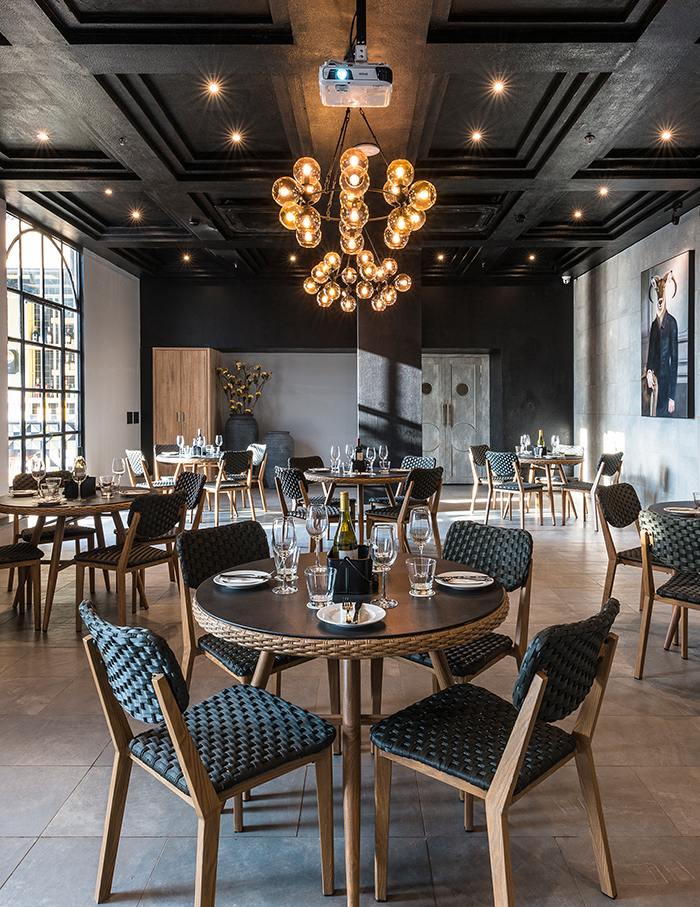 This rooftop resto bar cafe is located in the stunning City of Lakes. Designed by Gaurav Kharkar and Associates, it features rustic grey floor tiles contrasted with vivid yellow, black and white mosaic tiles, and red fire bricks for a balanced ambience. Colour pops in the form of cushions, a vertical greenhouse and the bricks, all of which contrast against the neutral backdrop.
Plum by Bent Chair, Mumbai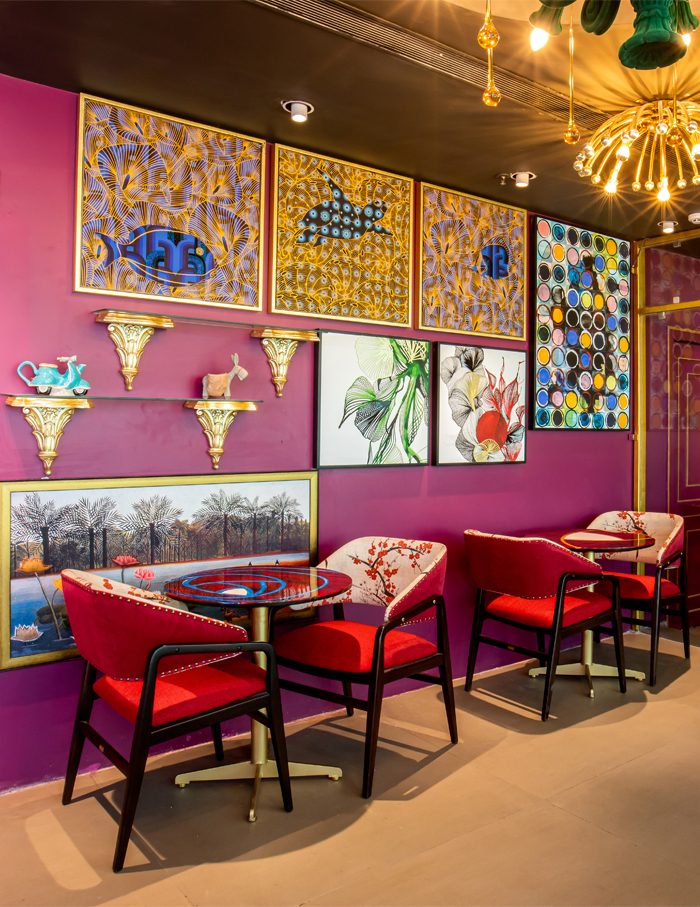 This one-of-a-kind dining and retail experience in Bandra offers delectable pan-Asian cuisine. Spread over 4,000 sq ft, the bar and sushi counter are created using a multicoloured brick-pattern art stone that fades to monochrome as it darkens. RGB lights alter the designs on the wallpaper behind the bar and in the sushi corner, and funky 'bug' lights fly around the ceiling. On the whole, the interiors of the restaurant are plum-hued in keeping with its moniker! 
Queensline Sea Yah, Mumbai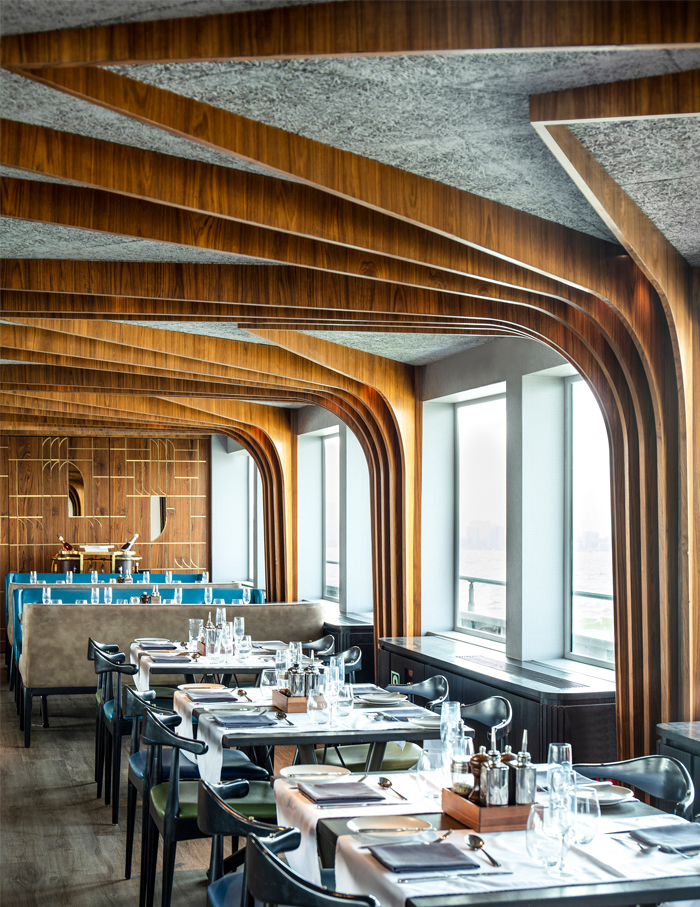 An Istanbul river cruise ship was transformed by SDM Architects into a 75-seater floating restaurant in Mumbai. The four-levelled vessel houses an open-air bar, dance lounge and VIP room. Indian teak, brass and wood embody the rich Indian maritime palette. Quirky elements such as a brass sculpture of a blue whale skeleton, a staircase inspired by a spine and rib structural skeleton are some of the key highlights of a meal onboard. 
Split Bean Cafe, Indore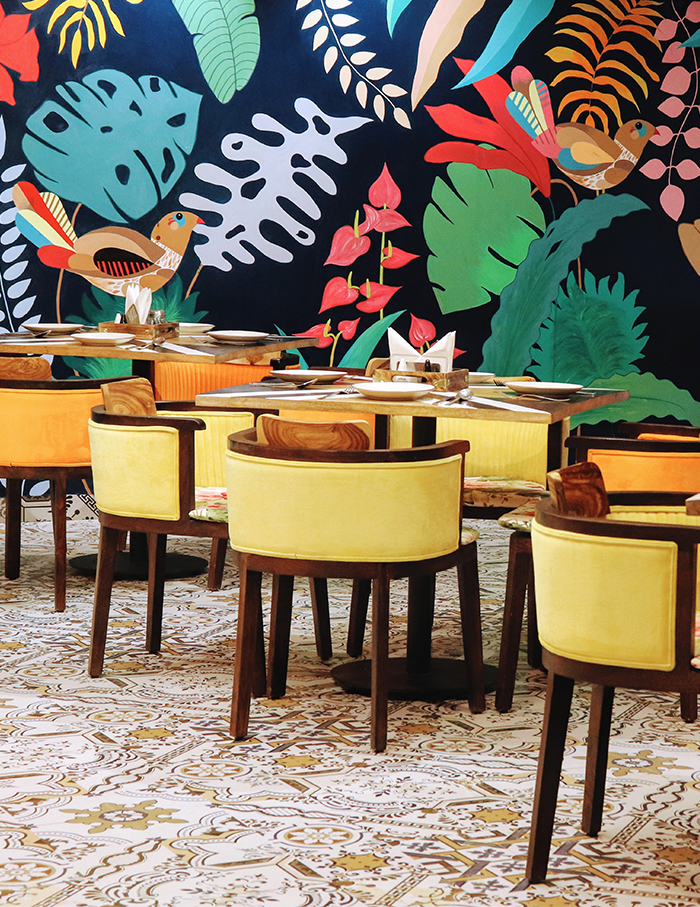 Located in Indore's C21 Business Park, this cafe is curated by Atelier Earth such that there's a surprise for patrons in every corner! Each section within this 4,700 sq ft venue is distinguished by distinct flooring. We love the use of decor elements such as the exquisite bird cages, artificial greenery, pink flowers, Moroccan flooring, frosted glass ball lamps, emerald green leather sofa and Prussian blue velvet chairs.
Social With Distancing, Delhi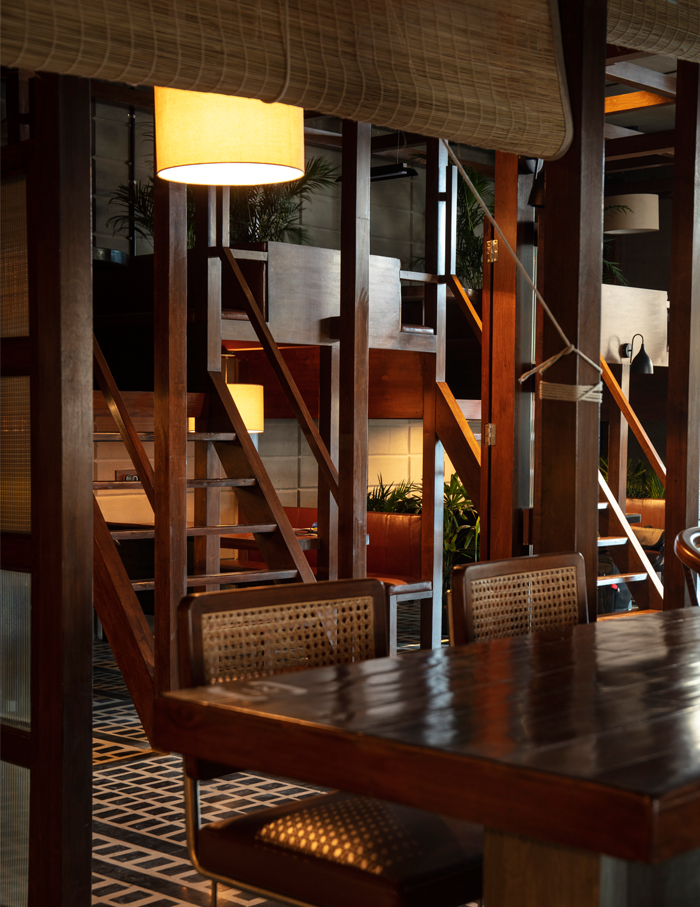 India's first Covid response restaurant and bar opened up in the capital city of Delhi. The 4,400 sq ft venue, part of Riyaaz Amlani's Social properties, is designed by Renesa Architecture Design Interiors Studio to respond to the "new normal" with the help of natural materials and softwood tones. Tonal hues, an array of greens and rice brick wall textures help create a simple yet rejuvenating appearance. Plus, organic cane furniture and lighting perfectly balance the light interiors. 
The BBQ Company, Delhi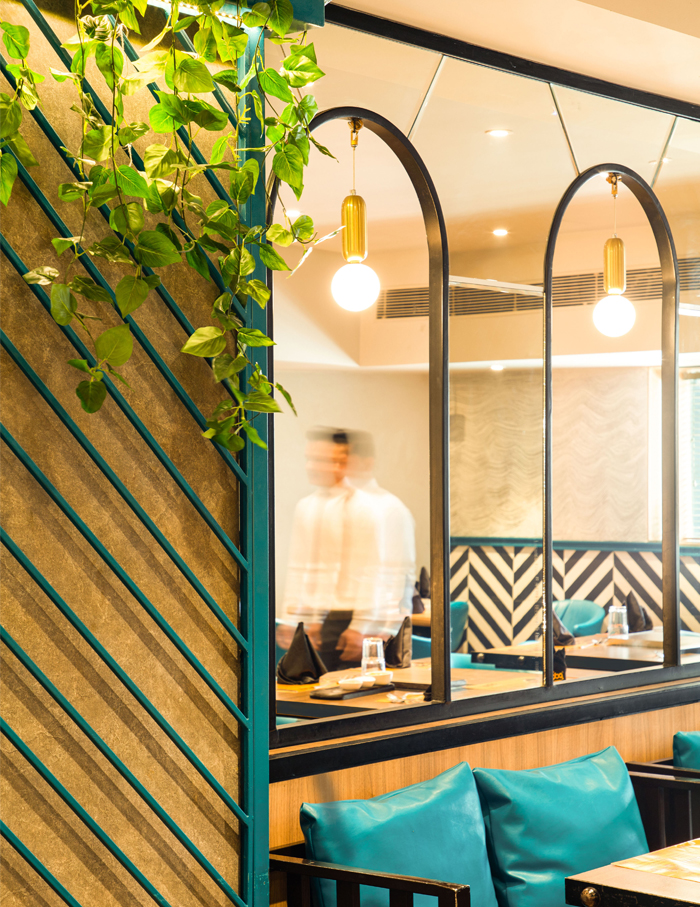 This unconventional, live BBQ restaurant by Design Ethics Architecture Studio (DAC) is divided into three zones—one for private dining and two for open seating. The aesthetic exemplifies 'yin and yang' through the use of turquoise against muted shades. The foundation canvas is kept neutral (white, grey, soft brown and nude), which is refreshed by placing fresh plants and creepers.
TORI, Mumbai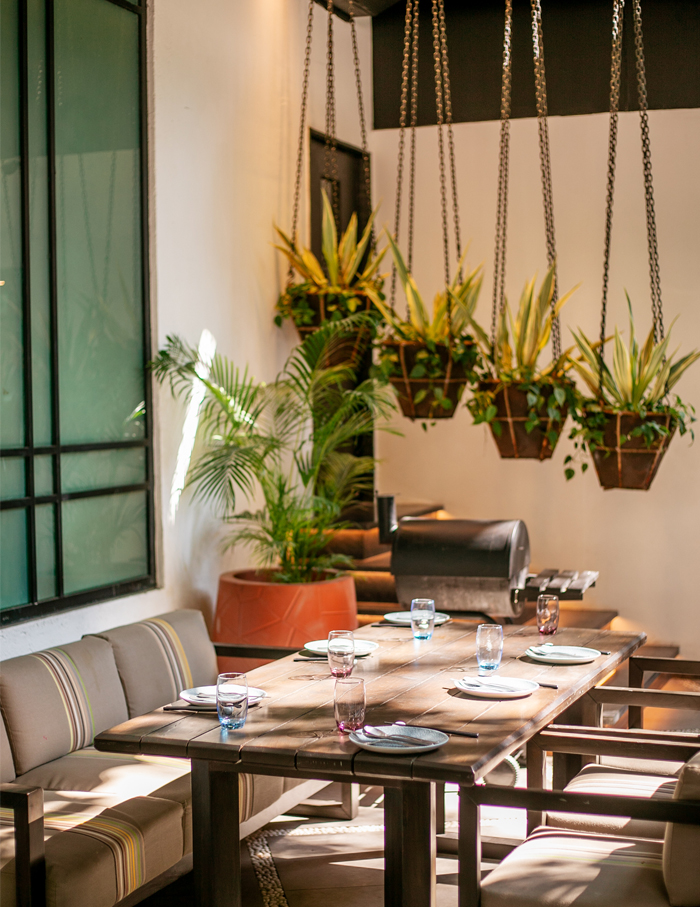 Tori brings Latin Asian flavours to Bandra. Launched by Chef Thomas Catley and serial restaurateur Abhayraj Singh Kohli, this venture blends two cultures that results in an unparalleled experience. Tori's philosophy is uncomplicated: a dish's intensity is calculated by its main elements. These plates are served in a space designed by Gauri Khan in collaboration with Kohli and his creative wife. We love the Asian-inspired murals on the outdoor walls as well as the metallic sculptures seen inside. 
The House of Celeste, Gurugram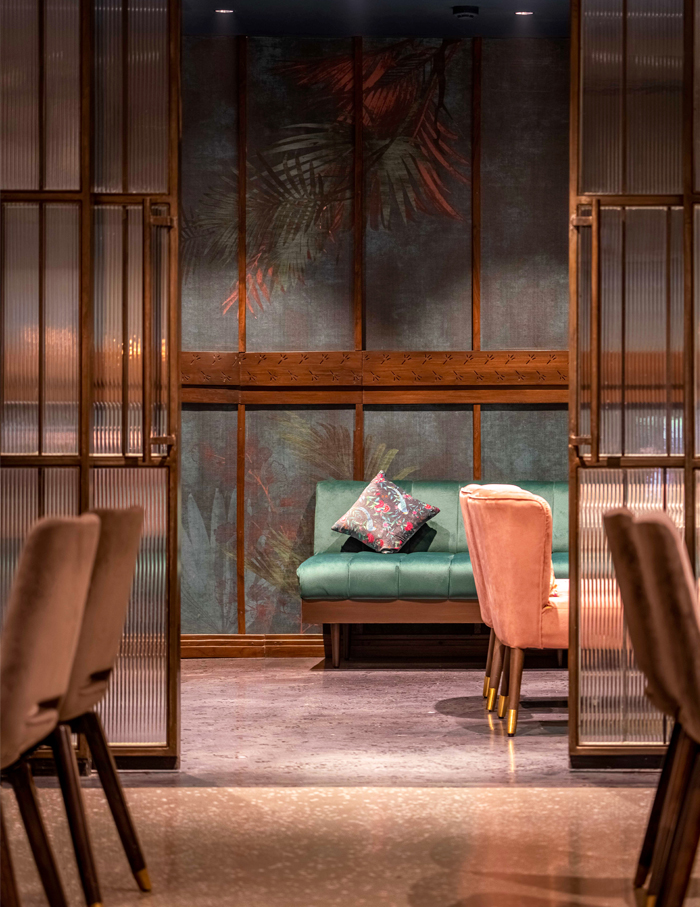 This extraordinary dining space planned by Studio Lotus brings India's multiculturalism to the fore. It features multiple seating arrangements indoors and outdoors. One of our favourites are the fine-dine zone with royal blue walls, circular mirrors and animal statuettes. Another is the private dining area christened Pinjra that boosts diner's sensory experience of being in a birdcage. Then, there's the Cabinet of Stories, portrayed against a verdant wallpaper, featuring flora, fauna and foliage graphics.
OCTA, Kolkata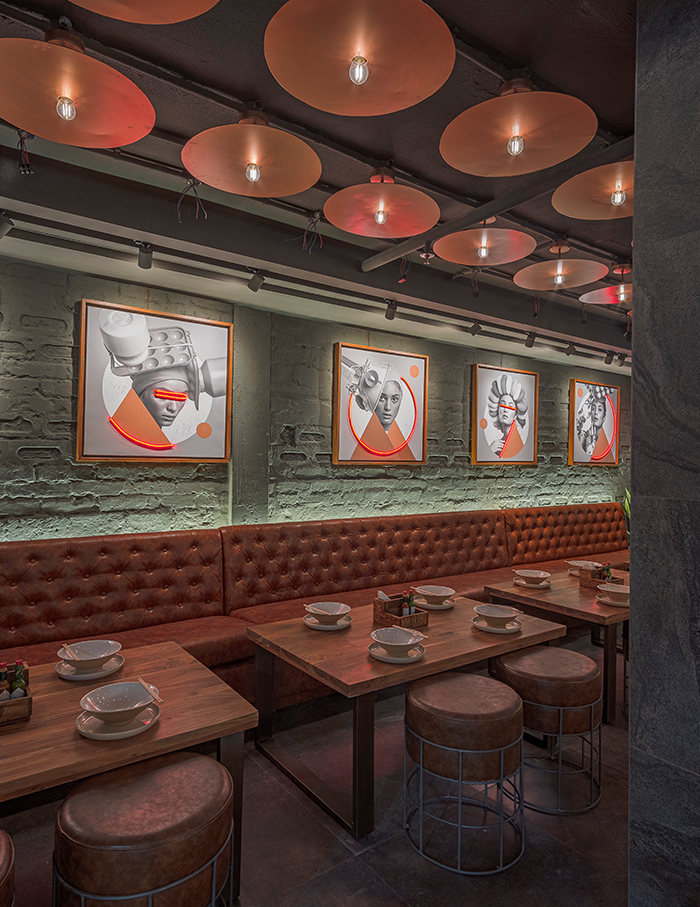 Designed by scenographer Swarup Dutta, OCTA adheres to a spritely theme by merging industrial elements with 1960s geometric accents impacted by Verner Panton's work. A pop of yellow punctuates the predominantly grey and metallic palette. The bar counter uses a pegging style with a geometric pattern built using repurposed industrial components. To complete the look, a low seating arrangement is planned using old industrial era furniture, where faux tan leather upholstery complements the use of copper tints. 
Banquet of Hoshena, Mumbai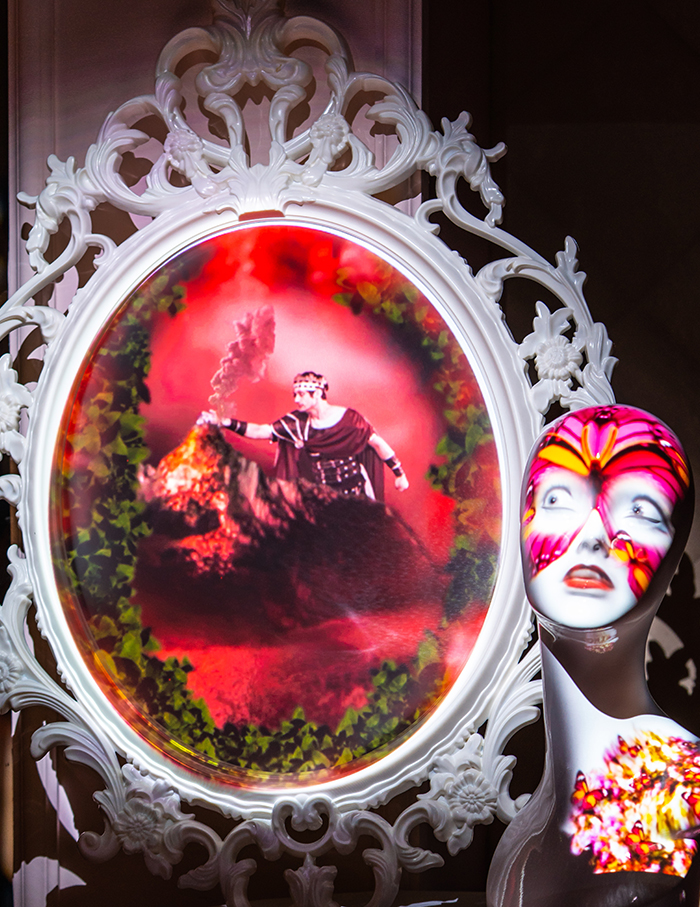 A theatrical dinner setting is now on offer at Ramee Guestline Juhu. The Banquet of Hoshena, a multi-sensory experience is directed by Nadine Beshir in collaboration with Studio McGuire, which takes diners on an engaging voyage over a seven-course set meal, using technology, multicoloured visuals, conceptual props and delicious fare. Enter a mystical universe that is illuminated, iridescent and full of drama!