Homes
#EDLoves these 10 living rooms by Rajiv Saini
MAY 3, 2021
| By Vedika Nair
We're told time and time again 'don't judge a book by its cover', however, we're just human. And applied to the context of a home, it's undeniable that the living room really does set the tone of expectation for the entire house! Rajiv Saini, who's renowned for crafting luxury homes with exquisite interiors, can clearly do it all!
"Design, art and interiors were always interests of mine from an early age," says the self-taught architect, who established his eponymous practice in 1995. A captivating decor scheme in the living room not only emulates its inhabitants but also personifies the designer's aesthetics.
Inspired by nature and its myriad forms, Saini enjoys working with natural materials such as wood, concrete, stone and marble, and metals like bronze, iron and copper. And this is evidenced in some of his best living room designs! Here are our picks of his top designs that promise to inspire your own home makeovers…
10. Weekend villa in Pune (see scroll above)
A casual vibe pervades the double-heighted, open-plan living room in this weekend getaway. It features a pale grey terrazzo that runs through most of this three-storeyed house, unifying the spaces. We absolutely love this living room, which is furnished using some of our favourite iconic products—the George Nakashima bench, Isamu Noguchi lamp and Perriand table. Plus, on the wall, is a large multipart work by artist Tanuja Rane. 
9. Mumbai penthouse (see scroll above)
"Walking down Via Della Spiga in Milan in 2006, while on a sourcing trip for this home, I was requested by the then 25-year-old client to introduce the 'plum' colour of his Dad's jumper in his personal lounge," shares Saini. So, he quickly changed the scheme around a bit, bringing in a plum hue on the lacquered panel and offset it with the help of a white sofa. The space is also decorated with a limited edition blue wallpaper and an accompanying ceramic lamp with an artistic yellow lampshade from Gallery Dilmos 
8. Surat home(see scroll above)
This river-facing, 5,000 sq ft apartment was meant to be a getaway from the homeowners' hectic Mumbai life. Slipcovered linen sofas, Jeanneret armchairs and the neutral natural textures of the furnishings, combined with the art and accessories impart an eclectic yet relaxing atmosphere to space. A photograph by Ashok Ahuja, an Asim Wakif sculpture and a Shilpa Gupta neon light add a contemporary edge to the space. 
7. Indore Home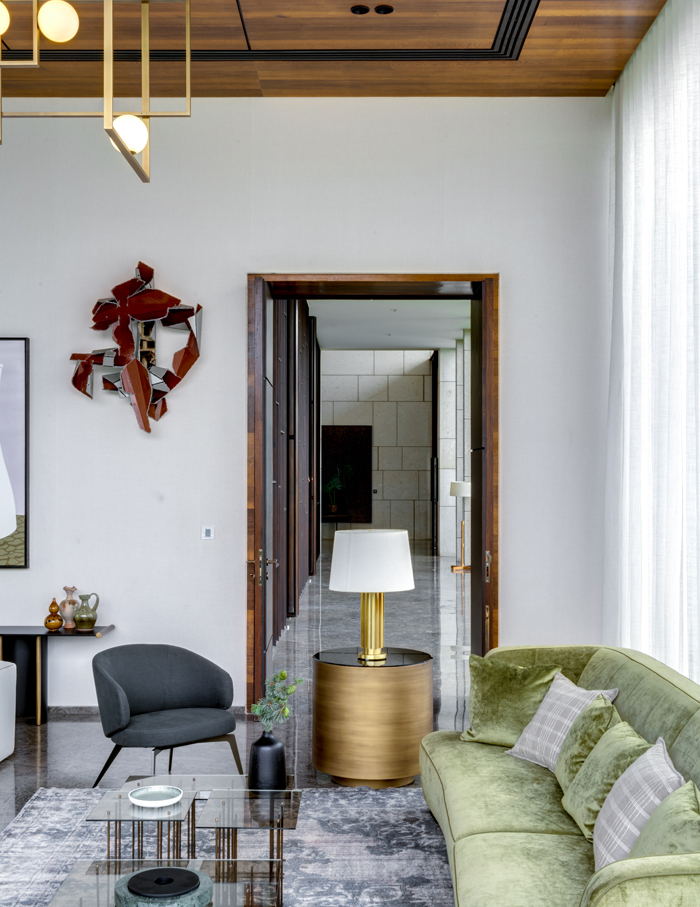 A long colonnade overlooking the landscape connects the living room to the double-heighted entrance lobby of this palatial Indore property. Multiple seating arrangements fill this grand room, which opens up to gardens on three sides. An Asim Wakif sculpture accompanies a large Gigi Scaria canvas on the wall adjoining the entrance door. 
6. New Delhi home (see scroll above)
Designed for a collector of arts and crafts, this floor in the three-storeyed house is furnished with the owner's collection of folk and tribal paintings and artefacts. Customised architectural features and bespoke furniture allow for dynamic scenography—like, the moveable totem (adjoining the painting) can be disassembled to serve as side tables while entertaining. In the foreground is a custom dining table in wood marquetry with chairs that fit into it to form a cuboid when not in use. We heart the traditional embroidered Phulkari textiles from Punjab are used to upholster the custom sofas. 
5. New Delhi farmhouse (see scroll above)
"Completed in 2017, this farmhouse in New Delhi required us to connect two independent structures," says Saini. The designer wrapped the areas in teak panelling that helped unify the odd-shaped areas, and created a large seamless living and dining space. Timber fills the garden facing rooms with warmth and becomes the perfect backdrop for pieces of art and design. 
4. An apartment in Malabar Hill (see scroll above)
In 2013, Saini and his team opened up the warren of rooms in this Malabar Hill apartment to create a light-filled, airy, free-flowing space for a young couple. Storage was an important factor in the design process and is amply provided for by building a 35ft-long wall of suspended cabinets in white lacquer. Accents of colour have been introduced through art and accessories that bring a touch of youthful glamour to the space.
3. Chester townhouse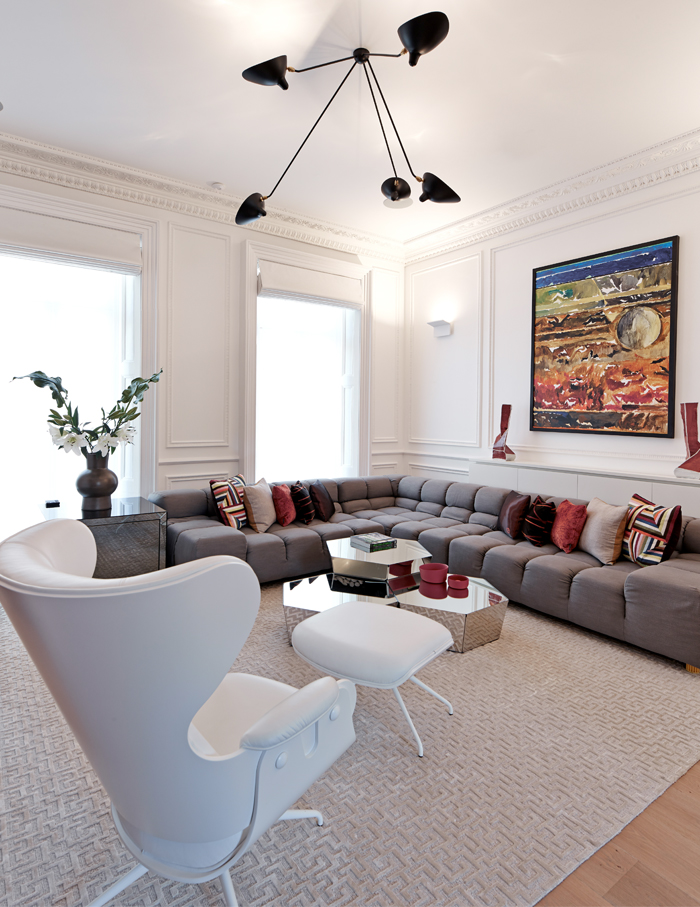 What was once a reception room is now a grand family room on the first floor of a Grade I listed townhouse in Belgravia, London. The period cornicing and wainscotting is restored and preserved in accordance with the city's strict planning and heritage laws. A neutral palette of whites and greys is employed to furnish this light-filled room, infusing colour via the art and accessories. 
2. Malabar Hill home (see scroll above)
A medley of iconic and bespoke pieces of design counters the neutrality of a white-grey, gallery-like palette for the blue-chip contemporary art in this Malabar Hill apartment. Open spaces and lowering windows to the treetops outside fills the apartment with soft natural light. Completed in 2014, this Mumbai home exudes the perfect amount of luxury and minimalism. 
1. Banjara Hills home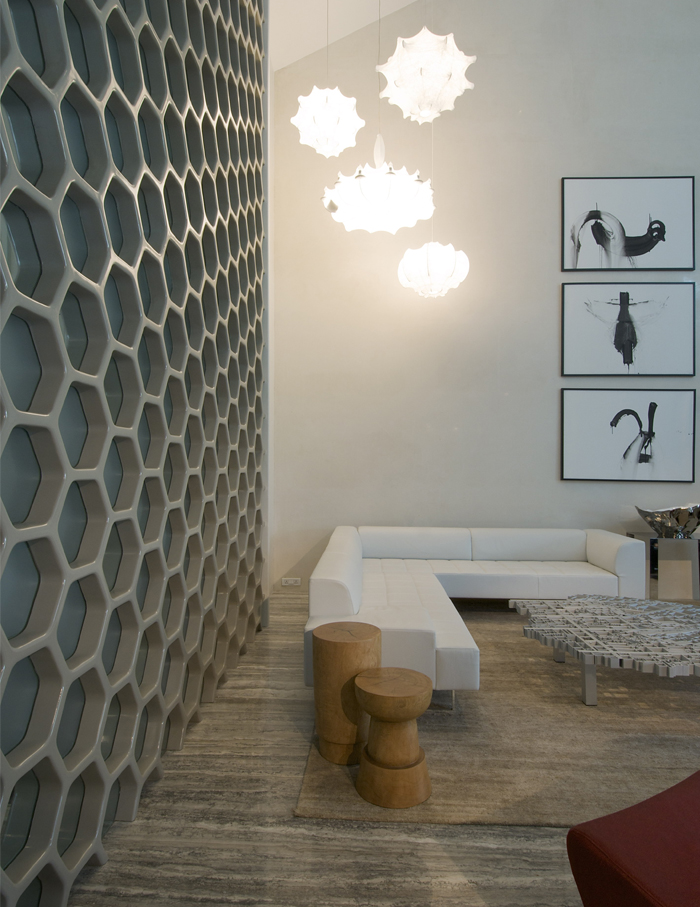 "While architecturally remodelling this Hyderabad house in 2007, we created a central, double-heighted living room, separated by the honeycombed grey screen from the staircase and circulation areas," shares Saini. A pale limestone covers the double-heighted wall, adorned with monochromatic canvases by Vanita Gupta. An aluminium coffee table by the Campana brothers and a limited-edition pony covered sofa by Zaha Hadid fills the room with contemporary flair.