Design
#EDExclusive Vikram Goyal journeys Delhi to London for first international exhibit at PAD London Fair
OCT 2, 2023
| By Pratishtha Rana
Oscillating between formulas and free-form fluidity, the metier of metal surpasses the rigid boundaries of ordinary. This is especially a precise semblance to the works of Indian designer Vikram Goyal, whose magnolious pieces are born out of ancient Indian techniques of metalwork, now set to travel to a new geography! This month, his namesake Vikram Goyal Studio will journey all the way from New Delhi to the UK to showcase curious metal-based collectibles at PAD London Fair for the first time — from 10th to 15th October 2023. 
Curated by Nilufar Gallery, a nexus of historic and vintage collectibles existing since 1979, Vikram's arrival at PAD marks his first international exhibition and the first solo display by a contemporary designer from India at this London fair; a rather prodigious one at that.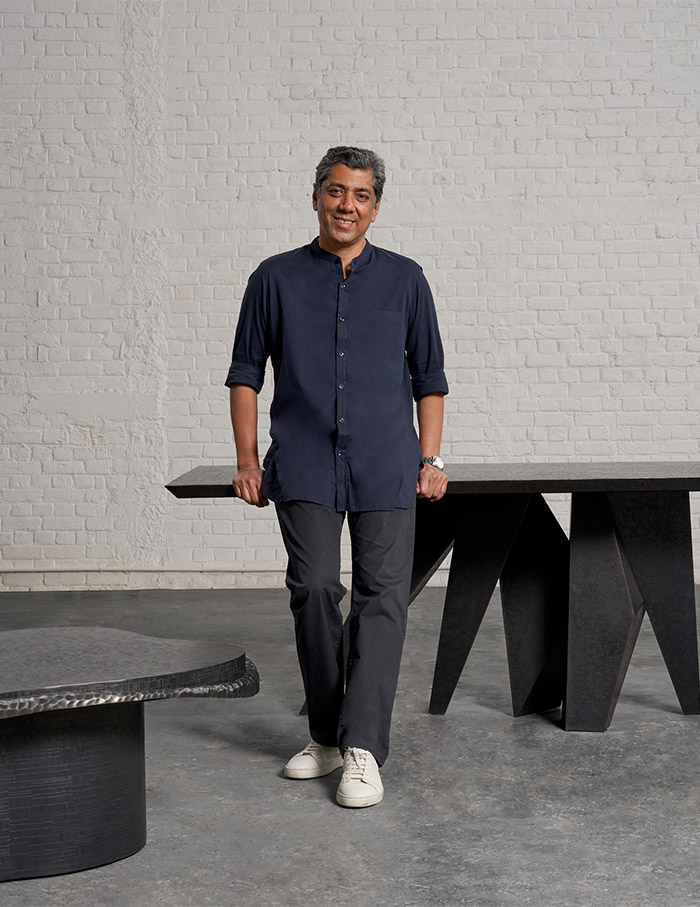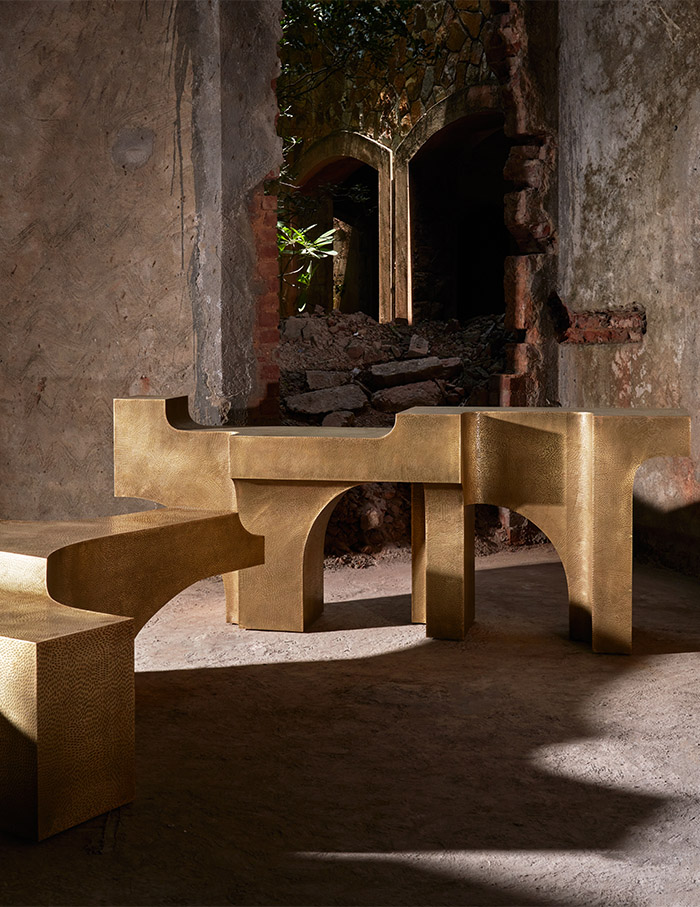 On display: Alchemy of metal
Tracing the polymorphous impulses of his trusted materials like metal and brass, the designer will reveal a scrupulously handmade trove of ten limited-edition pieces — of furniture including consoles, benches and side tables, chandeliers and wall sconces, and wall panels. A common undercurrent of perseverance, quiet regality and an inescapable enigma of metal's versatility echoes in each creation. 
With many intellectual years under his design-focussed purview, Vikram with his troupe of local artisans has enkindled his own vocabulary of modernising the age-old techniques, retelling crafts from times as far back as the third and fourth centuries BC. Repoussé — hand beating metal sheets into three-dimensional shapes is one such. "Together with artisans at our workshop in New Delhi, we've created pieces combining heritage skills and contemporary expressions of our culture that I believe will resonate with design collectors at home and abroad. Together they show the strength and breadth of indigenous craft in India and how it is evolving with the times," reveals Vikram.

Nudged by a sense of delicate diplomacy, his material visualisation whispers abstractness but in the most resolute ways; an innate process which goes back to the early 2000s when Vikram — formerly a trained engineer, student of economics at Princeton and a background in finance — returned to India to cement his design studio and commence his study of arts, crafts, motifs and its legacy in India. He also co-founded the Indian beauty brand Kama Ayurveda.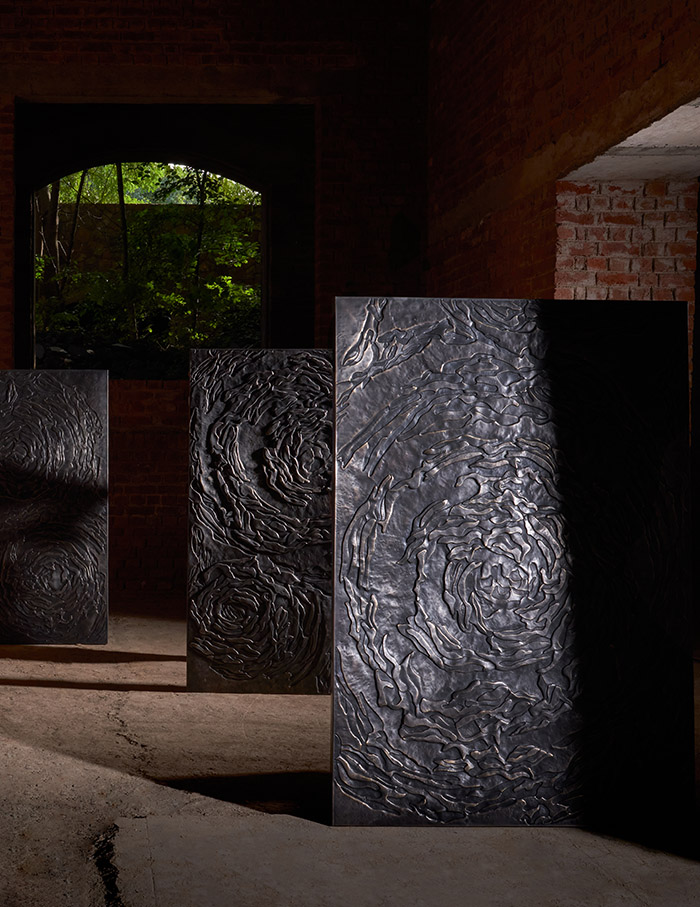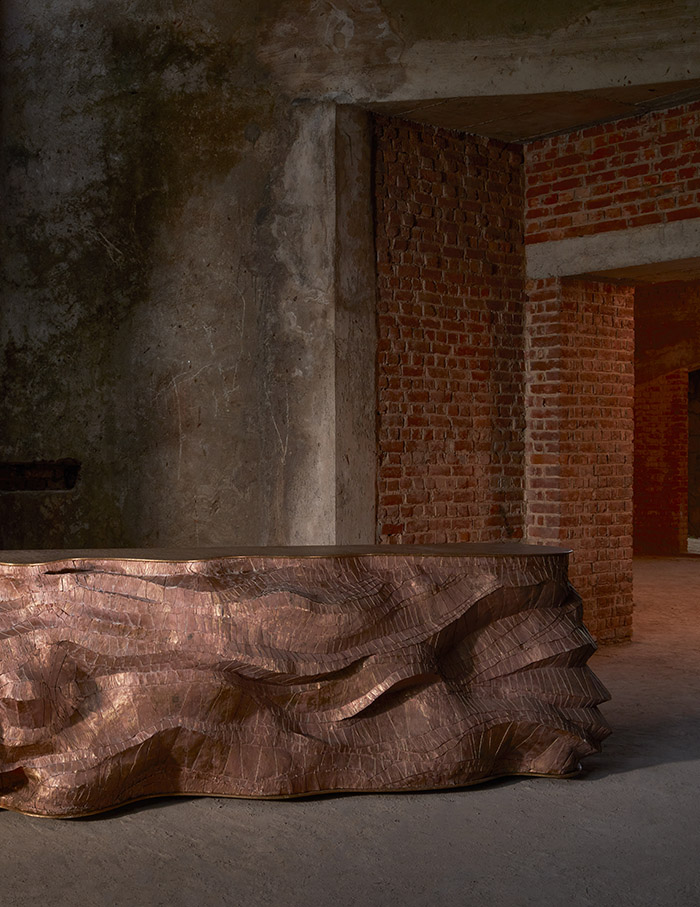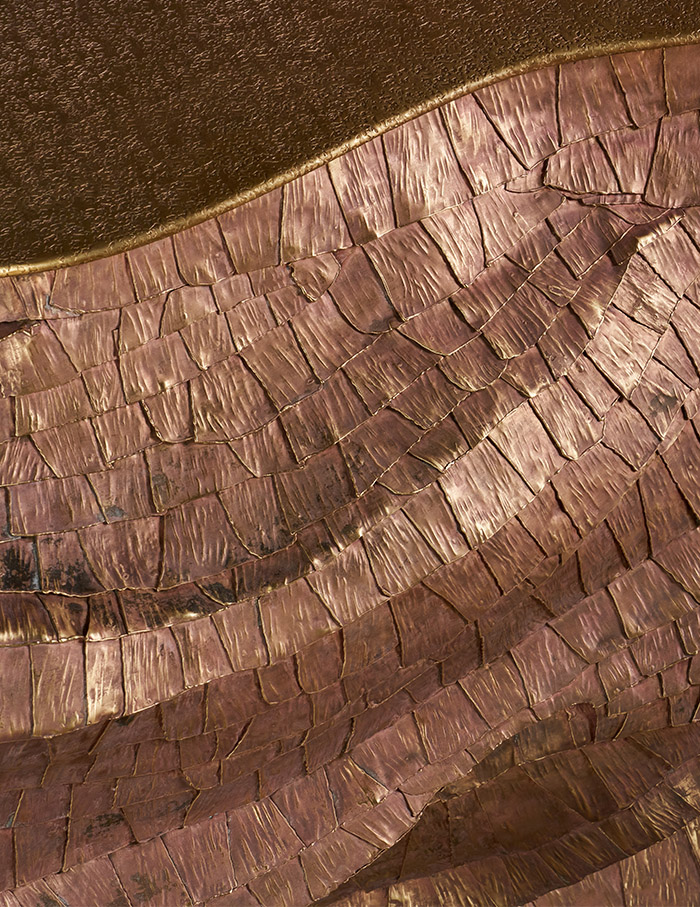 "The work of Vikram Goyal Studio is inventive and original, I am pleased to bring a wider attention on Indian design to a global audience in London…It is particularly impressive to see metal handled with such care and dedication across a range of demanding techniques," informs Nina Yasher, Founder, Nilufar Gallery. PAD London, the sister fair to PAD Paris which was launched in 1998, is a week-long fair that transpires every October during Frieze art fair at Berkeley Square in the capital's Mayfair district.
Excerpts from ELLE DECOR India's interaction with Vikram Goyal below…
One such piece that took you the longest and perhaps challenged you the most creatively while curating this collection?
The Thar, a monumental console with a patinated gold finish inspired by the sweeping sand landscapes of the Thar Desert northwest of Rajasthan. Weighing 293kg, this substantial piece is a feat of craftsmanship, with thousands of hand-beaten metal bars, cut and welded together into its final undulating form.
What were some standout moments or highlights while collaborating with Nina Yasher and Nilufar Gallery?
Well it was such a moment of pride and celebration for the works to have travelled from our studio in Delhi to the galleries of one of the most respected international platforms for collectible design — another milestone for the burgeoning Indian collectible design world. The response from collectors, fellow designers and others has been overwhelmingly gratifying.
As an artist, how different is it, preparing to showcase your works internationally versus in India — are there any special factors you take into account?
Our international works are more pared down in terms of colour and decoration when compared with what we showcase in India. We use darker shades and textures and focus on the more organic and abstract forms in our collection.
A habit you picked up as an artist, which is now an everyday part of your routine? 
I make it a point of immersing myself in museums and galleries any time I travel.
Also read: Vaishali Shadangule and Alessandro Giuliani capture Indian weaves under the ocean