Design
ED Buzz: Tune in for our curated edit of the most covetable new launches in design and decor
JAN 7, 2022
| By Pratishtha Rana
Produced by Pratishtha Rana design and decor
Offering the finest product designs and architectural musings that are revolutionising the Indian design scene—tune in for shopping ideas and inspiring creations. Plus, our specially curated edit of new releases in design and decor!
Editor's Pick
Materialising the term 'poised' into an immaculate solid form is the x+l 06 Trestle Table by Phantom Hands. Framed with solid teak and teak veneer on plywood, the table is an apposite homage to the svelte compass legs that mimic the French modernist design and the angular, utilitarian furniture that Chandigarh is known for. Neatly crafted into a flexible, flat packed piece, it can be easily assembled without using a single bolt or screw.
Website: phantomhands.in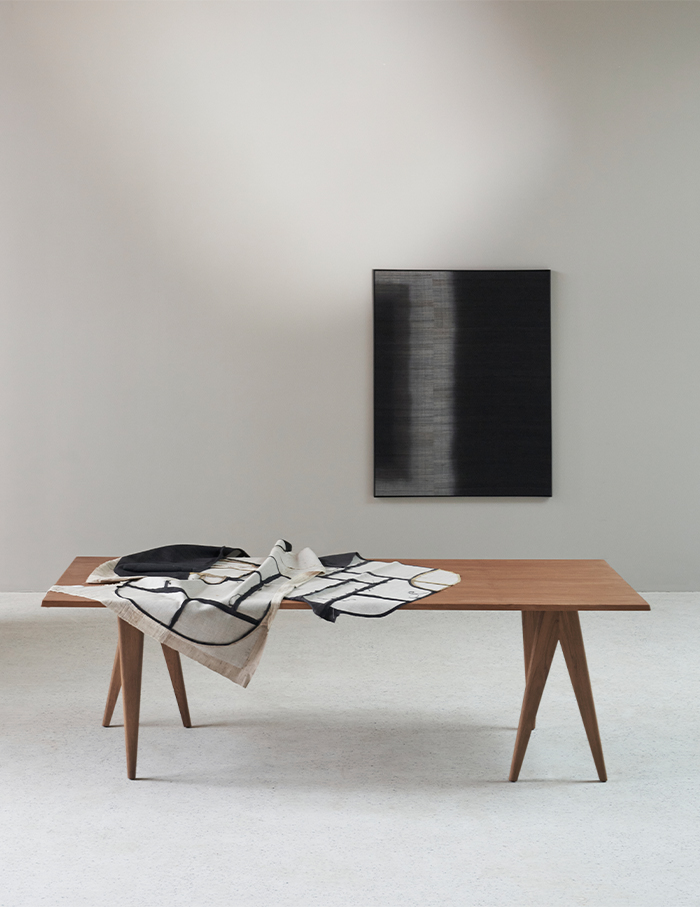 Oh, Camélia!
A sight to behold, Daum, the French crystal studio creates Camélia, a sweet paradox that is delicate yet bold. Moulded into a large vase with glorious pink petals blooming from all sides, this pièce de résistance transports you into a garden of romance and florals.
Instagram: @emerystudio.in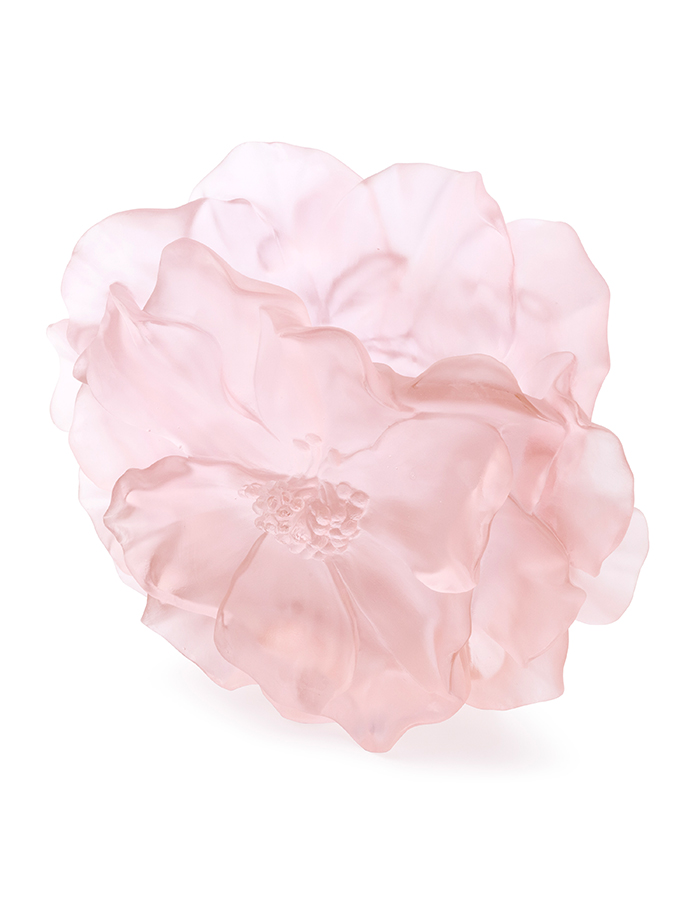 A royal sip
A proud and peculiar take on Mumbai's cutting chai glass is the Chai Stem Glass by Gunjan Gupta's decor brand Ikkis. A refreshing, regal version finished in brass, it's time to sip your hot teas and chilled champagnes in style.
Website: www.thehouseofthings.com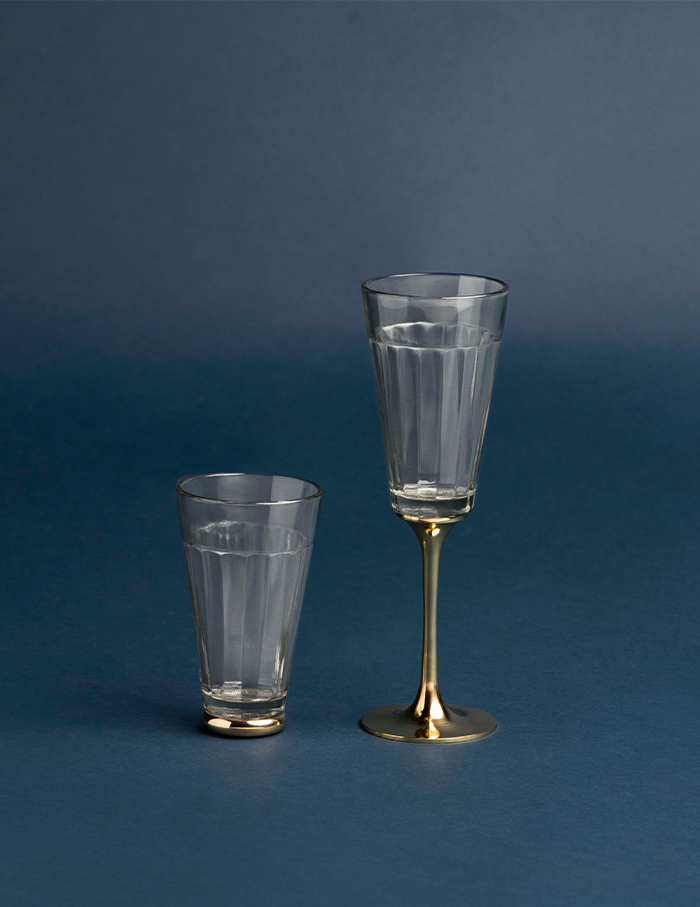 Camaraderie and cocktails
Making the space of bespoke home decor its newest playing field, Sunil Sethi Design Alliance (SSDA) sets the ball rolling for Indie Eye, an artful platform that offers design products and services. A concoction of modern, eclectic, classic and unordinary, the brand lines up pieces that are handmade in India dripping with the idea of experimentation. Seen here are the sleek and satiny cocktail tables with brass finish, hand gesture inspired figurines and colourful cushion sets that you
can't help but dote on.
Website: www.indieeyehome.com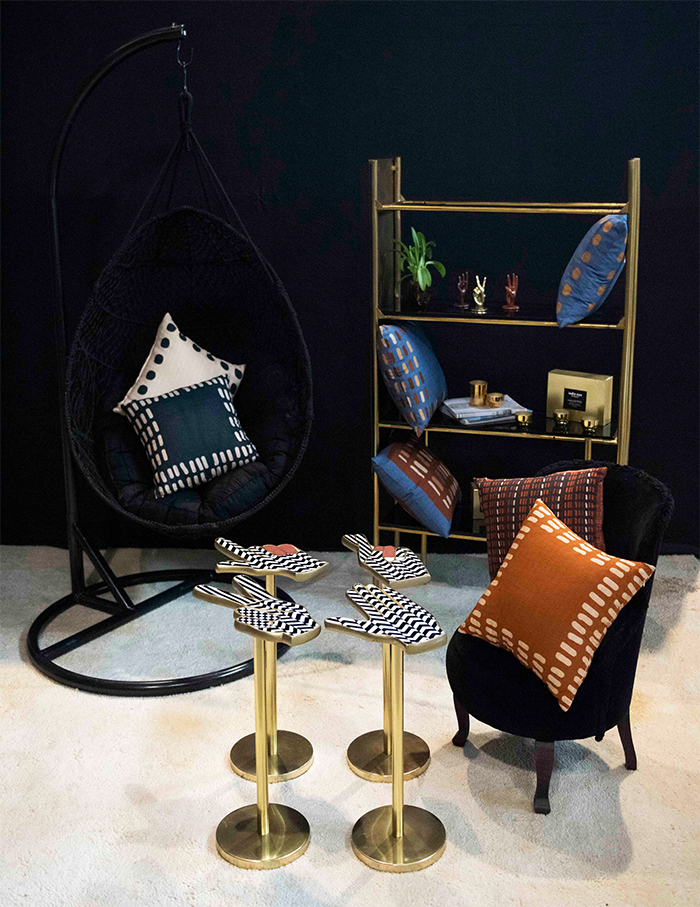 Colour me blue
What's a decor piece without a story? Weaving the past, present and future of the country's artisans and crafts, Aadyam Handwoven, a corporate social initiative of the Aditya Birla Group presents The Nila Collection, a medley of Japanese textile arts of resist dyeing and techniques from Benaras, Pochampally and Bhuj. From cushion covers, runners, dhurries and more bathed in serene blue, you'll be spoilt for choice!
Website: handwoven.aadyam.co.in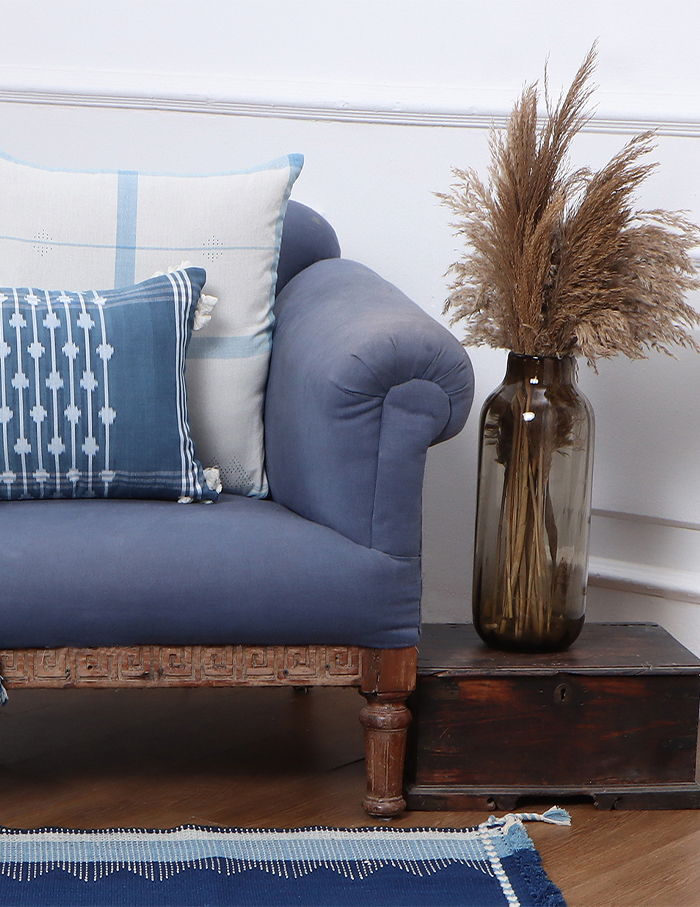 Oh so lit
Rolling out the carpet for its fifth store in India in Delhi's Khan Market, The Decor Kart wants you to take your decor seriously. Step beyond the basics and put a spotlight on your home with the splendid Richmond chandelier splashed in green.
Website: thedecorkart.com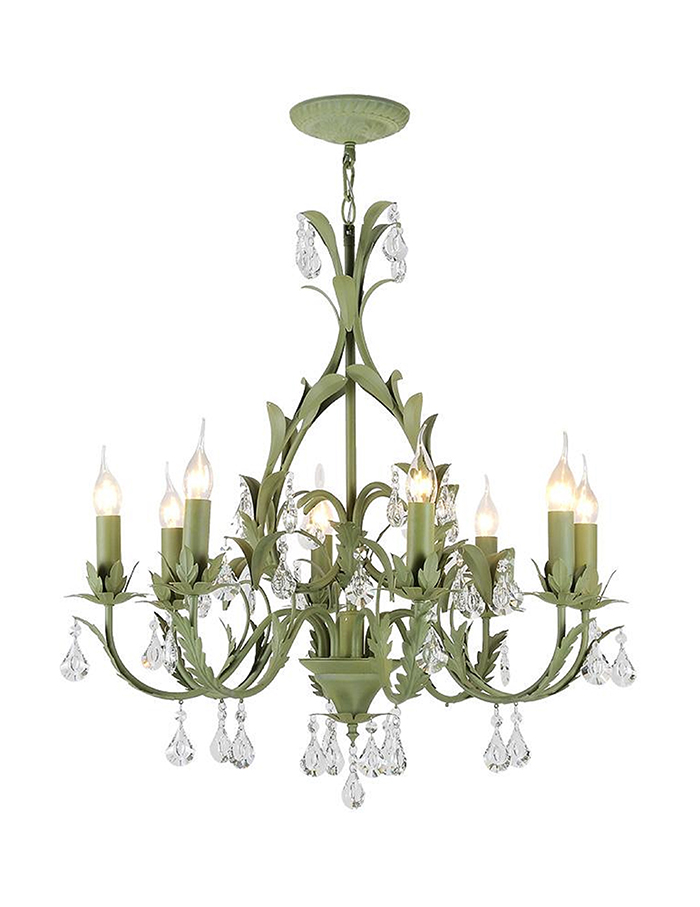 Sleeping beauty
Why fall in love when you can fall asleep on the Marcelo bed by IOTA, crafted for utmost comfort and indulgence. To add a generous dash of utility to your space, the bed finds company in its inbuilt hydraulic storage and is available with two nightstands.
Website: www.iotafurniture.com
Pretty and poised
Perched in comfort: If a classic playlist of songs, books, sunsets and a warm cup of tea (or coffee!) bring you solace, we'd like you to meet the Kaayal Rattan Accent Chair, an elegant creation by DTALE Decor.
Of canes and woods: Imbued with an unmistakable grandiose of vintage design underlined with a modern dialogue, the circular accent chair speaks highly of
how sedulously it is crafted with treated ashwood and cane mat that stands at bay from humid and moist weather, while serving its purpose of a beautiful statement piece.
Choices galore: Offered in fine finishes of classic burnt amber and weathered grey, place the restful seat in your verandah, living area, study room or your favourite balcony that enjoys daily conversations with breeze, birds, plants and the seasonal rains.
Website: www.dtalemodern.com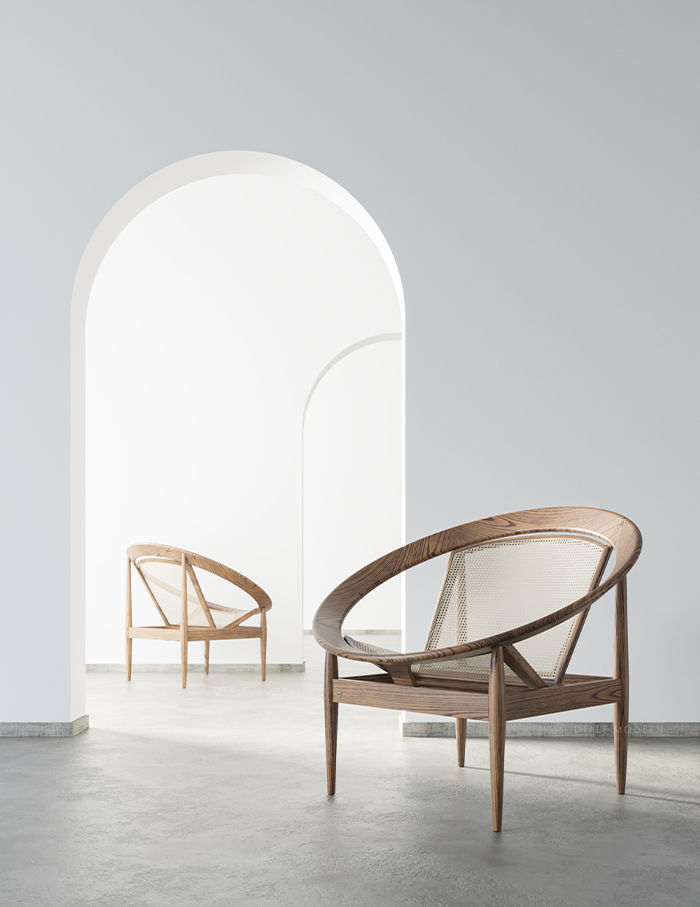 Green signal
Curvy, pristine and rooted in their love for nature, the Soma planters by Indigenus, available at Sources Unlimited brings the joy of outdoors inside the home! Made in small, portable forms to life-like sizes, each planter stands tall and tastefully, sculpted with reinforced concrete, wood and cork by Laurie Wiid van Heerden.
Website: www.sourcesunlimited.co.in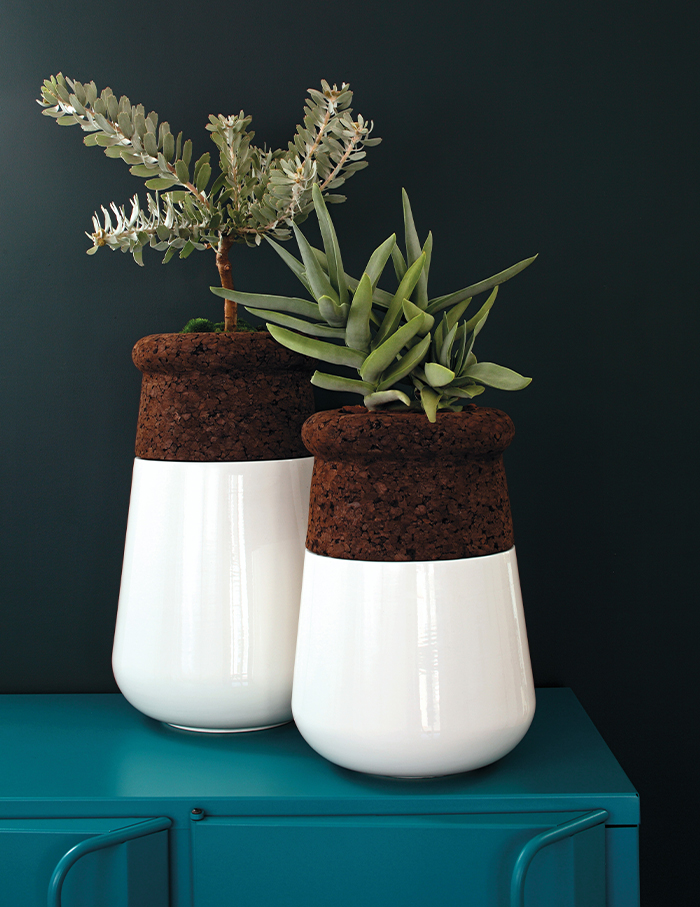 A hug of comfort
Indulge in sweet slumber with Surprise Home Linen's bed linen consisting of sheets, duvet covers, pillows, cushions and throws. Partnering with LACOSTE, the collection is crafted in organic 600 gsm cotton. 
Website: www.surpriselinen.com
Sit in style
Revisit the Poltrona Frau 2020 Collection. Grab a book and settle in the new rocking chair version of the Martha armchair. Designer Roberto Lazzeroni decided to play around with his original creation, notable for its rounded forms and saddle-leather shell. Contrasting materials come together to create this welcoming chair that has a curved and slightly padded backrest that appears to float in air but is actually fixed to the frame with a hidden system.
Website: www.poltronafrau.com/en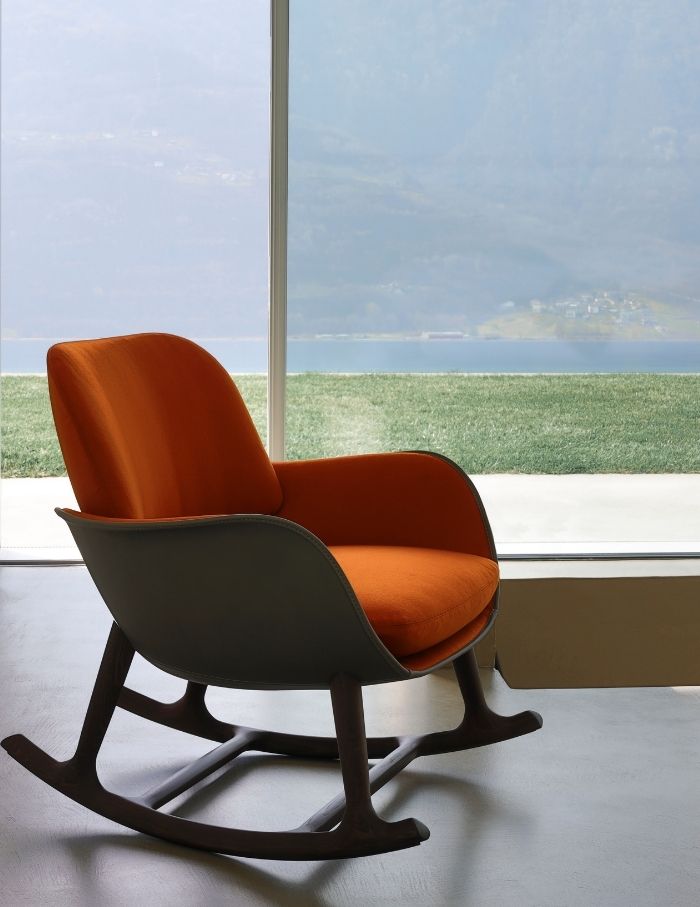 Discover more from our curation of handpicked design and decor products in ELLE DECOR India's December 2021-January 2022 issue…