Homes
The art of eclecticism — Ayesha Puri Kanoria and Nina Puri sketch an artful design drama in this Mumbai home
OCT 4, 2022
| By Pratishtha Rana
Give it a thought — first impressions don't always have to be the last ones. Especially, with this Mumbai home assembled by Ayesha Puri Kanoria and Nina Puri of Sanjay Puri Architects, one thing is for sure that each time you look at it, a distinct, lingering sentiment grips you, thanks to the many impressions of eclecticism it portrays at every turn. 
The 2,700 sq ft home nested in the Lodha Trump Towers in Worli locale encompasses hints galore of colours and dynamism.
Along with the statement pieces of furniture, the homeowners, "encouraged using Indian art and carpets while wanting the overall feel to remain starkly modern."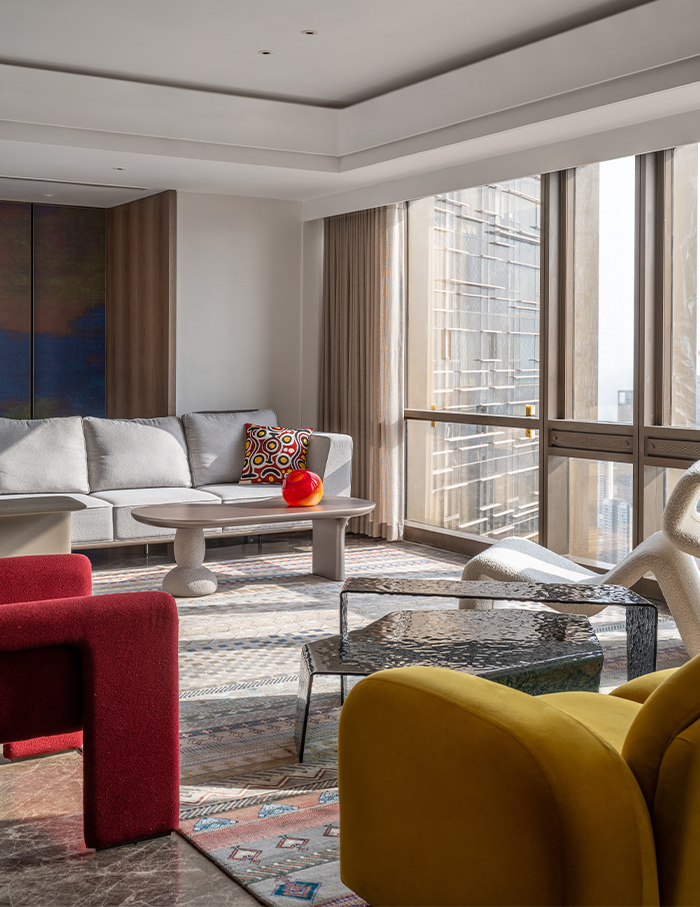 The triumphant theme…
Ayesha and Nina observe that a slew of living spaces often end up becoming strongly theme-oriented, where every interior element lends to the same kind of genre. "In this home we have tried to break away from falling into a particular theme and mixed and matched elements that one wouldn't otherwise necessarily use together."
Thus, the den christened 'Eclectic Home' wraps in sightings of riveting Indian artworks, colours, materials, geometries and surface treatments.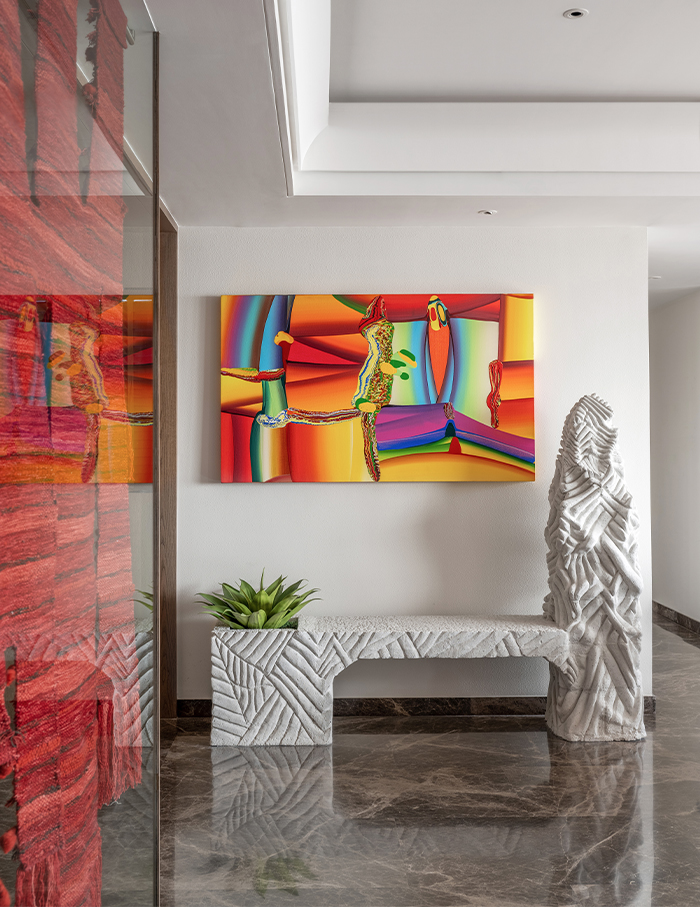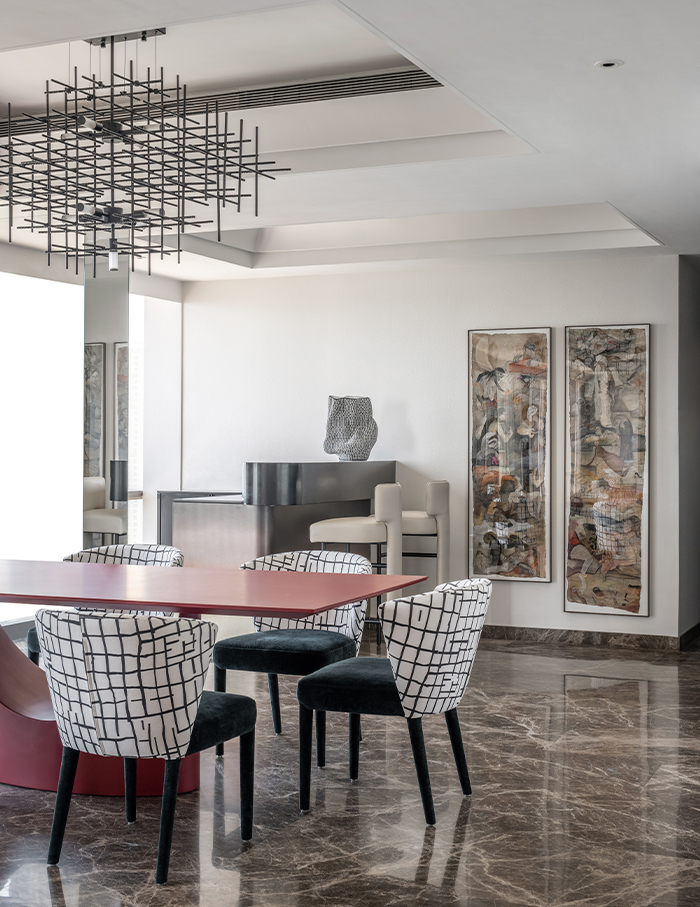 Tour every turn of the home
An alluring red embroidered artwork beguiles you at the very entrance. The foyer ahead is envisioned as a wooden cove set with floating steel shelves for the owner's collectibles.
Draping the wall towards the dining area, a polished console teams up with striped pedestals crowned with cast glass pieces by Arjun Rathi. Adding some more red to red, a Krishen Khanna artwork stamps the wall aptly.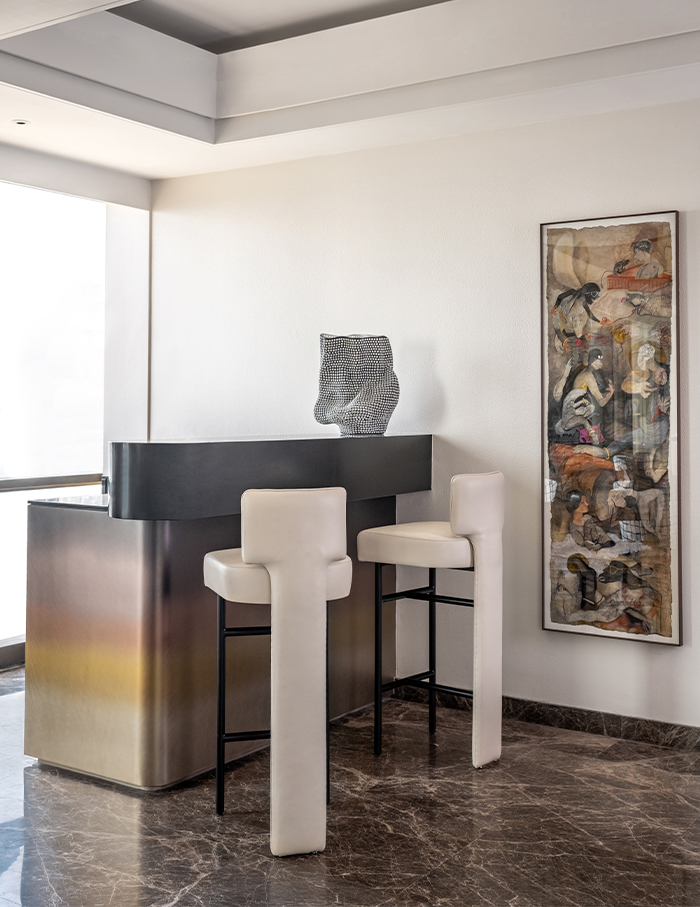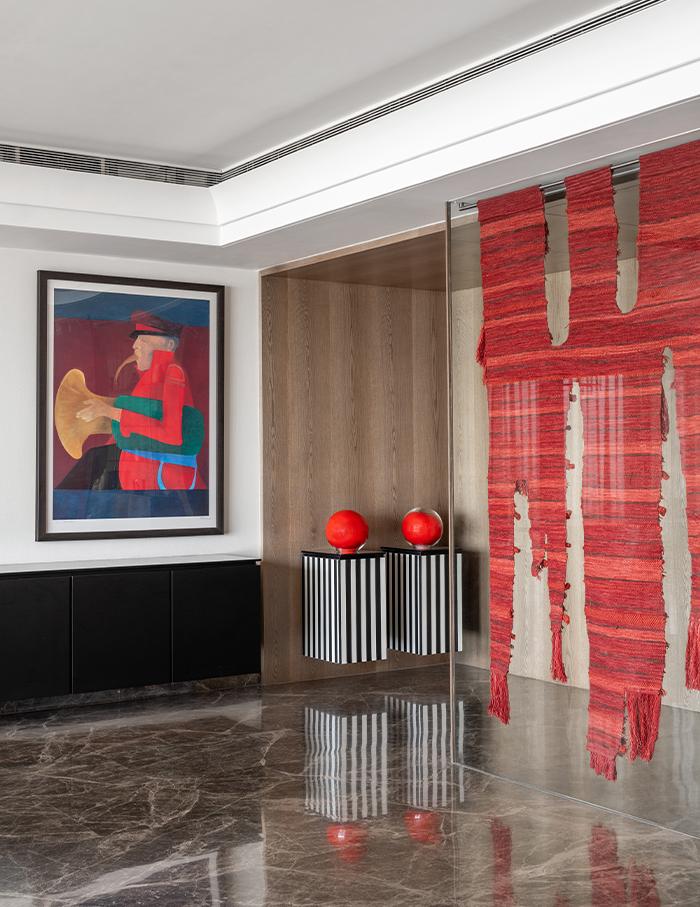 The dining keenly gazes at the bar to its adjacent side, with a seamlessly sculpted monolithic metallic ombre piece paired with chic, high black and white chairs. The bar navigates right to the den area awash with a darker colour scheme. 
On the far right is the primary bedroom cocooned with serene, earthen tones of green and brown and clean lines to lend a sense of warmth and sleekness all together.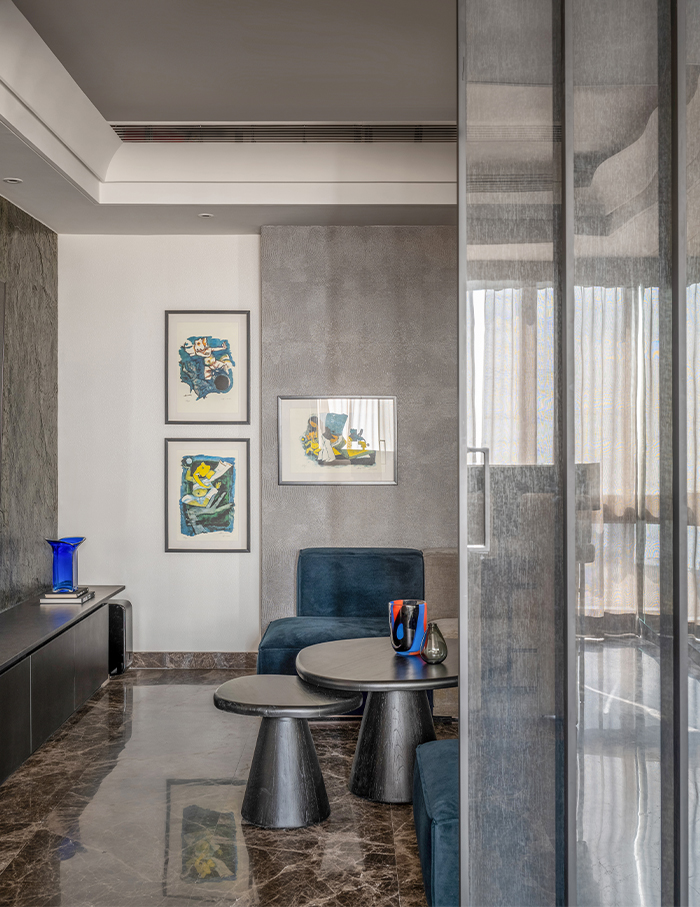 Look left on the living room's end, a temple appears with a three-dimensional floral wall painting designed in-house. "We even made custom marble seats and completed it with a modern Klove Ganesha to remain in sync with the traditional-modern feeling achieved in the rest of the home," elaborate the Puri duo.
While the younger son's bedroom was given a black and blue visual identity, the elder son's room showcases plenty of neutral hues along with touches of stone and wood.