Homes
Dive into this neoclassical delight designed by P&D Associates that promises drama and detail in equal measure
SEP 30, 2021
| By Kashish Kaushal
One look at the Glass House, P&D Associates' latest project, and you have the mental picture of a warm, comforting family space with elements that both excite and soothe. Brought to life by principal designers Devang Patel and Pratik Siddhpura along with design team Krina Modi and Nishi Mamlatdarna, this 8,700 sq ft space is peppered with elements inspired by the neoclassical era.
Located in Bharuch, Gujarat, this standalone villa bungalow shimmers with significant contemporary aesthetics as well as grandeur. The client's brief urged the designers to furnish a house that didn't establish the acuity of luxury rather just subtly assimilated class and sophistication.
"Our client's supreme priority was to have a sense of privacy—like a country villa in the midst of a densely residential locality. Lush green garden and serene landscape visible from every corner of the house was a must in their checklist," divulges Patel.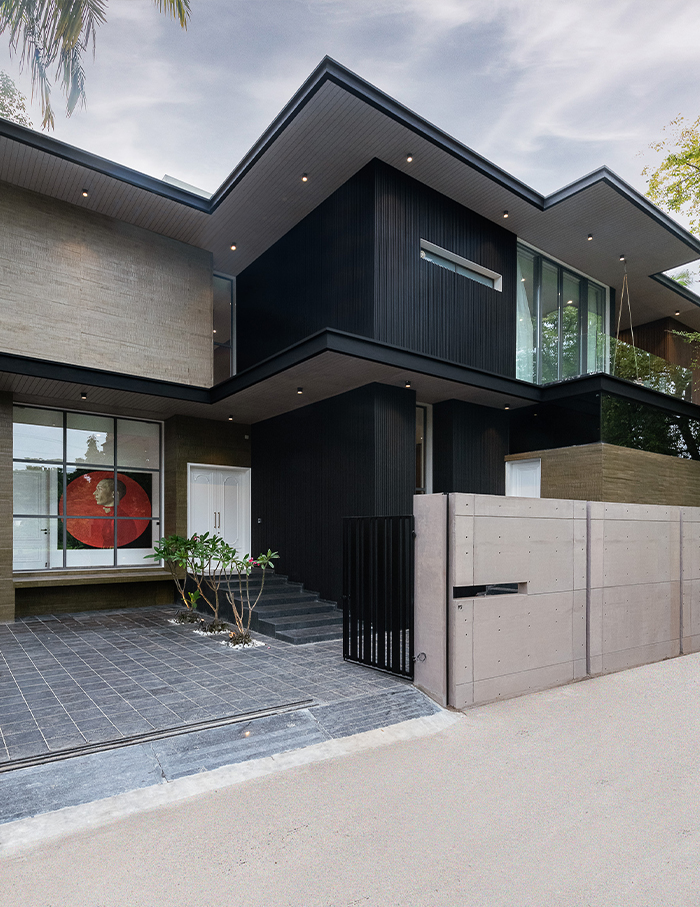 Connectivity, both inside and outside, forms its core. With its 14 ft high ceilings and full height glass facade, nature peeks into every corner of the interior space, leaving just a glass screen in between. An open house concept allows fluidity in living, kitchen and other semi-formal space. Massive artworks around the house emphasise on the glory of the space.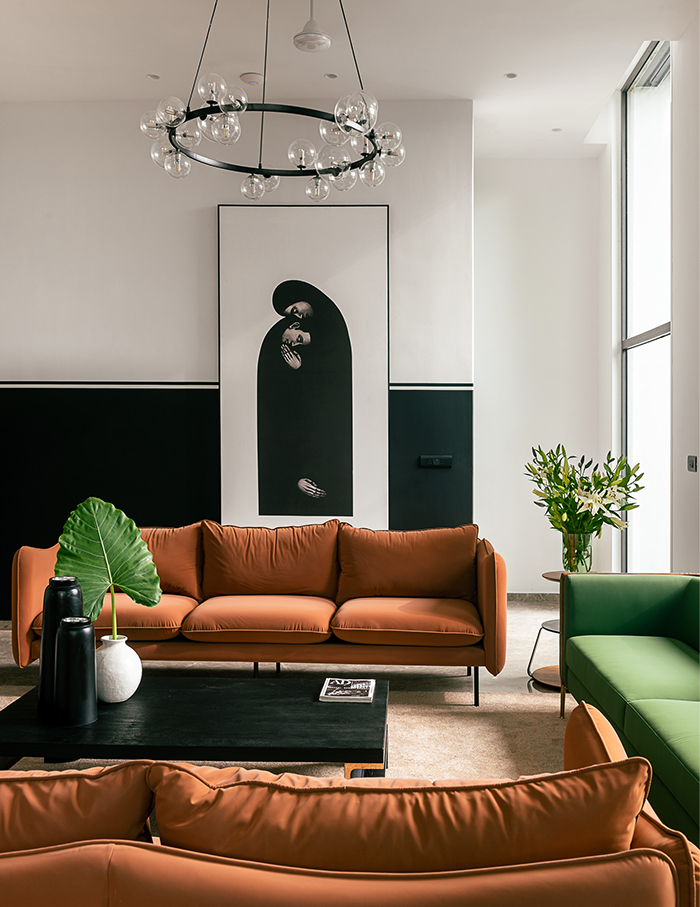 Elaborating on the obstacles team P&D Associates overcame, Siddhpura adds, "The design development was the most challenging yet most exciting process we had, resulting in an airy, open layout of the house. Only challenge was to install those humongous glass sliders that glided in a row, which surely gave us a mini ache during its installation."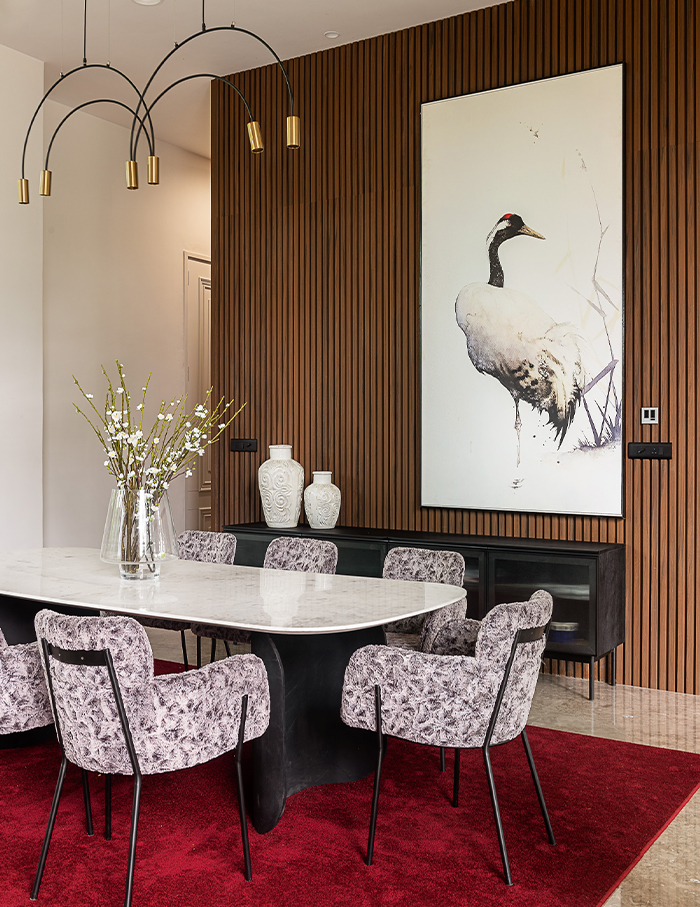 A pronounced use of concrete, wood, aluminum and glass marks the exterior of the house. Slender wooden-finish aluminum sections take over the projecting facade as a second layer, while the exposed concrete has been cast using wooden strips, achieving a rough, distinctive texture. Expansive glass panes puncture these walls, allowing plenty of sunlight and air to flow in.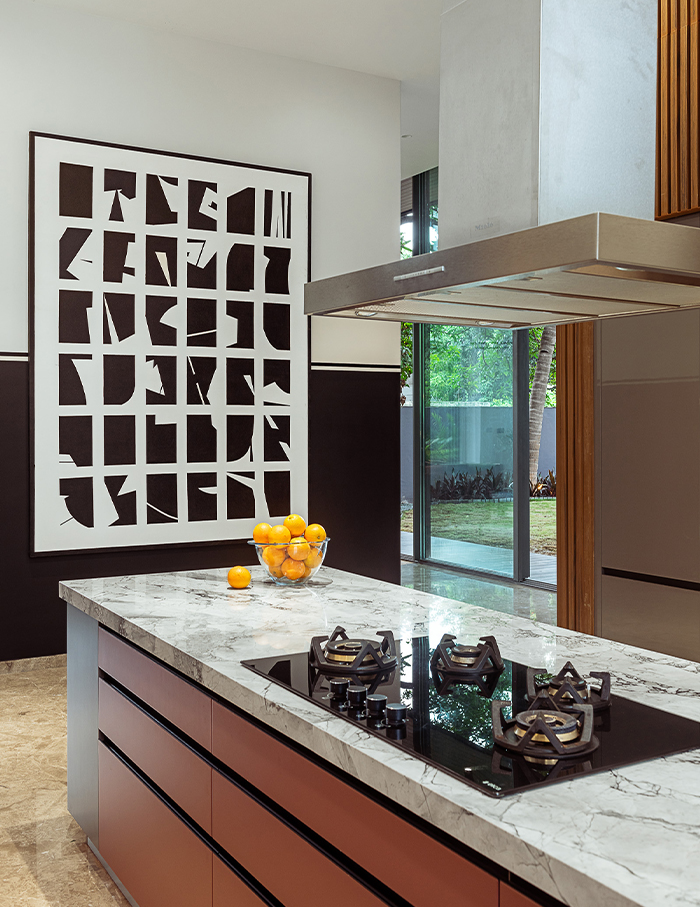 The overall driving philosophy behind the interior was a careful concoction of modern neoclassical interior, luxurious fabrics, pastel shades, customised furniture and playful artworks. One can find influence of neo classical elements throughout the house.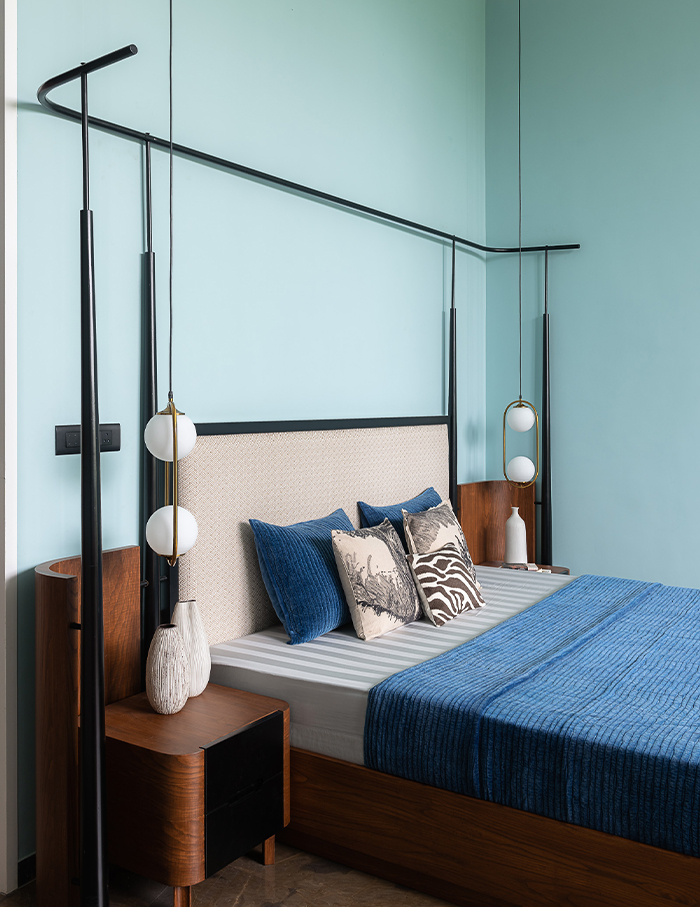 Colour, if not used correctly, can be one of the toughest things to balance in a room. However, the Glass House uses it wisely in setting the mode of each bedroom space—in terms of the wall colour, soft furnishes and quirky artworks.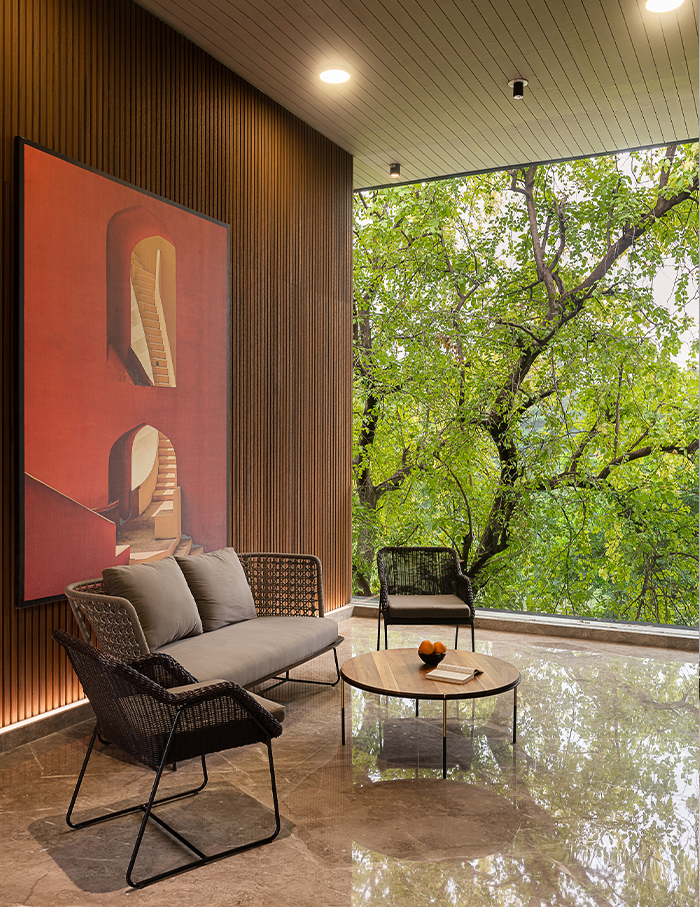 Aiming to add awe in all their spaces, P&D Associates cohesively craft this bungalow and achieve a similar language throughout. Personifying every corner of the interior space by adding specific knickknacks as decor pieces, the Glass House is at once modern and inviting.
Scroll down to see more glimpses of the space—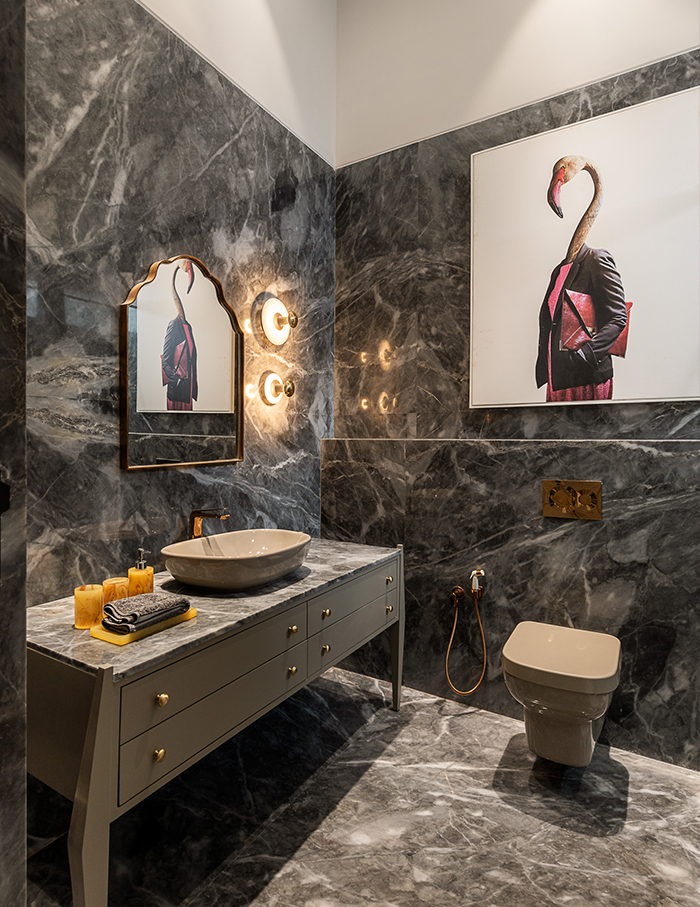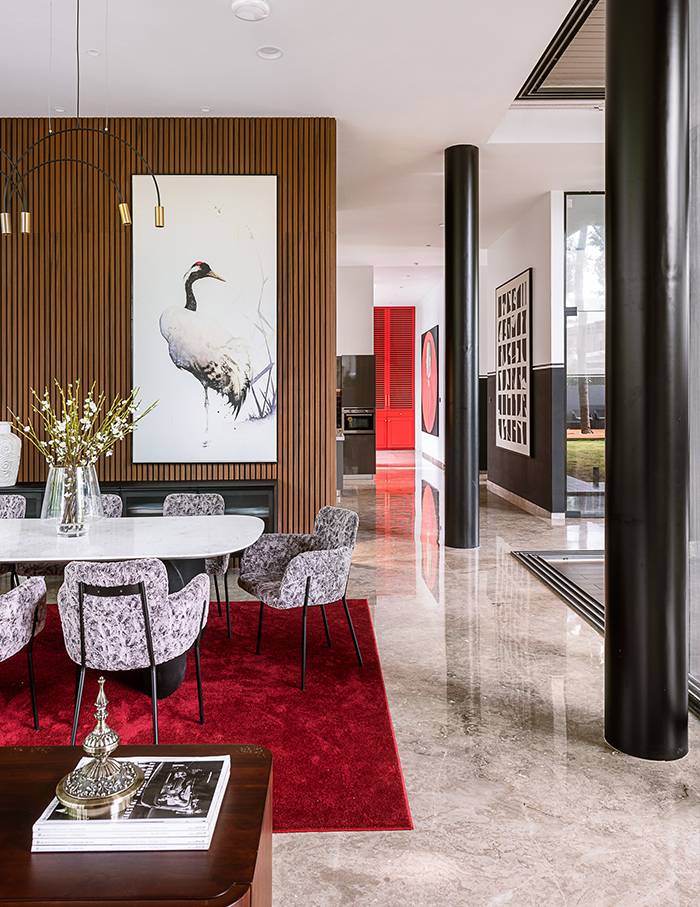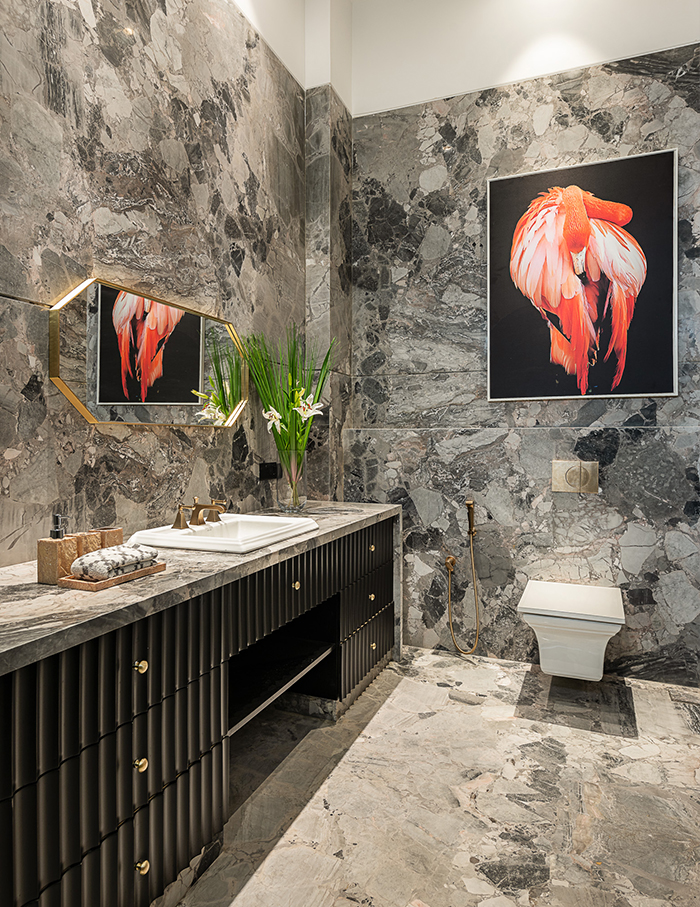 If you were awe-struck by this home, make sure you check out this Manhattan apartment by Aamir Khandwala!