Design
'Dismantling Building=A Kit of Parts' by Samira Rathod deconstructs architecture through furniture
JUL 18, 2022
| By Team ELLE DECOR India
Evolution, a word that describes the very nature of our existence and of earth translates into an art show that has us thinking about the essence of architecture and design, deep and beyond. Recently, the map of Mumbai and its art arena was yet again abuzz with a showcase of an insightful furniture exhibition by the city-based architect and designer Samira Rathod and her firm Samira Rathod Design Atelier (SRDA).
Drawing parallels between the distillation of building designs and furniture, SRDA attempts to uncover the fundamental unit of architecture, an 'ur' architecture—the earliest, primitive unit.
Aptly summarised as "an act of excavation" by architect-teacher-filmmaker and curator of the show, Rohan Shivkumar, 'Dismantling Building=A Kit of Parts', reiterates the studio's three decades long evolution appreciating and working with locally sourced materials. The art exhibition is currently installed on Chemould Prescott Road open for patrons to journey through it until 2nd August 2022. 
You may also like: Once discarded on the streets to becoming piece du Jour— The curious case of Chandigarh chairs by Pierre Jeanneret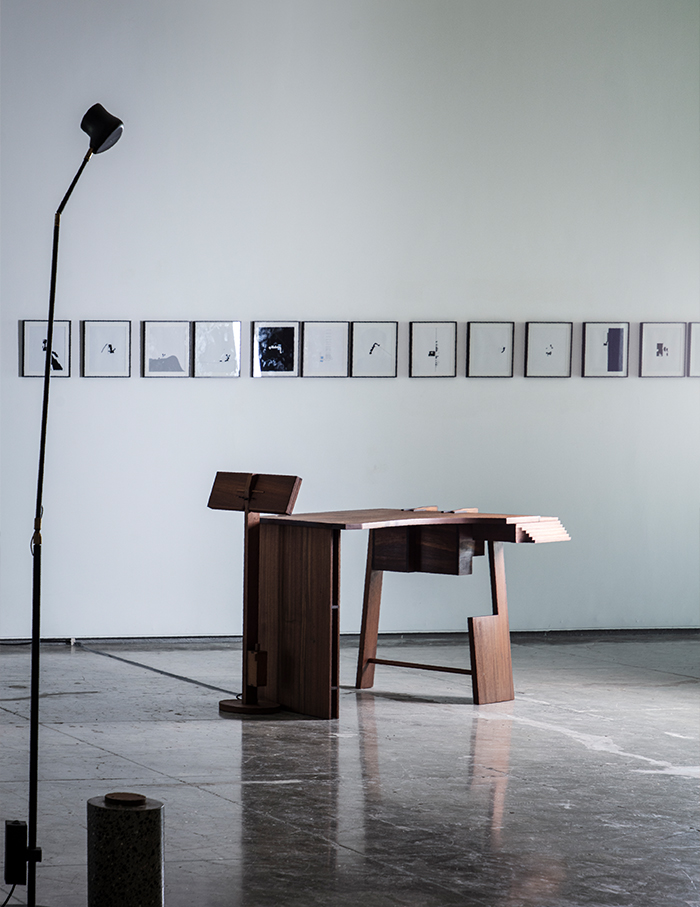 When Shireen met Samira…
"I strongly believe that an architect is not just an architect, but also an artist. The lines between the two have constantly blurred," cites Shireen Gandhy, Creative Director of Chemould Prescott Road.
Shireen's first encounter with Samira was about four years ago, when she assigned the redesigning of her ancestral home—inhabited by seven generations—to SRDA. The intimate decision to trust an outside perspective over her family aesthetic was rather unusual but imminent. The consequent conversations fructified their friendship. "While keeping the essence of a 100 year old home, SRDA broke stereotypes in unexpected ways!" recalls Shireen.
Fast-forwarding to the exhibit, Shireen is just as pleased to present Samira's collection, marking it as an emerging retrospective view of the 'built' in the practice that created an alternative form. Encapsulating the essence of the exhibition, Shireen reflects that the lines between an architect and artist are blurred.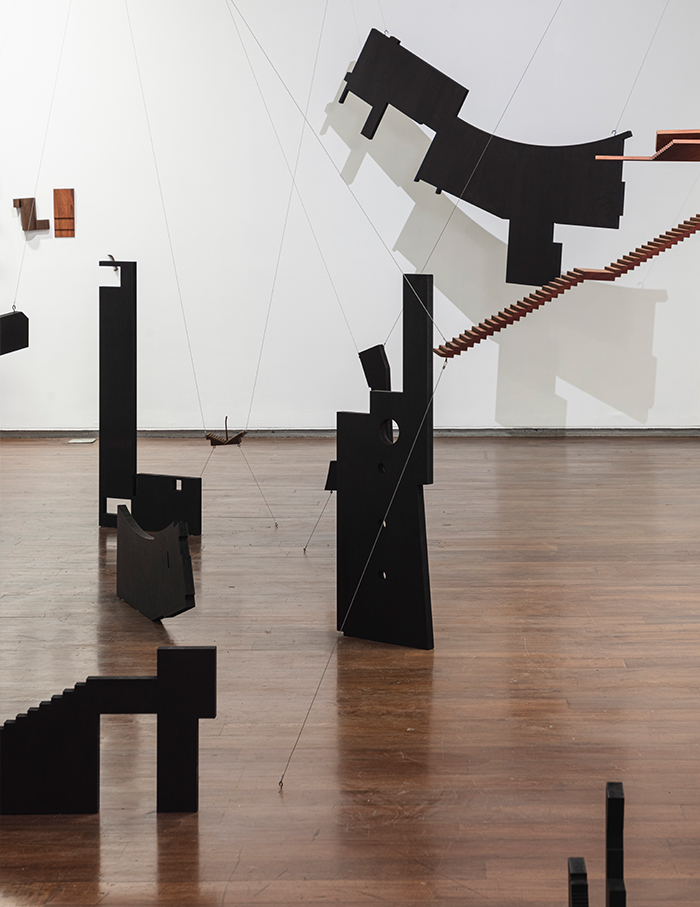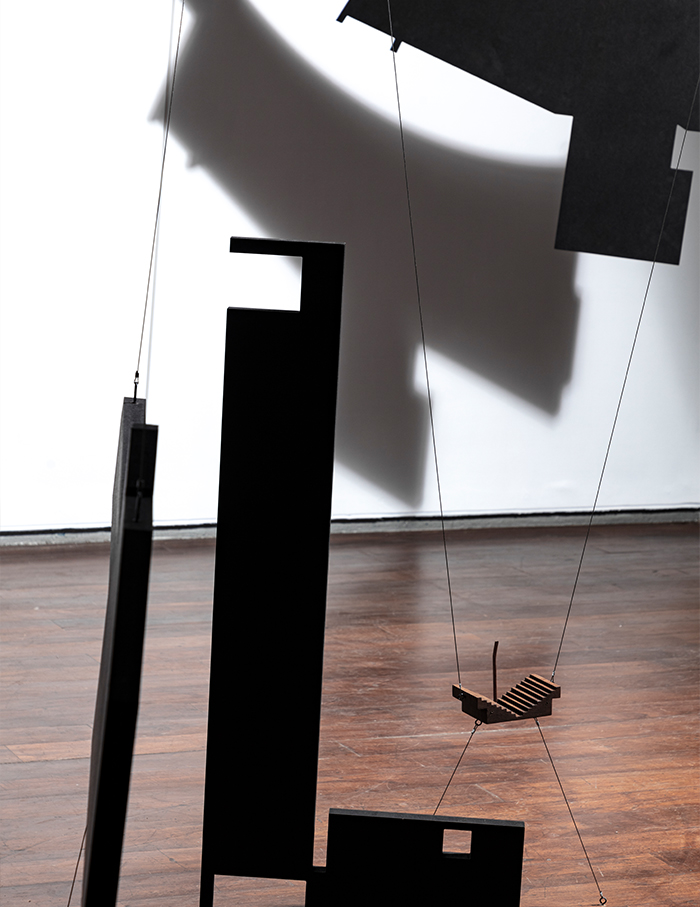 Decoding 'Dismantling Building=A Kit of Parts'…
Two note-worthy aspects of Samira's work are her penchant for storytelling and her unique use of materials offering captivating combinations. The former manifests in the form of furniture pieces that all evidently emerge from a backstory often as references to her past projects. Enabling variation across her collection, she experiments with a diverse material palette comprising salvaged steel, teakwood, rosewood, aluminium nitride (AIN), jackfruit and kendal.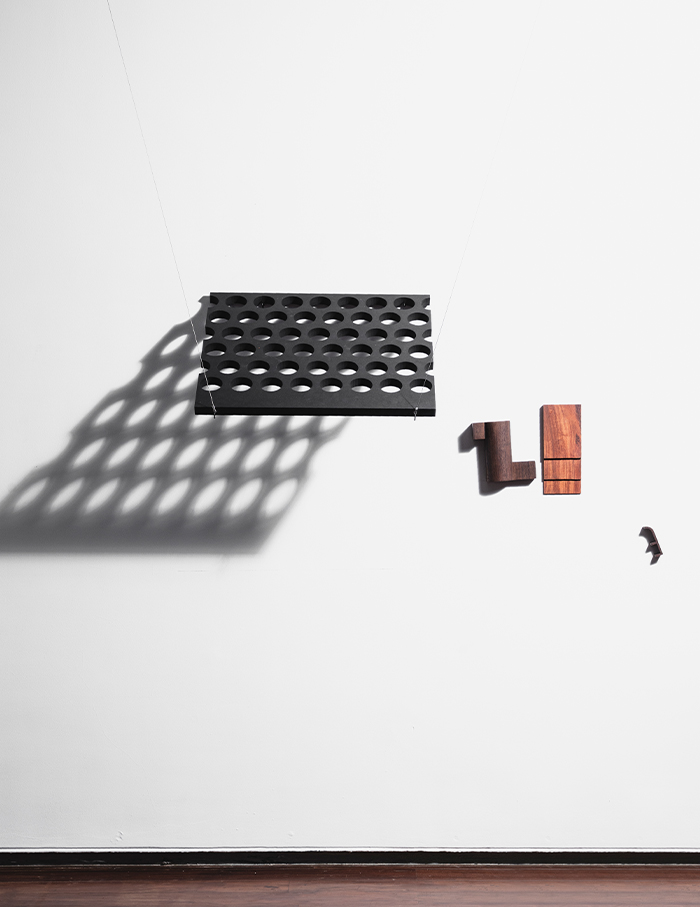 The exhibit dismantles structures to reveal fragments that have no scale, dimensions or materiality. These shards and splinters exist as mere solids that seemingly touch, caress and wrestle with each other in a void. Their connections are not random but are instead painstakingly curated and precisely detailed. The floating fragments render the unbuilt expanse charging with possibilities.
A blend of contemporary design with India's wood craftsmanship..
A striking sum of the soft hand-finishes by local karigars and Samira's vision, each piece in the collection is proposed for communal spaces. The pieces anticipate their interactions and use, for example, as one grabs a book from the crafted credenzas, the bird lamps enliven the living area creating a refreshing ambience.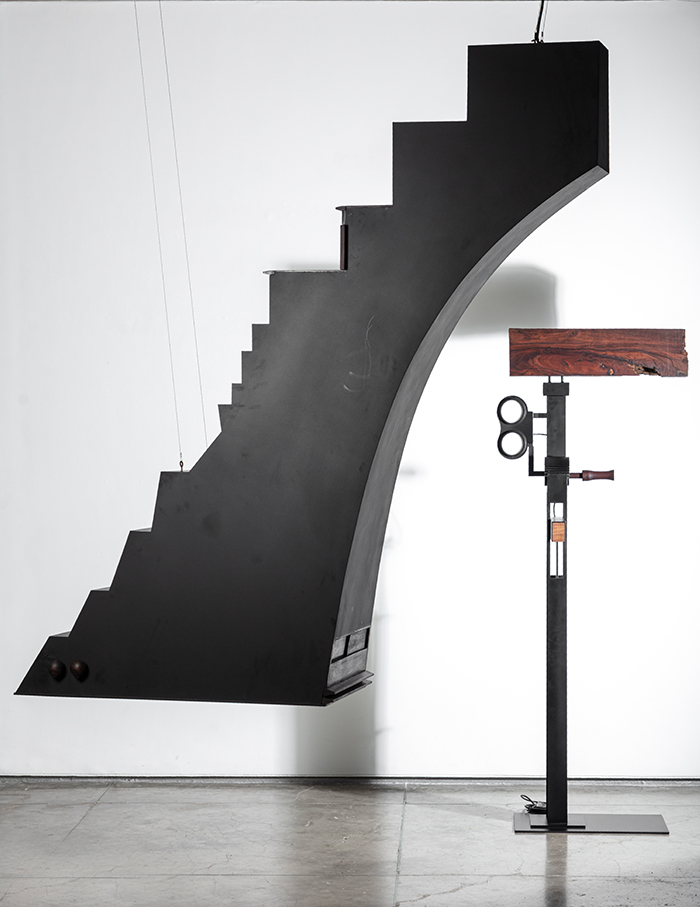 'Dismantling Building=A Kit of Parts' continues to be on display at Chemould Prescott Road from Mondays to Saturdays from 10am to 6pm till 2nd August 2022.