Design
Digressing from the stereotypical, You Do You in Mumbai paves the path for new-age salons
JAN 24, 2021
| By Saloni Rege
Breaking away from conventional salons is Mumbai's You Do You. It is designed by FN Design Studio in collaboration with Mammen Paul from Shiraz Jamali Architects as a testament to unwinding spaces and beings.
Tucked within a tranquil neighbourhood in Bandra, this 800 sq ft salon has been conceived as a casual inviting space alongside its function-oriented nature. It intersperses working zones with leisure areas, allowing patrons to truly relax.
"We have a personalised approach to every project. For us, design needs to be the perfect amalgamation of aesthetics and functionality, and minute details add up to create a larger picture," shares designer Naazish Nanji, cofounder and interior designer of FN Design Studio.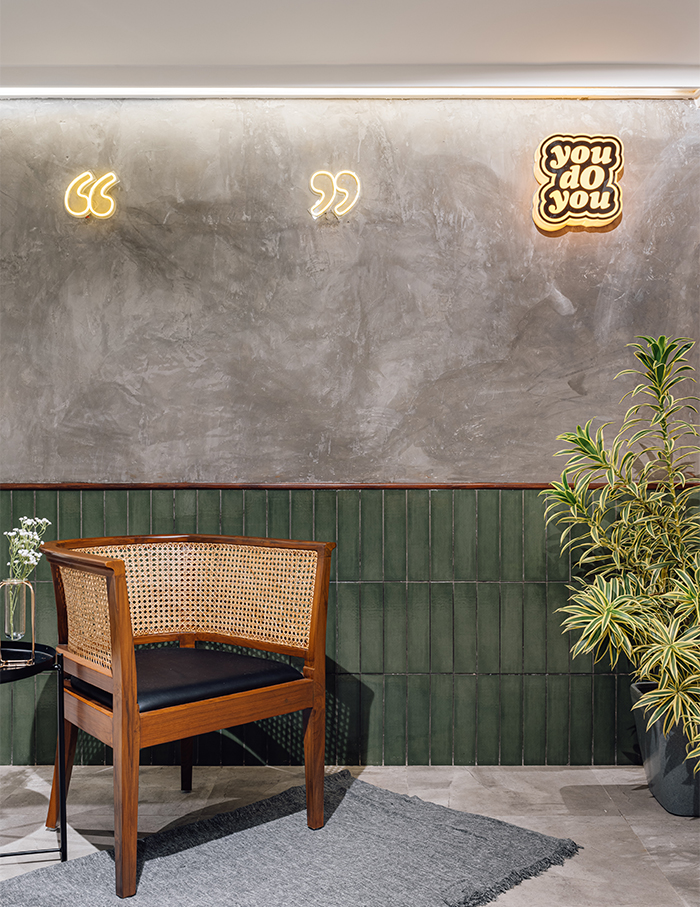 The salon's earthy waiting lounge is supplemented with a cosy seating nook, where visitors may read a book or even relish a freshly brewed (inhouse) cup of coffee. Overall, the design embraces varied aspects of relaxation and curates zones with interrelated functions.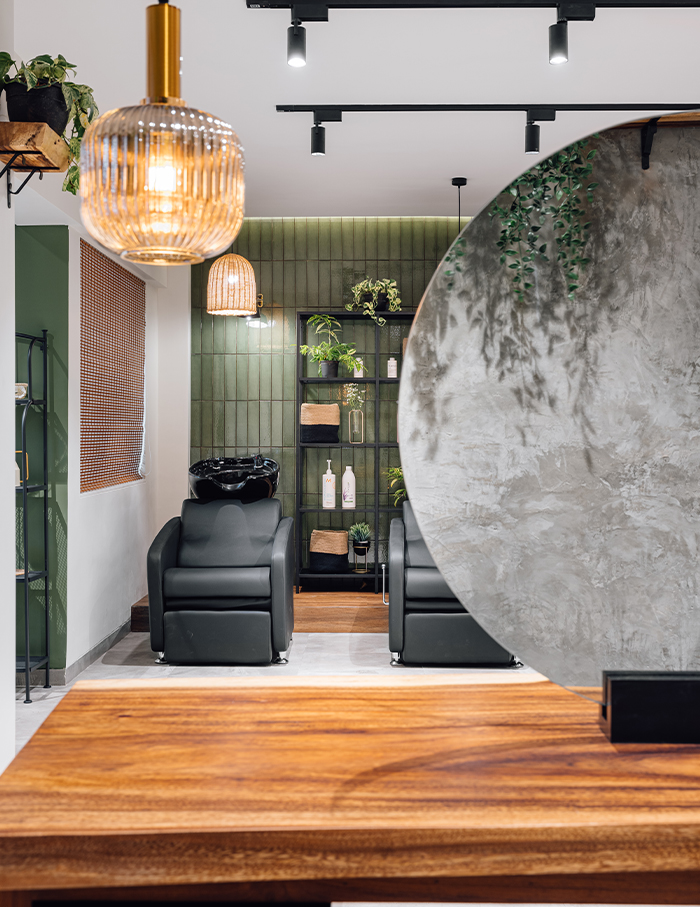 The core concept of the space reflects a rustic industrial theme paired with a tropical flair. The design intersects the styling stations with hair wash areas with the help of a central, visually binding feature wall.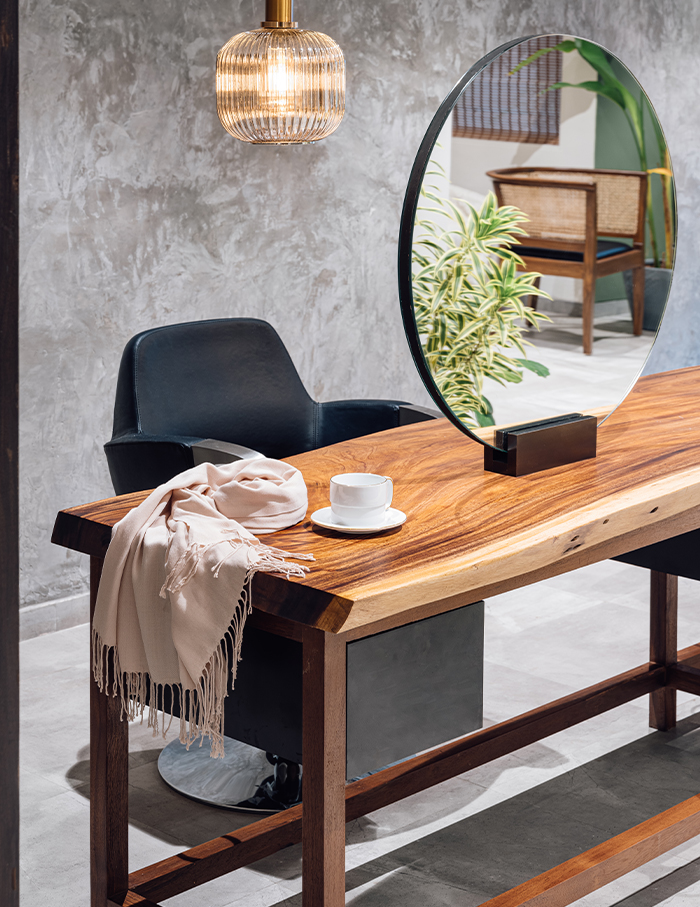 Set against a raw concrete backdrop, the styling stations act as a focal point of the salon. The grey undertones take a backseat so as to highlight the vibrant work of the hair artists.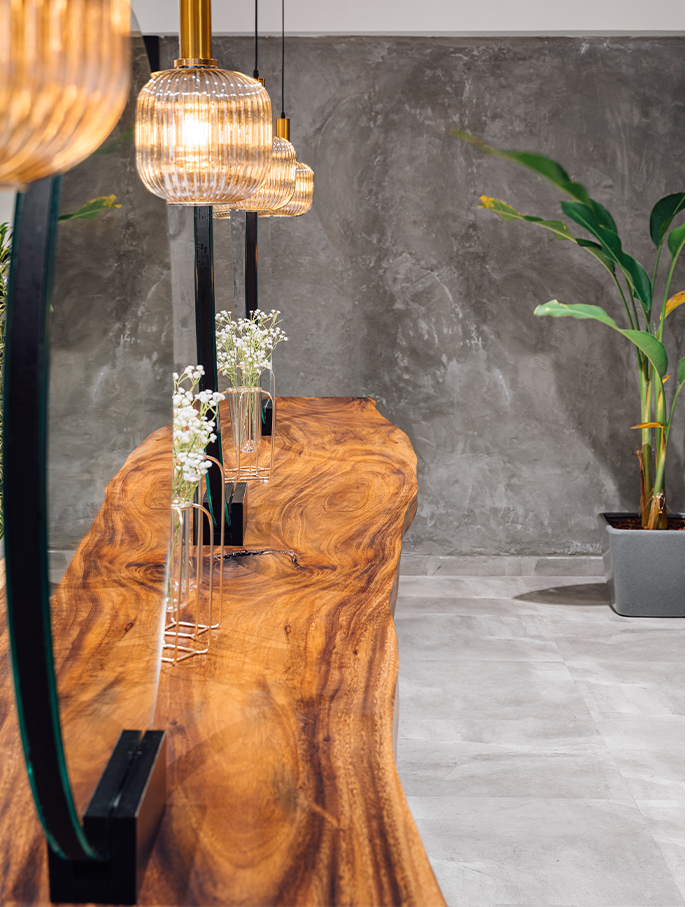 "The 15 ft-long, raw solid wood table coupled with the frame less mirrors lends a floating visual. This is something we meticulously planned and thoroughly enjoyed executing," adds Nanji, encapsulating the belief of co-designers Farheen Nanji and Mammen Paul.
The material palette mainly includes grey concrete finished walls, customised furniture pieces in solid wood and tropical olive tiles. A neutral palette is chosen to age timelessly while being an ideal canvas for the artist. The Nanjis and Paul also created an oasis of calm with the help of air-purifying plants such as Monstera and the Zamioculcas zami folia, which embellish the salon with their tinge of green.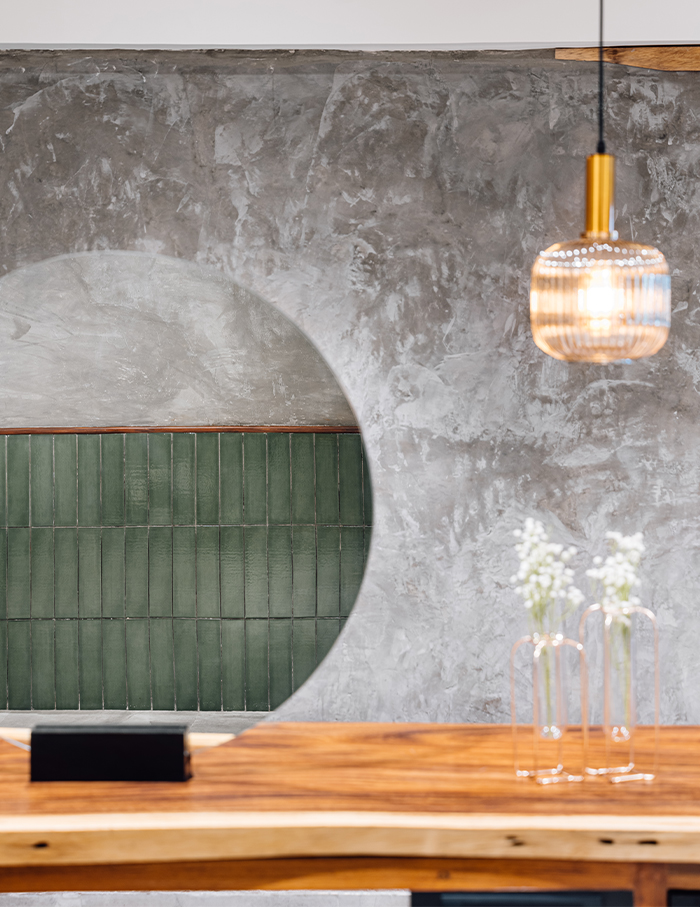 The designers unanimously agree that completing the project within the "challenging timeline of 21 days to design and execute from start to finish" is an accomplishment they all celebrated.