Homes
Creative duo spearheading Gaurav Kharkar & Associates design their own apartment with eclectic blends and tropical features
JUN 5, 2021
| By Saloni Rege
Designing meticulously for clients is one thing, but when the designers themselves turn homeowners, imagine how passionately spaces are crafted! In a similar setting, creative duo Vidhita and Gaurav Kharkar have fashioned this two-bedroom apartment as a labour of love.
With their namesake practice Gaurav Kharkar & Associates, they've planned and curated varied projects ingeniously, which is why the expectation to model their own abode was high and rightly so, they've lived up to it. "We looked out for several properties and then instantly settled on this one! Our first home had to be special, which is why we brainstormed a lot around the layout and orientation and made few structural changes. We were sure that the space had to reflect our personalities and signature styles," shares principal designer Vidhita Kharkar.
Conceptualised as a 900 sq ft residence on the 20th floor, the apartment enjoys spectacular views of bustling cityscape as well as mountain silhouettes in the eastern suburbs of Mumbai. Generous use of materials, unusual colour scheme, concealed storage areas, whimsical touch and lots of significant art—coalesce to shape up the house.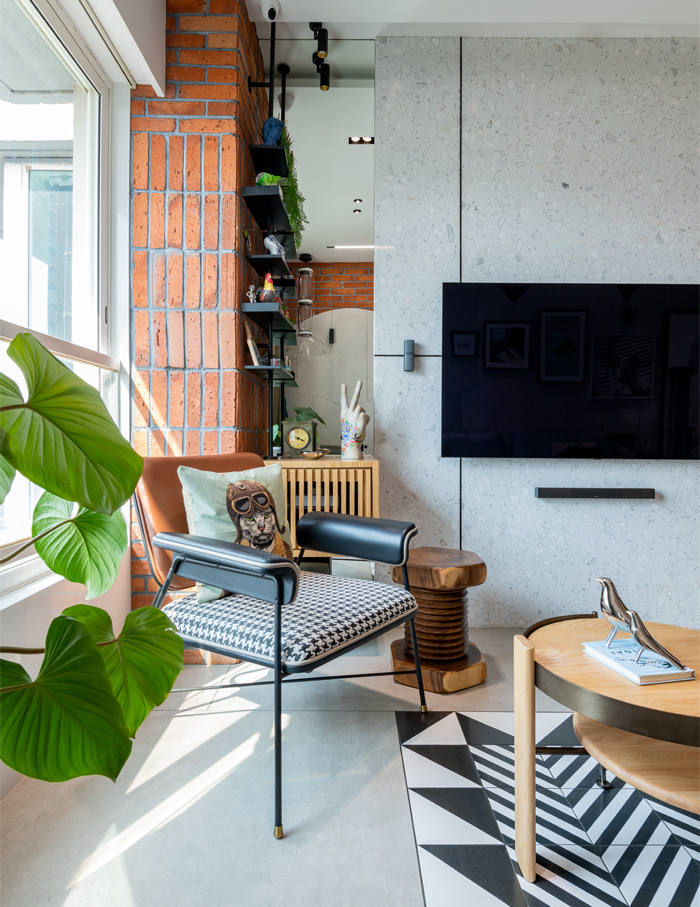 Derived from an eclectic theme and cosy feel, the designers have coined this abode as Ec-co Pad! Reflecting their fondness towards fusing and exploring materials and textures, the home is an incubator for a plethora of creativity and experimentation. The entrance foyer is greeted by a compact passage that houses a smart and efficient shoe rack to serve the client's love for shoes.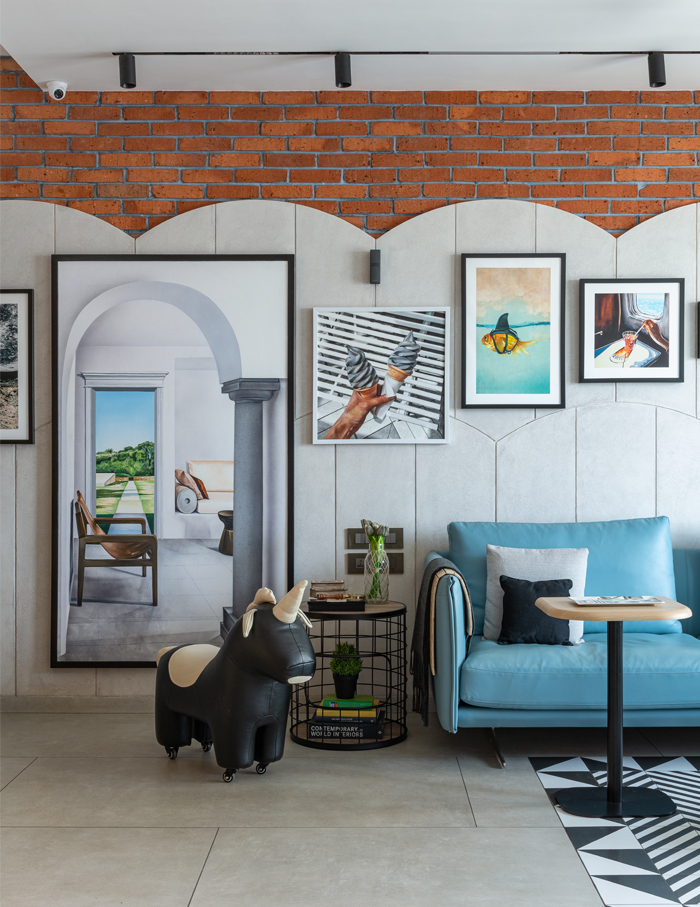 Facing the shoe cabinet is a 25 feet long wall that continues right up to the living area. Peppered with customised pieces, flexible furniture, chirpy artwork and all things informal—the drawing-room is a spectacular blend of aesthetics and function. Accentuating the space is a highlight wall that features a series of double levelled arches, made in cement sheets and paired with exposed bricks.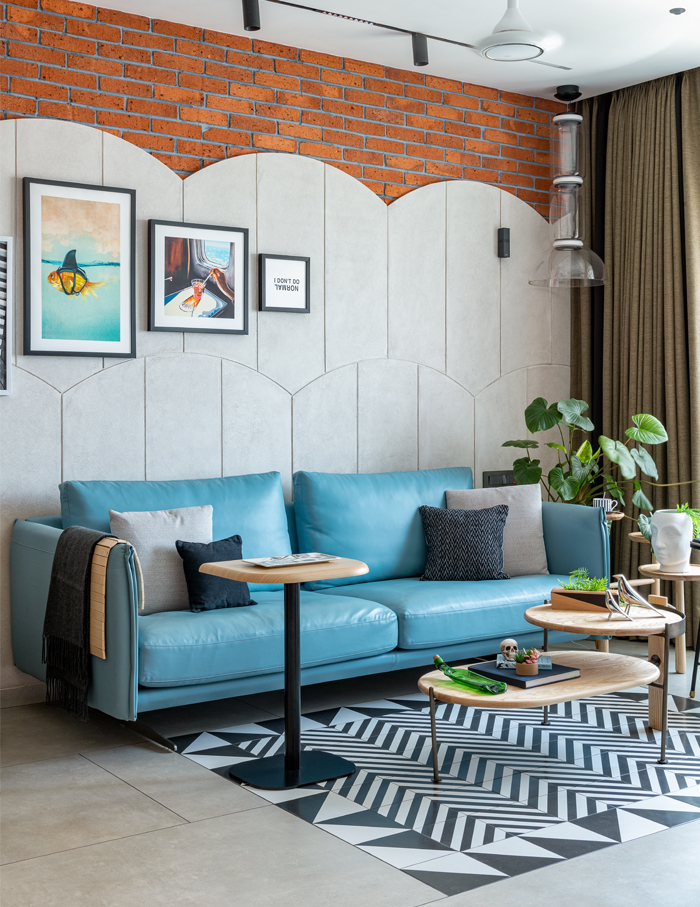 A light blue couch and vibrant artworks offset the striking wall by colour-blocking while breaking its monotony. What's interesting is that each artwork depicts a story, familiar to the homeowners. The one with 'I don't do normal' is architect Gaurav Kharkar's favourite since he always hunts for out of the box ideas. Furthermore, the living room ensemble is highlighted with a faux carpet, which in reality is a composition of black and white geometric tiles.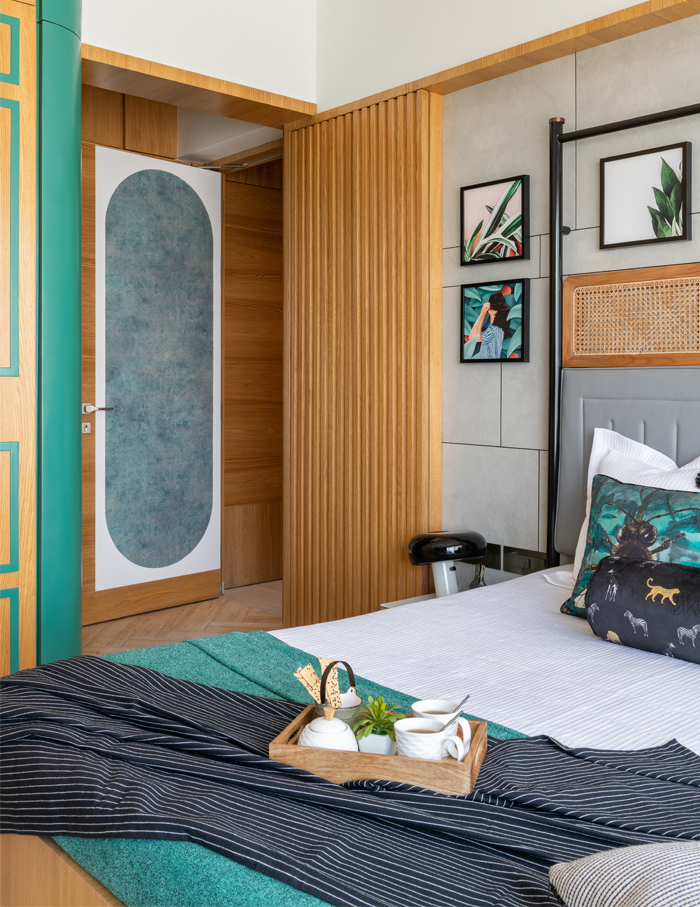 The kitchen is infused with an airy, spacious and connective charm that's desired from an open kitchen layout. "Since the original kitchen was relatively smaller, we made structural changes to accommodate storage spaces for precise organisation. We knocked off a couple of walls and erected a marble partition instead," shares Gaurav. Adjacent to the uber-cool culinary zone is a dining area that's flanked against a mirror to make the space look larger.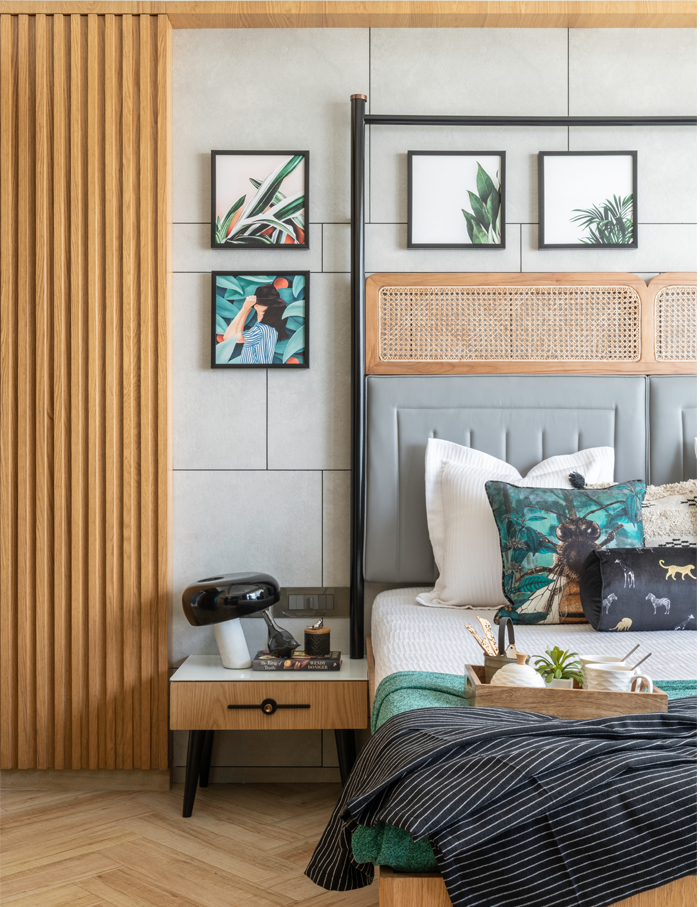 To create spatial experiences, the primary bedroom is realised as a fusion of contemporary aesthetic and old-world essence. Laced with a tropical charm—hues of greys, teals and greens are complemented by wooden panelling and flooring in a herringbone pattern to render a subtle yet lively appeal. A two-poster bed with a unique leather cushion and cane back offsets a textured-tiled wall, right up to the wooden pelmet.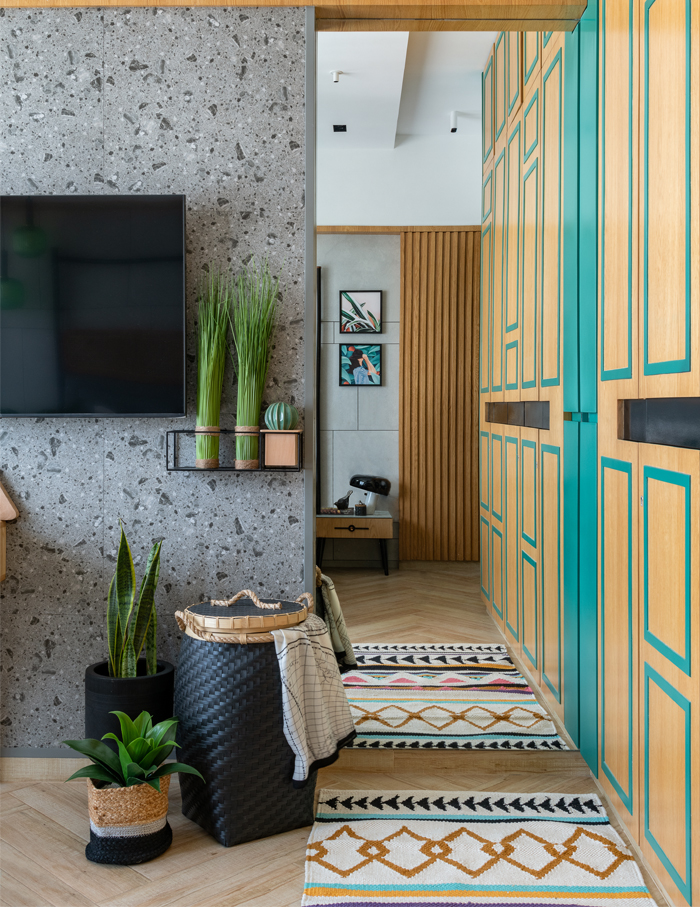 A TV unit is combined with a white oak study table that's freestanding and timeless, against a grey textured backdrop. Besides the unit is a full-height dressing mirror, which creates an illusion of doubling up the fancy wardrobes and colourful floor runner. Apart from creating drama, the setting also reflects optimum light. Adding a pop of fresh greens is a black cane laundry basket that lends a boho spirit.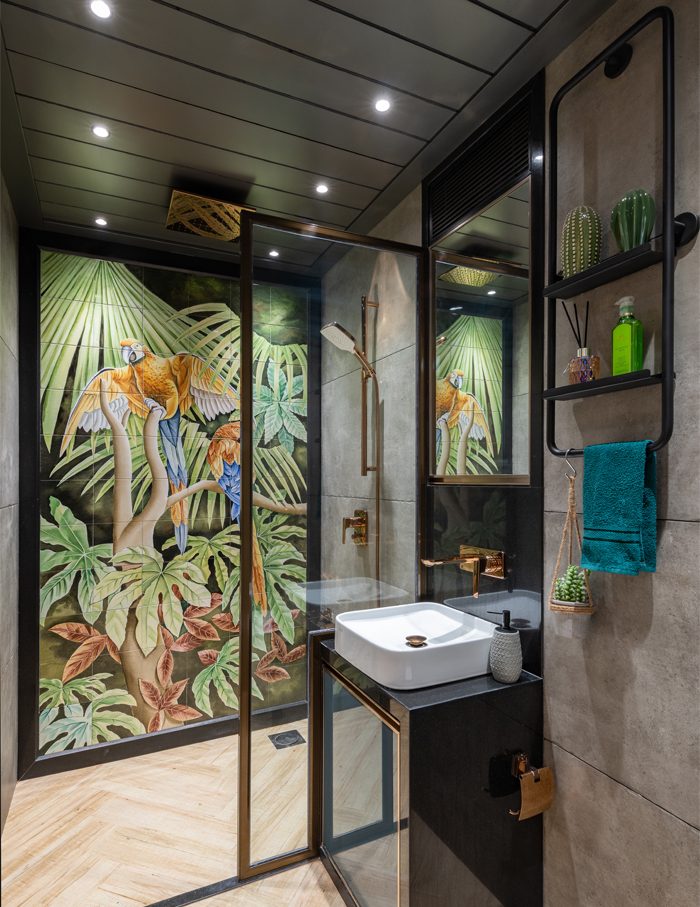 Layered with a quirky vibe, the guest bedroom uses hints of pastel pink pops in the form of soft furnishings and accessories to spruce up the ambience that's inclined towards monochromatic. Gaurav incorporates his childhood fascination with China mosaic chips in a modern twist—by integrating them as a partial bed back panel thereby elevating the interiors.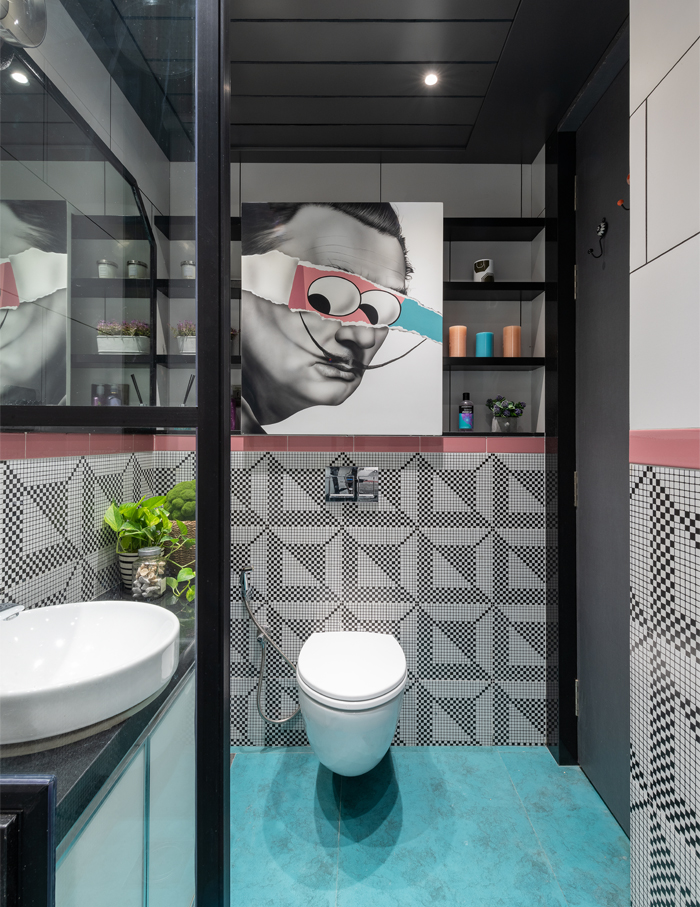 "It is essential for a space to cater to our whims and fancies! We like our design, to be honest, and durable. At the same time, we also believe in experimenting with novel materials and textures. We're ardent enthusiasts of arresting colours and madcap patterns, which is evidently seen in this house. Every nook is distinctly designed and is yet tied by mutual elements. The process of curating our own abode has been different and challenging but a whole lot of fun!" concludes the principal architect Gaurav Kharkar.