Get Inspired
#Coverstory Focus on Decoration: Enrich your interiors with decor that makes heads turn with intricate additions in the form of layers, colours, shapes and textures
NOV 1, 2021
| By Kashish Kaushal
Walk the talk with a mixture of decoration ideas whose implementation can turn around your interiors and make it all things magnificent… Trend and Style Direction by Sonia Dutt.
We Love…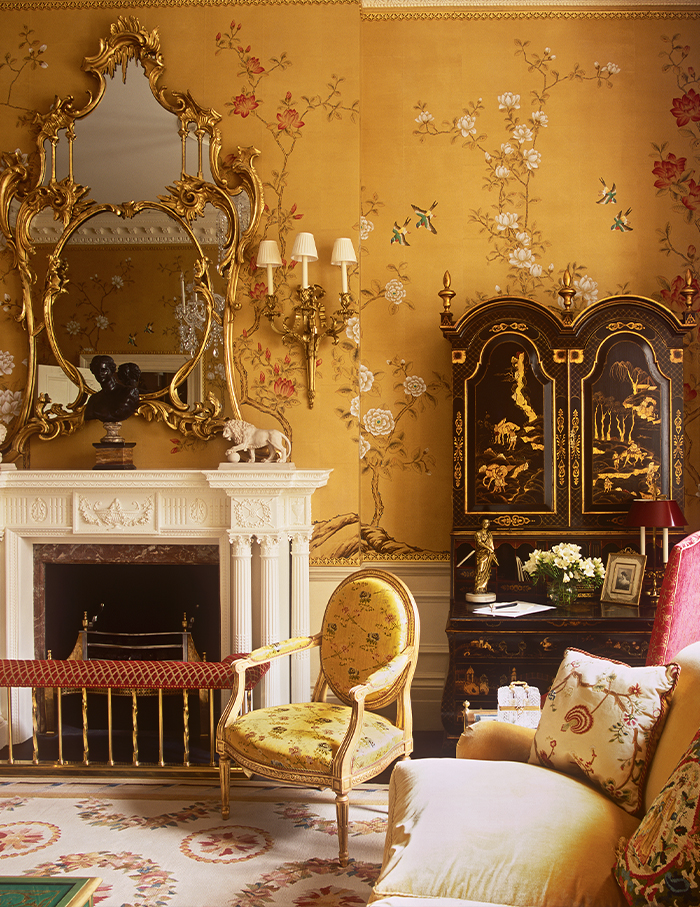 …the depth and character that layering adds in a room affused with textures, patterns, shapes and colours. Tastefully implementing it in this drawing room is Alidad Ltd. with an enchanting hand painted de Gournay wallpaper. Striking curtains, chimneypiece and the Aubusson rug impose a beautiful contrast, exhibiting the pragmatic impact decoration has on a space. 
Hot Trend: LAYERED PATTERNS
Indulge in a game of hide and seek in this room resplendent with multitude of layers, textures and patterns that are punctuated with incredible antiques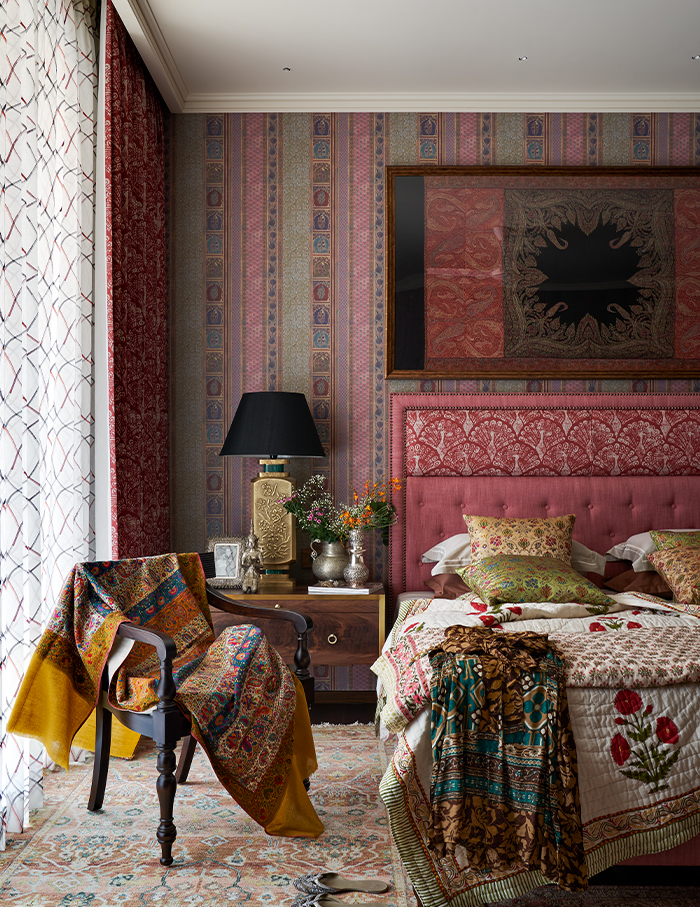 Celebrated interior designer Vinita Chaitanya found the inspiration for the Jamewar room in a classic shawl owned by her client. Maneuvering it as her focal point, she framed the rest of the space around it. Translating India on a canvas, she made sure that the country's rich heritage and constant adaptation of modern times is encapsulated through layers of fabrics and textures. Lively yet traditional wallpapers from the Sabyasachi for Nilaya by Asian Paints collection, the tree of life repousse lamps built in collaboration with Vikram Goyal of Viya Home, brocade cushions custom made by her own office, floor coverings from Jaipur Rugs and the homeowners personal memorabilia bedeck the room to a stunning configuration. 
Website: www.vinitachaitanya.com 
Hot Trend: TIMELESS
Soak in the revival of cultures that render an undeniable visual appeal, striking the perfect balance of old world glamour and modern flair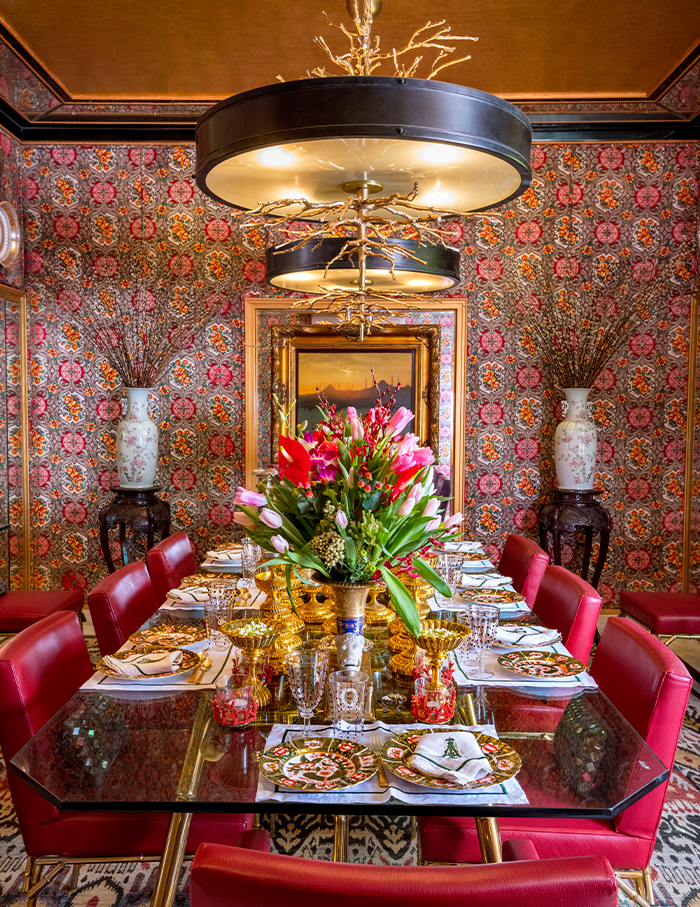 Behold the intensive colours, plush furnishings, unique decorative pieces in the dining room of Adil Ahmad's home. An example of exquisite workmanship in the form of locally sourced fabric—cheent or the westernised Indian chintz, used for mattress covers from a village in Nainital adorns the walls. A Philippe Starck chandelier and bespoke dining table and chairs created by Alex Davis of Indi Store extend a warm invitation to friends and family. From the contemporary painting of the skyline of Istanbul, to the vintage Limoges China dinnerware, everything exists in perfect harmony. 
Website: www.thepalacecollection.in 
Hot Trend: GRAND LUXURY
Roll in the brilliance of palatial grandiose under one roof that play host to a variety of utilities, ambiences and temperaments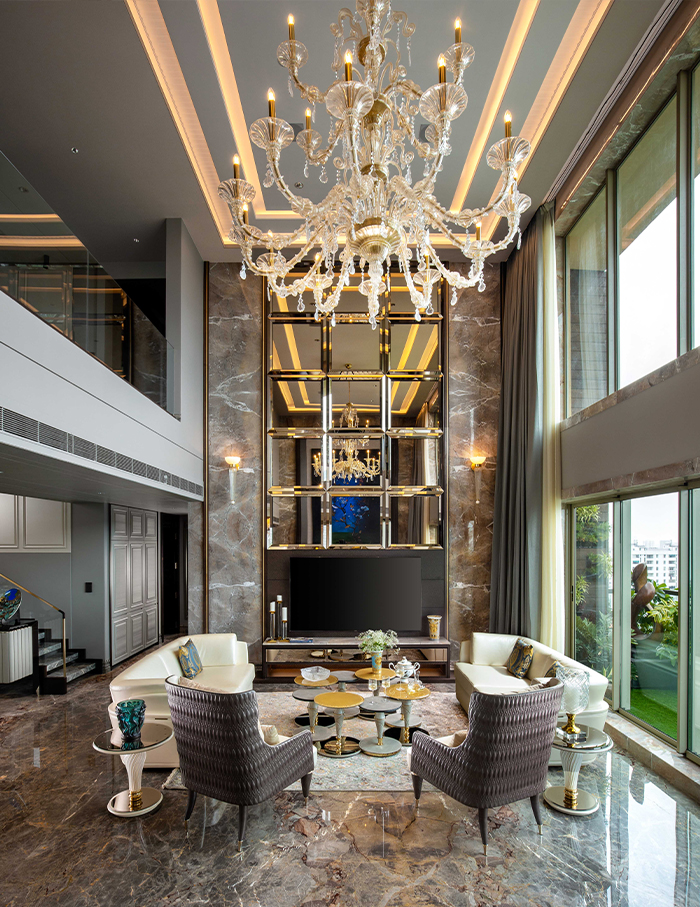 Get insights into the world of luxury with this living room designed by Ajay Arya of A Square Designs. No stones have been left unturned to decorate this double height space with grandeur and contemporary extravagance. The mirror wall panelling with intricate wooden detailing and brass inserts steals the show along with the majestic chandelier by Barovier & Toso. Flooring in Sarin Colin marble from France establishes a strong ground to accommodate all the bling. The signature elements that have come to define this style are custom created furniture pieces, an exquisite ensemble coffee table, hints of golden accents and diffused lighting.
Website: www.asquaredesigns.in 
Hot Trend: FESTIVE GLITTER
Dive into countless decor possibilities with a medley of inspirations, patterns and assortment of elements that set the mood for fun and frolic this festive season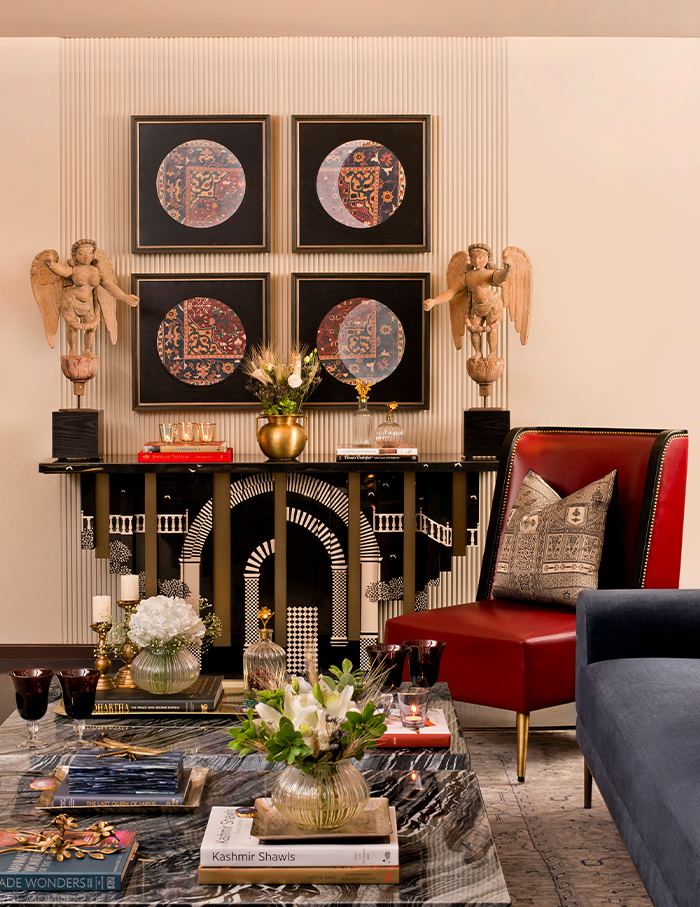 Wrapped in pleasant surprises for the forthcoming festivities, this lounge crafted by Within embraces luxury with a cheer. Bringing an altogether unique dimension to the quintessential lavishness, an underlying cultural ethos is brought about with antiques and artefacts. Come, fall in love with the centerpiece Streets of India console. Finished in marble, it is composed of diverse patterns accentuated by art pieces depicting the phases of the moon, part of an art work series by Within called Mahnoor. The legacy is carried forward with elegance by the supporting cast of this blockbuster, namely the carpet, cushions, the coffee table, a pair of Indian antique angels and an assemblage of adornments. 
Website: www.within.net.in
Hot Trend: CONTEMPORARY CURVE
Create dynamism in your homes with voluptuous curves, geometric twists and turns that enable a subtle sophistication while being majestic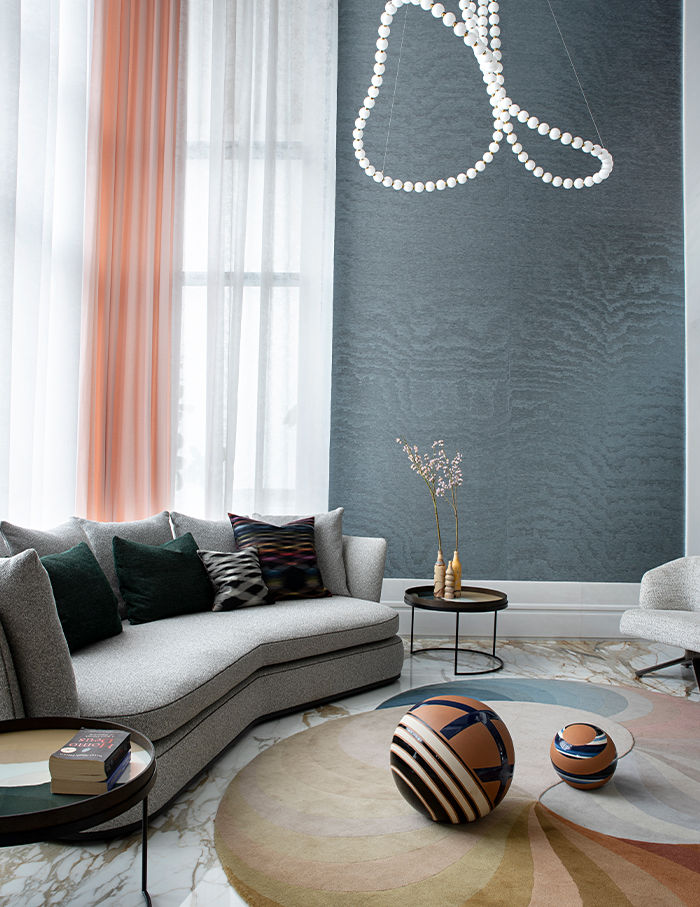 The Sunteck BKC apartment designed by Krupa Zubin of ZZ Architects interweaves classic patterns with awe-inspiring elements. Furnished with modish ingredients, a newfangled invasion of colours elevates the space yet creates an impeccable aura. Notice how the palette plays an integral role reflecting its vibrance on the wallpaper, furniture, accessories and the carpet. A splash of natural light seals the deal as it shines through the grandiose material palette of the home.
Website: zzarchitects.net 
Hot Trend: SHAPES TELL A STORY
Let your eyes wander and explore mellow curves and soft silhouettes that defy all that is straight and simple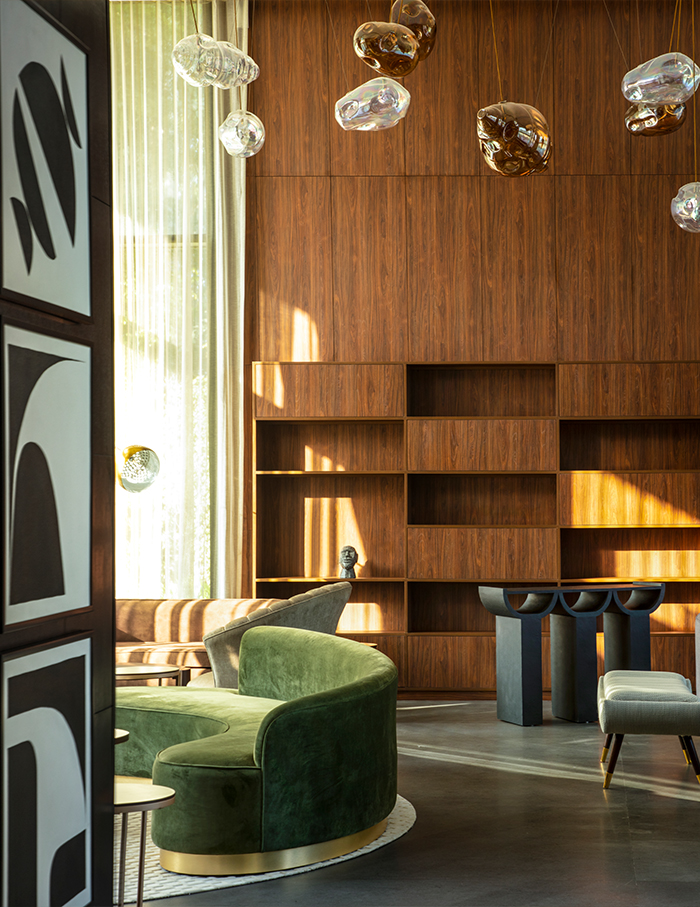 Textures, organic forms, sinuous lines—a combination of various design styles coalesce together in the House of Nostalgia by Renesa Architecture Design Interiors Studio. Complying with the existing architecture, a chemistry transpires between rectilinear and organic forms. Furniture by Studio Fragments and lighting by klove Studio impart a distinctive identity to the space, subtly conveying the unison of contrasts. Embellishment is a no-go in this residence, as colour becomes a motif rejecting the traditional convention of implementing light.
Website: www.studiorenesa.com
Hot Trend: PETITE NUANCES
Revel in the glory of ultra fine and ingenious spaces doused in pastel hues, designed solely with the intention to soothe thy soul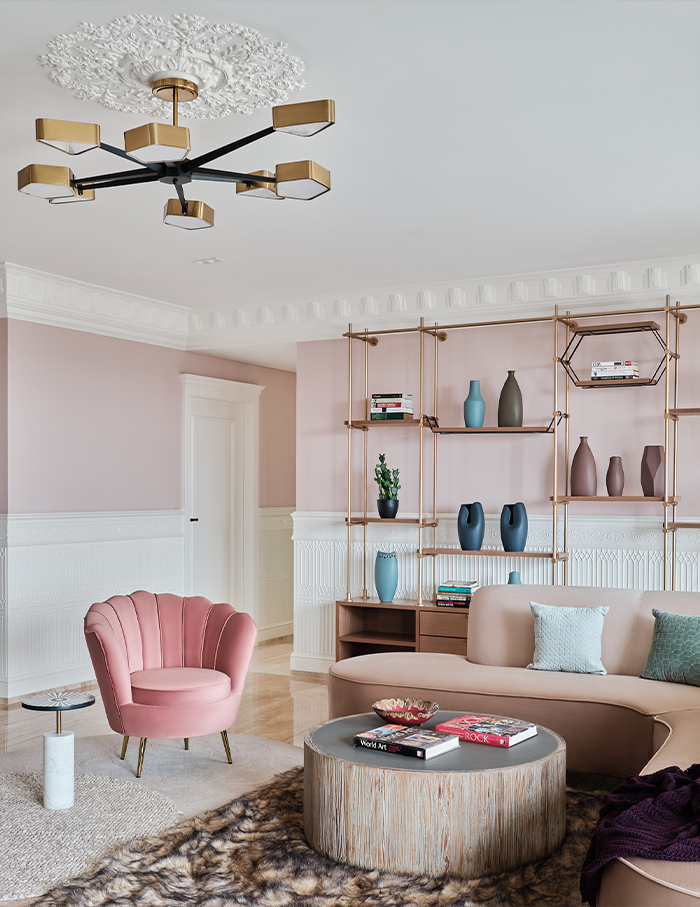 This home designed for comfort and overall wellbeing by FADD Studio impresses with its French influence. A beautiful and intricate white wainscoting threads all the main areas together while the upper wall is washed in a biscotti blush. Exploring French design elements, Farah Ahmed and Dhaval Shellugar showcase a paradigm of turning a house into a home. By incorporating solid coloured artifacts in dark pastels styled with three different textured and monochromatic rugs, the house flaunts its femininity. 
Website: www.faddstudio.com
Hot Trend: A FEW BOLD OBJECTS
Be unapologetic and take a plunge in the unconventional style of design that teleports you to places you have only dreamed about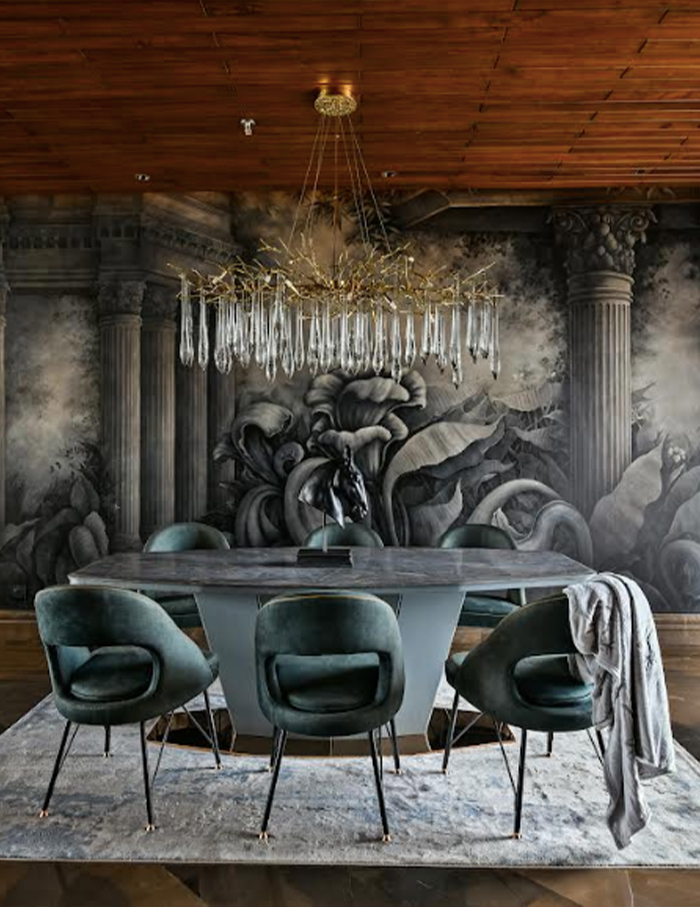 Dotted with modern classic design and a stunning hand painted wall covering, this home designed by VJ Design Studios is an intense reminder of all things bold and beautiful. Unabashedly bringing Italian renaissance through the black and white painting, Vicky Jumrani manages to create an enigmatic atmosphere. The matt brick pattern on the ceiling with the chandelier adds to the element of luxury in the space. However, the dining table with the curved chairs at the centre balances all the jazz as it is topped with muted stone. A warm colour palette and rich texture bring out unmissable mystique to the home. 
Website: vjdesignstudio.com 
Click here to read the hot trends featured in the October-November issue of ELLE DECOR India…