Homes
Indian at Heart: This Coimbatore villa by Sunita Yogesh revives a modern palette with folk art influences
OCT 9, 2023
| By Namrata Dewanjee
For many urban dwellers, the ideal home is a bucolic retreat, a sanctuary where they can escape the hustle and bustle of the city. Verdant Villa, a tranquil oasis on the outskirts of Coimbatore embodies this dream. Nestled amidst lush greenery, the villa's interior weaved together by Sunita Yogesh, Founder and Principal Designer of her eponymous firm Sunita Yogesh Studio, stands as a testament to the blend of contemporary design and Indian aesthetics.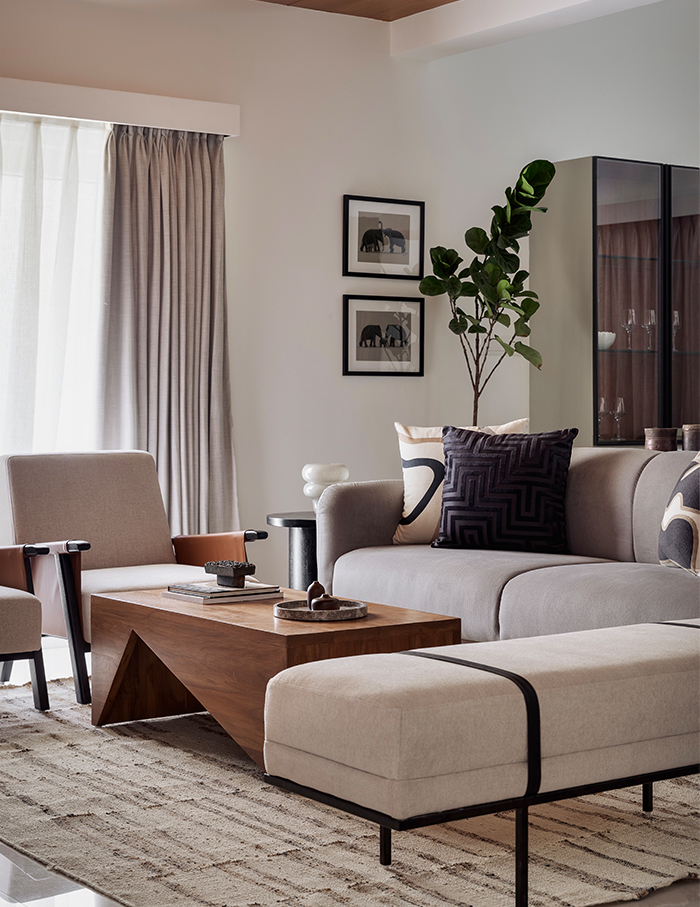 Modern through a traditional lens
With a desire to establish a comforting residence in India, the homeowners, a family of four from Dubai, who originally are from Kerala, chose this villa in a peaceful locale, away from the scurry of the city. Entering the home, visuals of their aspirations for a rested yet riveting home unfold.
The three-bedroom dwelling welcomes one into the living room and the dining area, leading to the kitchen and to a staircase that also lends a peek into the guest bedroom. On the first level, the primary and kids' bedrooms sit tucked, delineated first by a family room that gazes down to the dining nook as well.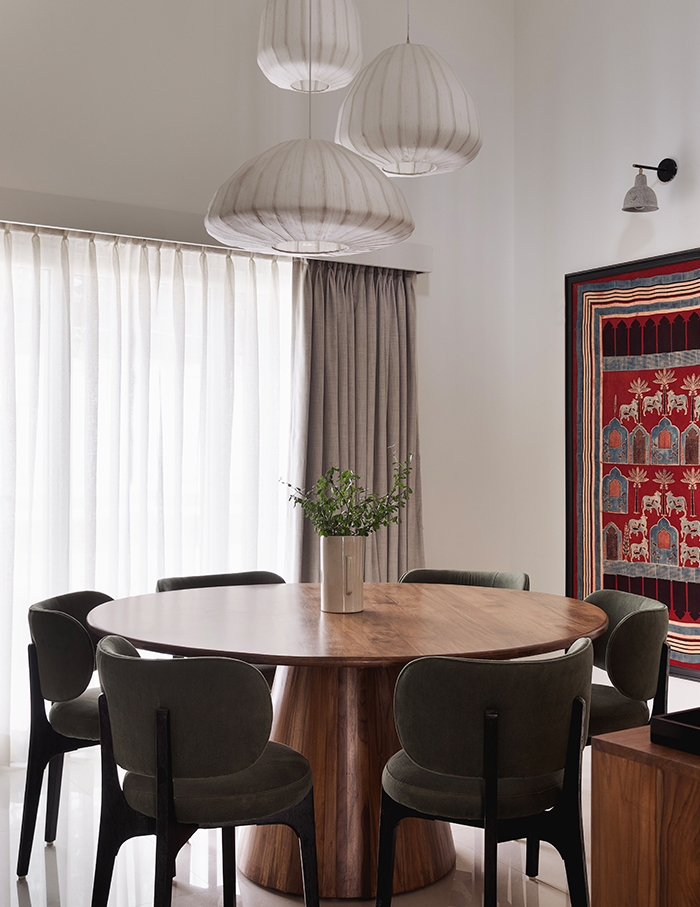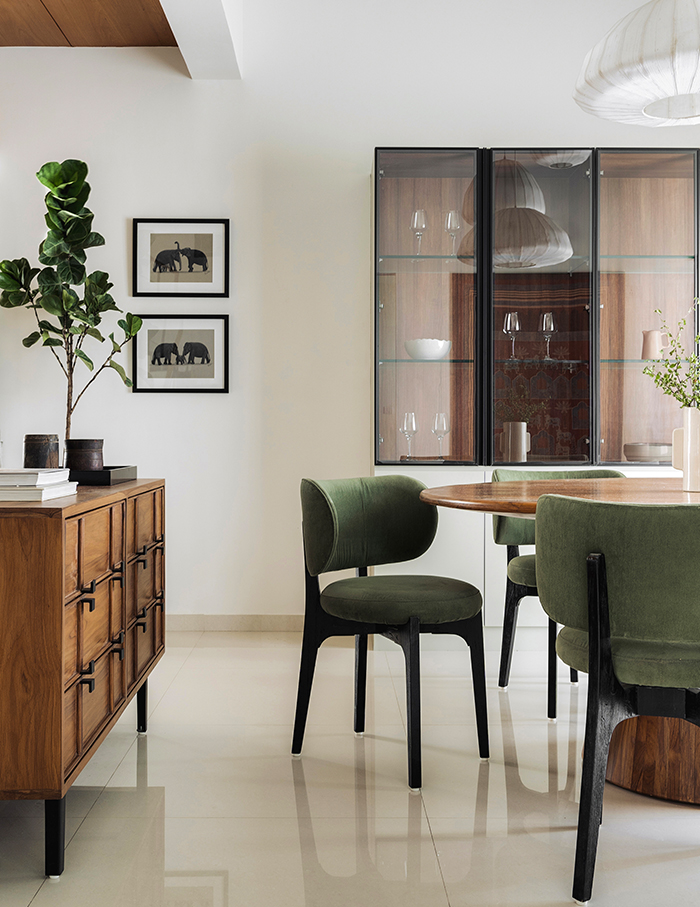 While the layout is an easy navigation to the eyes as well as to the feet, the double-height ceiling on the ground floor adds a singular character to the overall experience of the space. Accompanying this volume are three off-white silk dome pendant lights, suspended right above a circular wooden dining table, with a vibrant kalamkari fabric art piece hanging on the wall for a touch of traditional flair. 
On the first floor, the window in the family room with a built-in study desk witnesses vistas of lush greenery outside. A comfortable sofa-and-bed and armchairs are placed against wall clad with wooden panels and vertical trim detail. The room poses as a versatile space for the family, laced with a snug mood of leisure and visually-rich functionality.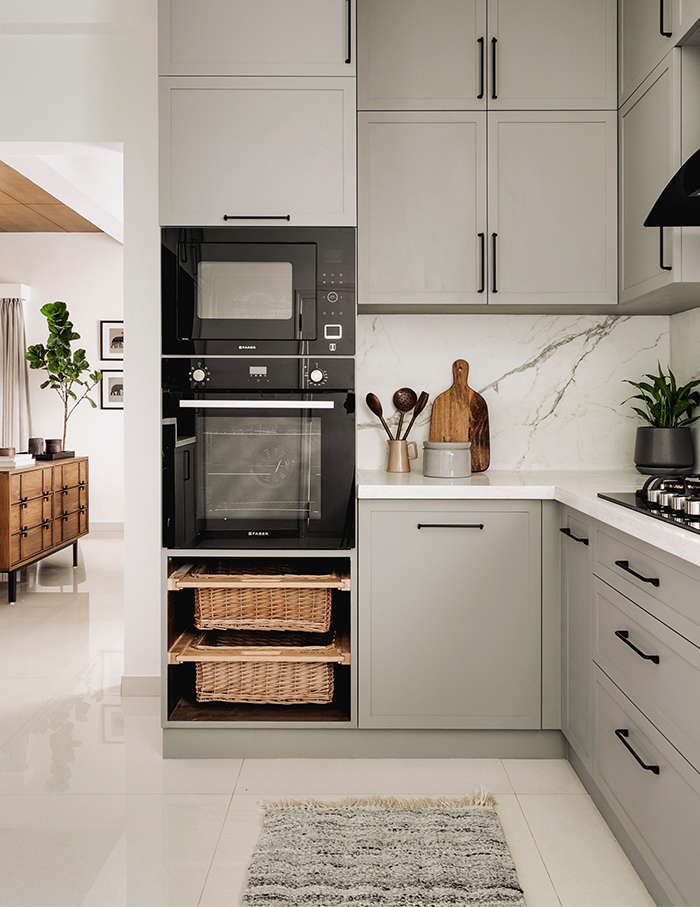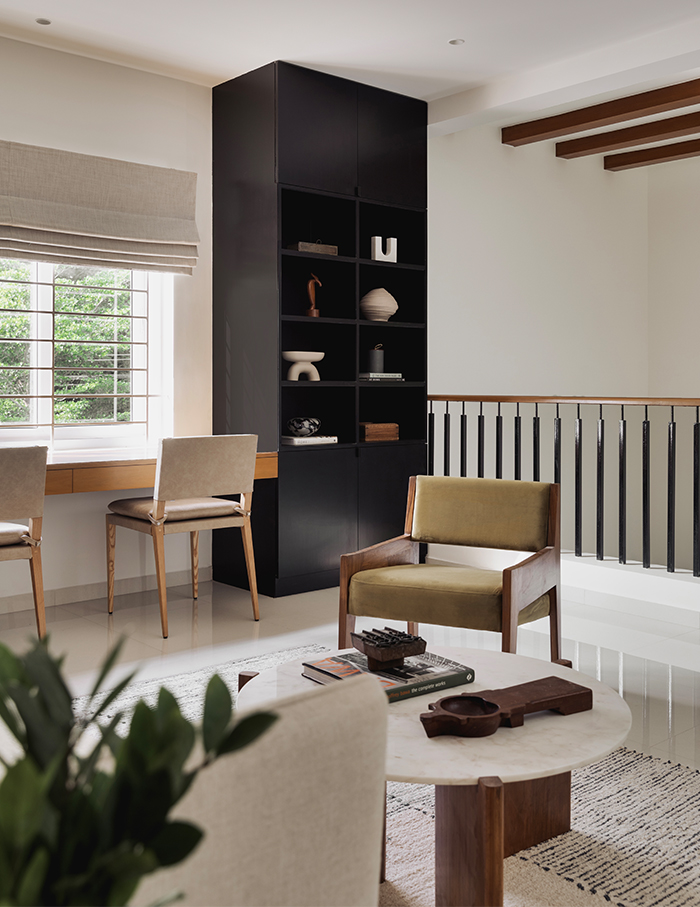 An oasis for the family
Designing the primary bedroom was Sunita's favourite part of the project. "The aim was to achieve a balanced blend of minimalism and modernity with a bold touch." The walls here are painted green, incorporating the family's affinity for the colour, accentuated by a black wooden trim. The choice of furniture includes a contemporary upholstered bed, accompanied by round wooden slabs extending from the headboard and doubling as nightstands.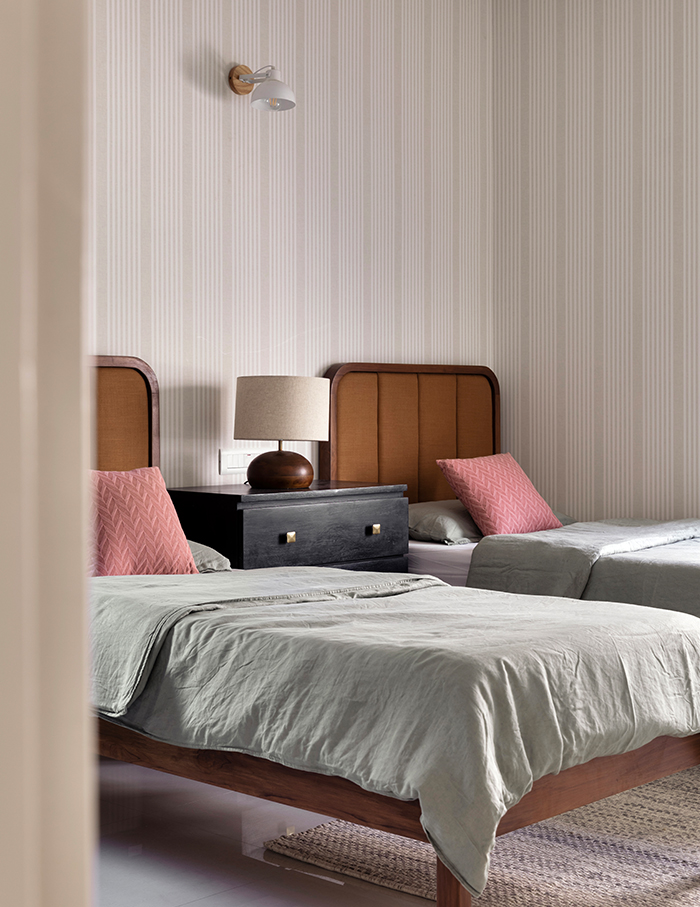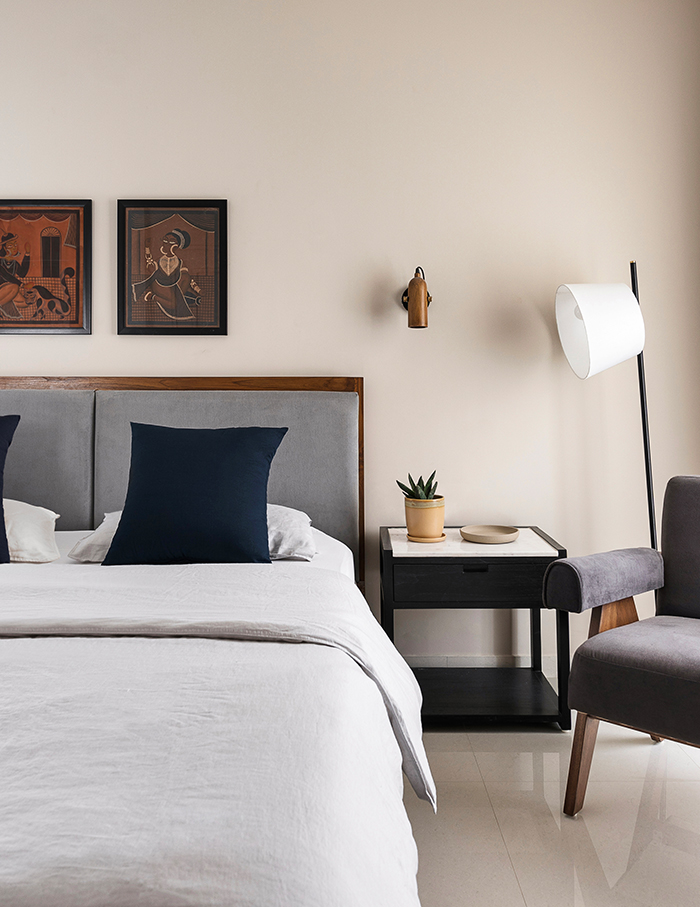 Art, textiles and beyond
The material palette in the house primarily features stone and textiles with hints of wood, resounding a continued warmth. The muted palette is accentuated by earthy tones such as olive green, off-white, and mustard introduced through upholstery and artwork. And then there are splashes of black that adhere to the modern decisions of the home's design.
As Sunita explains, "I was particularly keen on incorporating authentic Indian folk art across the space. Notable selections include the expansive scarlet kalamkari fabric artwork in the dining room, the captivating Khalighat paintings adorning the guest bedroom, the mesmerising mata ni pachedi art in the family room, and the exquisite pair of pattachitra art enriching the master bedroom."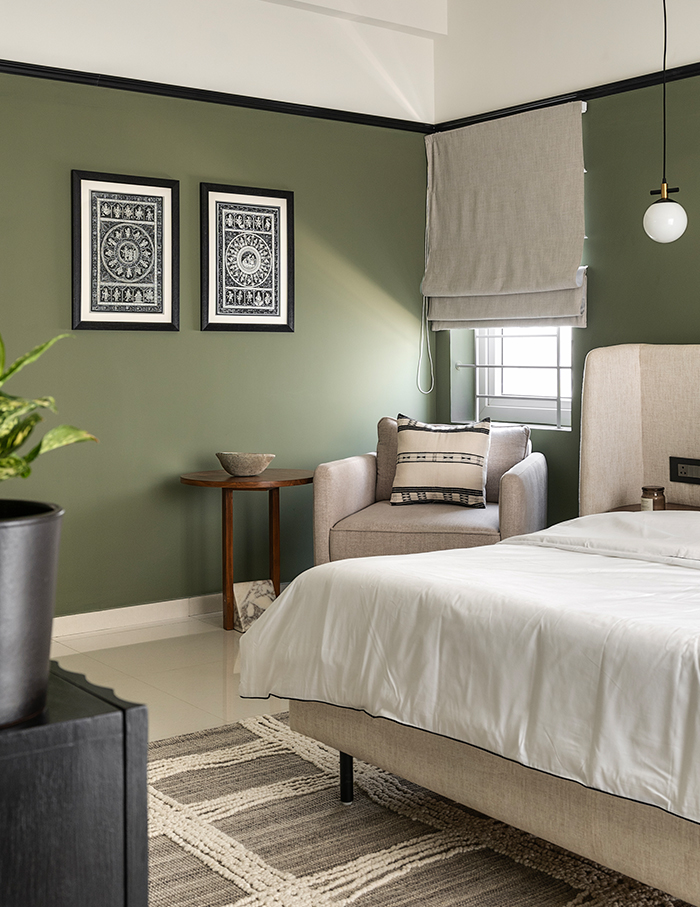 You may also like: A hole in the wall? RAD co + lab transforms this Mumbai workspace with a clever, personalised touch