Homes
Cherokee Trail by Chad Dorsey Design is a heavenly oasis laden with relaxed luxury
FEB 22, 2021
| By Saloni Rege
Cocooned in a private enclave within the majestic woodlands of Dallas, Cherokee Trail by Chad Dorsey Design is truly a warm and inviting abode. This residence is a corner property on an acre, encompassed by dense foliage and a view to the adjacent park. While it is a two-levelled villa, it is designed to engage primarily as a single storey.
The 6,500 sq ft home is realised as a seamless transitional space for a nuclear family of three and is a reflection of their social lifestyles—of hosting gatherings for friends and family as well as organising fundraisers for noble causes.
"While accompanying the client during their house hunt, we fell in love with this classic European country estate in Bluffview and designed it such that is externally perceived as a collection of buildings that appear to be added over time," reveals Dorsey.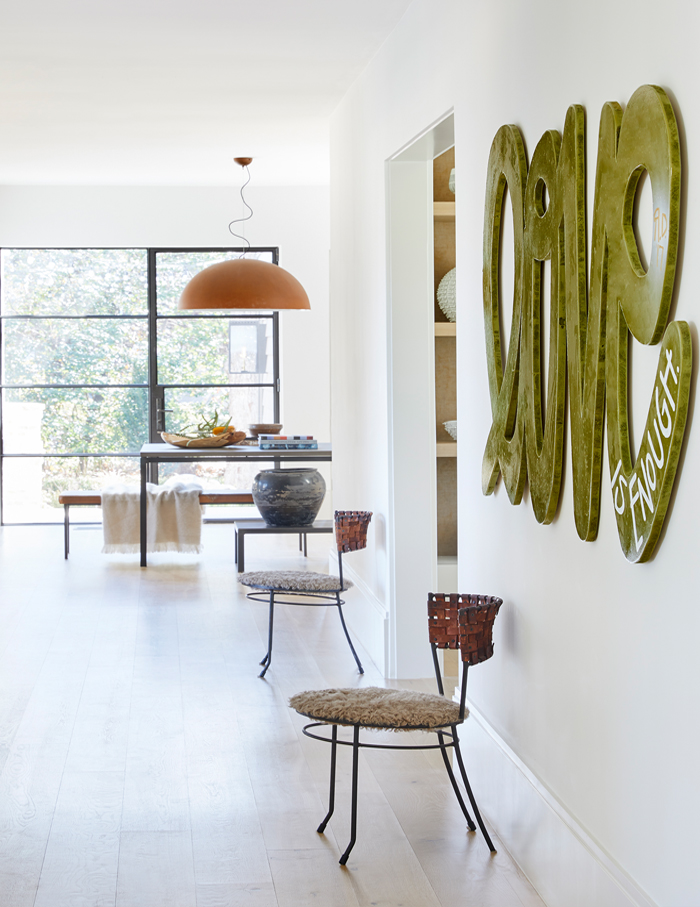 The exterior is dotted with horizontal sliding openings, bespoke bronze panels and antique Chicago brick-painted walls. Upon entering the house, a sense of airiness and transparency fills the interiors as see-through spaces offer glimpses into the living room, outdoor pool and expansive garden. A spacious centre hall with cosy nooks provides access to other parts of the home.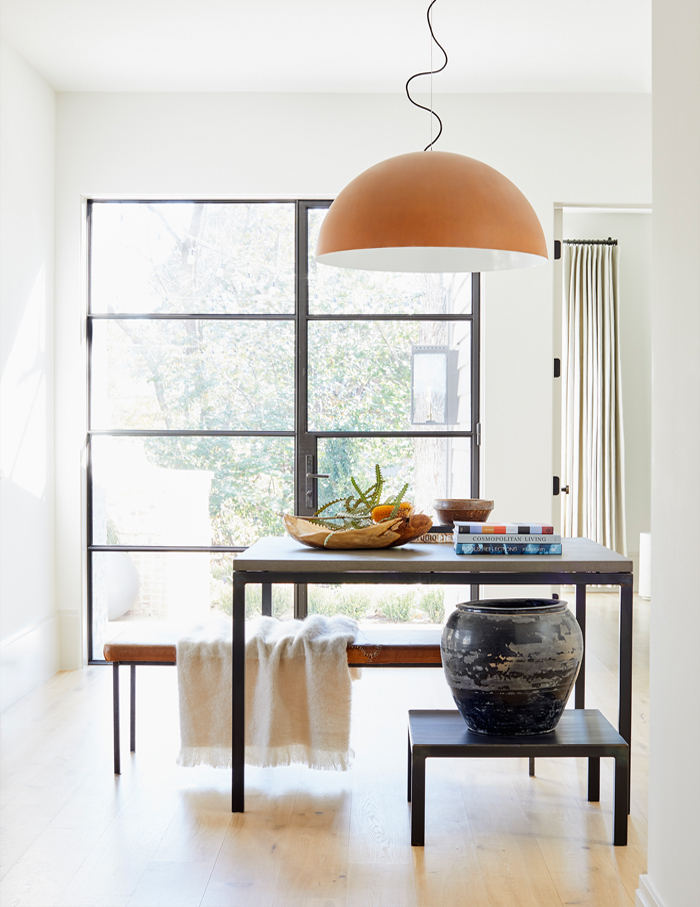 To the left of the foyer is a den, an internal courtyard, a guest bedroom, a powder room and a screened porch. This end also houses a stairway that leads to the upper level of the home. Meanwhile, on the right are private areas such as the kitchen, dining, master bedroom and a covered patio.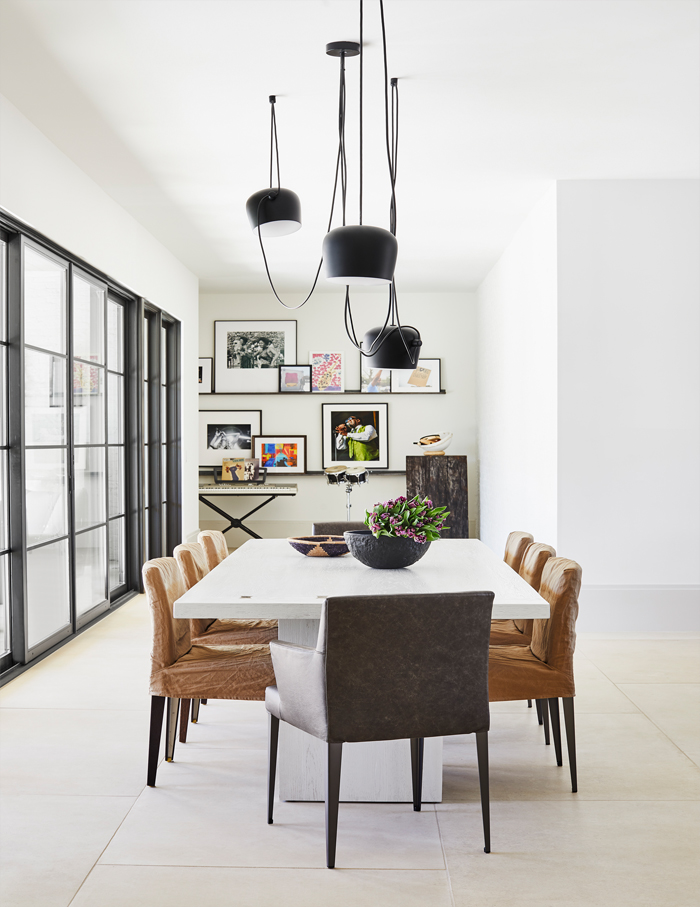 The structure's Belgian architecture is matched with interiors that are laced with Scandinavian decor, coalescing classic with modern themes. An ideal space is the dining area, which is tucked in a visually dedicated space, resting on a limestone floor and overlooking the lush surrounding view.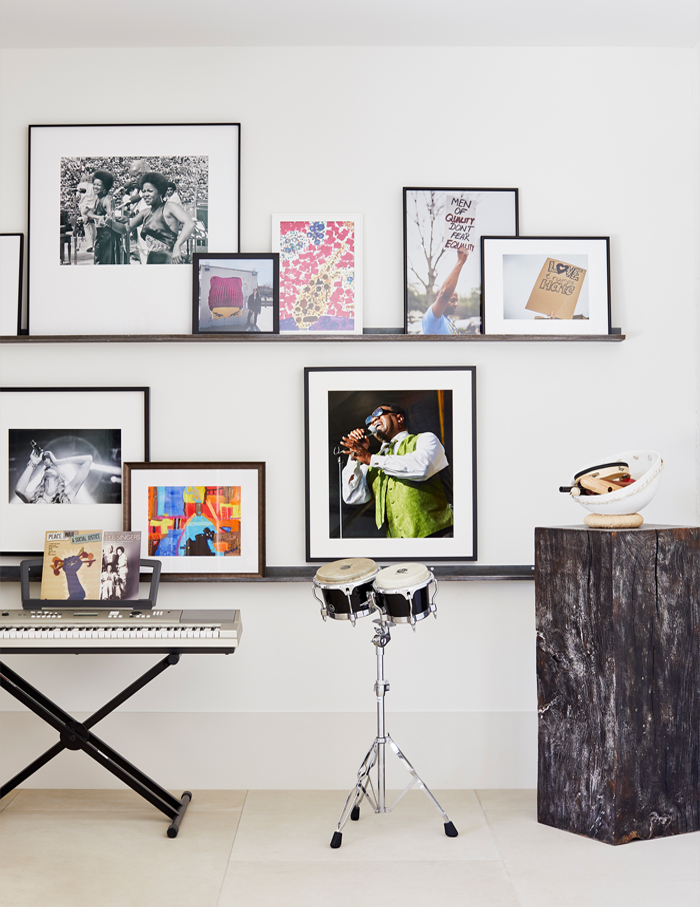 Each space is defined as a unique element that reflects the homeowner's preferences and hobbies. Also, breaking away from the trend of rooms being open to each other, the private chambers still offer views to unwinding spaces of the abode.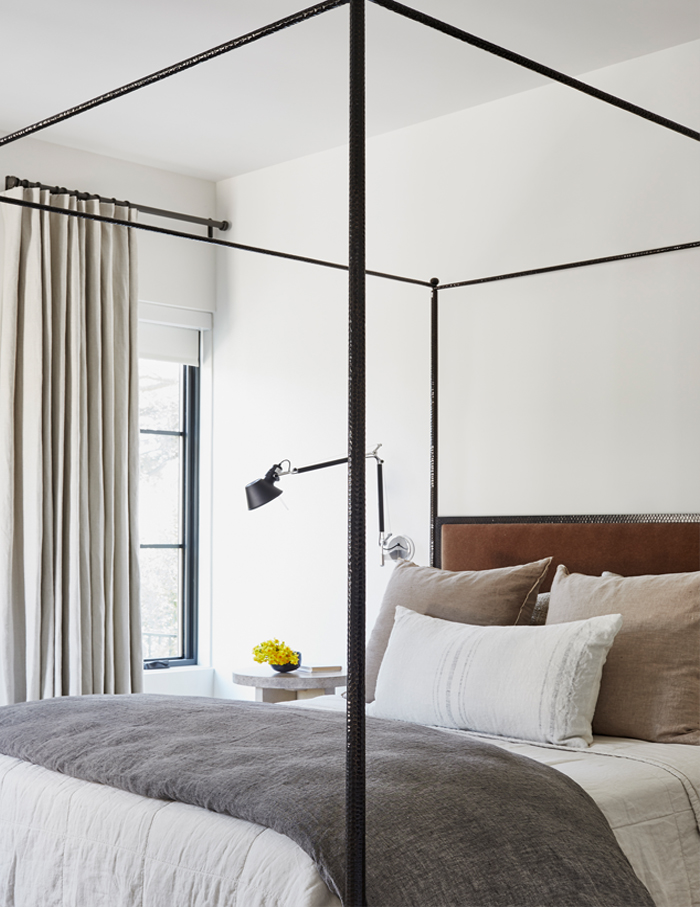 "My design philosophy is relaxed luxury. It's about living casually with things a person loves to touch and feel in a way that is approachable and not precious. We've achieved this with the help of custom furnishings, incorporating handcrafted details, meaningful objects and a soothing vibe," adds the designer.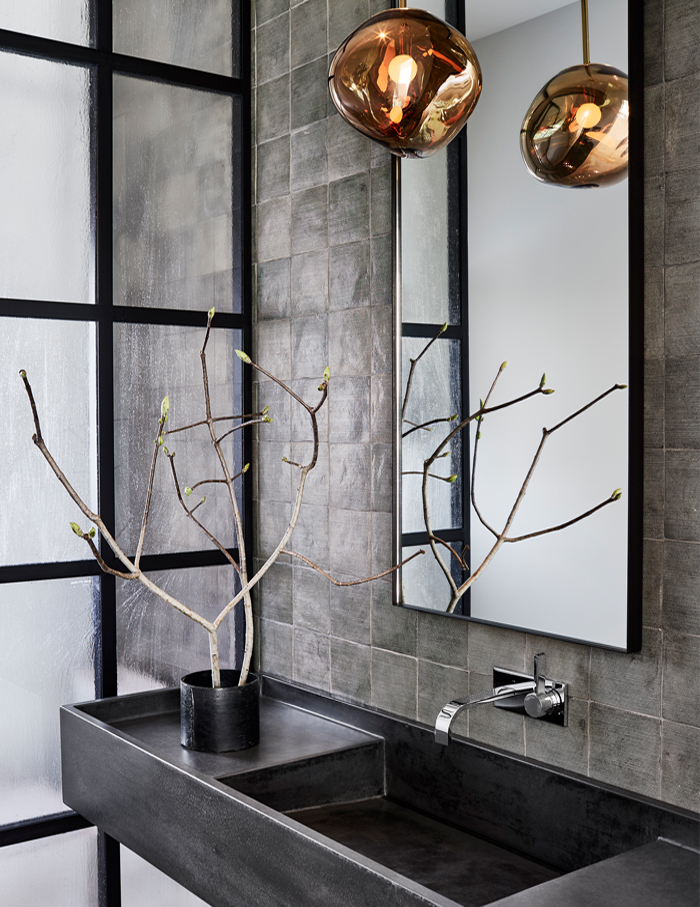 Layered with textures, the material palette is crisp and timeless. This includes the limestone floors, which set the tone from outdoors to indoors, European white oaks, rift cut white oaks, clean marbles—all of which are counterbalanced with antique tiles, steel plates and leather accents.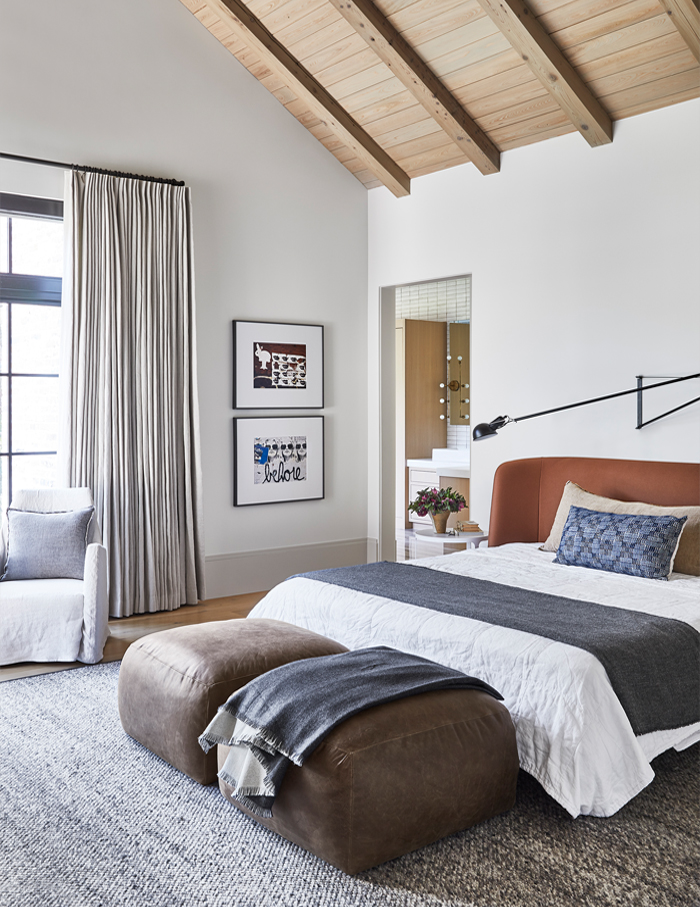 The master ensuite is an elegant and cosy space. It is covered in a warm, wooden rafted ceiling and covetable furniture. Peppered with textured furnishings and wall artworks, the room transforms into a cushy zone with its upholstered shell headboard, making it perfect to snuggle or read in.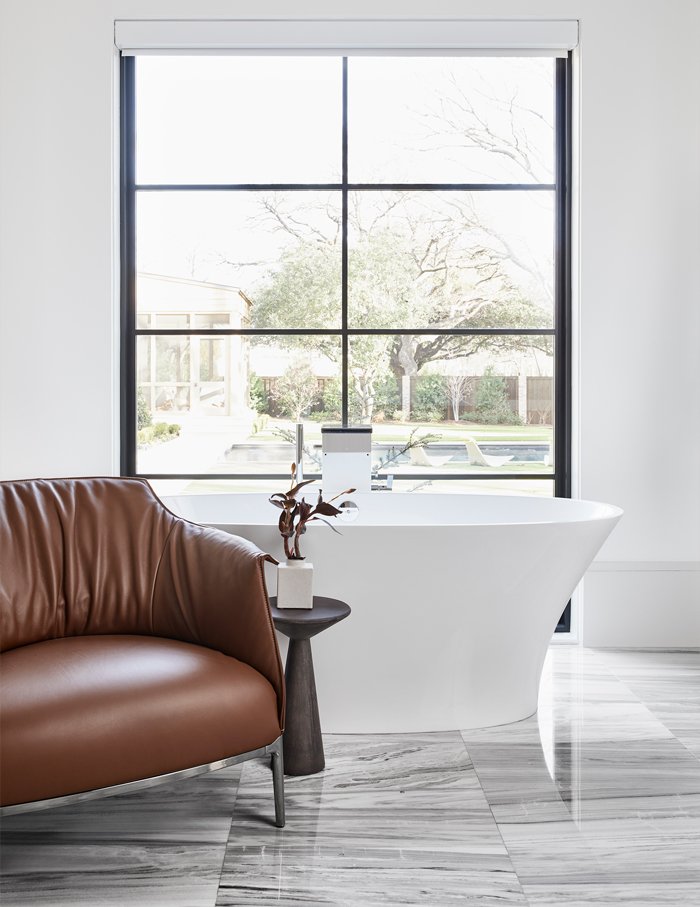 The master bath comprises a freestanding Victoria & Albert tub that looks out to the pool deck. It is in keeping with the theme of the home with the help of the colour palette—shades of white, greys, caramel and pops of acid green—and pays homage to the verdant landscape of the site.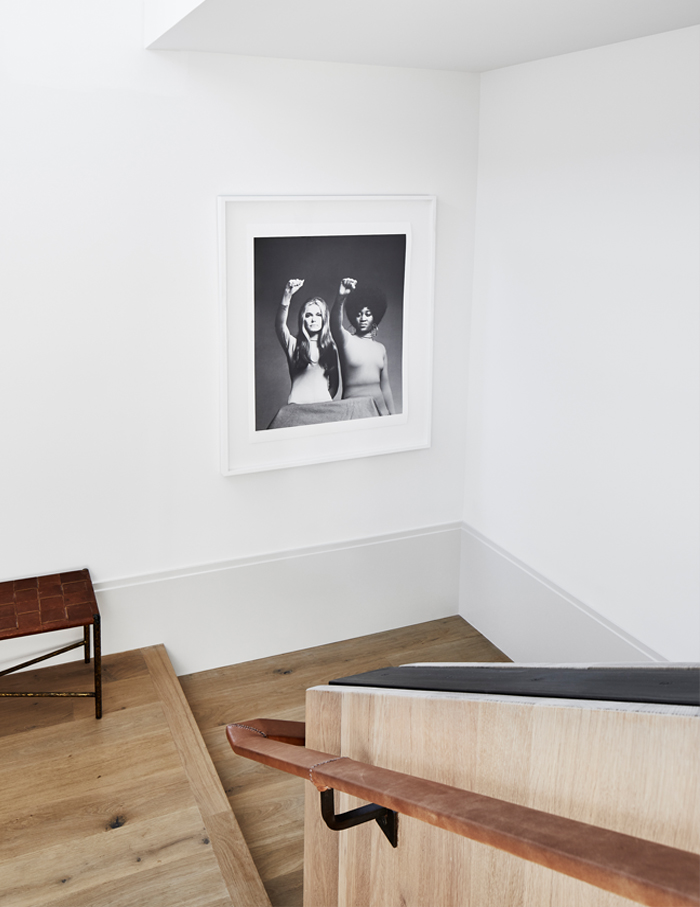 "We rely on a handful of local artisans to customise each project. In this home, it was the metal workers who created a steel plate with white oak divider wall on the stairs and a steel handrail that was wrapped with leather on site, which highly impressed the client," shares the eminent architect and interior designer.