Design
Boundless luxury has a new address in Anita Dongre's new flagship store at Kala Ghoda
MAR 2, 2023
| By Siddharth Babani
Sitting across the street from Jehangir Art Gallery and the historic David Sassoon library is an enduring veteran of a building with a painted yellow facade, gleaming teakwood galleries and beautiful stained glass. Transformed by her fortitude and a year of perseverance, the historic Sassoon Building has been brought back to life by interior designer Shonan Trehan and restoration architect Kirtida Unwalla to play host to Anita Dongre's newest flagship store in the heart of old Bombay. 
"Bombay is my home, and the Sassoon Building has witnessed every change of this city. In restoring this building we wanted to keep as much of its original form as we could– stained glass windows, timber beams and staircase, the tiles… I wanted to bring back the luxury of the 19th century and have it meet the effortless grace of the 21st century," announces Anita Dongre who was keen to realise her vision of instilling Indian craft within colonial architecture against a backdrop of scenic artwork.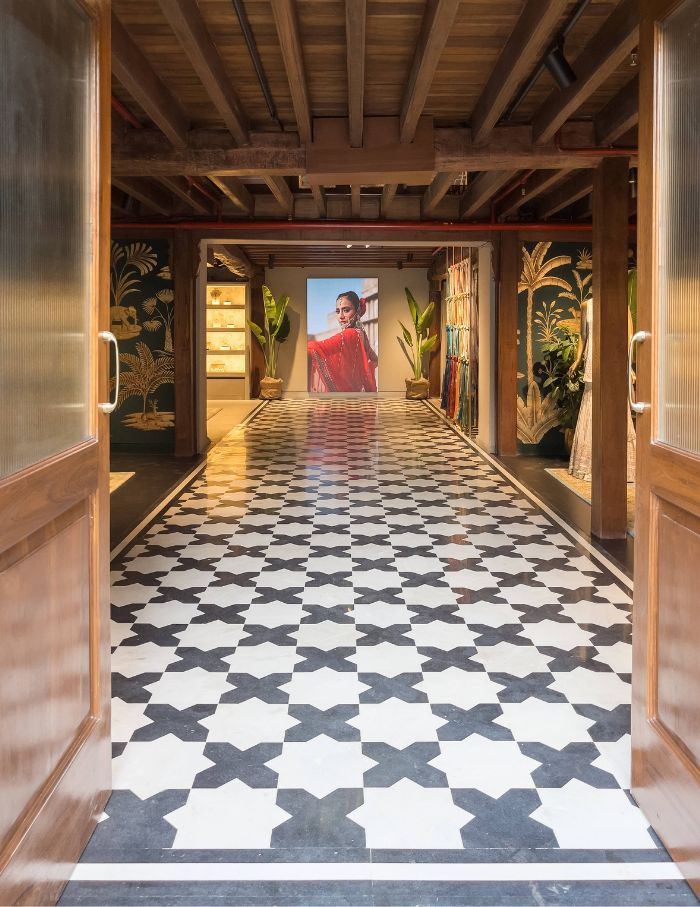 As you set foot into Anita Dongre's latest offering, you are ensconced by luscious green and gold hand-painted walls depicting iconic Indian Pichhwai art. Only once you are a few paces into the store is when you begin to appreciate the painstaking effort to preserve the architectural heritage of this aged relic. The 200 year old teakwood framework running the length of the store is a beguiling remnant that adds to the charm of the new collection of jewellery on display at ground level. 
The newly refurbished timber staircase takes you on a journey through more nature imagery set against an emerald green base to the three floors above housing the staples of the brand. The first floor features 'Grassroot' by Anita Dongre and more ready to wear collections found among substantial cast iron railings within the building.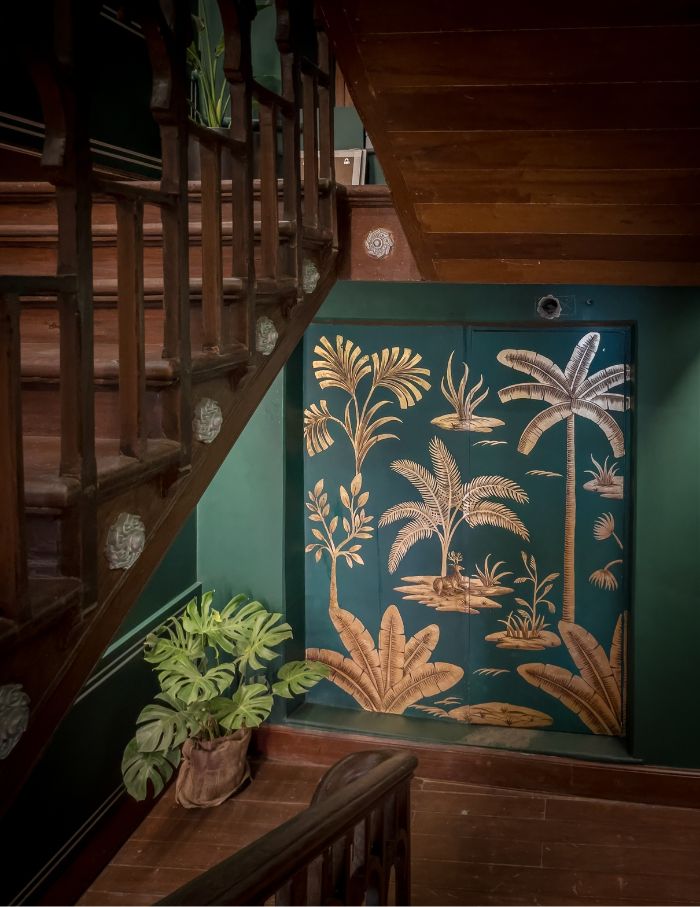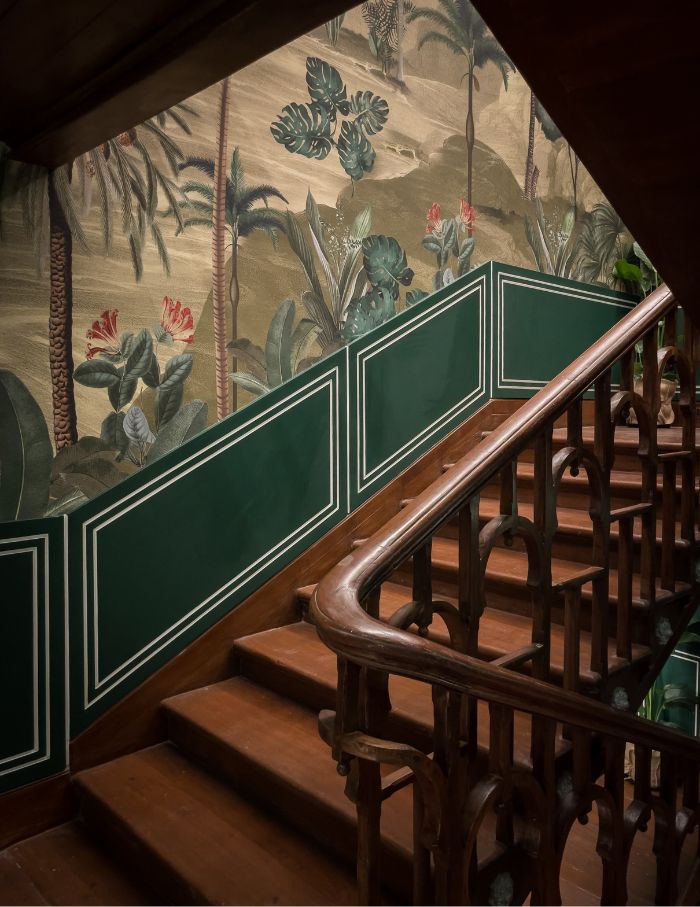 Shafts of light flood into the second floor through the arduous recreations of stained glass that brandished the Sassoon Building in the 1800s. Cast iron columns with their Corinthian capitals support the rich timber balconies lined by glazed floor tiles. Amidst the view of Rajabai clock tower and the Sassoon Building's architectural wealth lies Anita Dongre's menswear collection standing out against more grey and gold 'Pichhwai' art.
With the domed timber roof just within reach you finally ascend to a world of indulgence and what is a trove of embroidered lehengas in puddles of melodramatic light. The bridal floor transports you to ballrooms and palaces and a cornucopia royal delirium. It is the very essence of luxury, of wealth and of ultimate bliss.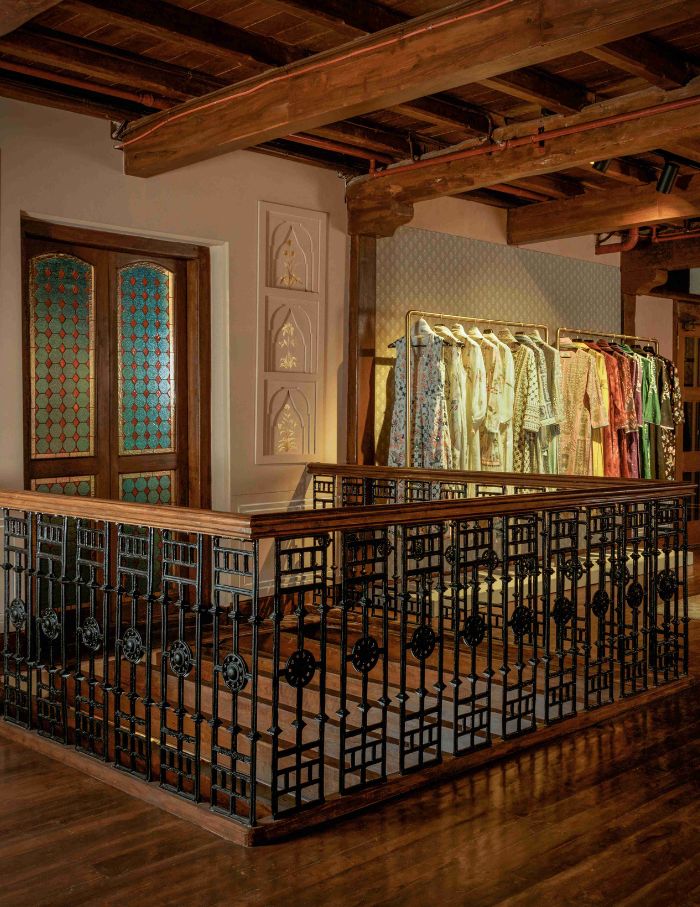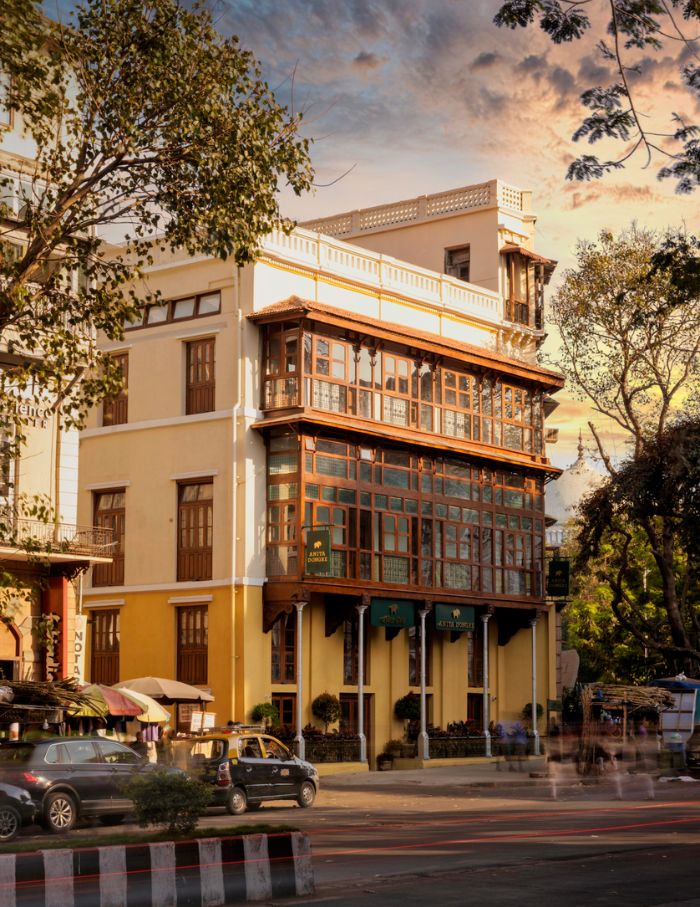 The new flagship store in Kala Ghoda is proof that something so forgotten over time can find its way back into our ever changing world. From the restored woodwork, to the archaic floor tiles and stained glass, every inch of the 8500 square feet of the Sassoon Building has been restored to its former glory, to celebrate 'Bombay' and the inherent and deep-rooted grandeur of days gone by. As you walk out of this confluence of old and new, where craft and nature coexist, you feel yourself come over by an inherent sense of nostalgia. A familiar past you haven't escaped quite yet – served to you on a platter in Anita Dongre's indulgent vision of paradise.
You may also like: Bombay meets Mumbai— Shonan Purie Trehan revamps the Bombay Canteen located in Kamala Mills Mumbai