Homes
Bhavya Parekh and Nirav Nirmal of Pan Design Studio mould this bijou home to exude a "mid-century Bombay" charm
FEB 19, 2021
| By Vedika Nair
When Mumbai-based Bhavya Parekh and Nirav Nirmal of Pan Design Studio met with the well-travelled inhabitants of this 1,700 sq ft home, their discussions led to the renovation of Kamdar House—a cove that boasts pristine tones and a mid-century Bombay aesthetic.
The home is enchanting for its use of organically sourced materials, contemporary furniture, restrained palette and neutral hues with accents of black, marble and teakwood. "Experimentation was key. It easily enabled practical functionality, enhanced the lifestyle experience and, above all, helped us stay true to our aesthetic sensibility," shares Nirmal.
The designer duo completely reshuffled the home's layout, and transformed the formal and intimate areas to create space and a seamless blend of design.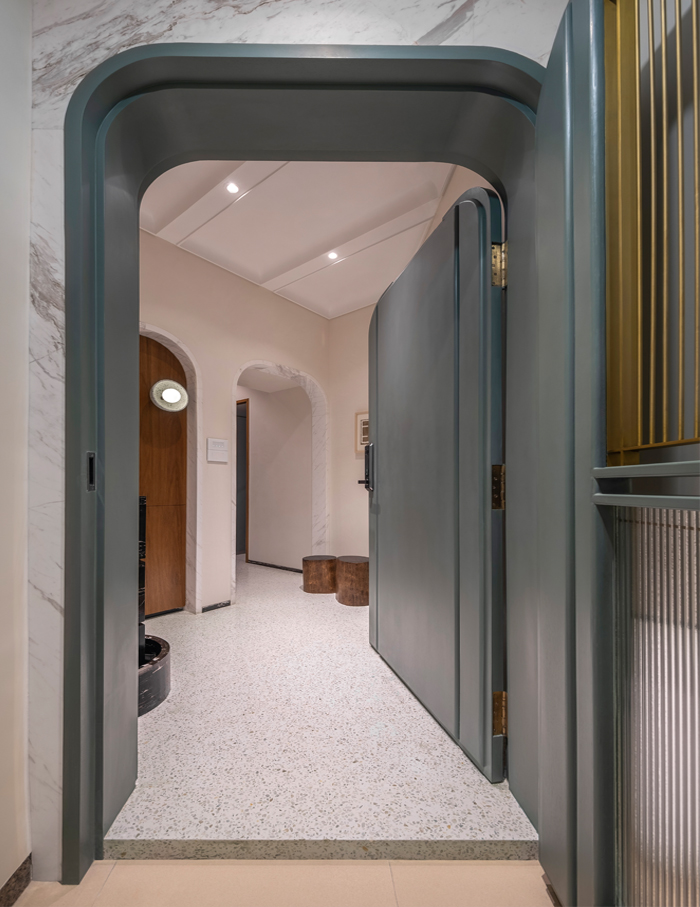 The home opens up from the unconventional, rectangular arch-shaped main door. It is finished in an open-grain oak veneer and painted in the shade of sage. Just inside, a black marble waterbody lies on the left and two similar arches in white marble are seen. While the left features wooden shutters and louvred panel treatment, the right archway leads into the house.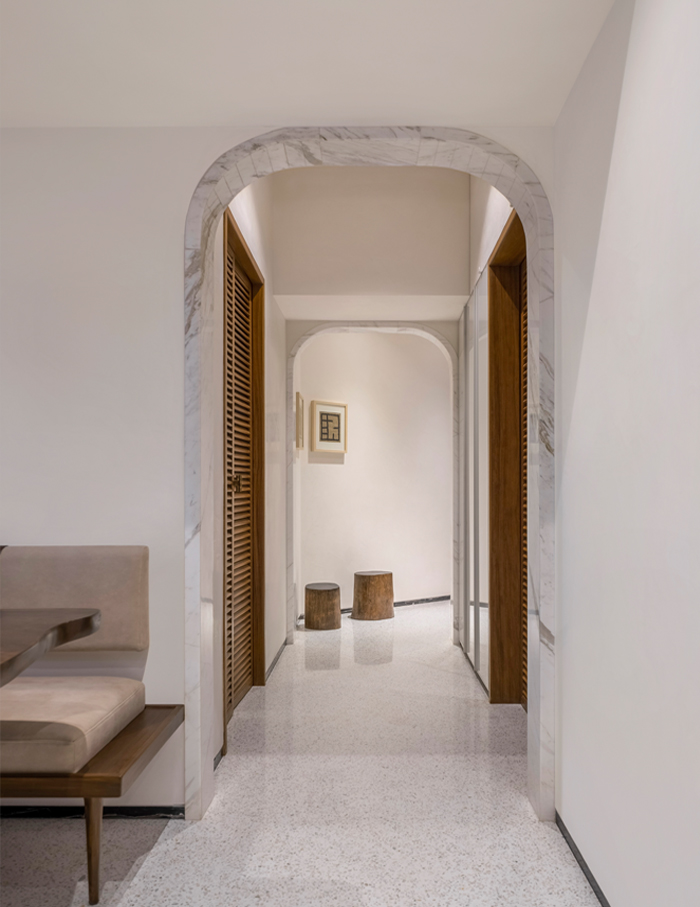 A walk into the residence reveals a C-shaped multipurpose storage unit, a kitchen with pantry and then, a storeroom. Parallel counters in an exquisite olive green granite, mined from southern India, are perfect for the farmhouse-style kitchen sink. Nearby is a prayer space and the dining area. The latter houses a bespoke ensemble—the table is crafted from a solid tree live edge wood and paired with customised black dining chairs for a wabi sabi effect.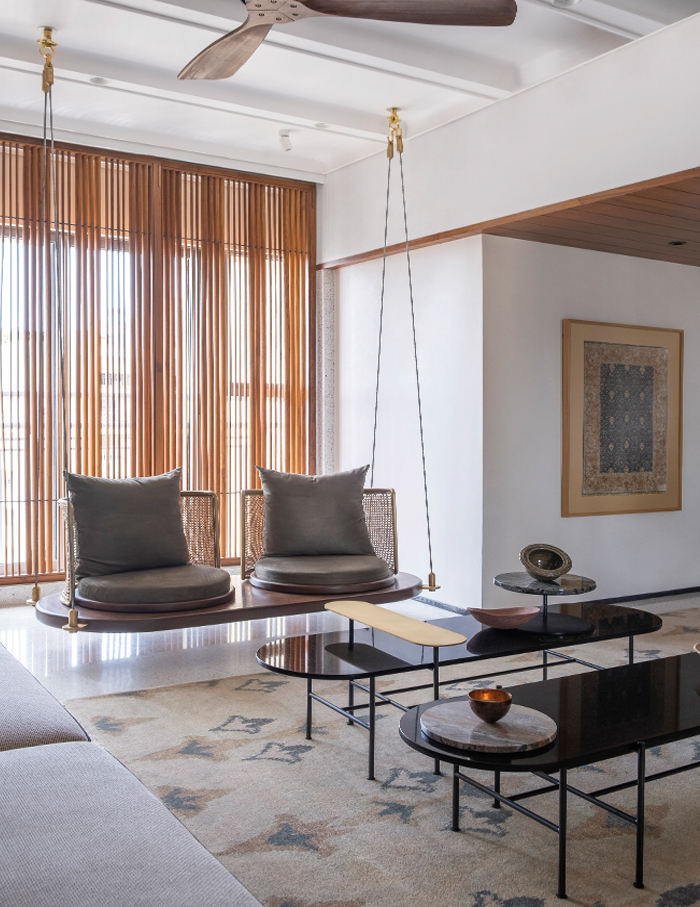 Inspired by the lobbies of old buildings, artist Vishwa Shroff's Series of Illustrations of Staircases adds character to the dining space. A bench, attached to the wall nearest to the window, becomes  a cosy reading nook with a marble bookcase. And behind the shelf is a sliding door that conceals the television. This long, teak-finished media unit divides the dining from the living space.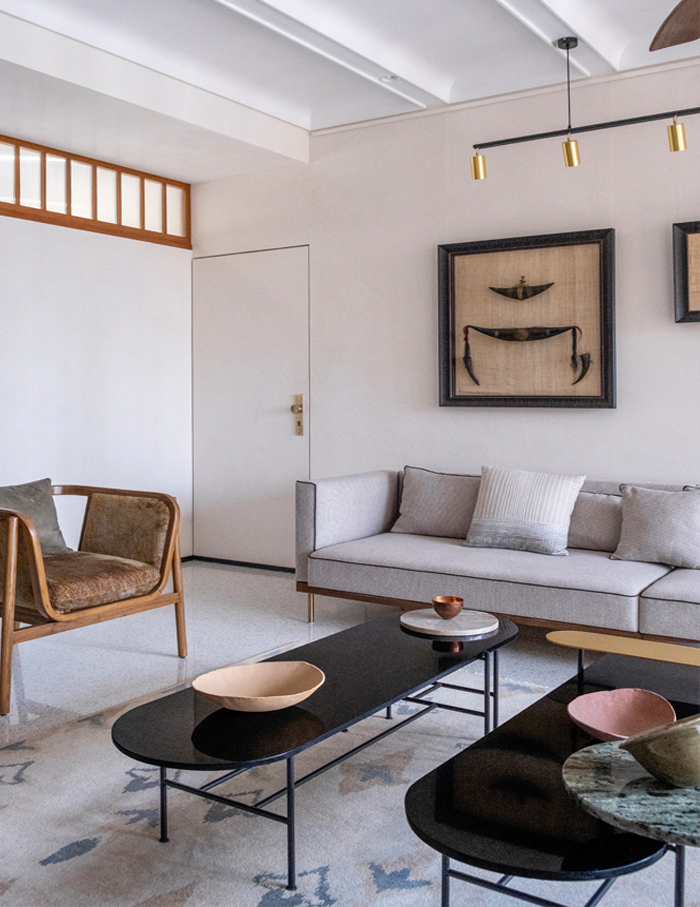 The Playful Pachyderm metallic elephant figurine by Arzan Khambatta grabs attention in the living space, which is furnished using bespoke olive green bucket chairs, a customised pink sofa and a 1930s-inspired centre table produced by Pan Design Studio. A POD (Pieces of Desire) swing by Nishita Kamdar and Veeram Shah is perfect to lounge in.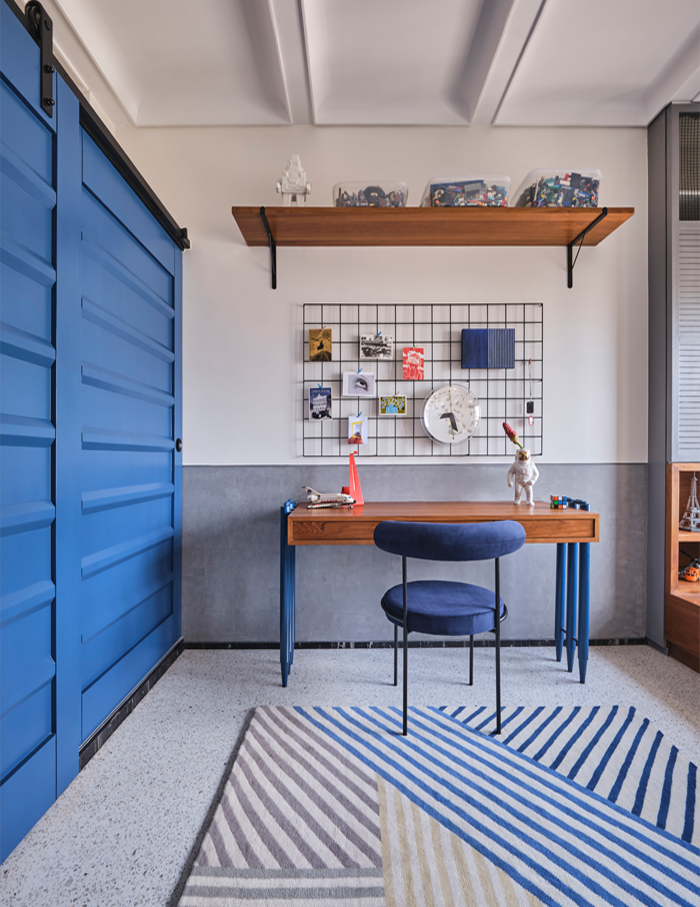 Interestingly, a crockery unit separates the bedrooms belonging to the homeowners' son and daughter. The son's space is playful with an almost industrial style—his study desk is made out of cricket stumps and the wardrobe is made to look like a shipping container. Nirmal and Parekh have perfectly captured the young man's love of golf with a circular grid on the wall that holds golf ball depressions and embossments.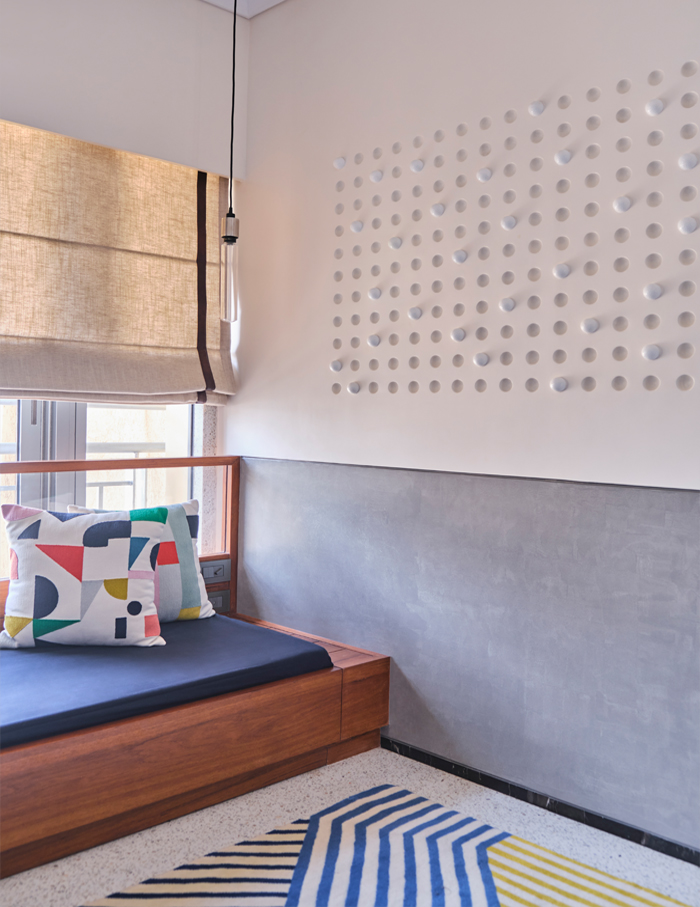 In contrast to the industrial vibe, the daughter's room is rather chic and contemporary with a four-poster bed. One of the key highlights is the bedside wall that is entirely done up in fire bricks and painted white for a brick wall effect. "We designed the wardrobe with steel shutters, powder-coated in white, with finely ribbed glass, which was quite a challenge to pull off!" shares Parekh. A study desk is seen with a custom-made cane chair, inspired by Pierre Jeanneret.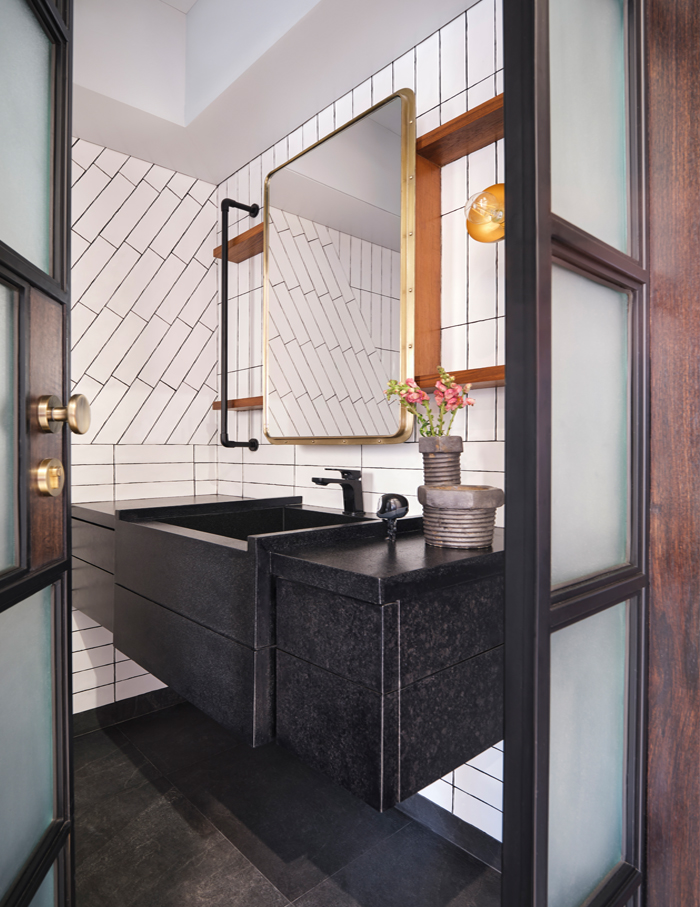 While the son and daughter's boudoirs are contrasting. Their ensuite bathrooms have one thing in common—tiles. The son's uses subway tiles that are paired with black granite and a black powder-coated door, while the daughter's uses Spanish handmade tiles, which is matched with a single colour mosaic on the floor.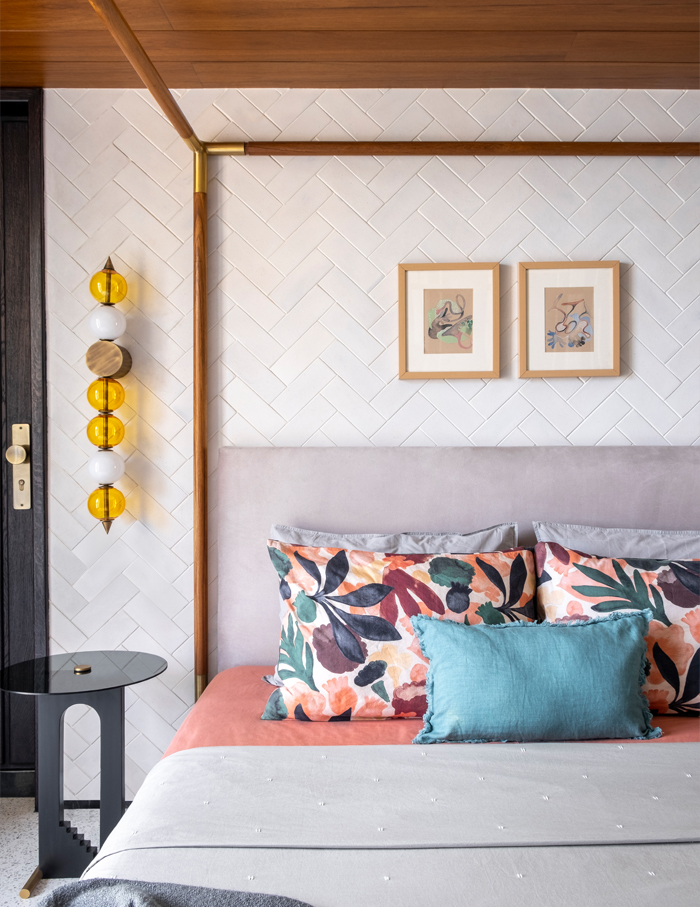 Our favourite space is the elegant master bedroom that has a teak bed with a unique basket weave headboard. Opposite it is a matte black granite fireplace feature with charcoal-hued fire bricks, which is actually a TV unit. Aside from the diverse wardrobes for the couple, blue floral chandeliers by Arjun Rathi are also seen here.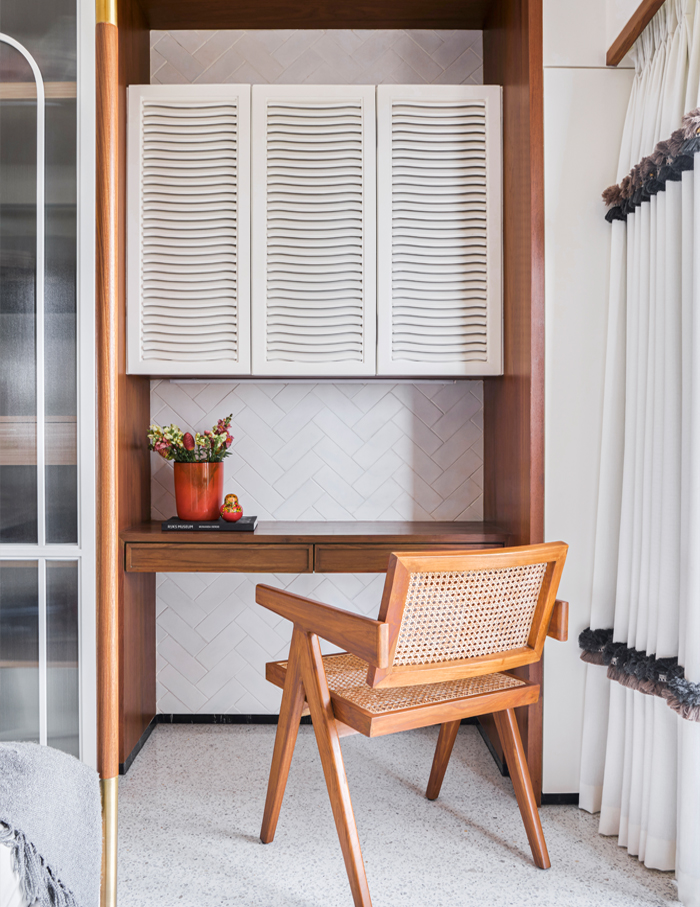 Tiles are seen in the homeowner's ensuite facility too. These mimic a light grey concrete finish and offset the custom-made, mosaic-finished flooring in a Santorini blue hue. The bathroom partition is specially designed as a seamless checkered metal paint fluted glass structure and the shower is equipped with industrial-styled fittings in antique brass finish.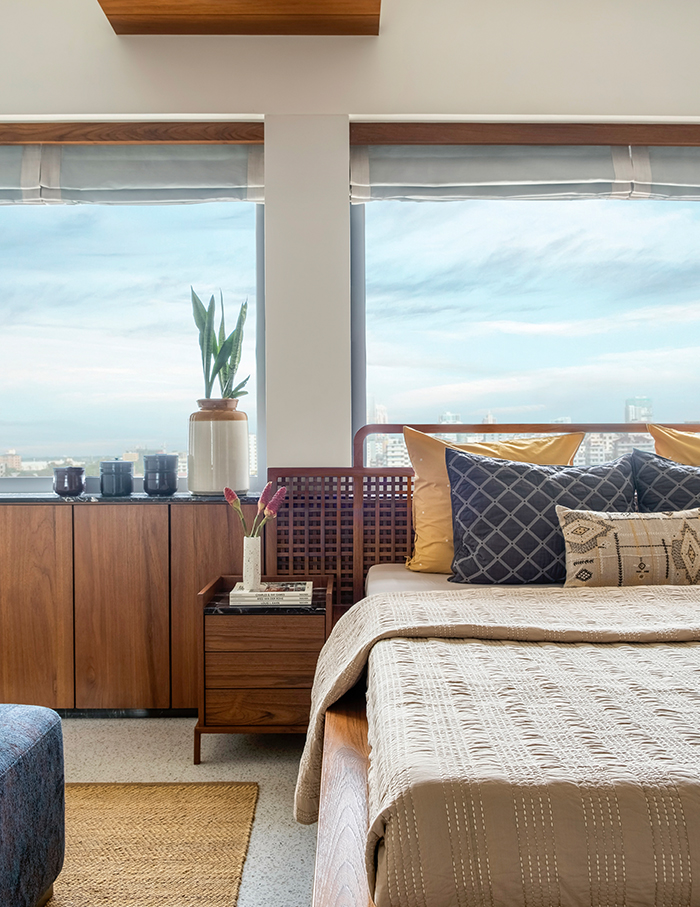 "We enjoyed designing the whole home. It was a very cohesive and continuous implementation. Giving an individual identity to every room yet maintaining the design continuity was the challenge," concludes the duo.