Homes
Akshaya Mestry and Bhakti Loonawat's collaborative design transforms this 80-year-old home into a vintage wonder
DEC 20, 2020
| By Vedika Nair
In an ever-evolving world, we're living a fast-paced life and constantly trying on the newest buzzwords. However, a trend that never goes out of style is #Vintage. And that's exactly what Studio Mestry's Akshaya Mestry went for, when she collaborated with Bhakti Loonawat, to breathe new life into an 80-year-old apartment in the heart of Mumbai.
Home to a family of four, this 1,500 sq ft space strives to emulate contemporary design in a vintage shell, through open spaces, natural light and towering ceiling heights. Taking into consideration the age of the edifice, only a few structural changes have been made.
A long corridor at the entrance is characterised by jack arches. On one end of the passageway are a living room and a home office. Meanwhile, on the other end lies the kitchen, bedrooms and powder bathroom.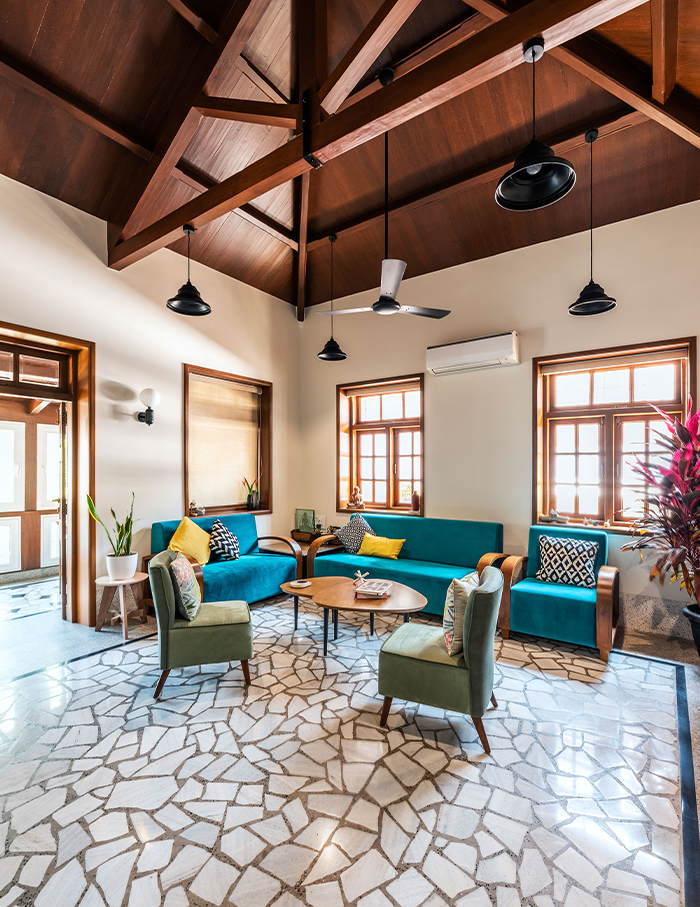 "The living and dining room has to be my favourite," says Mestry. "It's a luminous open-plan space with incredible ceiling heights that are nothing short of captivating. Monochromatic and minimalist, the space is accentuated with wooden details, clean lines and pops of colour through the upholstery," she adds. 
Enriched with wooden accents, customised furniture pieces and a monochromatic colour scheme, the abode features vintage wooden furniture and terrazzo flooring throughout with black granite accents. Chandeliers and suspended lights illuminate the abode with opulence.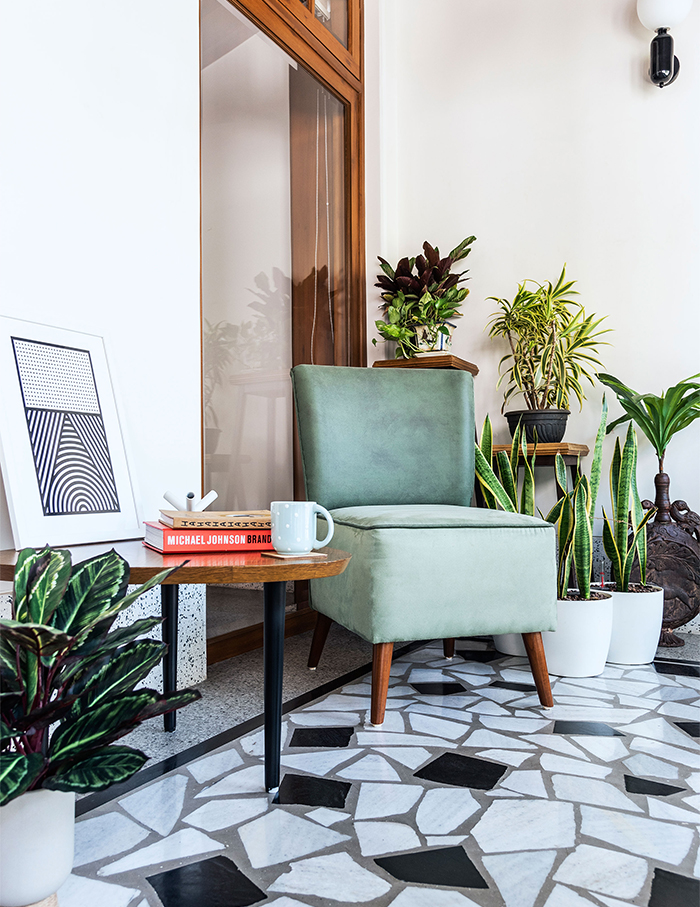 "The character of the home is determined by two factors—maximising the functionality of each space and the architectural quality and volume that is offset with handcrafted, mid-century modern furniture pieces, terrazzo and marble floors and bold fabrics," says Mestry, explaining the theme of the abode.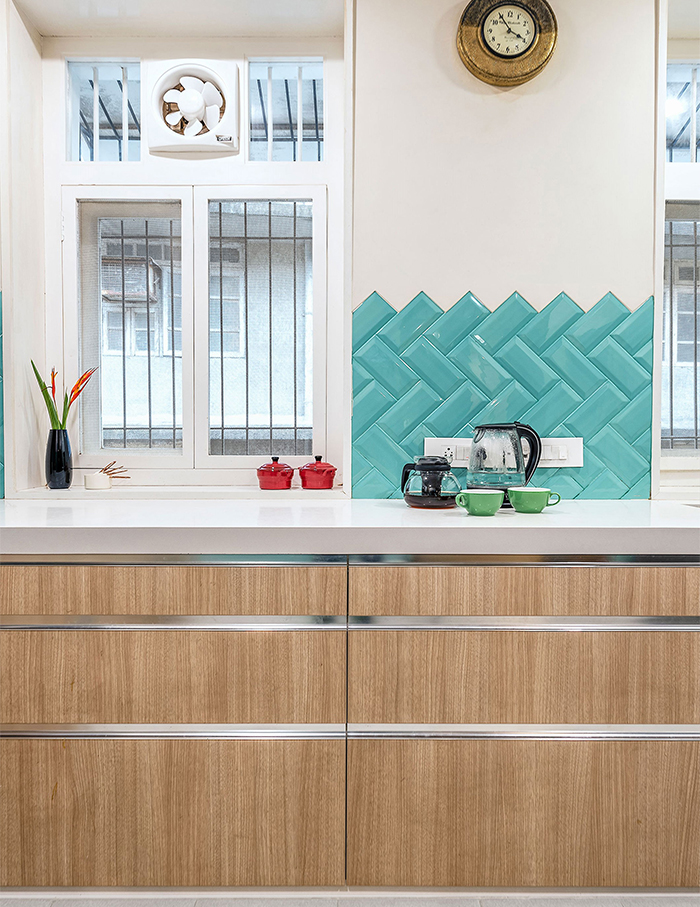 A muted colour palette with white walls, a patterned monochrome floor and hints of ocean green cloak the home. We love how influences of old Burma teak and terrazzo tiles retain the home's charm.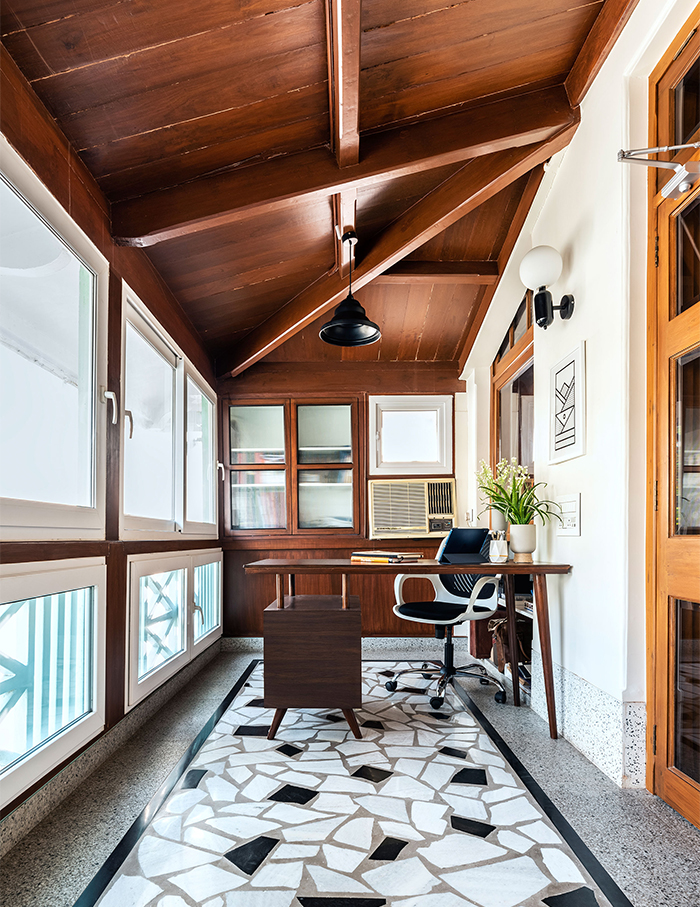 A product of collaborative design, Mestry and Loonawat's styles cohesively blend to create a beautiful vintage abode that feels like home. "We kept three important features in mind while designing the house," shares Loonawat, adding, "An open-plan with ample natural light and ventilation, simplicity and materiality."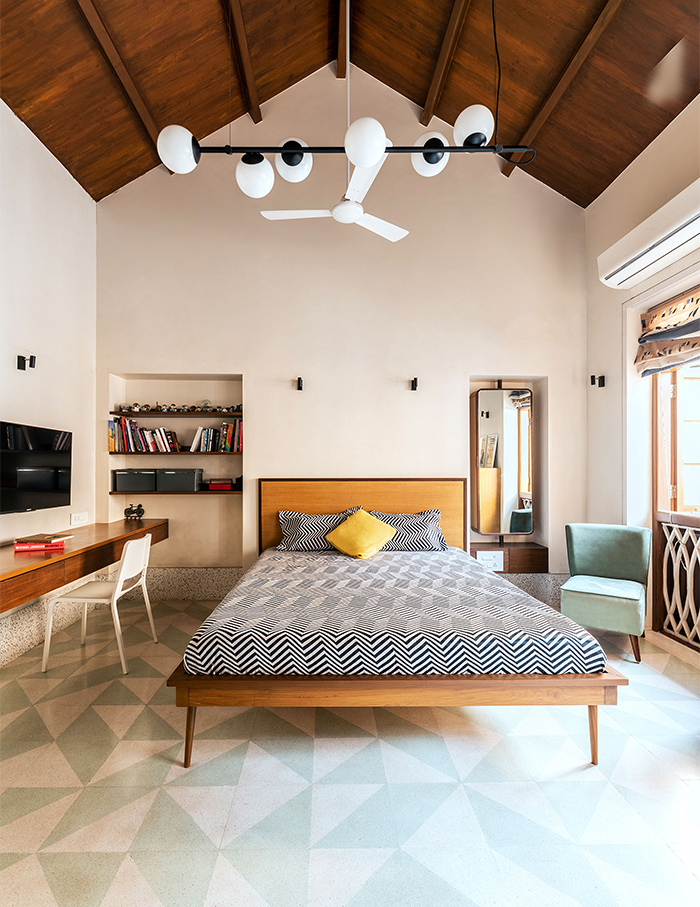 "Challenges provoke bold ideas and serve as an opportunity to push one's own limits to design effectively. For example, the original design had terrazzo flooring but the client was keen on utilising marble that was laid out in the corridor and den areas. This drove us to design the in situ flooring in the living and home office sections," she concludes.