Homes
Simplicity reflects in the form and palette of this serene Bengaluru home designed by Haarsha Architects
MAY 18, 2022
| By Sneha Gandhi
Nestled in a quiet neighbourhood in Bengaluru, 'Brick Veil' by architect and founder Haarsha Ravindra Prasad of Haarsha Architects fuses contemporary design language with powerful material aesthetics. Aptly named after its cascading brick facade enveloping the elevation, the house stands tall in a 2,400 sq ft quadrilateral plot of land.
The timeless appeal of brick, especially when composed on a large canvas, is unmatched. The studio utilises this iconic combination of brick and concrete to make a statement with this design. 
The four-storeyed abode flaunts an unpolished, organic finish as it elegantly towers over the vast landscape. The facade's warm appeal complements the moderately cool climate of the high-altitude city.
You may also like: This Bengaluru home by Aanai Design Studio captures hearts with greens and minimalism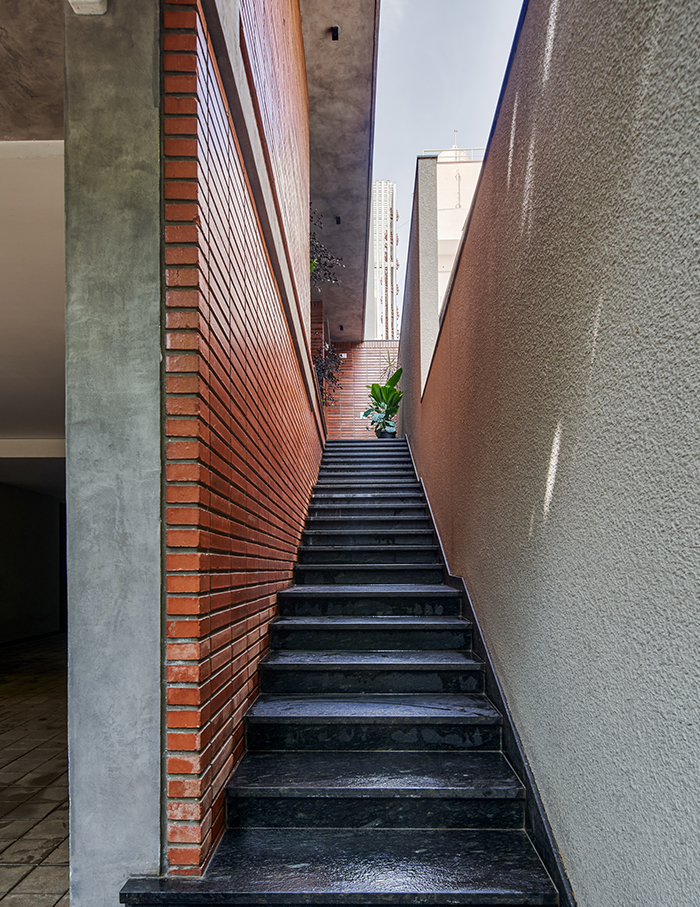 The building sweeps across the landscape in an orthogonal layout. The stilt floor consists of a spacious parking lot for four cars, a home office and a home theatre. The habitable spaces unfold as one ascends via a straight staircase alongside the building. The offset staircase leads to the main entrance from the street level.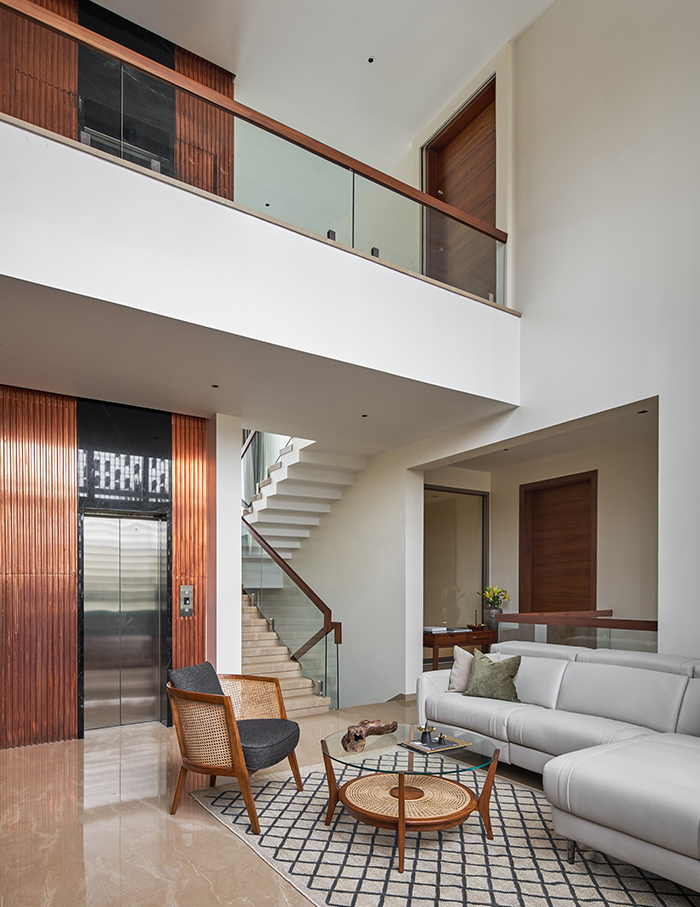 The interior compositions of Brick Veil reflect a tasteful blend of simplicity and art. The base canvas of the home comprises brightly whitewashed walls and soft beige marble floors. Mid-century modern furniture, statement light fixtures and soft monochromatic palettes specific to each room render a serene and spacious atmosphere.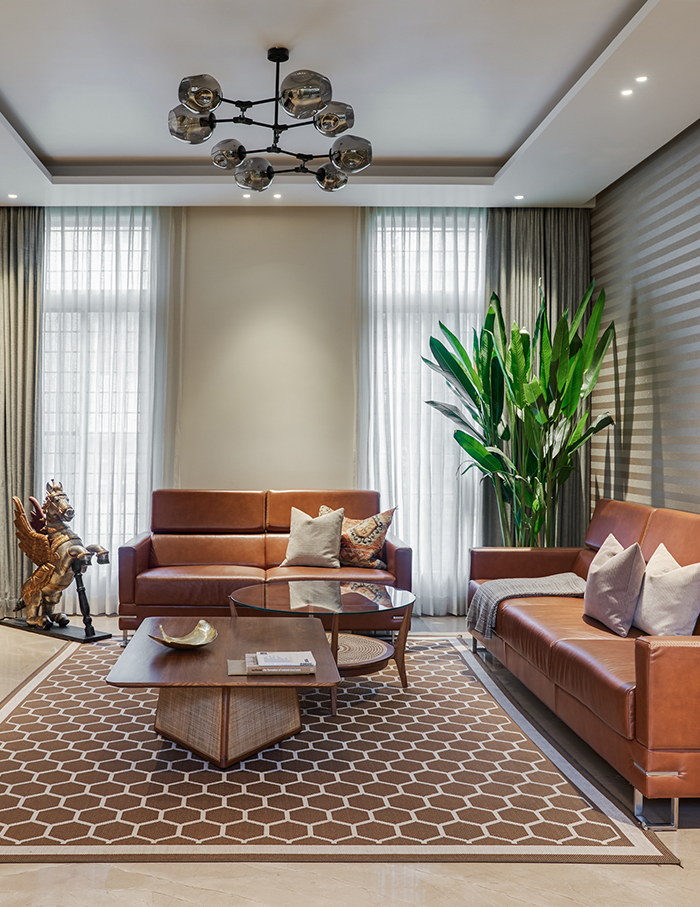 The ground floor level houses the communal activities of the home, including a living, dining, kitchen, and one guest bedroom. An exploration of double-height spaces commences from this floor via strategic staggering of the upper floor levels.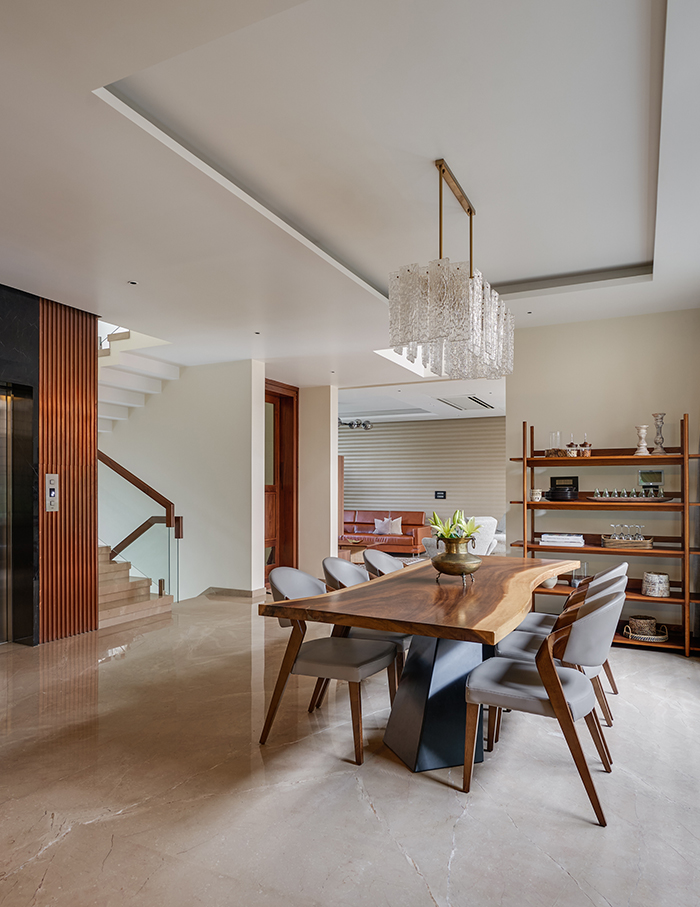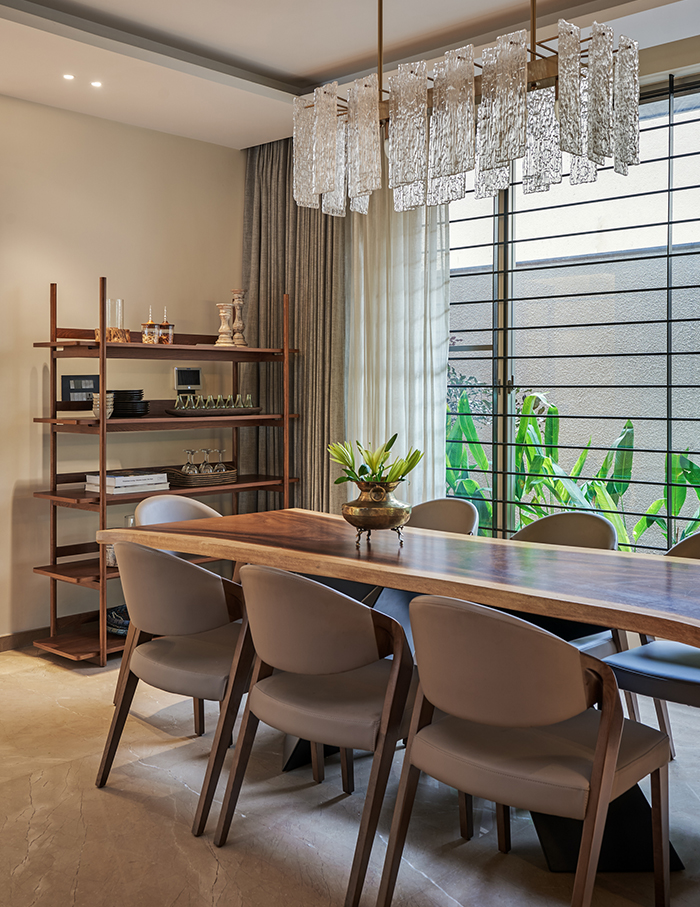 The first and second floors accommodate the more private spaces. The bedrooms occupy the southern and northern facing pockets of the floor plan. The informal family room is centrally located.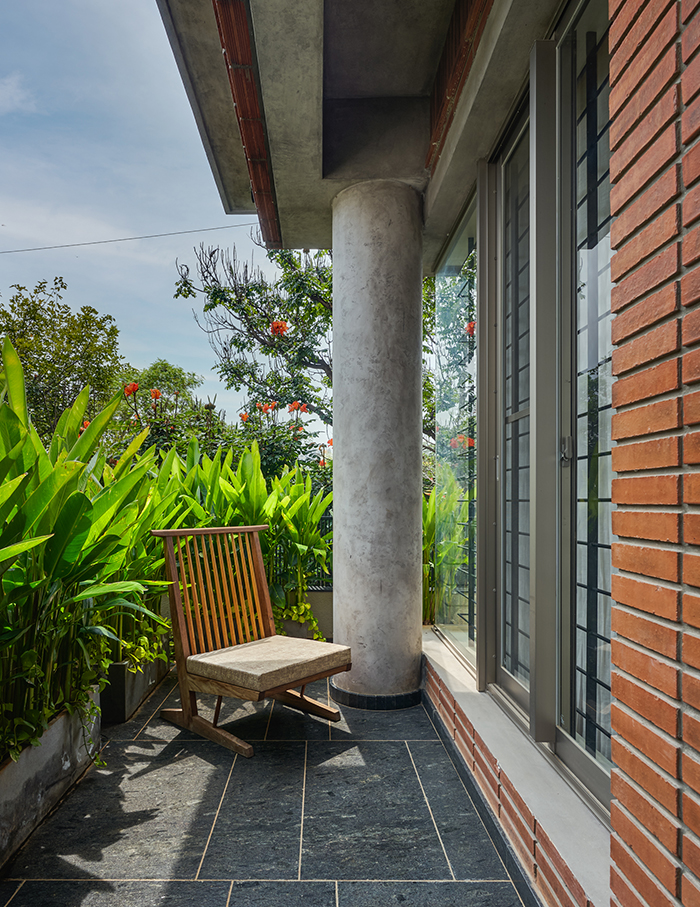 The upper floors also house idyllic spill-out balconies complete with prolific planters along the edge. The neatly lined planters against the terracotta cladding hint at a fresh vertical garden. The terrace on the second floor with spacious cast-in-situ seating and bar enables the perfect setting for a social get-together.
The architect breaks the brick monotony of the facade by introducing brick jaalis. They facilitate privacy and re-engineer the quality of natural light entering the double-height communal spaces.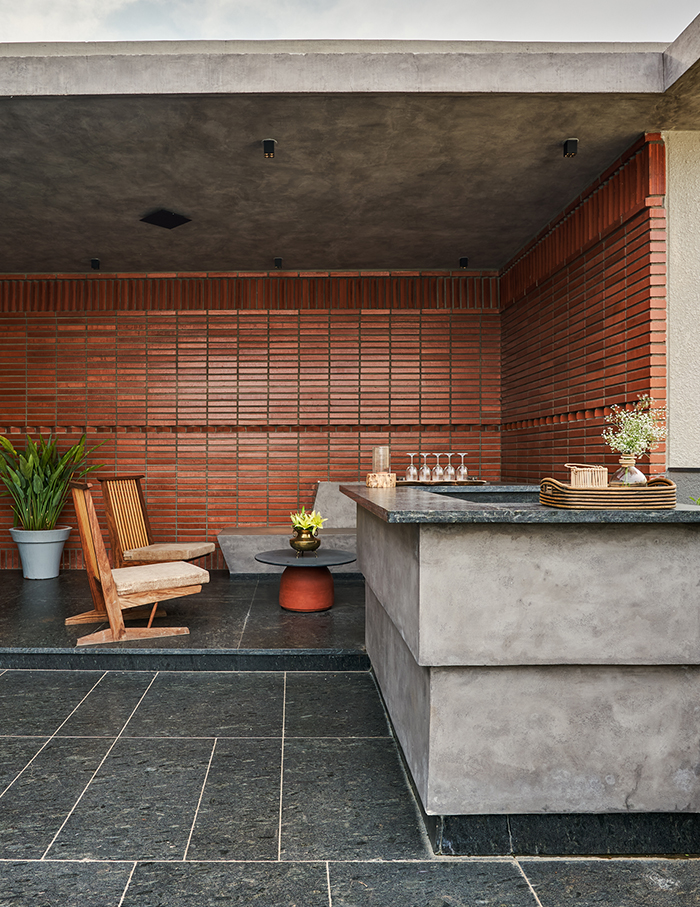 The juxtaposition of the striking concrete planes with brick jaalis aesthetically elevates the building's interiors and exteriors.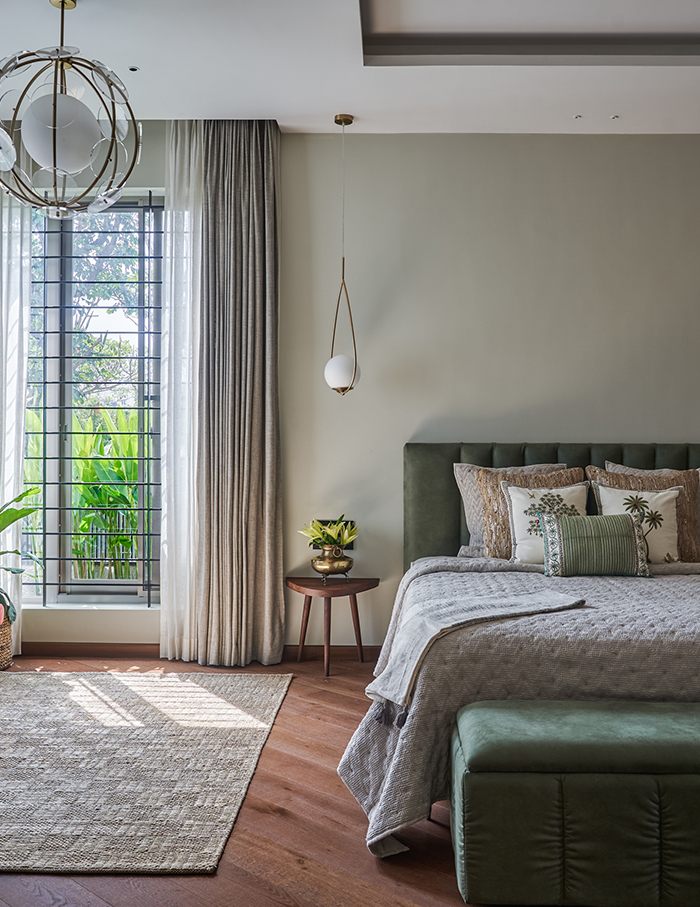 Conscious use of accent and feature elements like decorative wallpapers and fluted wall panelling characterise each space. Bold splashes of rusty reds and toasty browns on top of texture-rich additions like rattan, suede tufted beds, timber false ceilings and hardwood flooring enliven the home.
Brick Veil thoughtfully employs one continuous material and colour palette with rich geometric patterns inside and outside to mould minimal, rooted interiors. "The uniqueness of the architecture lies in its simplicity of form and palette", concludes Haarsha.
If you enjoyed the minimal aesthetic of Brick Veil, do check out: Apartment 1602 by The Architecture Company in Mumbai manoeuvres a material palette that flows fluidly from one space to the next