Homes
Beetle Design Studio 'turns the corners' in this Mumbai home with idiosyncratic shapes and peppy colours
MAY 30, 2023
| By Dyumni Pandit
The homeowners presented Rukhsar Shaikh and Saiqa Shaikh, Founders and Principal Designers, Beetle Design Studio, with a blank canvas. Excited, the duo saw this as an opportunity to explore their creative freedom and transform this bare den on the 58th floor of The World Towers, South Mumbai, into a successful design experiment. 
Every element has a role to play in the home. Shades of white blend into the background like introverts in the 1,800 sq ft home. Idiosyncratic shapes morph into bespoke furniture. And distinct textures and peppy colours sync as if in a slow dance. Hues of gold make an unexpected appearance to sprinkle understated elegance. As the setting sun peeks through the contouring tall glass windows, the home collapses into a comfortable silence, expressing its muted eccentricity.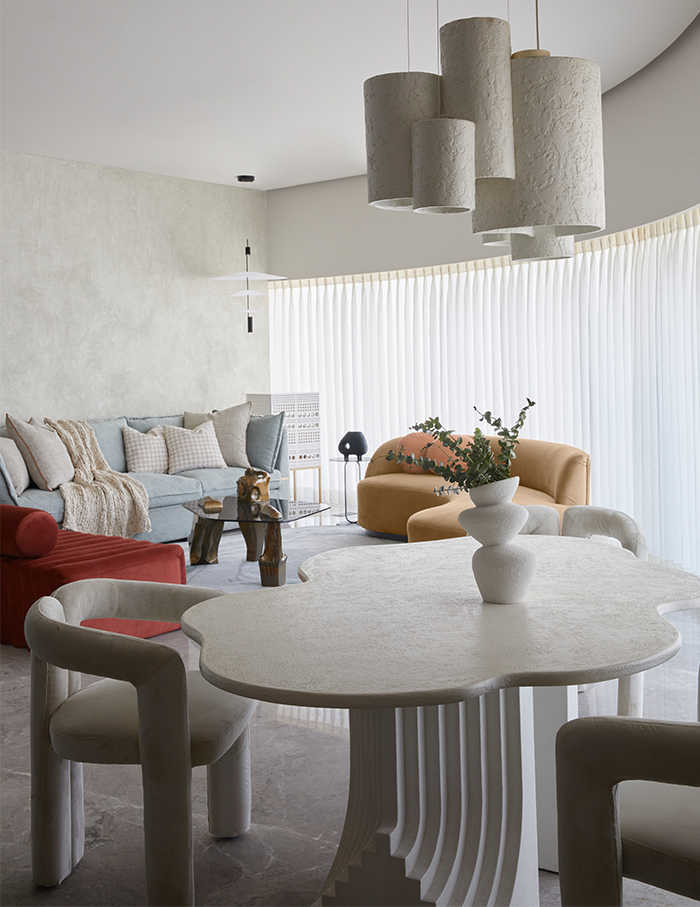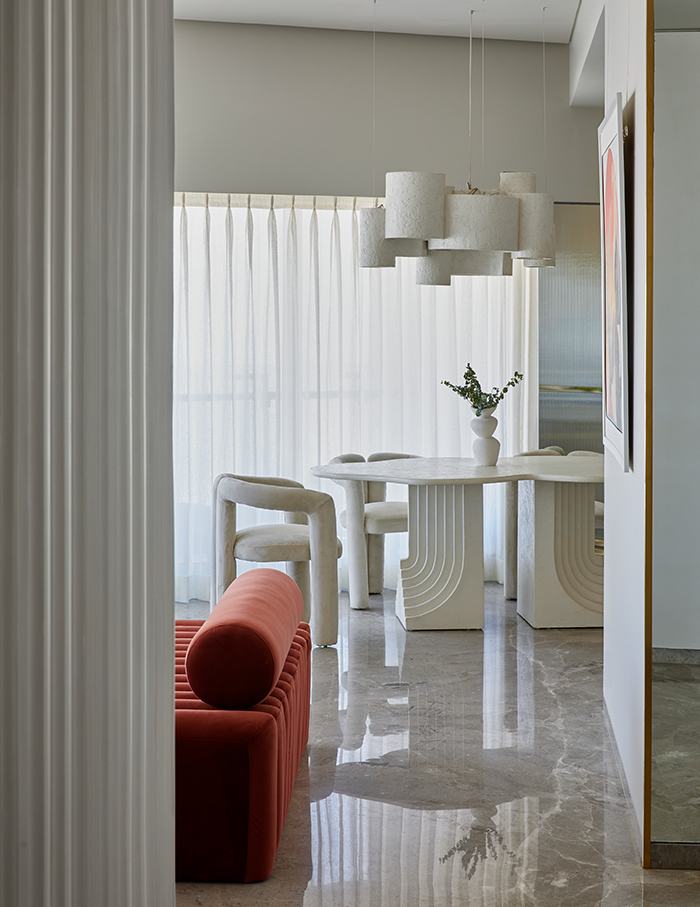 A design experiment 
"The owners wanted to merge functionality with creativity, seeking to infuse their home with understated elegance. The space was a bare shell, and so, we created all of the necessary walls, fixtures, and fittings from scratch. This presented a unique set of challenges but also opportunities that allowed us to experiment with a variety of floor plans," say Rukhsar and Saiqa. 
Without any preceding establishments, the duo freely crafted the bespoke interiors and furniture to build a unique curation of architectural and grand design expressions. Raw, unfiltered shapes inspired by nature combine with a mid-century urban design to make this home's core.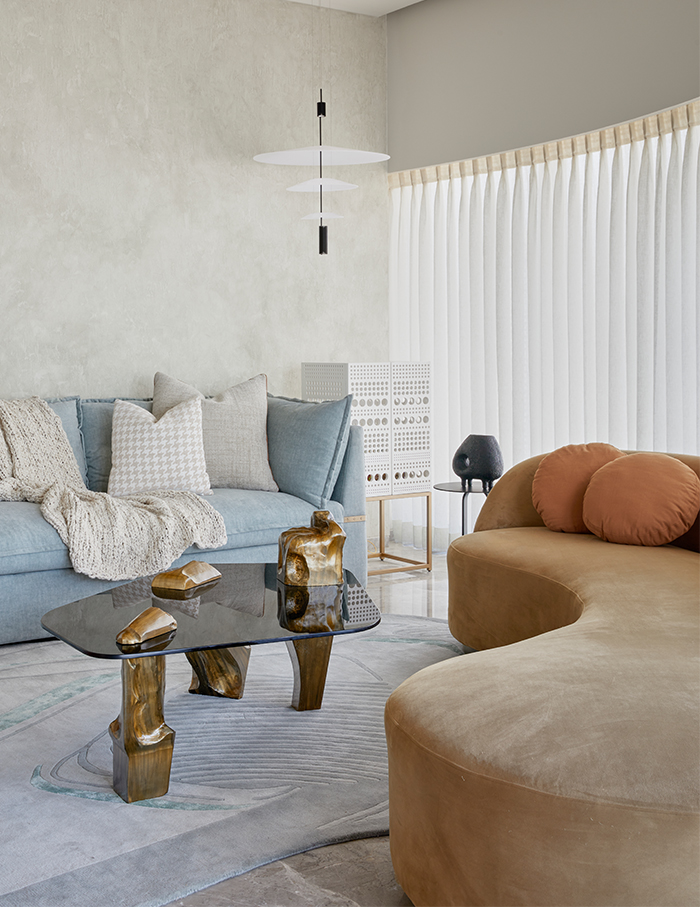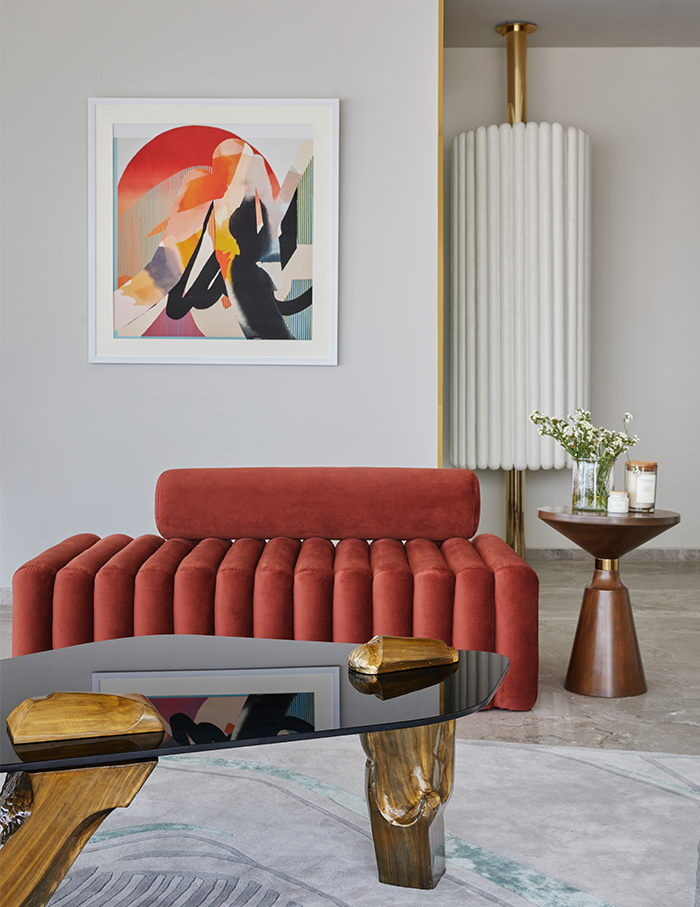 A confluence of colours and textures
Extensive glass windows run along the living room and dining room, as if enclosing them in a shell. The cream curtains open to peek at the blue Arabian. 
A classy red couch, pastel blue sofa, and a custom ochre seating space unite in a conflux of colours. A distinct centre table made out of a metal cast to mirror natural stone formations sits in the centre of the room. The distinct shapes of the sofa, table, and lights add whimsy to the aesthetic, urban home.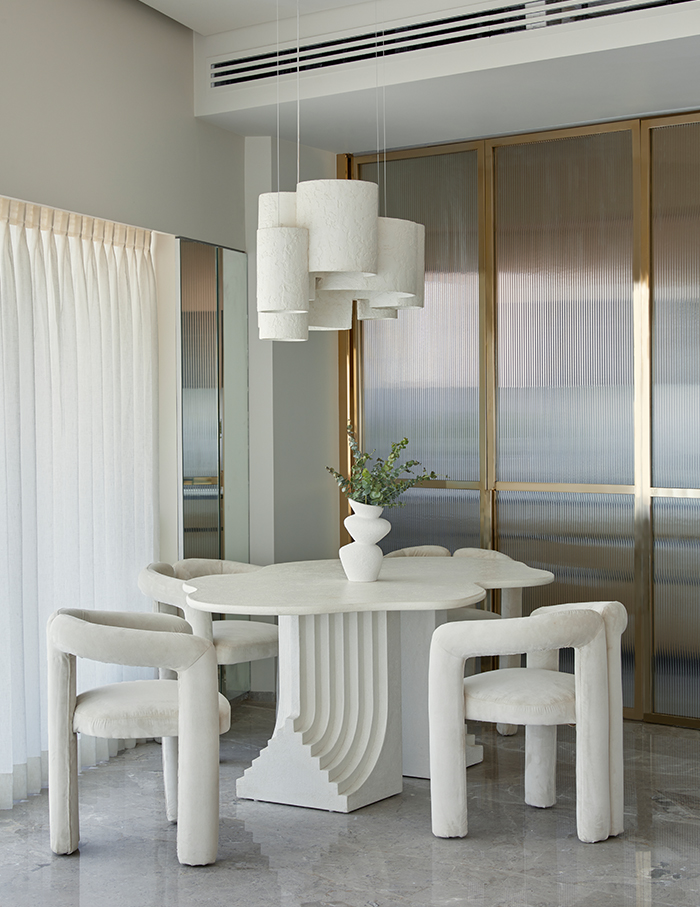 The dining room is in a quaint corner dominated by hues of aesthetic white. Immaculate white cement-like texture with waterproof coating forms the uniquely-shaped dining table and chairs, designed specially for the home. A cluster of beautiful lights suspend over the dining table as if they were floating lanterns in the sky. 
The dining area flows through sliding glass fluted folded partition doors into the kitchen and utility area. Folding glass doors not only allow a flexible, breathable structure but also add a sense of seamless connectivity between rooms. A suspended bar unit stands in a corner, dramatising the room with its sculptural decor.
A long passageway branches into the daughter's bedroom, children's bedroom, parents' bedroom, and finally, the affluent master bedroom.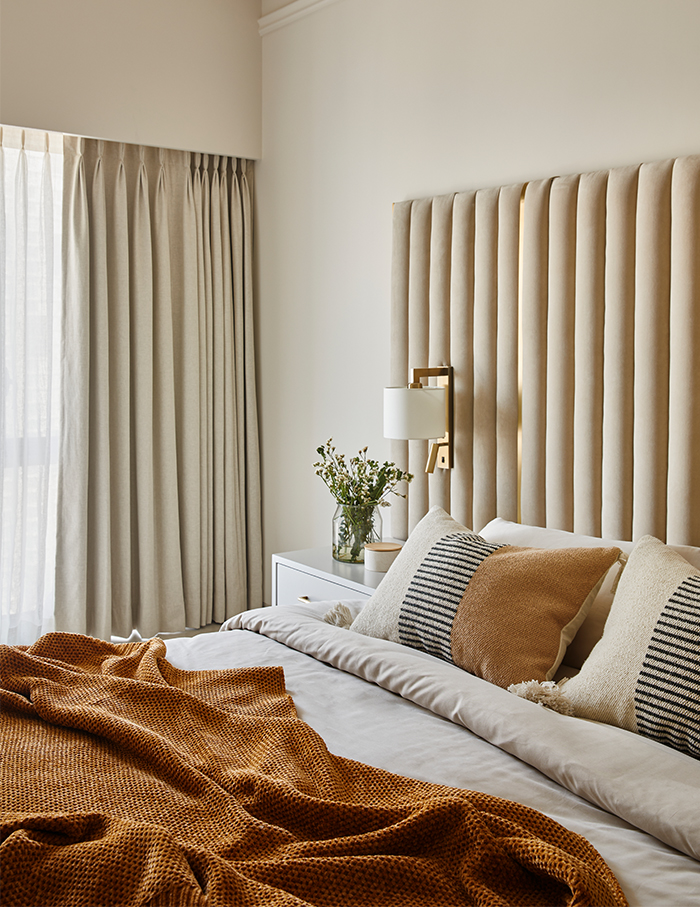 Distinct identities 
Artistic wallpapers make the essence of the children's bedrooms. While one uses linen and rattan materials to pair with wooden furniture against a hand-illustrated backdrop of the ruins of a European city, the other uses distinct capsule shapes as building blocks.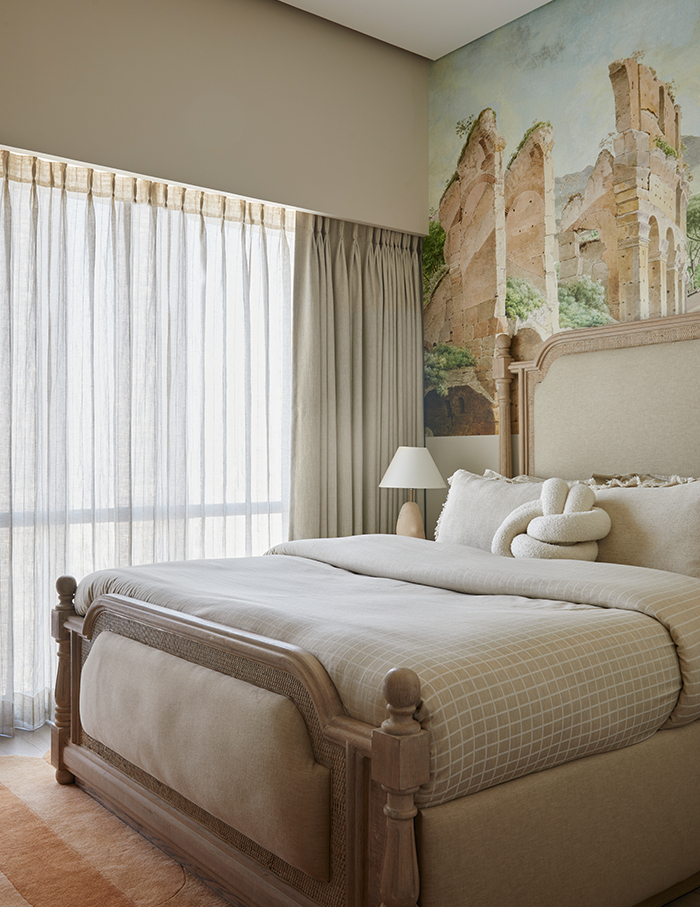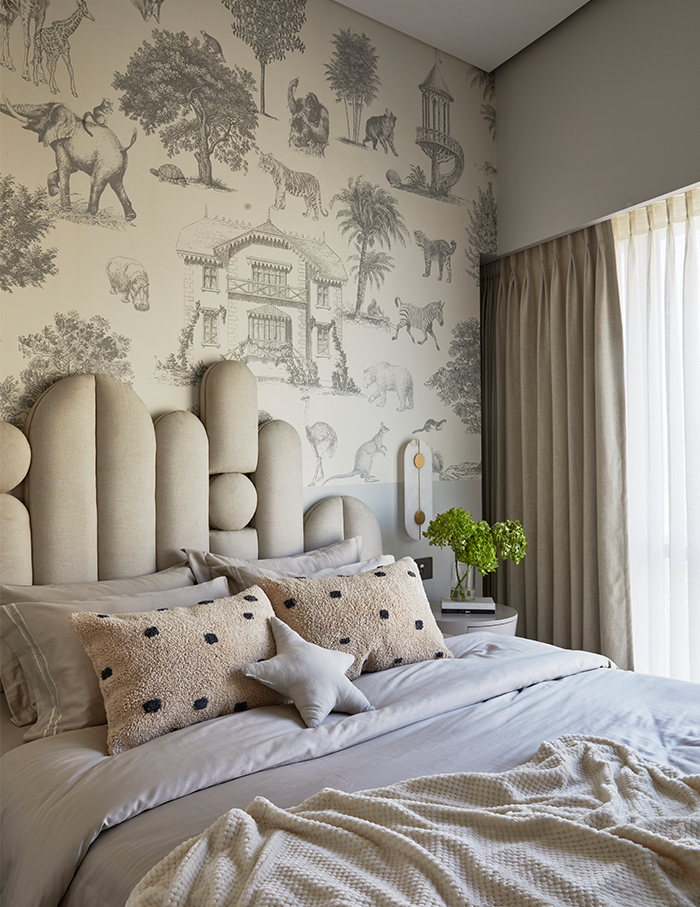 The sky's blues seep into the parent's room as it gazes at the Mumbai skyline. This room is almost like an art studio with its moveable easel stand that curiously resembles a canvas stand and glimmers of rose gold rivets that peel through the blue. 
Distinct textures and fabrics mingle against fluted panels in the master bedroom. Subtle ochre and matte gold hues encompass the room's design, disguising it into something that almost exudes royalty.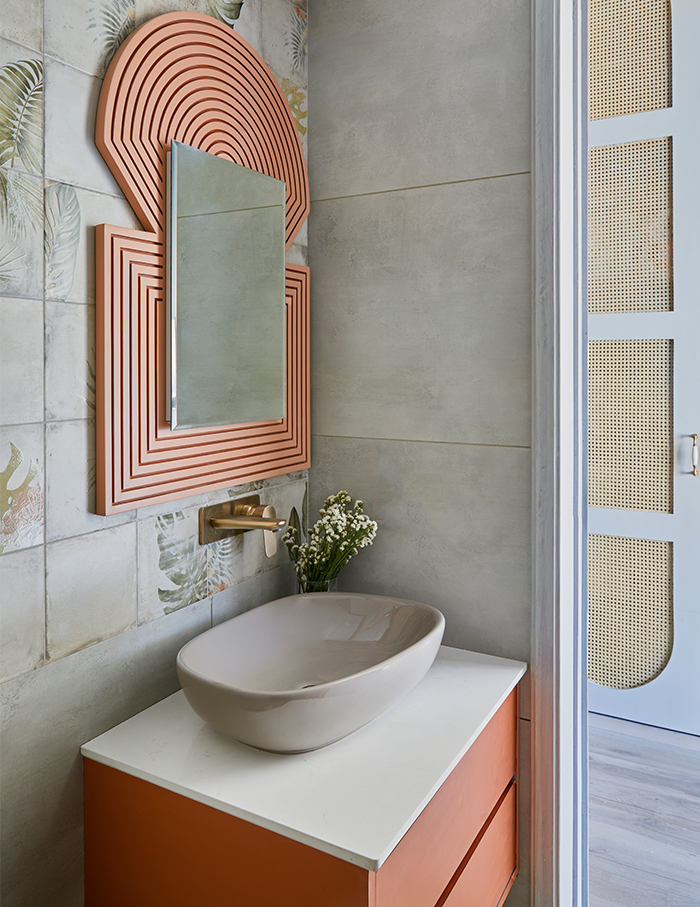 A collage of shapes
"A unique curvilinear shape presented us with a great opportunity to create something out of the ordinary, but also came with the challenge of optimising every curved corner," say Rukhsar and Saiqa. The duo plays with artistic, bespoke furniture for the home to complement the building's curvilinear architecture. Organic, geometric shapes fit into the home, complementing and contrasting each other as if in a collage.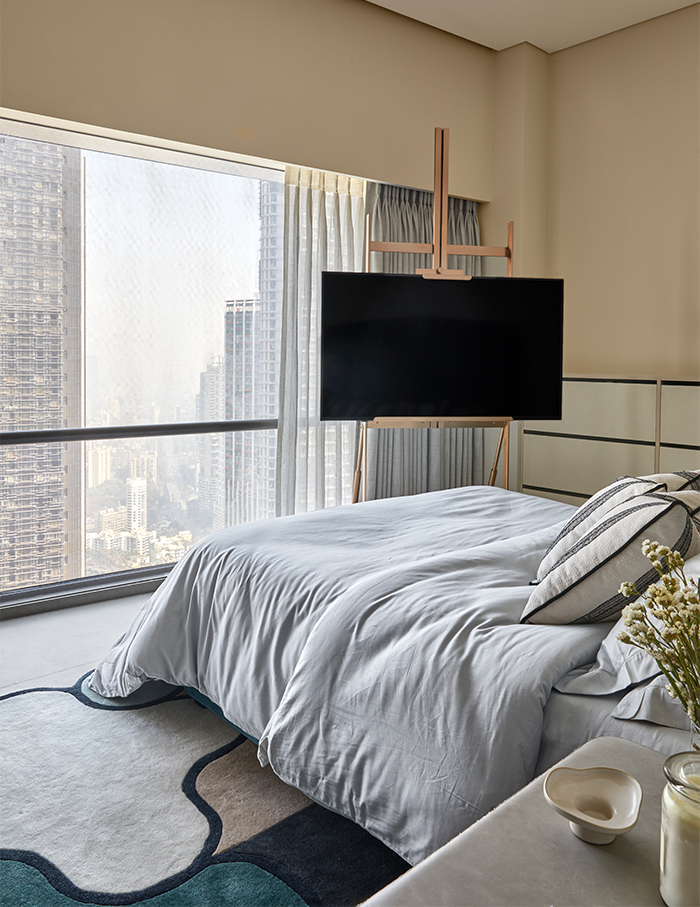 As vibrant colours sneak into the home's sober colour palette to bring some playfulness, rich rose gold peeks through elegant furnishings and decor accessories. Natural fibres like linen and organic cotton intersperse within metal and stainless steel. Beetle Design Studio builds on local influences, working closely with traditional artisans of the region to effectively create elements with authentic designs. 
You may also like: Dive into cool shades of coffee in this sublime villa in Coimbatore designed by &t Studio