Homes
Augmented abundance—Inside a harnessed home in Faridabad by UnBox Design
NOV 11, 2022
| By Akshay Bipin Luthiya
Working out meaningfully with simple efficient changes, Principal Aman Issar of Unbox Design orchestrates authentic Indian craftsmanship renovating a 2000 sq ft residence in the fastest growing city of Faridabad. 
Starting from a clean slate and letting the context guide, Nilaya home has been put out successfully matching aspirations of the home owners creating personalised and uncluttered storage spaces.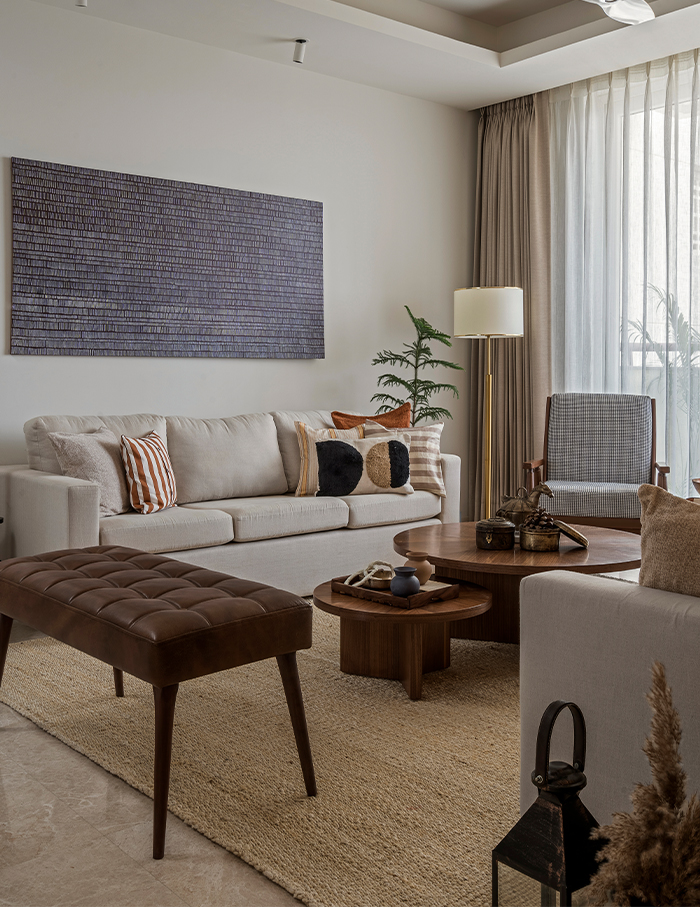 The curious brief
"Our architectural language is not shy to convey aesthetics, but prone to abstain from 'trends'," says Aman. 
Blessed with generous natural light and green vistas, UnBox Design have crafted this nest after understanding the need for privacy and a formal space by the owners and matching it with their unique personalities.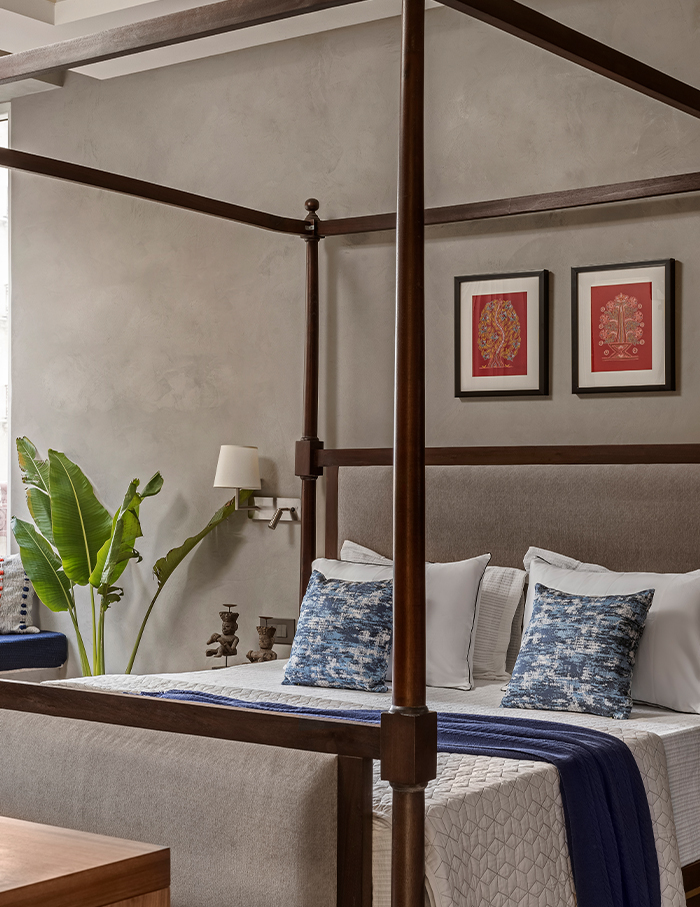 The diversity in nature speaks to the various themes that guide the aesthetics of each space celebrating functionality, durability and comfort with colourful Indian earthy tones.
Tour every space of this home
Complemented with soft lights falling through the monochromatic foyer along with a wide wooden portal we enter the living space which is reminiscent of a forest in autumn.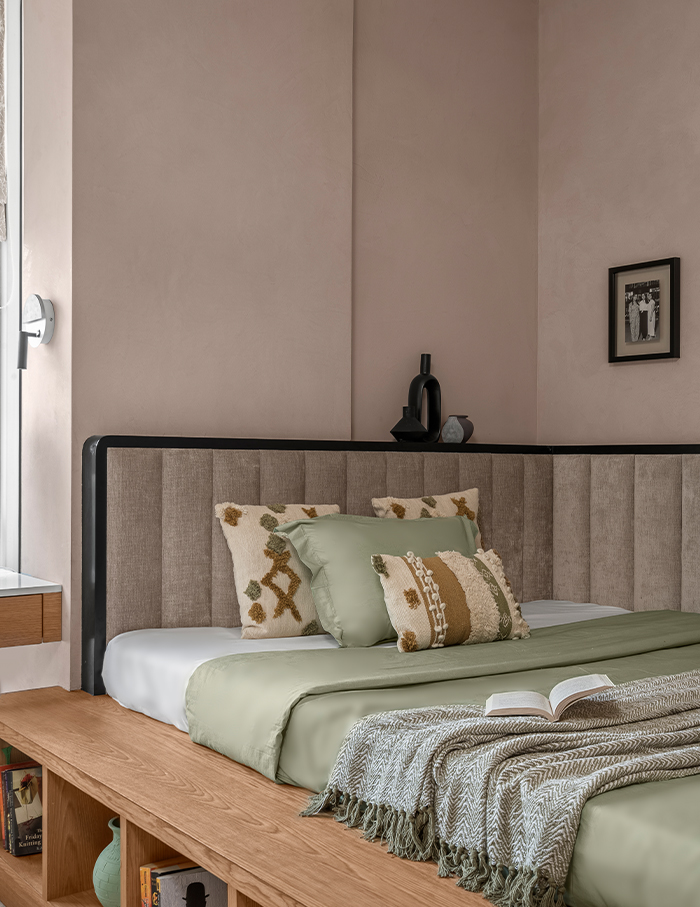 The monochromatic foyer has a glass block wall, through which soft light falls on a Madhubani artwork and charcoal black turned-wood console. Warmth is brought in by the oak wood veneer ceiling that continues to run along the central spine throughout the home. 
Moving to the dining space a white thassos marble table catches attention. The eggshell white paint on the wall and ceiling creates a harmonious ambiance. A display nook in the corner showcases brass tableware that has been passed on through generations. Bonding over food is a ritual in Indian families, and nostalgia is brought in by the hand-made pickle jars and pottery over the console.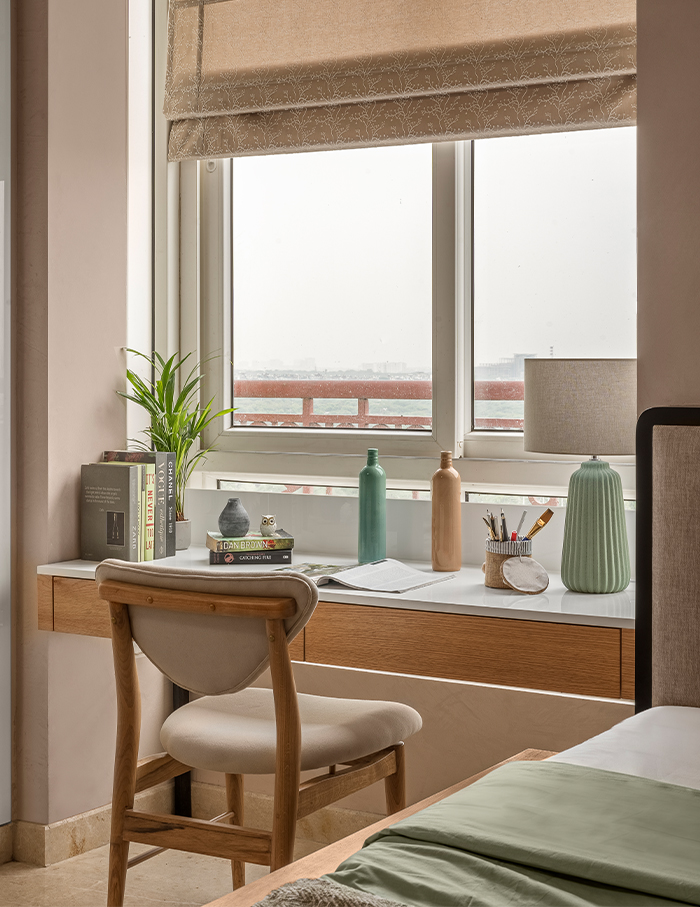 The central corridor is lined with bedrooms. While one of the daughter's rooms  is balanced with pink pastel walls along with white cupboards, the other has a palette of forest green with a lot of free space to accommodate inspiration of activities. It is designed to bring a calming backdrop and inspiration for its creative inhabitant.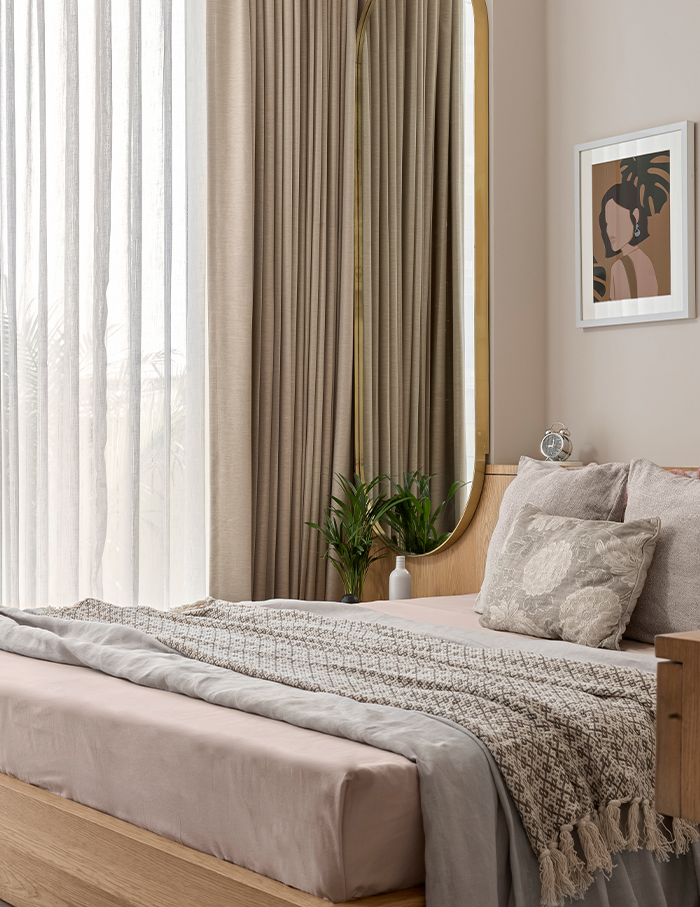 The master bedroom is akin to an oasis—rich blue tones showcase understated luxury. The television console runs along the length of the wall, morphing into a chest of drawers before becoming a study table.
Ideas to bookmark – a clever material play!
Retaining the beige marble flooring and revamping the flow of spaces to provide more privacy, the designers have perfectly balanced the home by providing neutral and pastel tones on walls that let traditional artworks shine.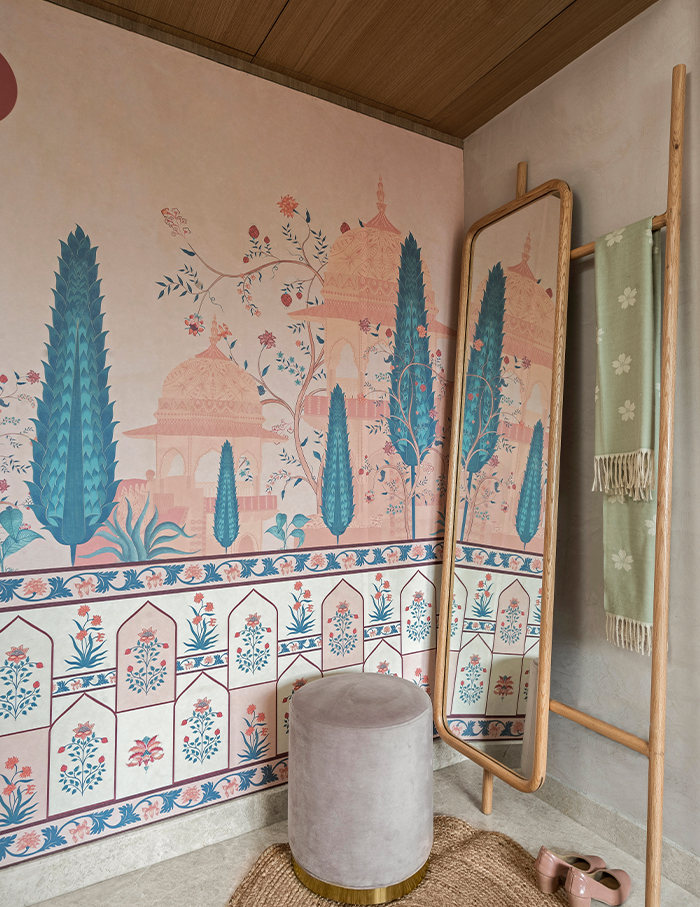 "The most challenging was the entrance foyer as its monochrome palette is a blank slate that lets weary eyes rest before leading one to more colourful spaces that are suffused with vibrant Indian earthy colours. " expresses Aman.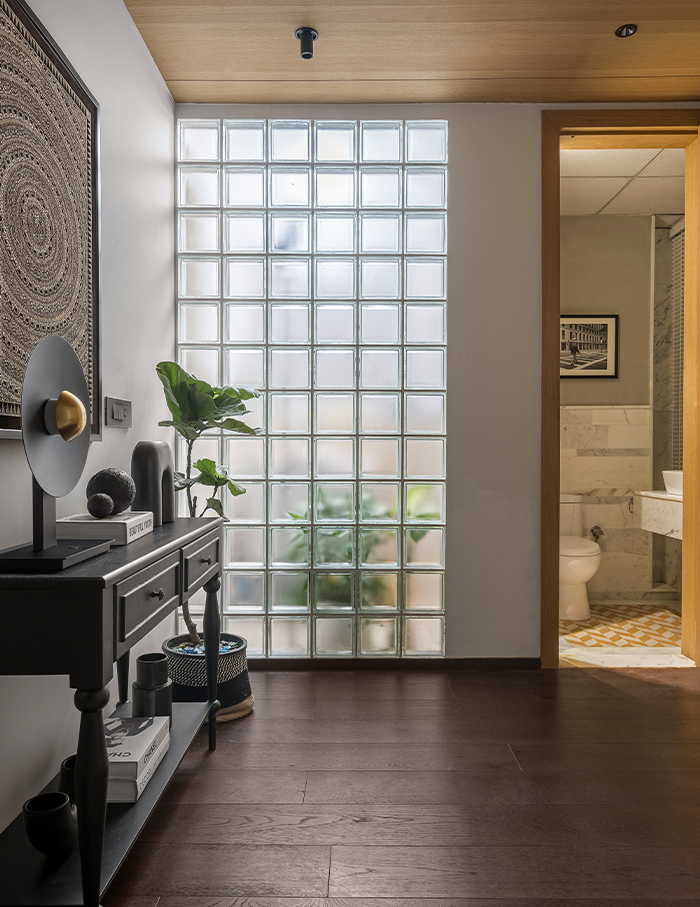 Unbox Design has been sustainable by utilising resources smartly. Replacing adjacent walls with glass brick wall to let in beautiful, soft light into the entry foyer. The issue of storage has been resolved by custom made multi-functional furniture.
You may also like:  The Los Angeles style villa by Sanjyt Syngh in New Delhi