Homes
Splendour, colour and detail—the Los Angeles style villa by Sanjyt Syngh crafts a sequence of all three in New Delhi
OCT 13, 2022
| By Shriya Goyal
"A bit of madness is key to giving us new colours to see!" When Mia from La La Land sang this adventurous sentiment, it struck a chord with countless viewers. Founder of his eponymous practice, Sanjyt Syngh strikes a similar chord with a sequence of hues and opulence in this New Delhi home.
Resident to a young couple and their kids, the 15000 sq ft home set on a 48000 sq ft piece of land is located in Delhi's Urban Sprawl, DLF Chattarpur Farms. Colours and eccentric designs have defined Sanjyt Syngh's forte across all his projects, and this here is no different.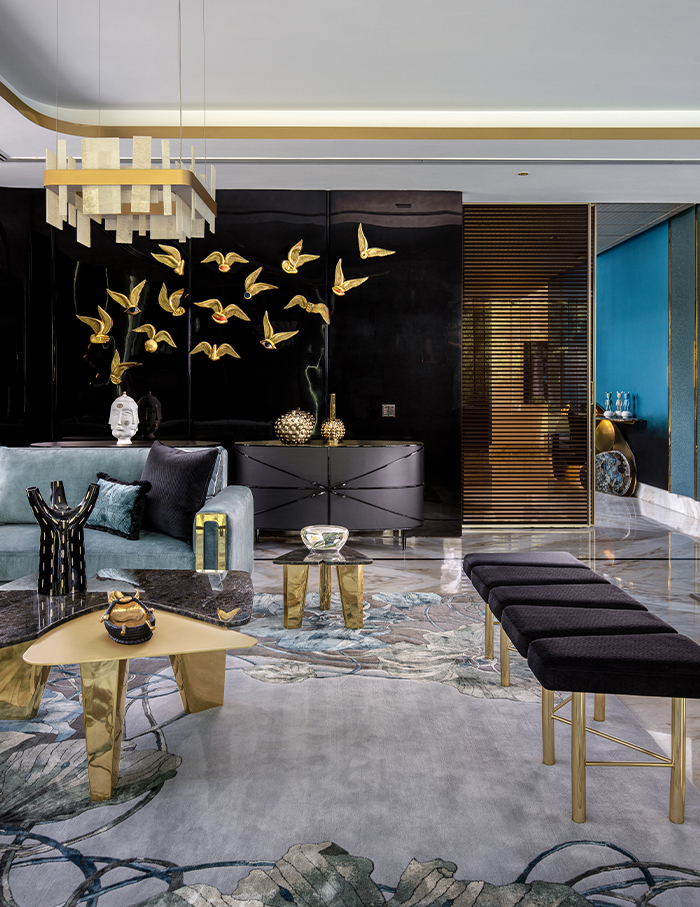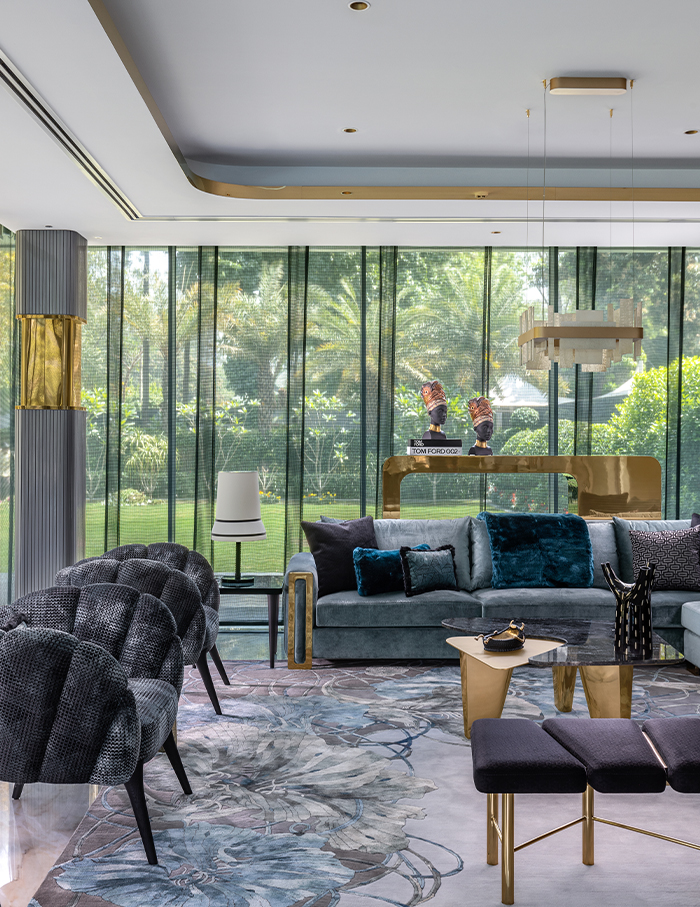 The curious brief
Crafting a narrative to resonate Los Angeles in New Delhi, the international vibe of the sprawling greens is making us all green with envy. Named 'LA-LA-LAND', the villa reflects the owners' personality with a bundle of colours and a luxurious appeal. 
"The idea was to relish the outdoors and pool which is a matchless commodity in New Delhi. We tore down some feature walls to make the lawn larger and repositioned the swimming pool at the heart of it all," shares Sanjyt.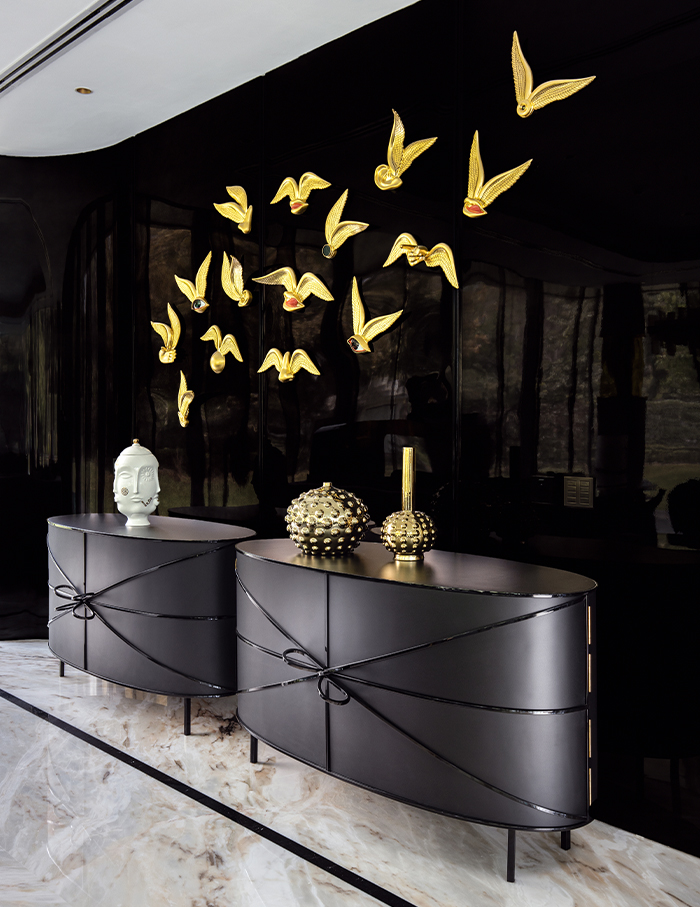 Tour every turn of the home
Divided into personal and private zones, the house is laid out in tandem to the brief. While the first floor is solely private with family bedrooms, the ground floor is a combination of formal and common areas.
Starting with the exterior, the elevation is cladded with an array of exotic stones that are black, white and all shades of grey in between. Conceived as a single volumetric form, each room is connected to the outdoors, be it the lawn, pool or massive balconies.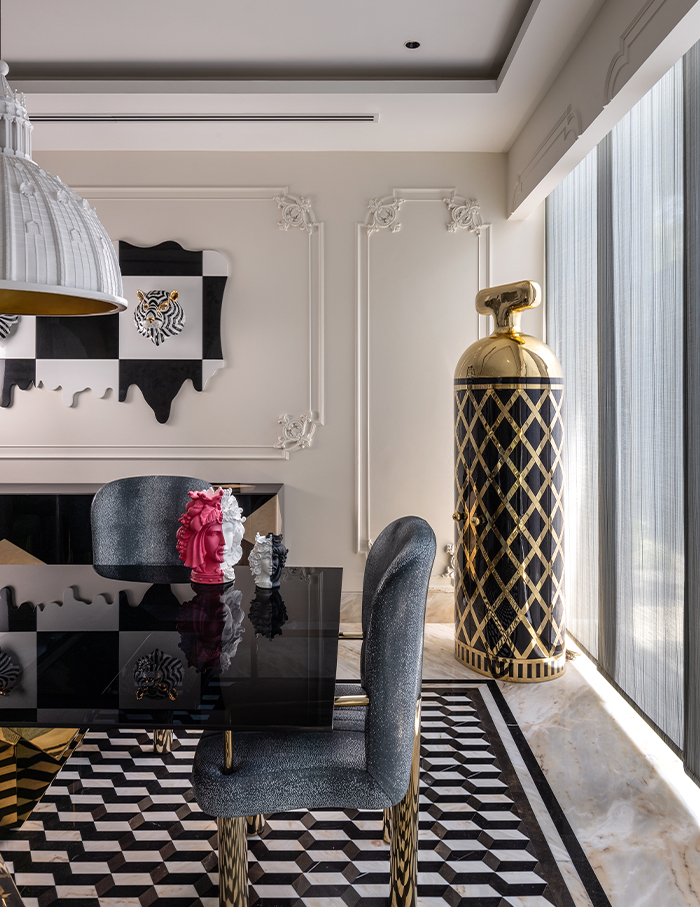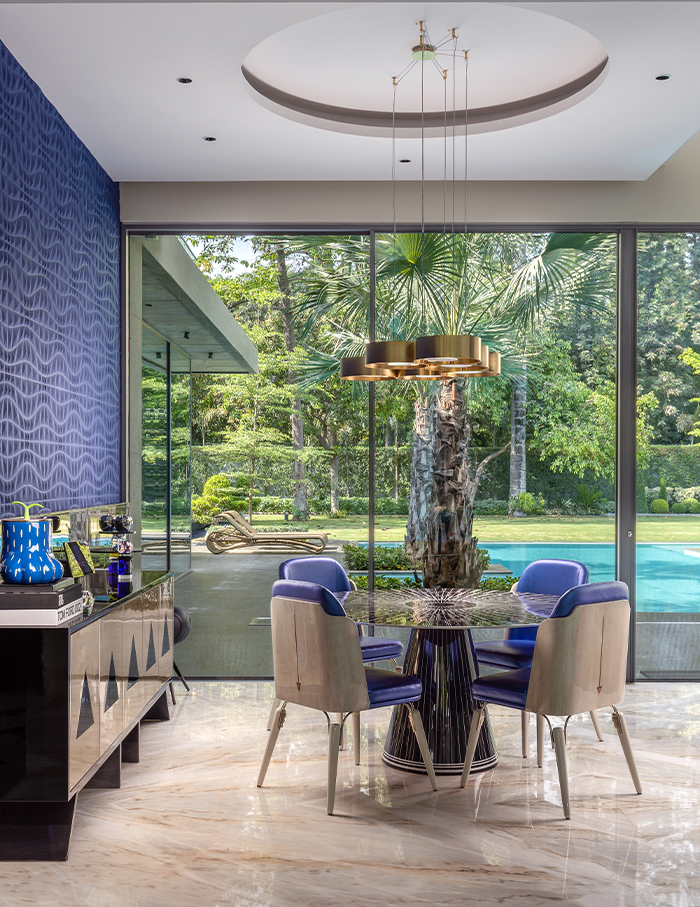 Nestled in the lap of greenery, the mandir is situated outdoors. A glory in white, the small temple is tucked in a corner, equally serene and peaceful. Overlooking the pool and lawn, the outdoor dining setup is ideal for sunny sunday brunches or chilly winter dinners.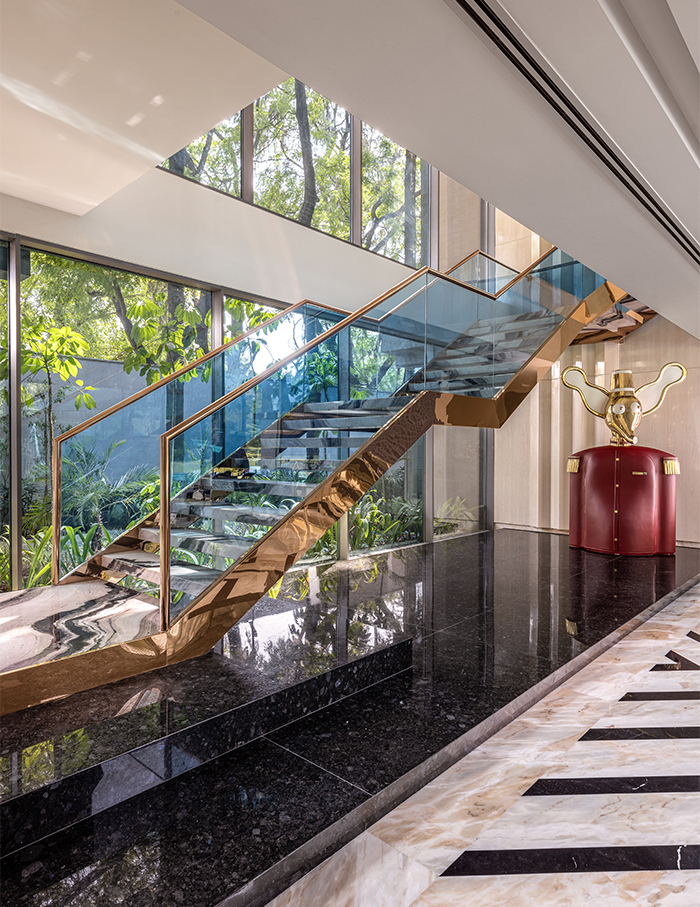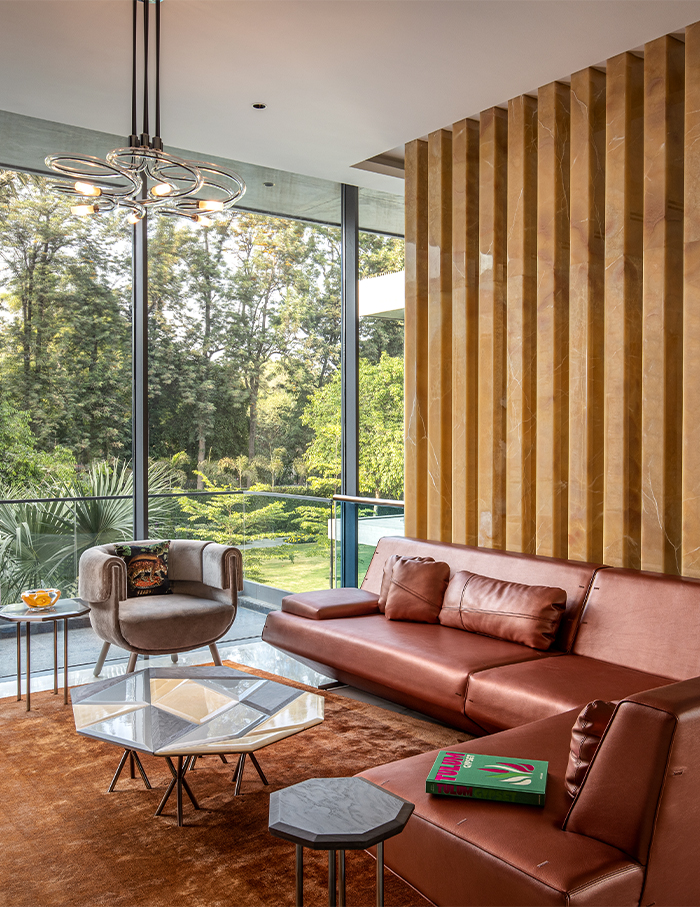 A formal living room and two separate family lounges on each floor encourage the inhabitants to experience spaces differently during different hours of the day. Splashes of bold hues, gleam of metallic accents and a display of quirky artefacts overtake the interiors.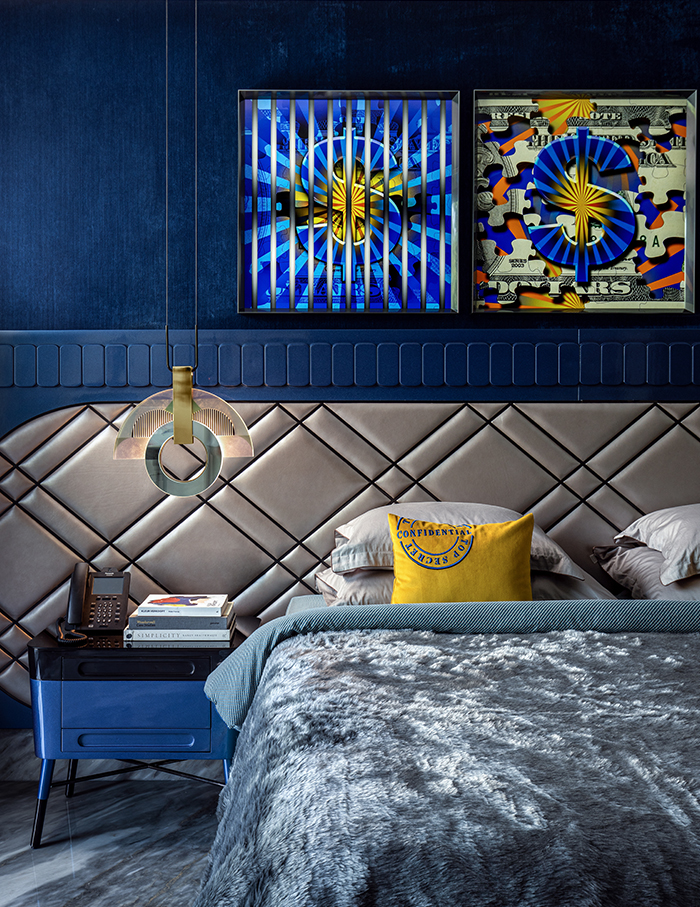 Each bedroom is a distinct canvas with a connection to the outdoors equally spectacular.  Designing bedrooms and their attached ensuites with large fenestration, blurs the boundary between inside and outside. 
Incorporating sustainability, the home features eco efficient air conditioning, double glass units for fenestration, rainwater harvesting and automation controlled lighting with sensors.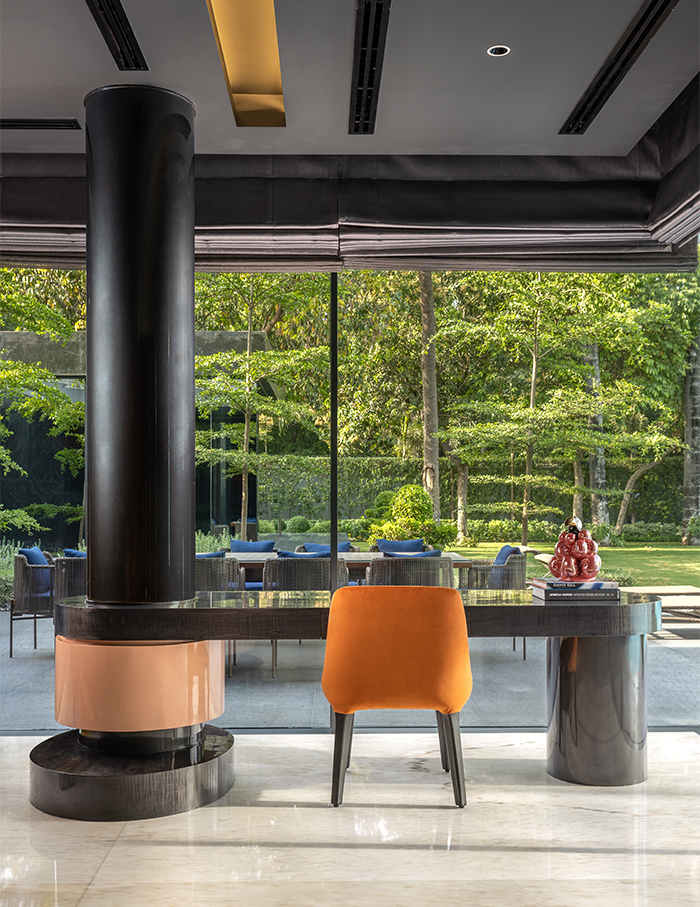 Ideas to bookmark—colours and materials
Sanjyt expresses his love for colours and says, "I wanted to ensure each space in this project has its own identity, its own language and for the owners' to be able to enjoy a palette that I would call, delicious brew of rich, lustrous colours."
Unusual tones incorporated into the overall scheme draw the eye to detail and create shadows, contours and drama. Sanjyt has established a dialogue between the details, their materials and colours—from large whimsical art pieces to smaller artefacts covering corners all over the home.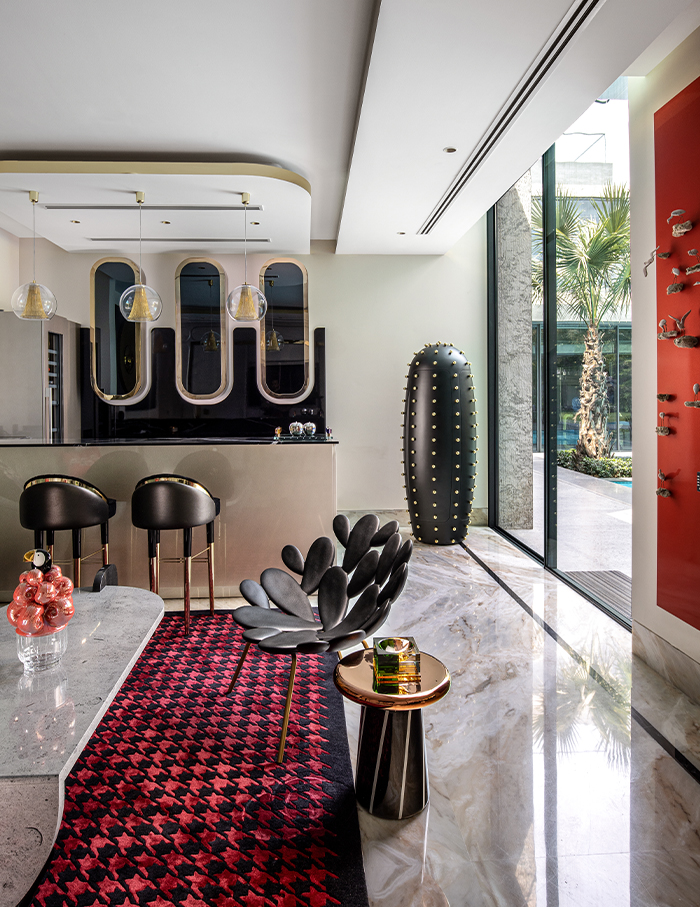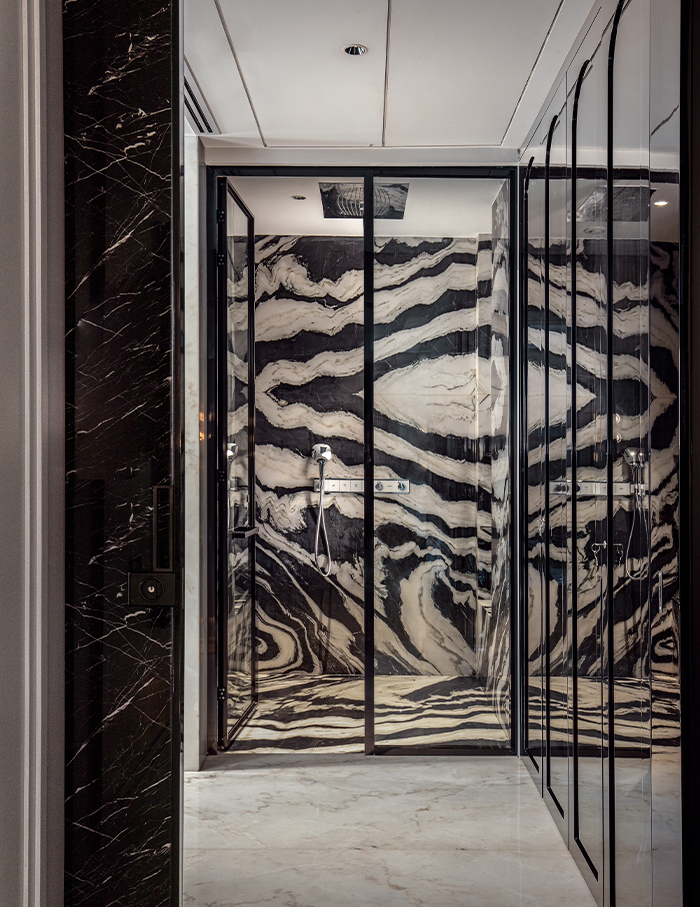 What the designer fell in love with
"Each millimetre of space is thoughtfully and tastefully created to bring a sense of newness. With an innate connection and fashionable aesthetics, the project exudes its own young personality bringing together a culmination of varied design languages that are connected by a common thread of modern glamour," concludes Sanjyt.
Scroll down to see more glimpses of this home by Sanjyt Syngh