Atelier Earth redefines modern eclectic design at A-806 Residence with bold blue accents
DEC 17, 2021
| By Subikshaa Stalin
With playful curves and a riveting colour palette of bold hues, A-806 Residence designed by Atelier Earth boasts of elegant interiors embellished with fascinating details. Belonging to a close-knit family of five, the flat occupies a generous area of about 2,100 sq. ft. in the prime streets of Indore.  
Adopting a consistent design philosophy, Atelier Earth's co-founders Gourish Jaiswal and Shubha Suryavanshi have executed the residence to perfection. In their opinion, "We have surely experimented with multiple design styles throughout the house that seamlessly blend together to meet the client's needs. The living space hosts a modern and minimalistic outlook, the bedroom exhibits rustic interiors." 
A French door, painted in a solemn shade of white marks the entrance of the residence, in stark contrast to the bold and extravagant interiors. Behind the entrance door, lies a great room furnished in stunning shades of turquoise featuring symmetric French panels on the walls.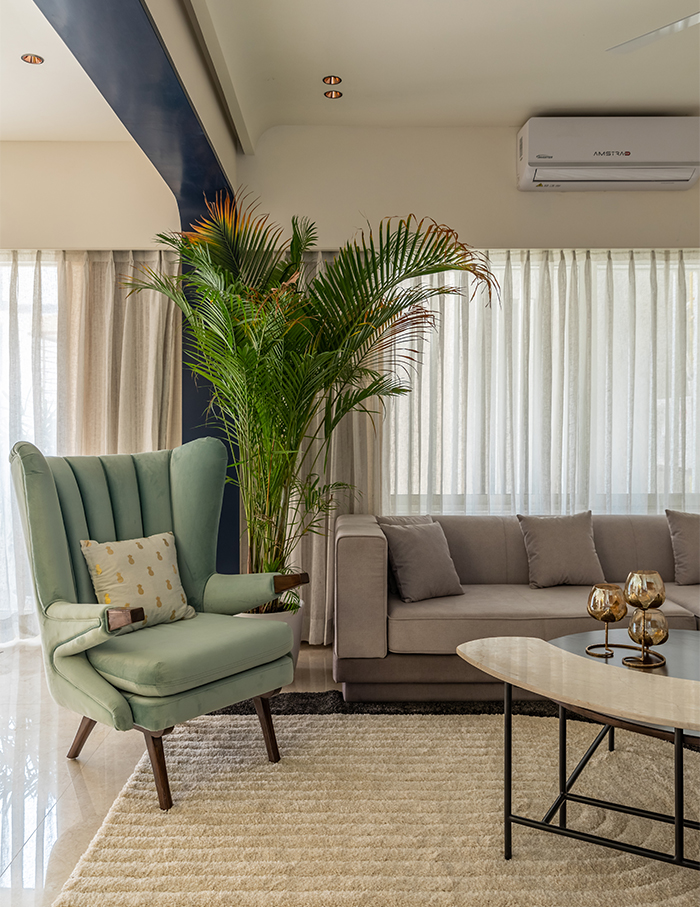 Adjacent to the great room, the living room is distinguished by a regal Italian marble partition and sports modest furniture with clean finishes. The partition wall doubles up as a TV Unit complementing the white fluted walls. 
An invigorating arched deep blue wall partition looks over the luxurious dining space. This zone sees expansive views of the outdoors through an opulent French window that brings in light to the space. 
Being their favourite space to curate, Gourish and Shubha muse, "The dining room forms the heart of the house and was a delight to design. The rectangularity of the dining table is softened by a noticeable arch on the partition wall." Its centrepiece is the table with a gleaming Italian marble countertop and sleek legs that resemble chess pieces.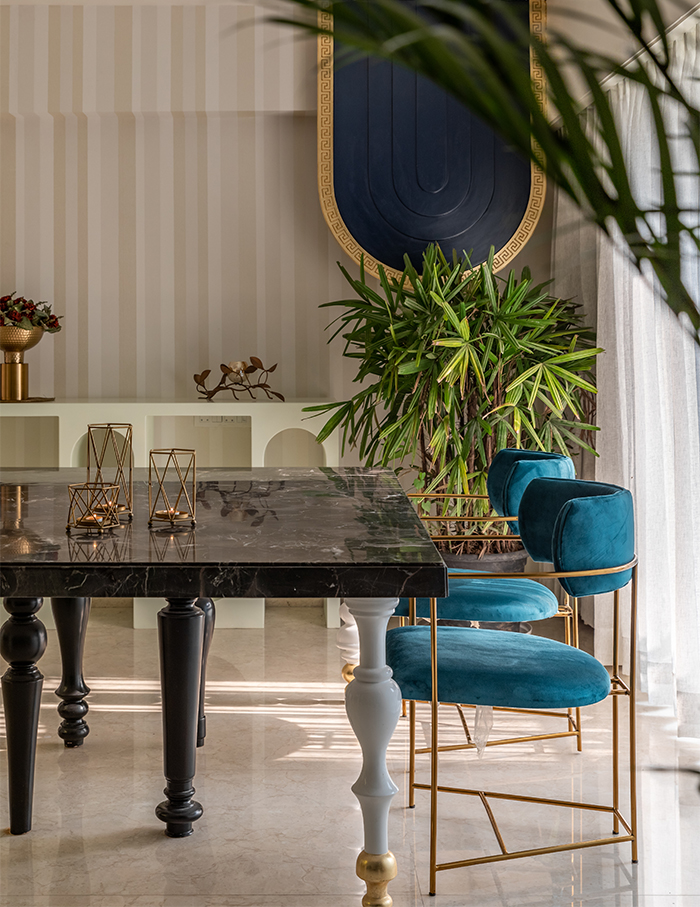 The private and intimate spaces of the residence are thoughtfully zoned towards the rear ends of the flat. The master bedroom takes on a calming ambience decked in fine luxury accommodating a keen request of the clients. Walls ornamented with alluring fluted walnut wood panels rightfully transform the space. White cupboards with brass handles and a beige Royal Wing couch with wooden legs meticulously execute the white-brown palette. 
The kid's room dons a mellow shade of pink creating a rustic space of delectable taste. Arched panels with fluted soft wool and an independently standing rectangular dressing table dictate a sense of vivid geometry. Through a carefully selected palette employed in upholstery, decor and walls, an incredibly inviting yet striking atmosphere is achieved.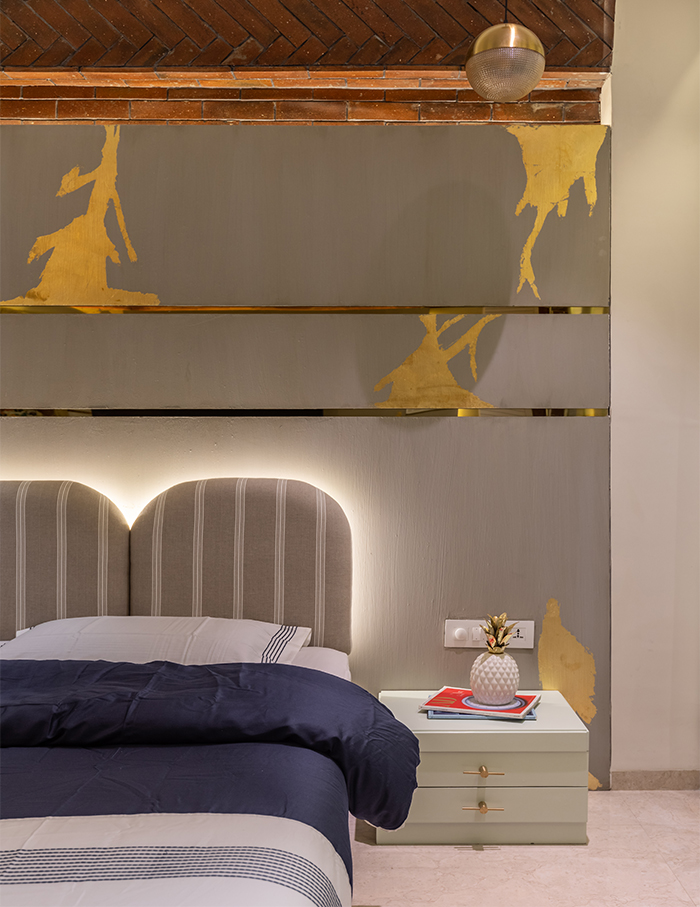 Although the flat is located in a mid-rise building, the design neatly provides an open space that houses a kitchen garden. Taking into account the favourable factor of sustainability, the residence features vast windows that bring in daylight and air cleansing plants in the living area.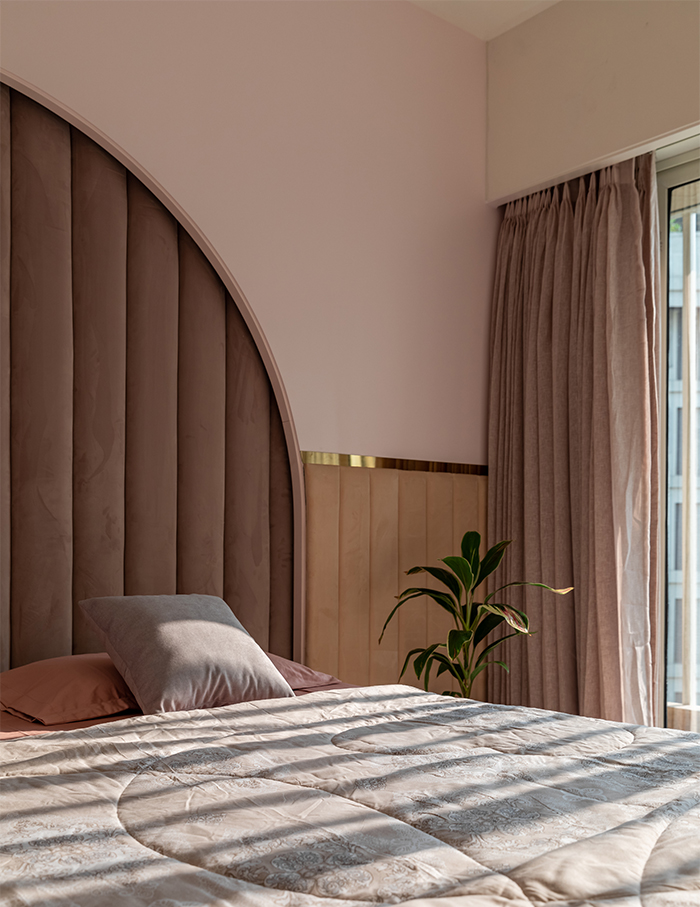 With an attentive choice in furniture and decor, Atelier Earth emphasises a modern eclectic design through the residence, especially with its custom made couch.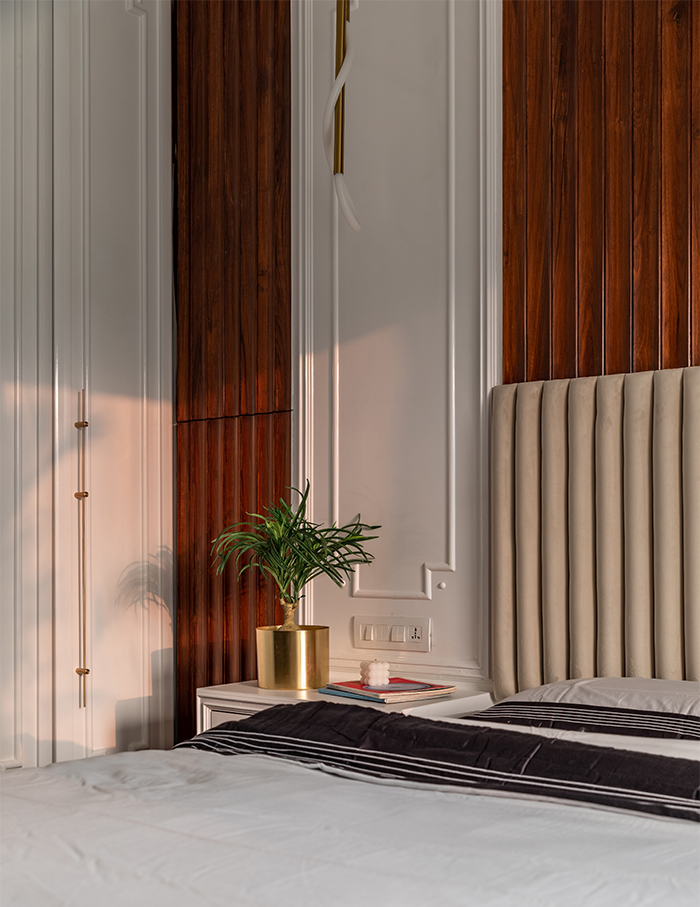 Elaborating on their design process, the duo says, "Every design, every drawing and every detail we curate in the office should have an aesthetic appeal and bring a sense of satisfaction. When executed, the design narrative must stun the clients and nothing less."
Need more such dreamy and luxiorus home inspiration, make sure to check out this Mumbai home by Kumpal Vaid splashed in urbane hues of white