Design
New store in Mumbai! Designer Ashdeen meets Ali Baldiwala to rekindle the magic of Parsi Gara at his fresh retail outpost in Colaba
AUG 25, 2022
| By Pratishtha Rana
Bombay, the endearing term for the bustling city of Mumbai, skirted by the queenly Arabian Sea, has been witness to many a historic landmarks for years and decades. This is where artistic and cultural differences become a thread of similarity for its inhabitants. Revisiting his love for the city and revealing a curious facet of the Parsi crafts and heritage, fashion designer Ashdeen Lilaowala has opened his eponymous label's brand new store in Mumbai's southern locale of Colaba, crafted with a refreshing mid-century meets art deco style by Ali Baldiwala of Baldiwala Edge.
Before heading to NID Ahmedabad to study textile design, the Mumbai-born designer spent a fraction of his early years in the city.
He muses, "I was thrilled to have found a space in the midst of Colaba's heritage district and to have collaborated with interior designer Ali Baldiwala to integrate Art Deco-inspired lines, colours and finishes into the experience."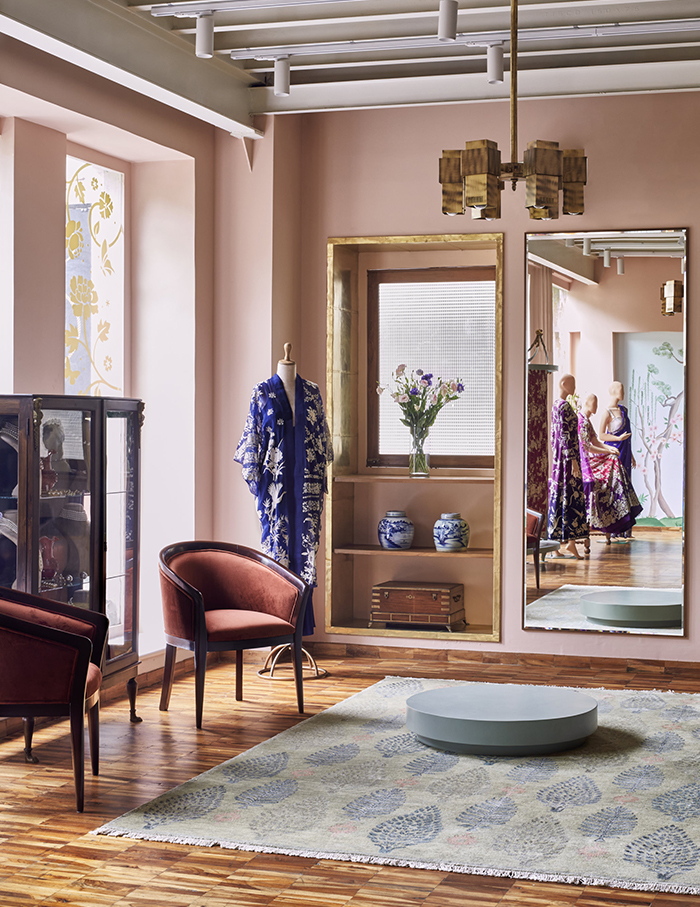 The store is an experience!
The 1,700 sq ft store transcends a typical run to a design boutique. Swathed with a romantic pastel pink hue on the walls and framed with floral patterned large windows, the space is awash in trickling sunlight, Ashdeen's own vintage Parsi furniture sitting poised, hand carved counters and racks and artistic details that spell unmissable!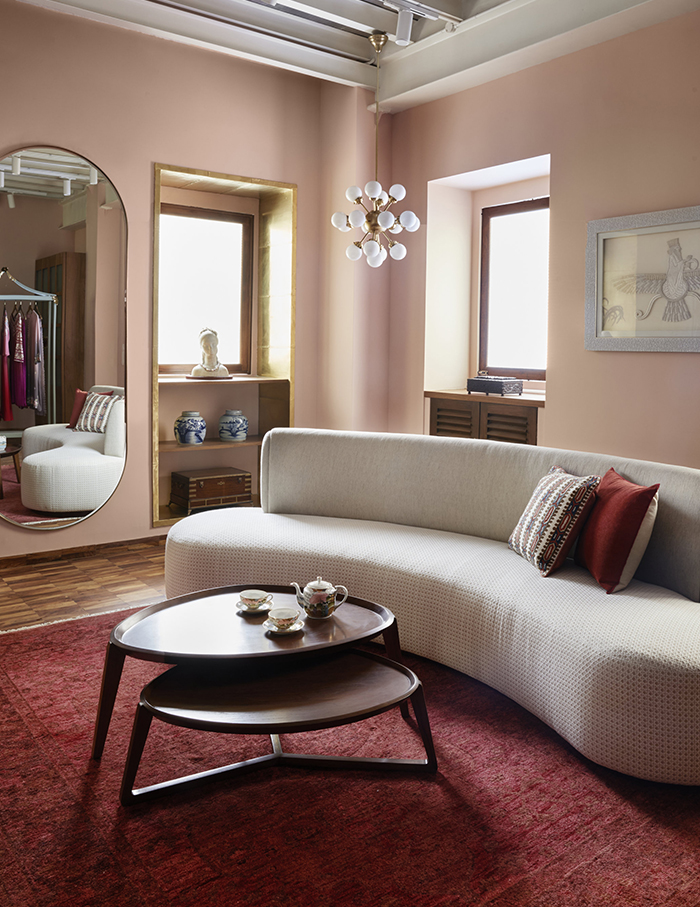 "The key design brief was to not overcrowd the store—we want customers to be able to float through the space easily. It had to feel cosy, comfortable and experiential," reveals Ashdeen.
Design with a thought
The old heritage structure of the venue was retained while designing. To which Ashdeen reflects, "This not only reflects Ashdeen's love for old things, but also the intrinsically sustainable DNA of the Parsi Gara tradition and the brand's ethos."
While Ali played generously with minimalism, the lines and vintage elements here, Ashdeen avers he punctuated the store with opulence, fluidity and of course, the textiles.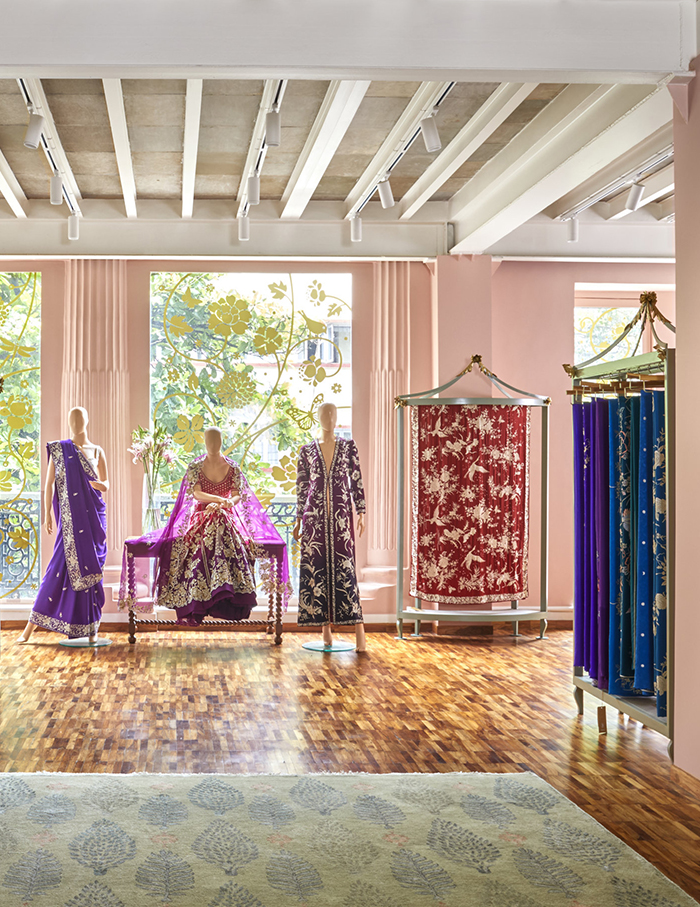 Tour the store…
Ashdeen's Colaba store treads the delicate and nostalgic beauty of the old structure it was, decked with pre-existing natural wood floor, refurbished to add a striking appeal to it.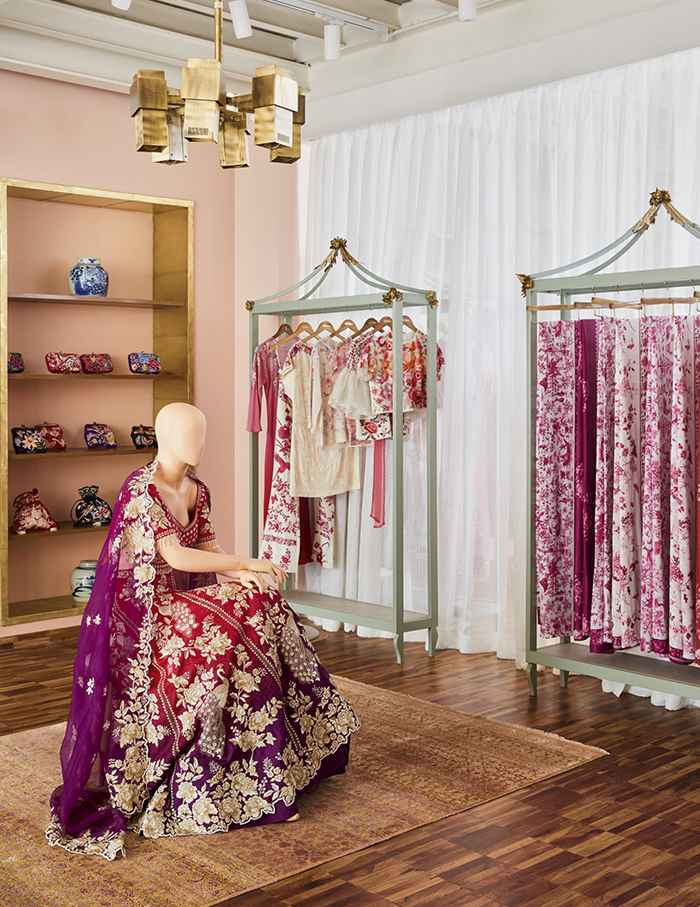 Sectioned into four key zones, the store hosts a main reception, display rack for the gorgeous ensembles and jewellery, while the centre zone wraps in sarees, bags and more jewels, and the bridal area with an elegant lounge seating. Bursts of glamour, old-world charm and sophistication weave every space together. The grand height marks its presence, too, with dramatic drapes and flowing fabrics shaping up a cocooning effect.
For Ali, the lounge translated into a delightful working canvas. "This was the area where I felt like I was designing a small living space and wanted to bring in as much of an Art Deco of a vibe that I could. The forms and shapes with art and accessories create a drama that was exciting to design."
Now read: Chennai's new architectural gem! 5 questions with Sanjay Garg on the largest Raw Mango store in India