Homes
Art and architecture take centre stage at this Kolkata home by A Square Designs
JUN 1, 2022
| By Sneha Gandhi
The characteristic charm, culture and drama of Kolkata, the city of colonial architecture, art galleries and theatre, is bound to trickle into the veins of its designers. 
Much like the affluent city, the 2,000 sq ft Kolkata Home by Ajay Arya, Founder and Interior Designer at A Square Designs, is an amalgamation of traditional and modern elements in the right amount.
Embodying a youthful elegance with its thoughtfully curated contemporary interiors, the home exhibits subtle traces of classical styles. Dynamic architectural forms and shapes take centre stage through the quirky furniture and wall accents. 
You may also like: Echoing a fusion of distinct flavours of India is Jalsa restaurant in Kolkata by A Square Designs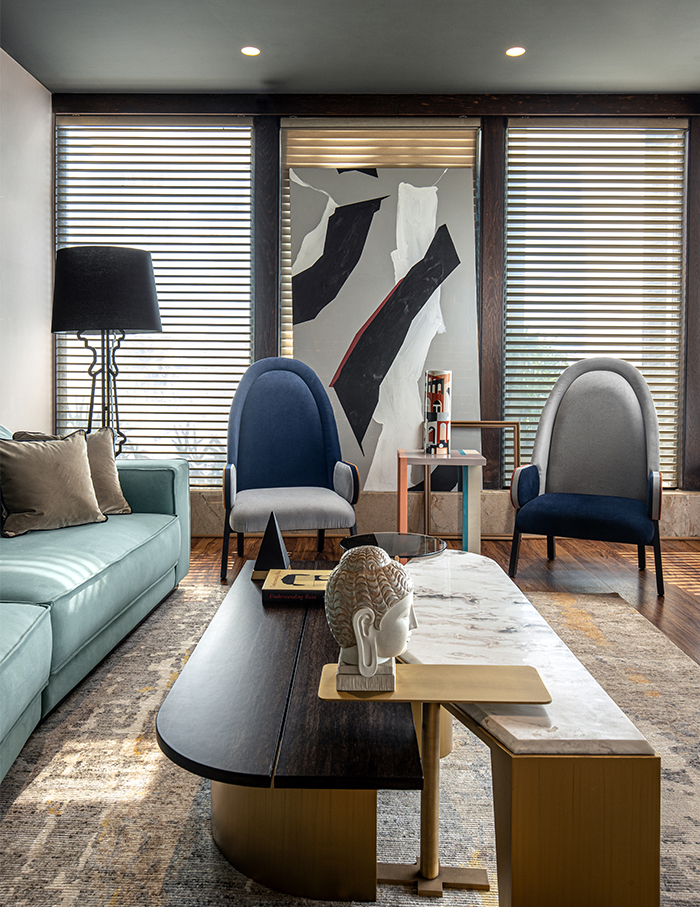 The homeowners are a vivacious couple who love to travel and celebrate life. "We had a few rounds of discussions, and then we decided to innovate with the spaces rather than just renovate to create a fun, functional and zesty environment reflecting their sensibilities", divulges Ajay.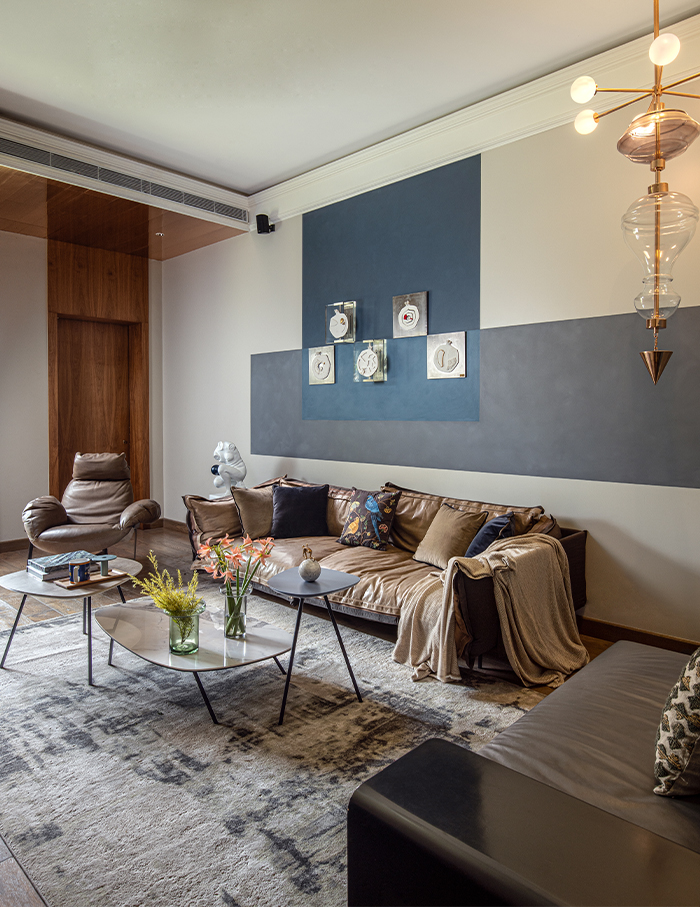 The remodelled Alipore home revels in the colour scheme of blues and military greens stabilised by neutral tones; a signature of the studio. Wrapped in wooden flooring and textured walls, the material palette explores eccentric intersections of wood and metal.
The entrance foyer reveals a vibrant view of the informal living room that connects to the terrace. On the right, one would find the bedroom unit with an ensuite bathroom comprising 1,100 sq ft.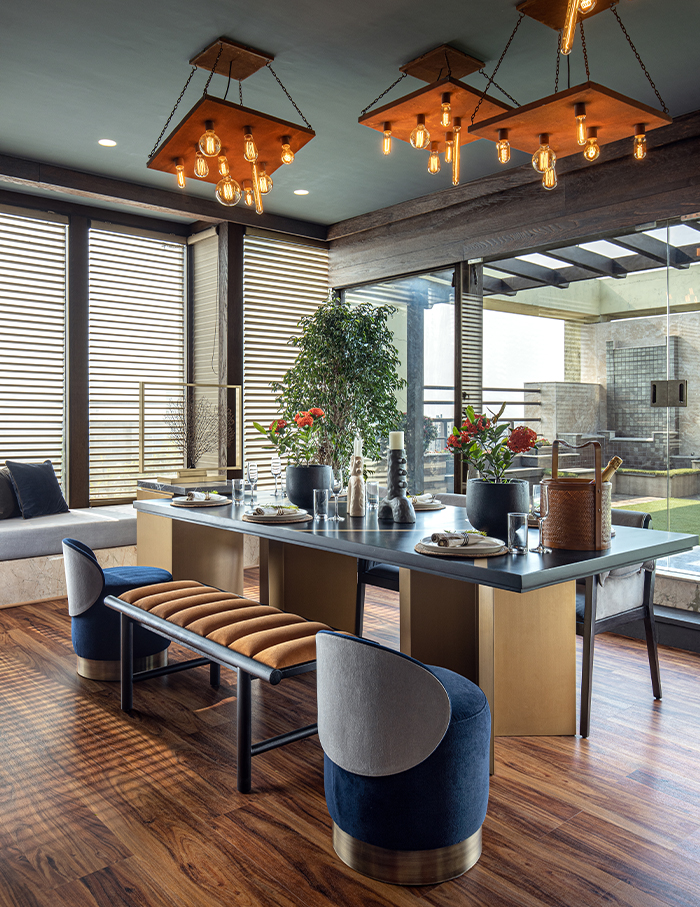 Flooded with natural light from french windows on three sides, the informal living room proved to be quite a challenge while designing. Taking a conscious approach, A Square Designs draft a climate-responsive home by insulating the ceiling to prevent overheating of the rooftop apartment.
While the large windows enable a sufficient natural light supply, the louvred blinds regulate the heat transmission.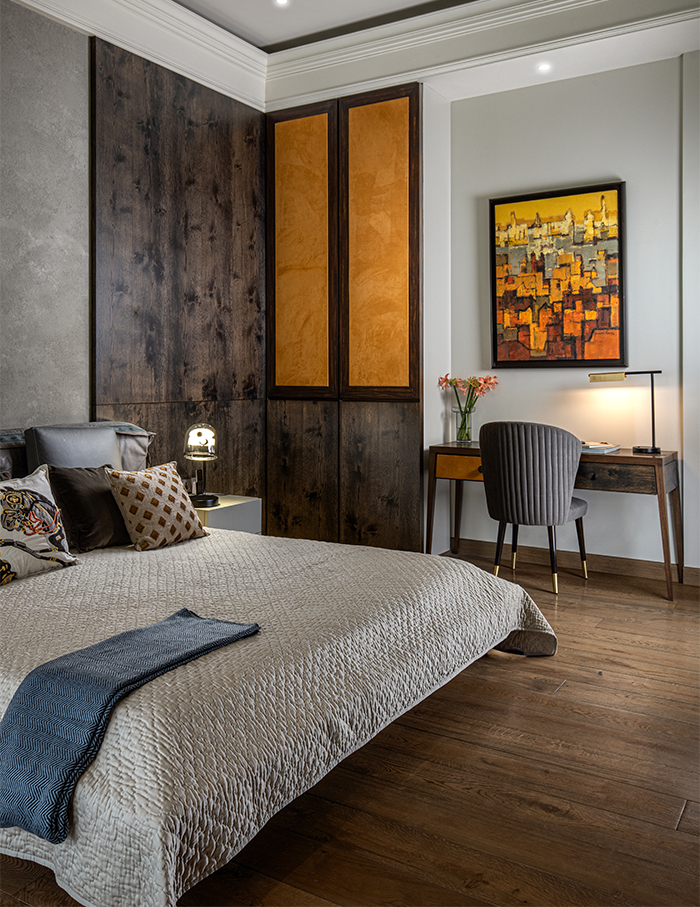 The studio gets remarkably creative with the dining area by ditching the standard setup of repetitive chairs. Instead, they introduce a quaint mish-mash of low back pouffes and an upholstered bench in tone with the artistic flair of the space.
The enchanting and exquisitely layered Kolkata home by all means surrenders to the poetic spirit of its city and inhabitants.
You may also like: Not less than a extravagant movie set—this duplex penthouse in Kolkata is designed by Ajay Arya of A Square Designs