Homes
An alchemy of luxury and elegance unfold at this Odisha villa by KNS Architects
OCT 6, 2021
| By Anushua Aich
Etched marble and backlit surface grills adorn the walls while spectacular ceramic tiles flooring offer an opulent vibe to this villa. Located in Bhubaneswar, Odisha, this 25,000 sq ft villa designed by KNS Architects offers extraordinary views at every step.
The interiors of this villa are crafted by architects Neemesh Shah, Kanhai Gandhi and Shresht Kashyap, partners at KNS Architects whereas Rabi Mohanty of Architects Collective is responsible for its architecture. Exhibiting intricate details embedded inside with panache, the team has managed to elevate the grandeur in epic proportions.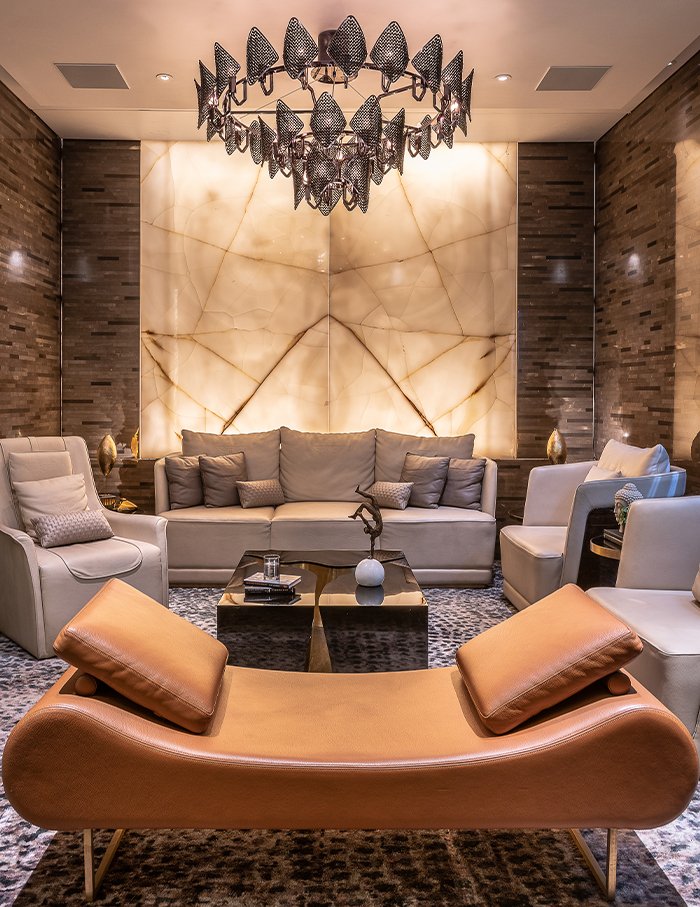 Initially this villa was a load bearing structure with ground floor and a partial first floor to which columns have been added to accomodate a second floor with a terrace. The architects also constructed the three driveways—the first one leading to the guard's cabin, the second one leading to the villa and the third one leading to the garage on one end to accommodate further functions and utility.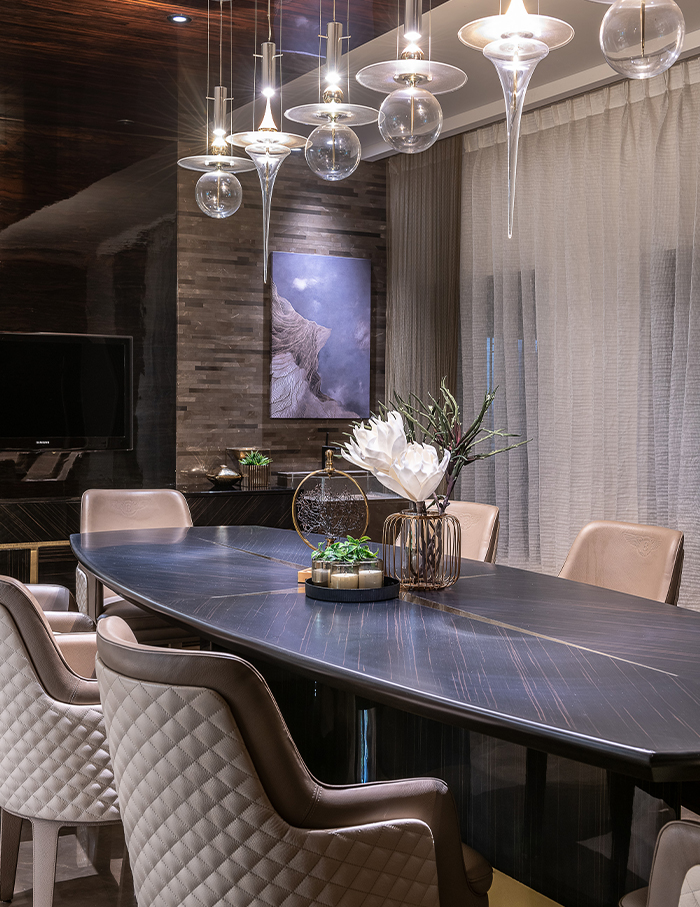 The living area of this villa is not only modern but is also regal in its aesthetics. Installation of the backlit onyx surrounded by linear patterned tobacco brown Italian marble forms the backdrop of the seating in the living area.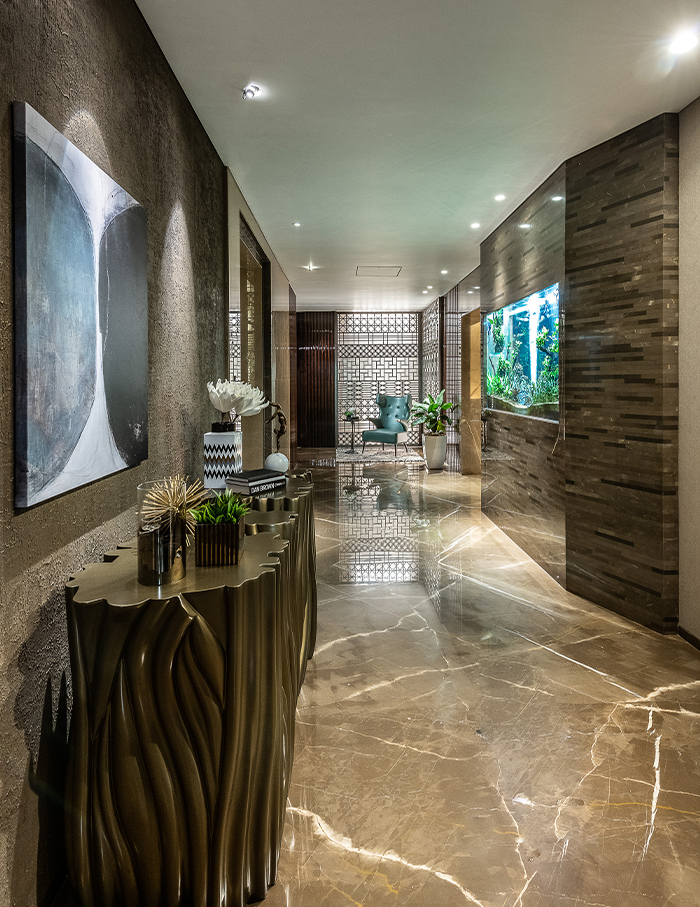 On the first floor, the passage leads to the media room on the left, terrace garden along the front facade overlooking the main road, two primary bedrooms with attached deck towards the back of the house and three kids' bedrooms.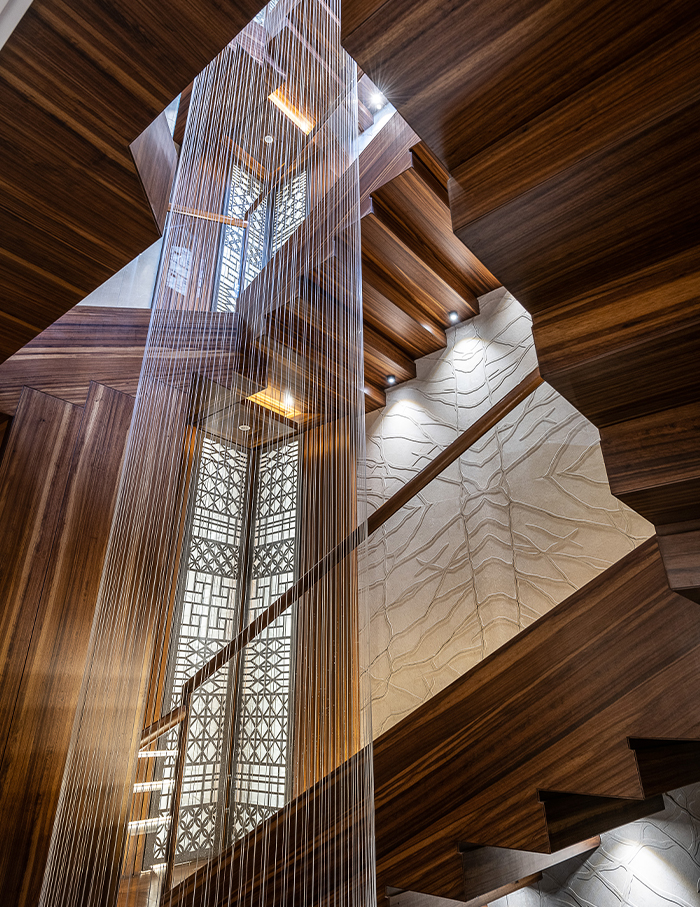 The second floor constitutes a worship area and a terrace lawn accompanied by an outdoor bar as well as seating on the right. Indeed, evoking peace and comfort.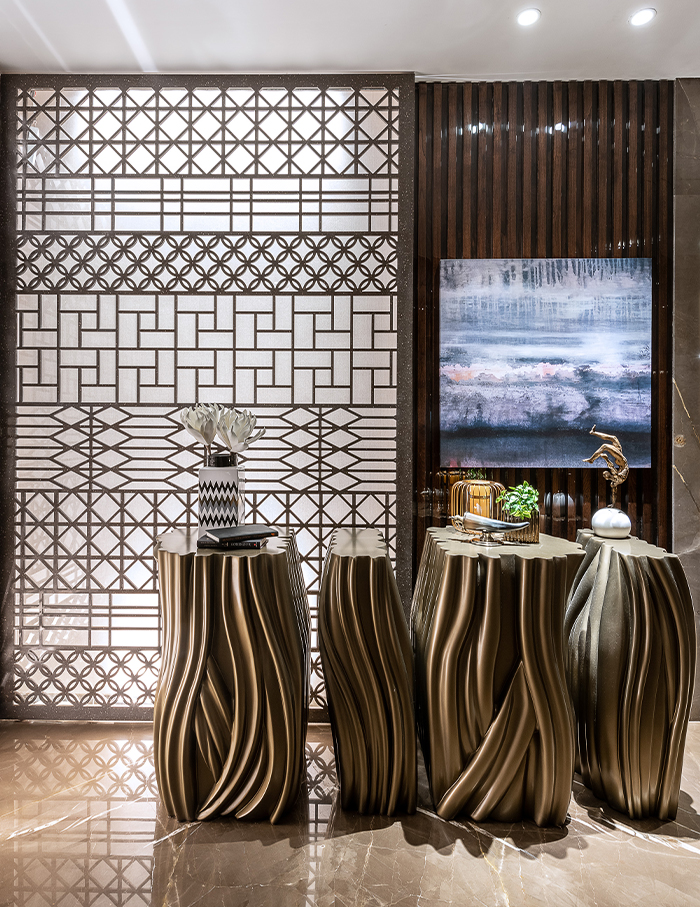 The third floor entails an outdoor kitchen with a bar, powder bathroom, gym, store room, lift machine room and solar panels—drawing attention to the coexistence of sustainability and modernism.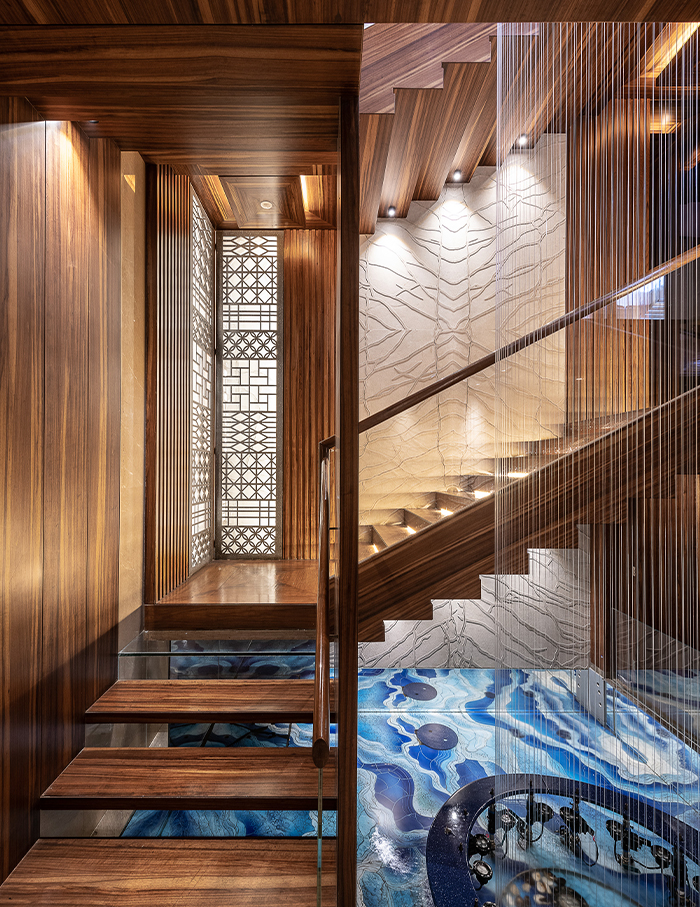 One of the most mesmerising designs of this villa is its staircase, where water jets are installed. As Shah expresses, "We enjoyed designing the bar area the most and while the space turned out how we envisioned, the execution of the staircase well and the reef aquarium was challenging".
While it is evident that this villa has it all, from guest room, gym, solar panels to a charming terrace lawn, it becomes more so alluring for people to own it, host events or lounge in its magnificence to take a break from the world.
If the grandiosity of this home charmed you, you must also check out this luxurious Manhattan home by Aamir Khandwala