Design
All you need is love, and a credit card as Elle Decor India takes you through the newest luxury boutiques to open their doors
MAR 31, 2023
| By Siddharth Babani
If Cinderella is proof that a new pair of shoes can change your life, then you better keep your wallets handy for what ELLE DECOR India has in store for you. 
From royal wedding outfits to sparkling jewels and bespoke shower heads? These boutiques serve up some of the most enticing retail interior designs that provide for a more gratifying and immersive experience.
Jatin Malik Couture, New Delhi
Jatin Malik, fashion designer and owner, has manifested a space that is "as rich in art as it is in fashion and couture." The new flagship store located in Delhi features natural elements and a neutral champagne colour palette. The sweeping walls, contemporary lights and thoughtful artwork make for a soothing escape from the stress of wedding planning. 
While the space is flushed with the non-traditional – an open design and abstract forms, The grooms-wear designer wanted to challenge the existing preconceptions of what is expected from a boutique offering wedding couture.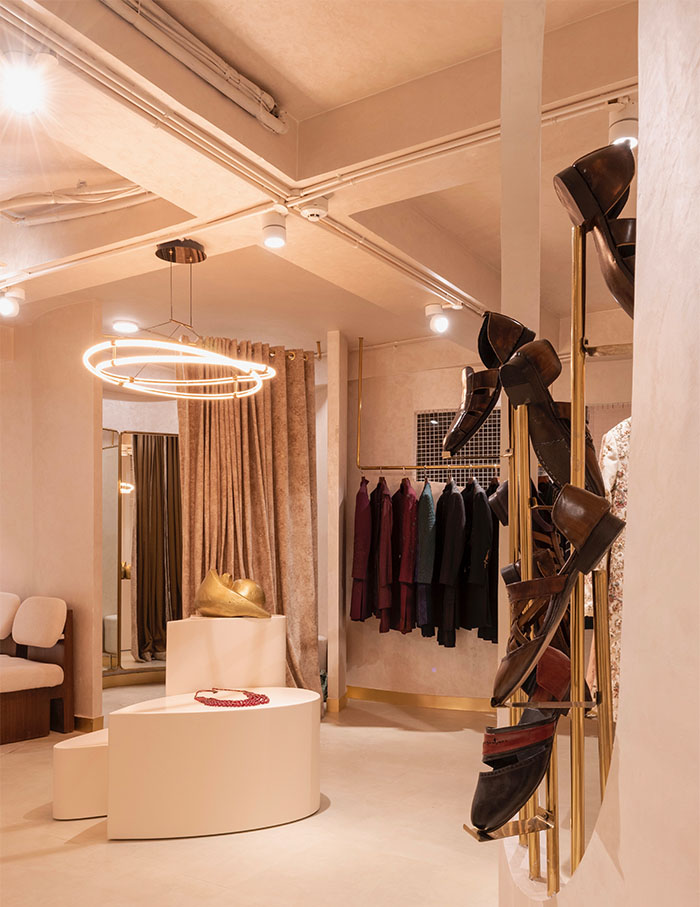 Disha Sharma Designer Store, New Delhi
Described as an ensemble of contrasting elements by principal architect Pranvi Jain of The Melange Studio, Disha Sharma's very first designer store can be categorised as comfortable but confident, powerful and feminine, new age and timeless. 
Completed earlier this year, the 560 sq ft retail space can be found in New Delhi's every popular Defence Colony. Besides the striking monochromatic colour palette introduced to allow the clothing to stand out, a tremendous curved wall has been installed to connect the two segregated spaces within the store. The combination of displays created by the curvilinear structure evokes a sense of curiosity and greatly improves the quality of engagement between the customer and the space.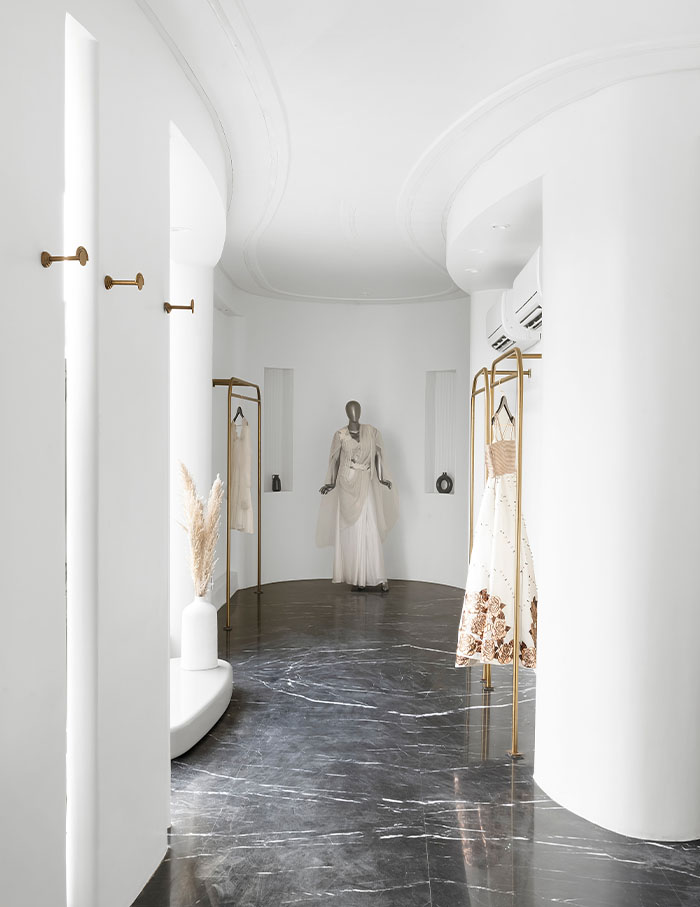 Raslila, Pune
Inspired by the idea of self-reflection, Raslila features a myriad of textures which  include fluted wall panels, and mirrors with their golden accents that dominate the interior walls to augment the glorious shades of the designer wear.
Located in Aundh, Pune, the 900 sq ft boutique designed by Shilpa Agarwal of Kefi Design Studio embraces materiality and a minimal colour palette to create an intimate sensory experience in order to avoid distraction caused by visual clutter that is typical of today's retail environment.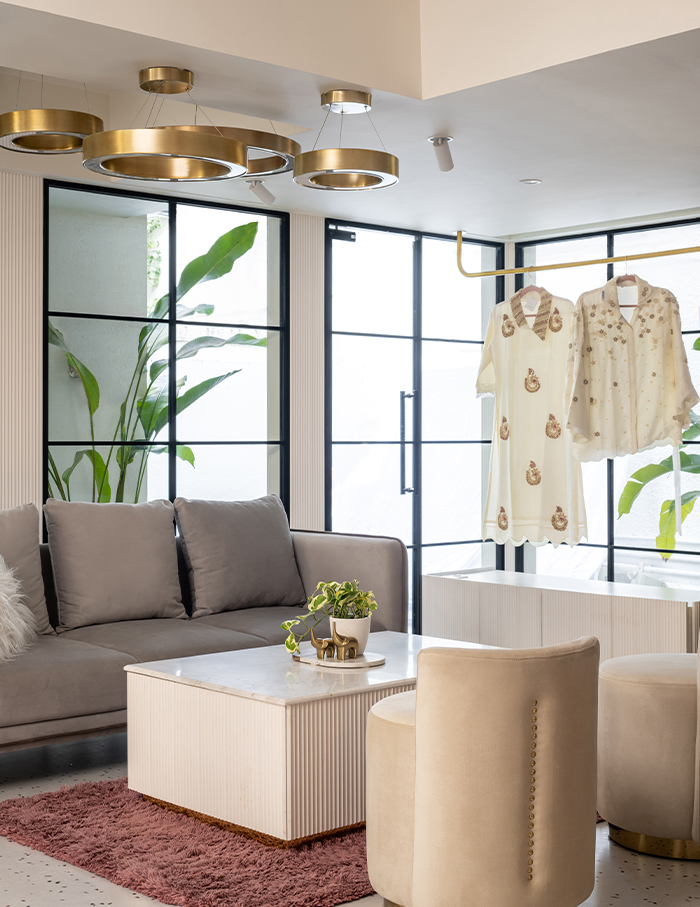 Mitti, Ahmedabad
The philosophy of Mitti, echoes through as one tours their latest outlet in Ahmedabad. The store and café promoting a slow and sustainable lifestyle while consciously using all things natural and organic, has managed to create a transformative space that is flexible and can adapt to the demands of the store. 
Designed by Prana Design Studio, architect Priyanka Agarwal manages to create a neutral shell; purposefully designed to promote the products, allowing them to be the focus of attention. The use of sustainable materials like wood, bamboo and cane further aligns the design to their cause of a sustainable consumption of materials.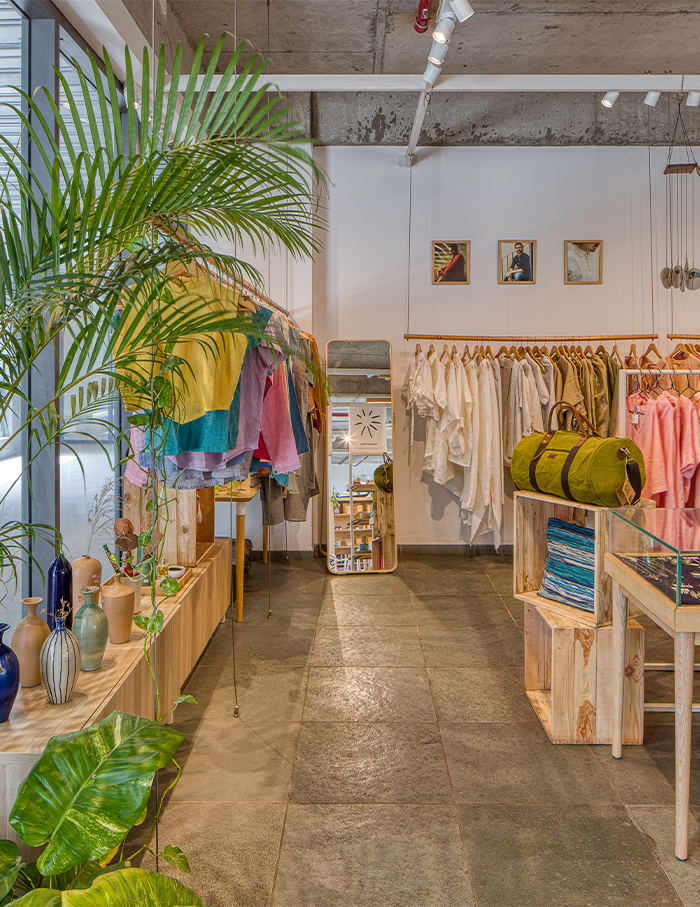 Bath World, Vadodara
In the world of interior design, showcasing your products well could be the difference between making a sale or losing that commission. Showrooms nowadays are not unlike art galleries where each slab of marble, piece of furniture or utility fixture is displayed with the utmost care. BathWorld's newly renovated showroom by The Crossboundaries is a stunning display of an assortment of bathroom products in an edgy, vibrant setting. 
The 2000 sq ft store offers a memorable experience to customers and contemporaries alike with its alluring fixtures and immersive displays. The Bath World store offers everything, one would need to turn a hole into a home.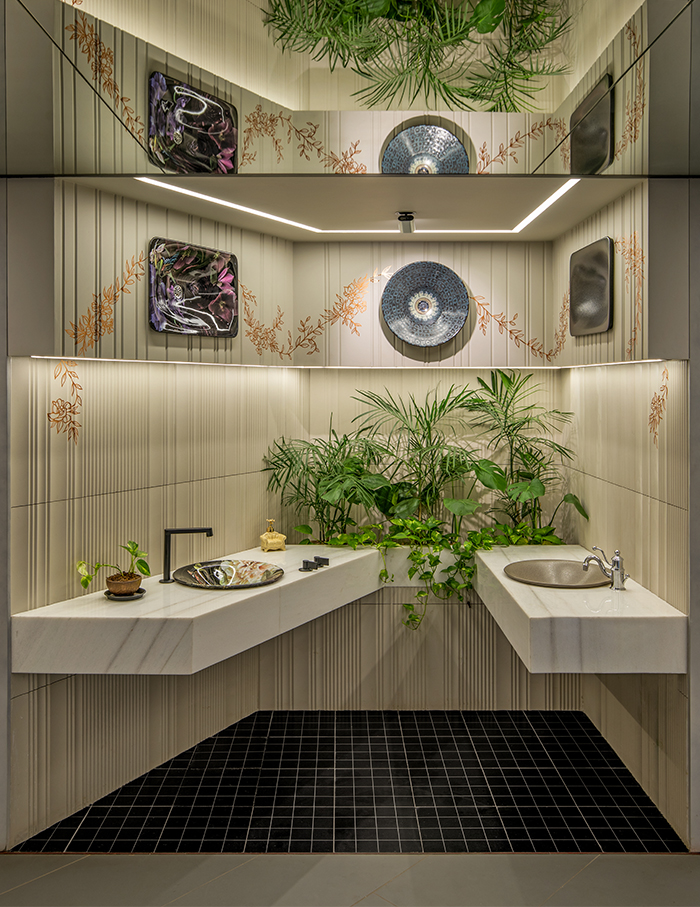 Jewellery by Nikitha, Bengaluru
Located amidst the bustling lanes of downtown Bengaluru, the multi storey jewellery has pairs opulence with minimalist design. Val Atelier turned their attention to a choice selection of materials to achieve the lavish character desired by the client The large golden logo of the brand greets you as you enter. Affixed on the massive beige and grey slabs of rich marble that line the walls of the store, clients will be tickled pink to witness the richness indicative of an extravagant jewellery store.
Wading through the grey and gold, individual niches have been created to display the diverse collection of jewellery that is on offer. A bespoke staircase made with wood and carpet. The classical English railing guides you to the upper level where you are again hurled into a cocoon of comfortable fabrics and polished wood. The theme of modern elegance flows throughout the store with the architects delivering a posh yet welcoming platform for the brand to showcase the jewels.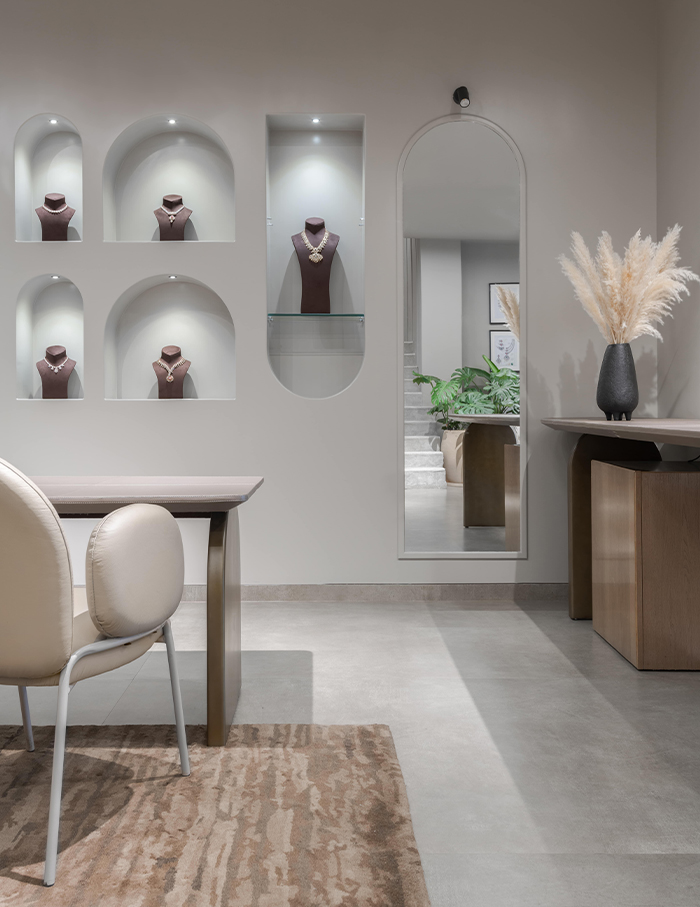 Zoya, Mumbai
CK Venkataraman, MD at Titan Company Limited and Mr. Puneet Chhatwal, MD & CEO at Indian Hotels Company Limited opened doors to the sixth landmark boutique of Zoya in the country, at the Taj Mahal Palace. Over the years, the exquisite atelier from the house of Tata, has emerged as a destination of choice for the discerning sophisticate, with a reputation for unmatched creativity, innovative design and impeccable craftsmanship.
A warm glass façade rises from floor to ceiling, offering an inviting glimpse into Zoya's lush feminine interiors that sparkle with its rare treasures. A soft hush and pastel hues of white, beige and blush, extend a warm welcome. Signature chandeliers in white and blush weave their way through the store. Handcrafted from the sustainable pulp of banana leaves, the design is symbolic of the delicate blossoming and growth inherent in the journey of a woman through life. Accents on the marble floor complement artistic detailing on the boutique's curved white walls, creating an intuitive path round floating window displays and a central island, redolent of an art gallery. Here is a space of indulgence, with uninterrupted "me-time" to explore your love for fine jewellery!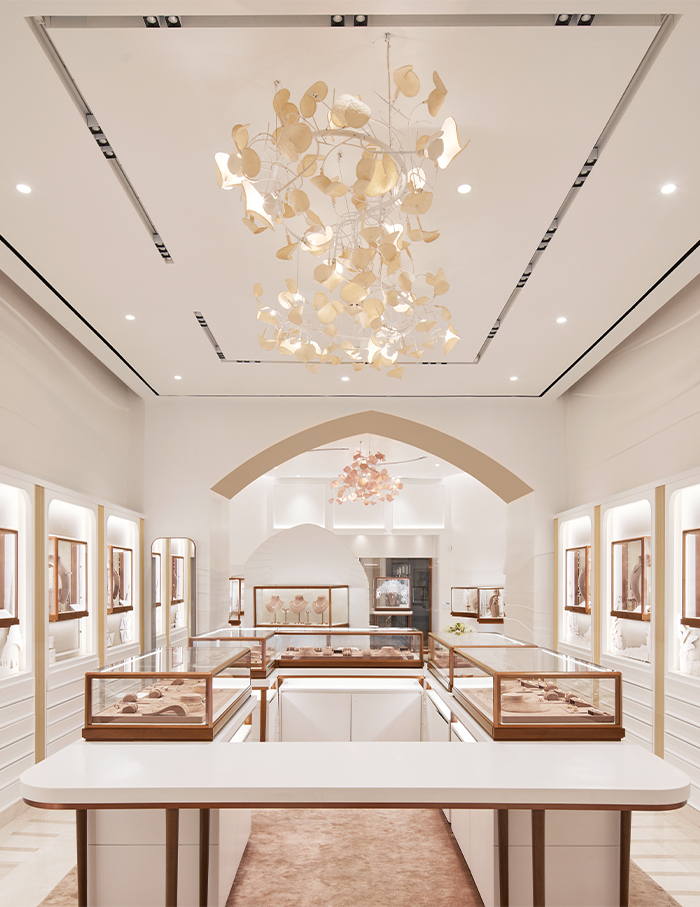 Sabyasachi Jewellery Store, Hyderabad
Sabyasachi's inaugural jewellery flagship store in Hyderabad, is an homage to craftsmanship, heritage and the spirit of Calcutta. An intimate parlour of exquisite jewels, the store is framed with original art made by The Sabyasachi Art Foundation—inspired by Persian Qajars, Mughal botanicals and miniatures, and Company paintings found in the grand old homes and palaces of Calcutta. 
The modernist interpretations are interspersed with hand crafted Pichhwais, and vintage handwoven and crafted textiles from across India. Dutch pottery, age-old ceramics and leather bound books peek through Lladro figurines of Indian goddesses. Even as the floors are marked with hand knotted and woven carpets and kilims, the wallpaper and upholstery are part of theSabyasachi for Nilaya collection, presenting the various house motifs and hallmarks. While the house's signature block printed velvet lined vitrines and busts are laced with the finest of necklaces, rings, earrings and head gear.
Sabyasachi's vision for the retail experience remains consistent across the various cities, countries and stores. It's an escape and a reminder to step away and into a timeless sense of being and the complete abandon and decadence of the joy of age-old heritage and slow luxury.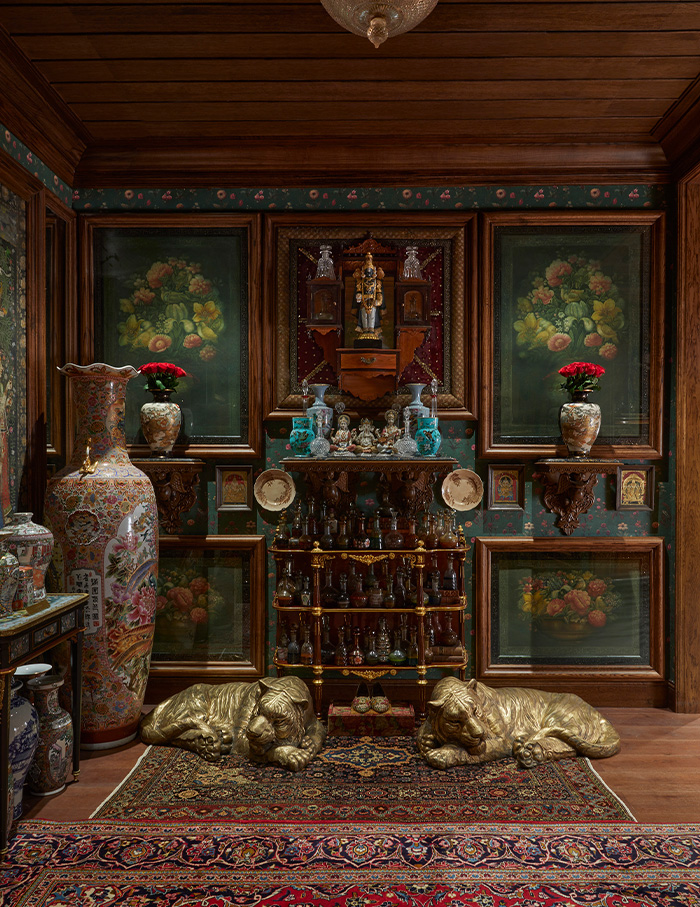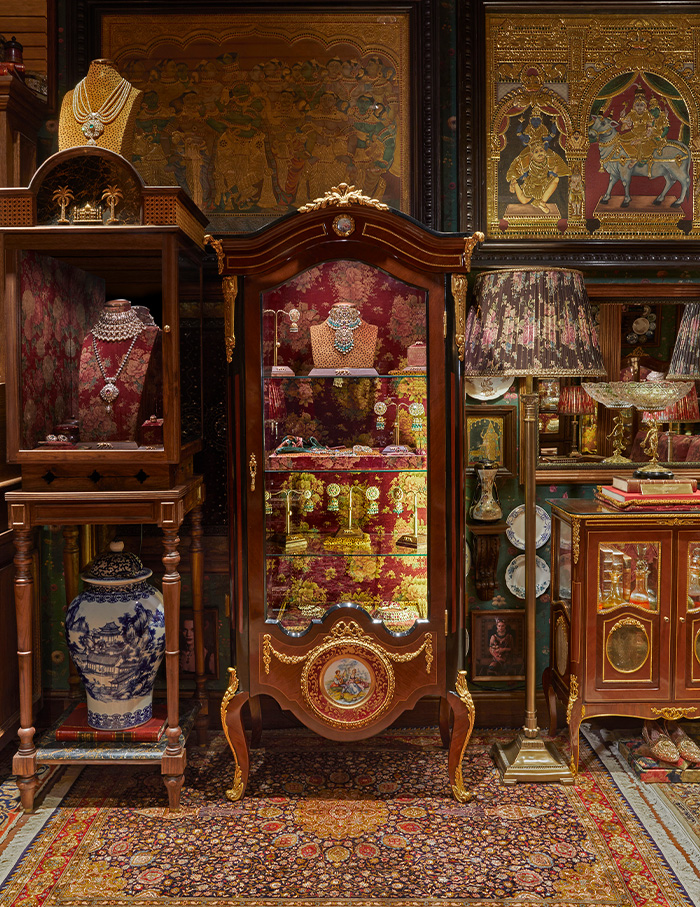 You may also like: Confessions of a Shopaholic: Inside the gorgeous store interiors around India designed as an experience of luxury retail