Design
Confessions of a Shopaholic: Inside the gorgeous store interiors around India designed as an experience of luxury retail
SEP 24, 2022
| By Pratishtha Rana and Shrimohi Shah
"A room should start a conversation before people actually start exchanging words" once said Barry Dixon, an American interior designer. What starts a conversation within the glistening four walls of a retail, designer store is its carefully thought out, interestingly curated personalised interiors that truly give the 'first impressions' that are meant to impress.
ELLE DECOR India charts out a bookmark-worthy edit of designer stores in India across Mumbai, Bengaluru, Chennai and other cities that are a 'must visit' for not only their wide range of product offerings but also their 'cool interiors' that outline Art-Deco inspirations, metallic finishes, pastel colours, latest trends paired meticulously to candidly please the customer's eyes.
Confession No. 1: Ashdeen, Mumbai by Ali Baldiwala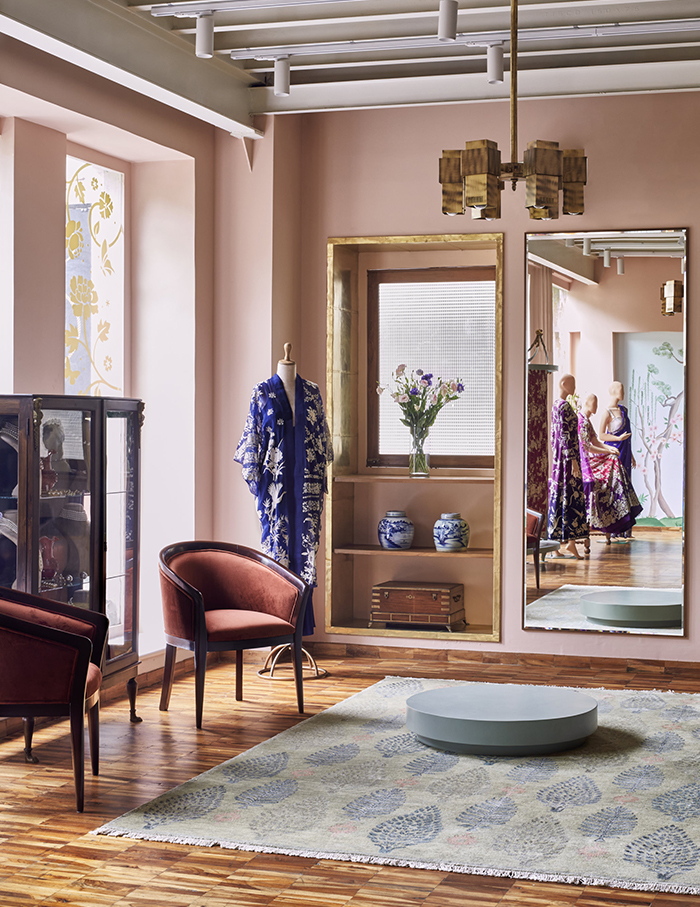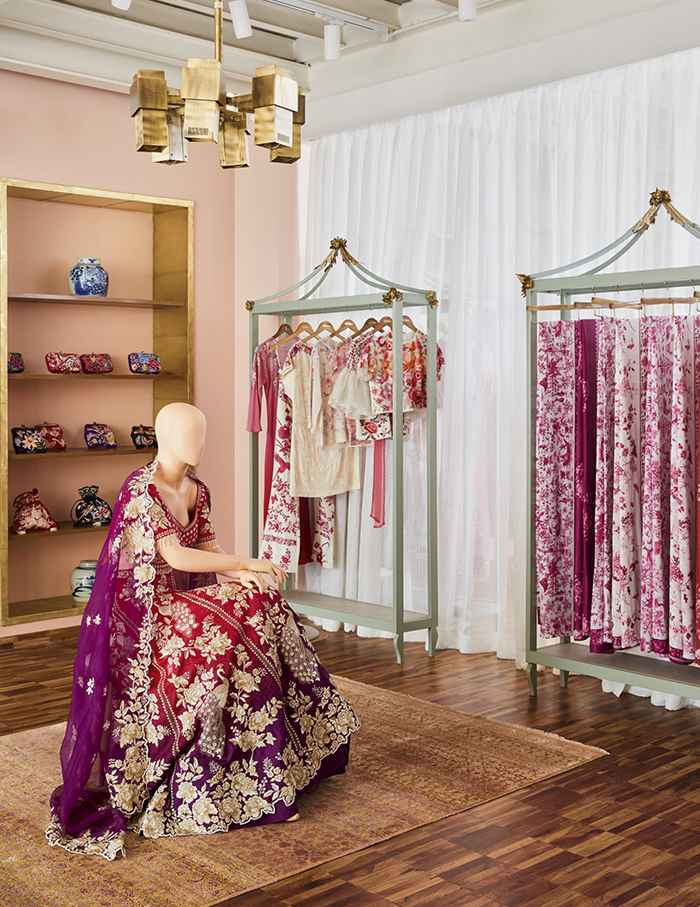 Crafted by Ali Baldiwala of Baldiwala Edge for fashion designer Ashdeen Lilaowala's eponymous label the 1700 sq ft. store layout is nostalgic of the old structure's rich roots and pre-existing natural wood floor which is polished to reveal its original grain and patina is refurbished to add a decidedly luxurious effect to.
Just like the set of a movie which keeps changing, through the changing seasons, the floor transforms to reflect the change in seasonal merchandise. The Ashdeen store is divided into distinct sections the main reception, the display racks, the centre housing sarees, bags and some more jewellery and the bridal zone features lounge seating and a display of lehengas and Parsi wedding sarees with an end result of glamour and sophistication.
Confession No.2: Raw Mango, Chennai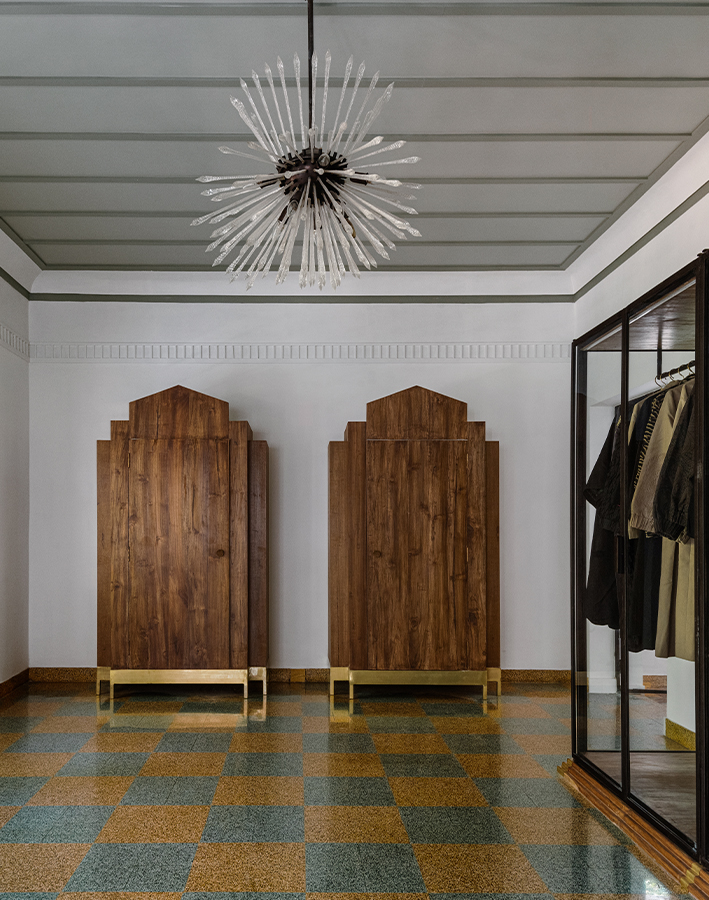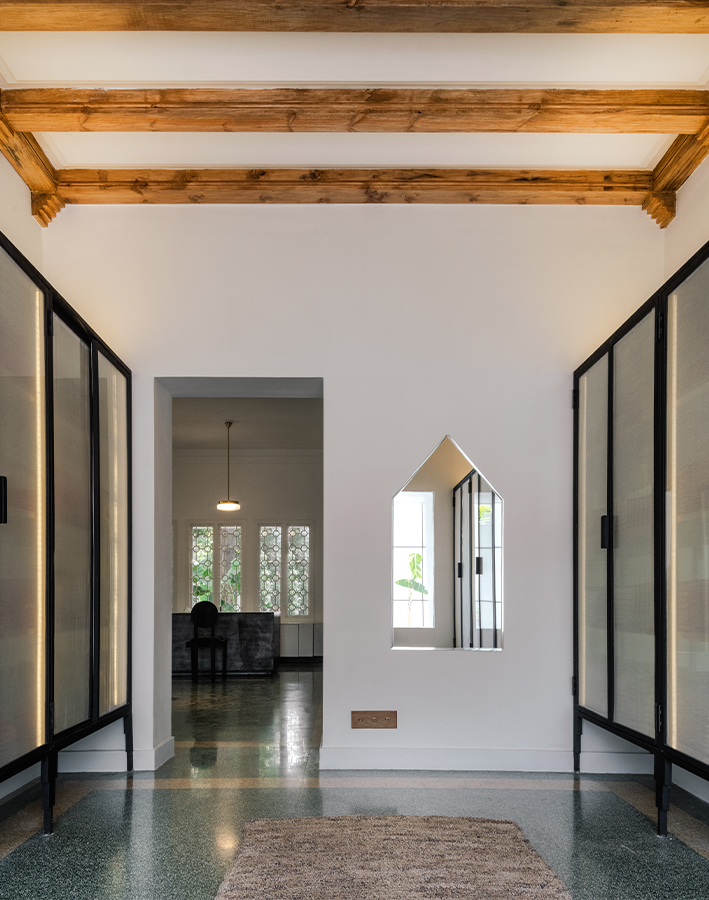 The Raw Mango store in Chennai is a sizeable 5400 sq. ft and set within a lush garden complex. Sanjay Garg worked closely with the architect and visual creative director Adityan Melekalam for over 8 months to bring alive this vision for the store.
Their  Summer 2022 collective CHORUS relays design aesthetics of the Rococo period through woven ornamentation like birds, flora & ribbons but in a more vibrant colour palette. What makes it unique is the inspiration drawn from the property's original structure and draws inspiration from the history and context of the bungalow it resides in by creating rooms and adding windows and chajjas. This screams minimal, modern Indian which is the overall aesthetic of Raw Mango as a brand.
Confession No. 3: Fizzy Goblet, Mumbai by Checkered Spaces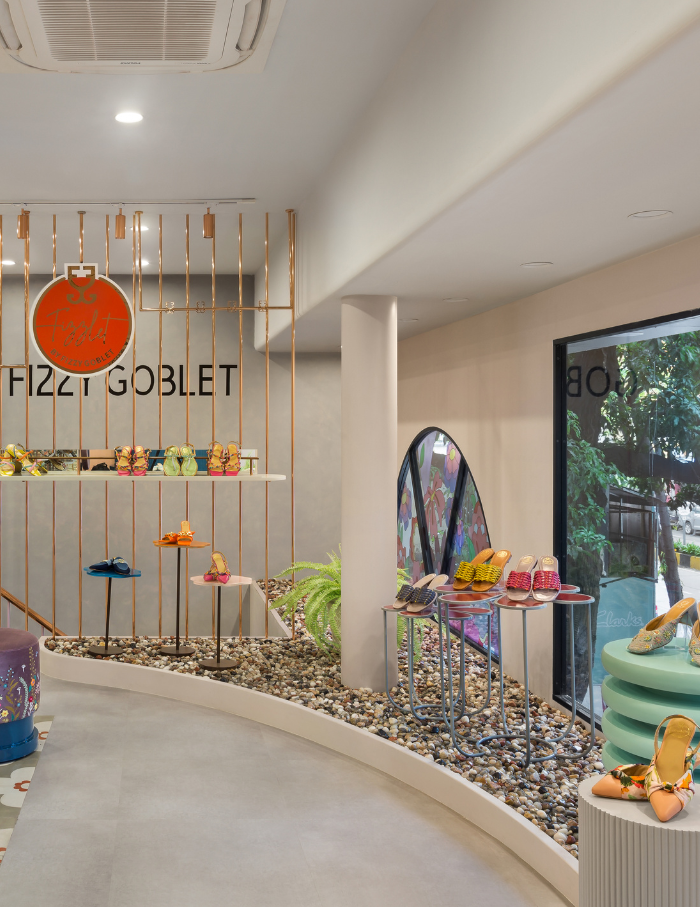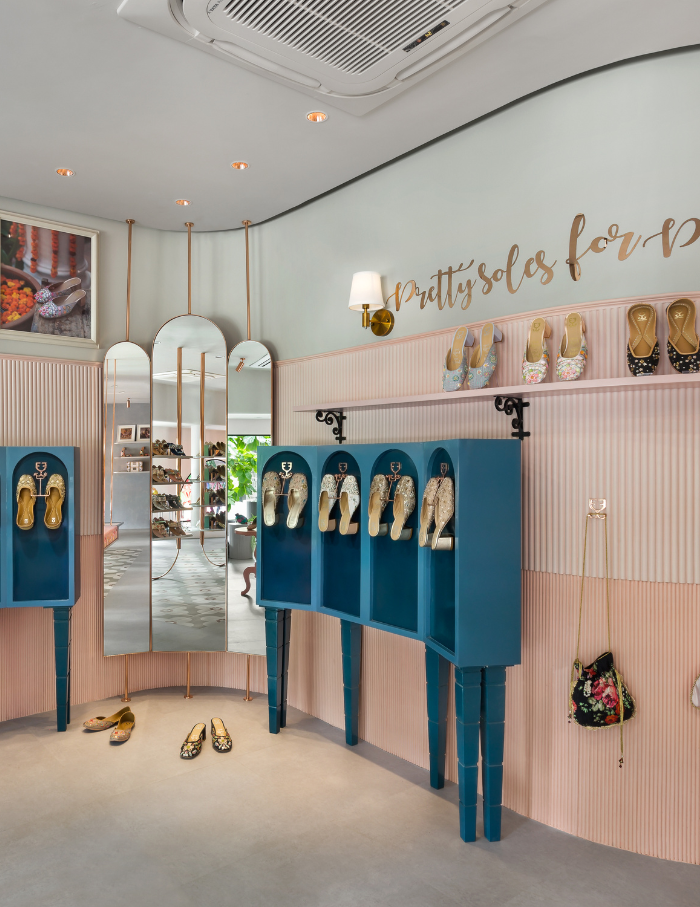 Fizzy Goblet is a designer footwear and accessories brand, which newly opened a duplex boutique store in the eclectic suburb of Khar, Mumbai. Neha Vikram, Founder and Principal Designer of Checkered Spaces has articulated Fizzy Goblet in muted tones of warm greys and soft lilacs with  furniture pieces and metallic luxe, exuding a sophisticated connection between the product and the patrons
In contrast to the lilac tones, Neha has added curvilinear walls with splashes of blush, flushed with flutes and rose gold etched quotes and mirror frames for the bridal collection, making it a bridal dream. 
The trending Fizzlet collection consisting of quirky and fun items carries you on a tropical beach and is enclosed by a pebble bed with green patches of ferns making the store a balance between its diverse collections embedded into the well-thought-out interiors.
Confession No. 4: Ensemble, New Delhi by Vertex Inc.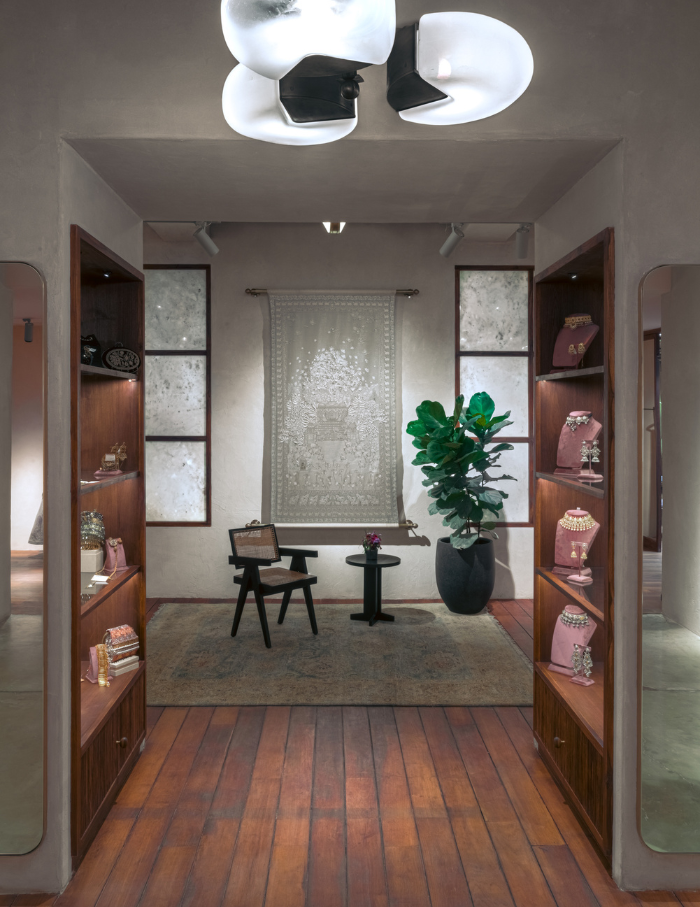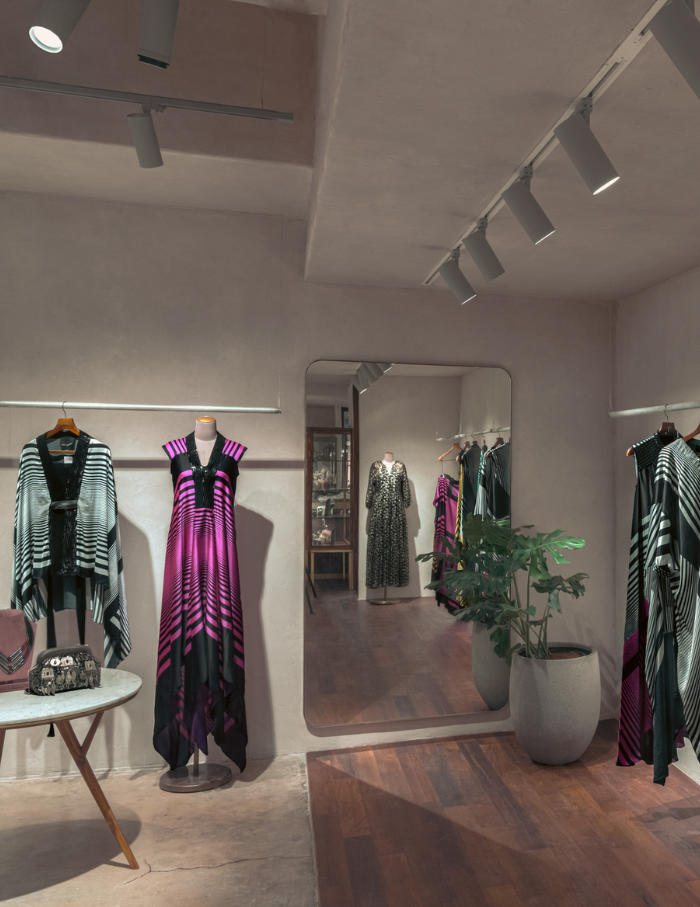 The new outpost of Ensemble at Emporio, New Delhi by architect Abhhay Narker, the Principal Founder of Vertex Inc. is the perfect amalgamation of built heritage and natural materials. To stay true to Ensemble's design he retained some old features with their raw finish and paired them with sleek details.
Something unique about this store is the addition of new materials that were specially developed in coherence with the brand's aesthetic. The wall texture and a chic double metal grid partition are examples of the same which pair well with the Baswara marble in shelving and door windows and rich woodwork. A touch of greens adds life and positivity to the space.
Confession No. 5: Dhaagasutra, Pune by Kaushal Tatiya architects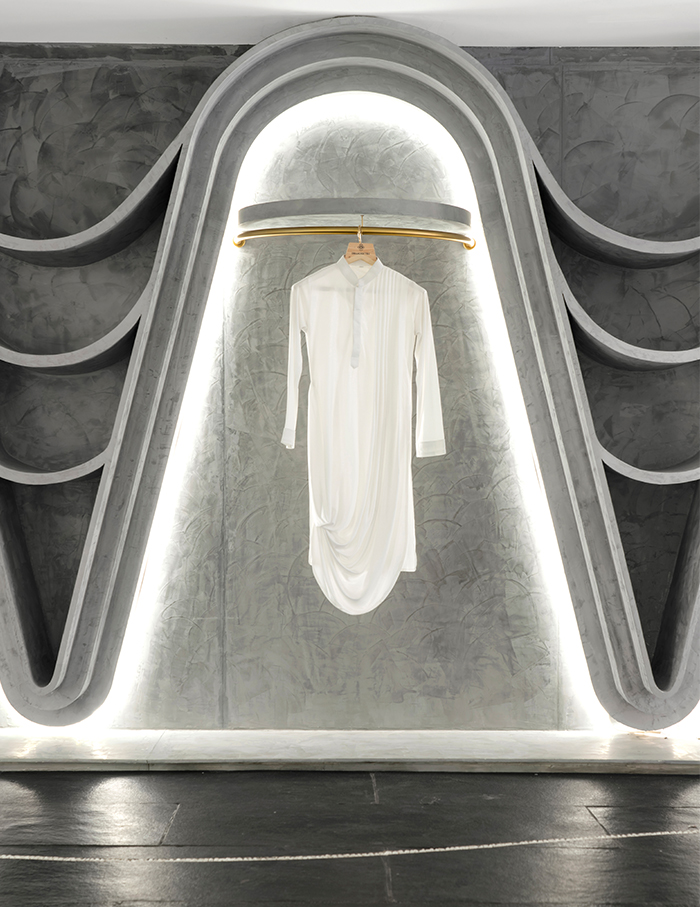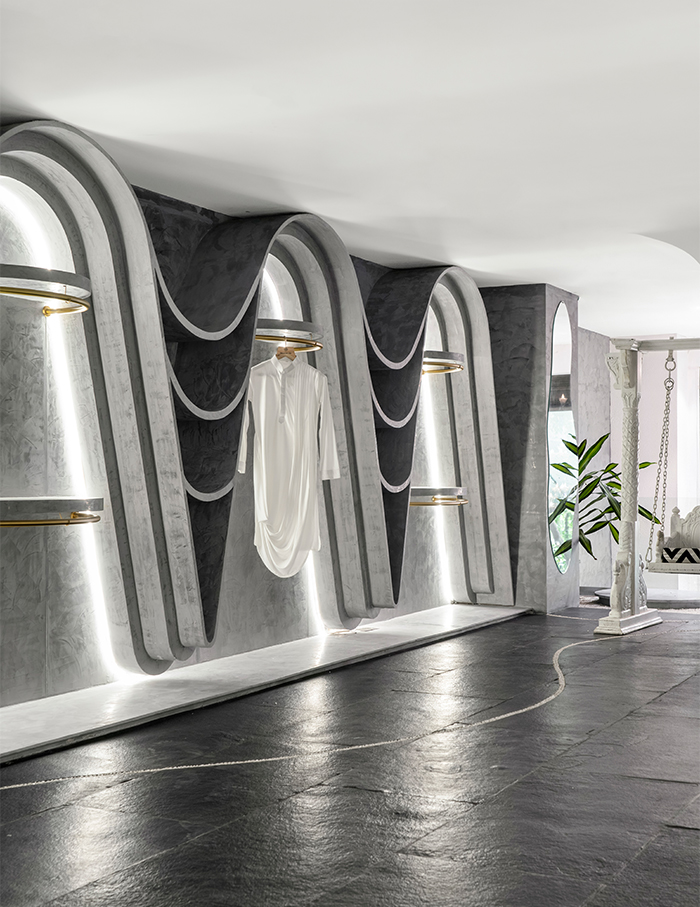 A fashion brand store by designation, but a celebration of art in spirit is the flagship store of an avant-garde fashion brand Dhaagasutra. Staying true to the roots and exploring art through fashion, the store is designed on the ethos of the brand by Kaushal Tatiya, founder of his namesake practice. 
Turning to one of the oldest canvases of our times—caves, the organic form lends dynamism and creates undulations that give art a new depth. As caverns celebrated paintings, the store celebrates the craft of fashion. Catenary arches and organic forms in dark grey hues and neutral whites act as a backdrop for the outfits.