Design
An Alibaug clubhouse by Nakul Munim Design and Supriya Hiremath Vora basks in a palette of organic and modern with nature as the protagonist
OCT 31, 2023
| By Maheshwari Vickyraj
In the serene embrace of Saral, where tranquillity whispers secrets to modernity, a visionary trinity of SILA, JCK Group, and Top Notch Realty wove the threads of innovation into a masterpiece — Inner Circle, the first ever gated villa and condo in Alibaug originally crafted by veteran designer Pinakin Patel, a few minutes shy from Mandwa Jetty.
When Nakul Munim of his namesake studio Nakul Munim Design and Supriya Hiremath of her creative firm Supriya Hiremath Vora Interiors, were beckoned into this resplendent endeavour, a singular mission emerged — to craft the beating heart of Inner Circle, a clubhouse that would redefine community living.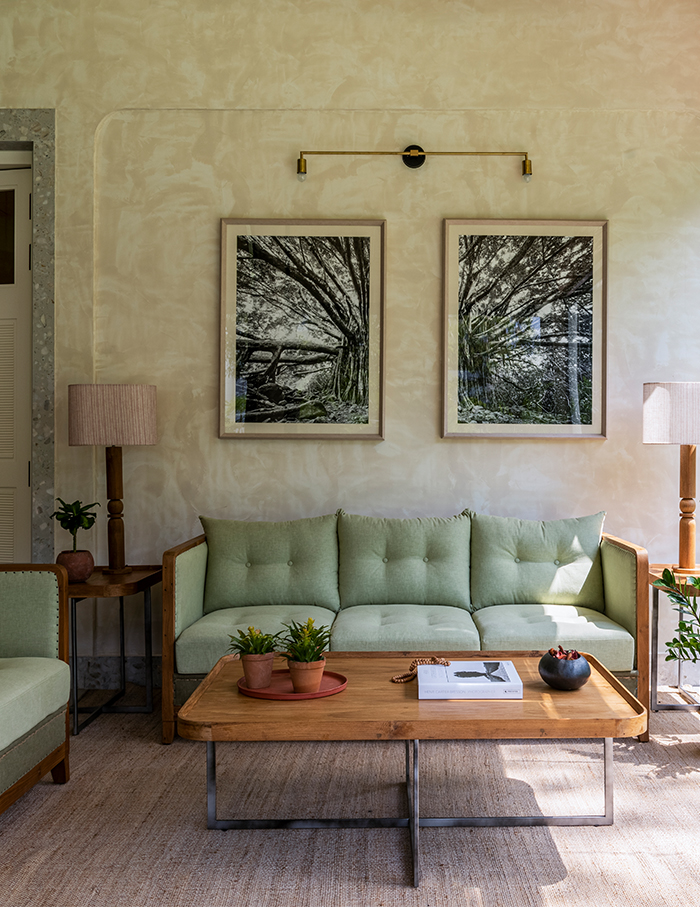 The Design Journey
A testament to contemporary living rooted in the organic design trend, their canvas was nothing short of spectacular, featuring a 27-metre swimming pool, a state-of-the-art gymnasium, a cosy café where residents could savour coffee in leisure, and a lounge where evenings could transform into cinematic experiences with friends and family.
In this realm of creative liberty, Nakul and Supriya were entrusted to shape up their design magic. Retaining the essence of the task for being functional but also infusing it with poetic expression of style and warmth the spaces emerged as an embodiment of modern, organic, and chic aesthetics.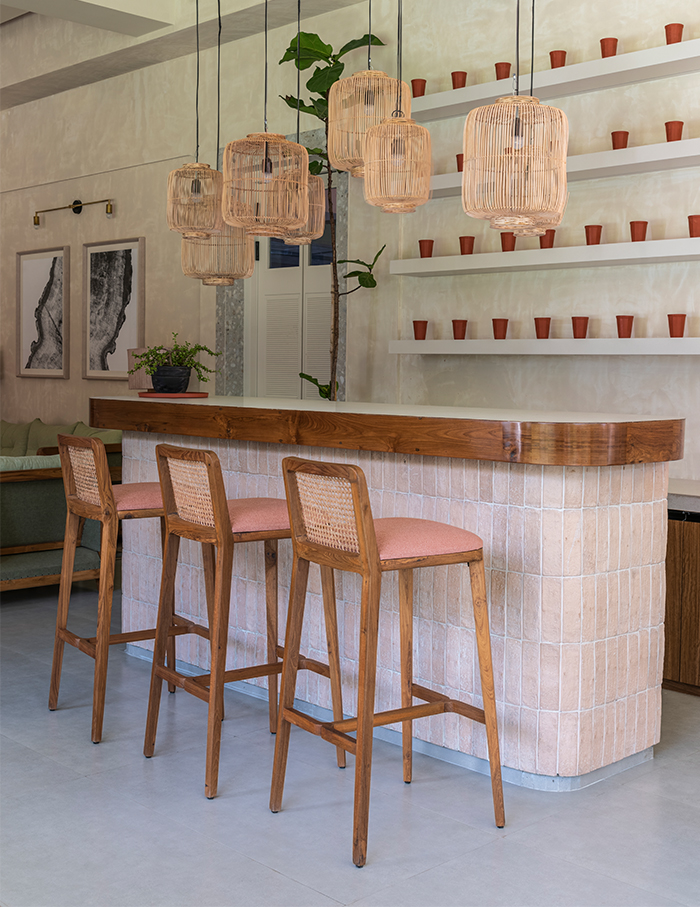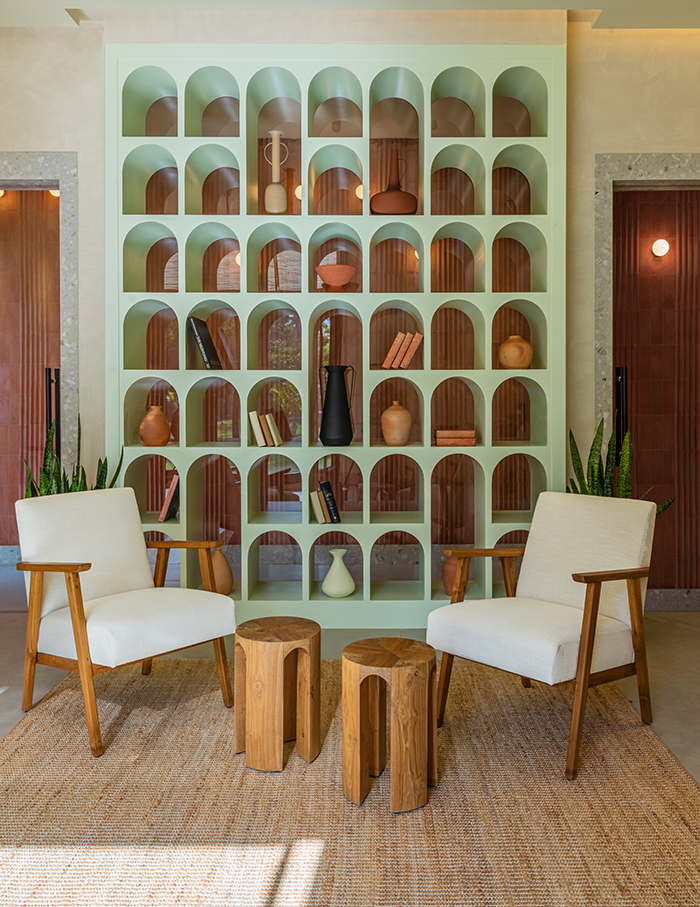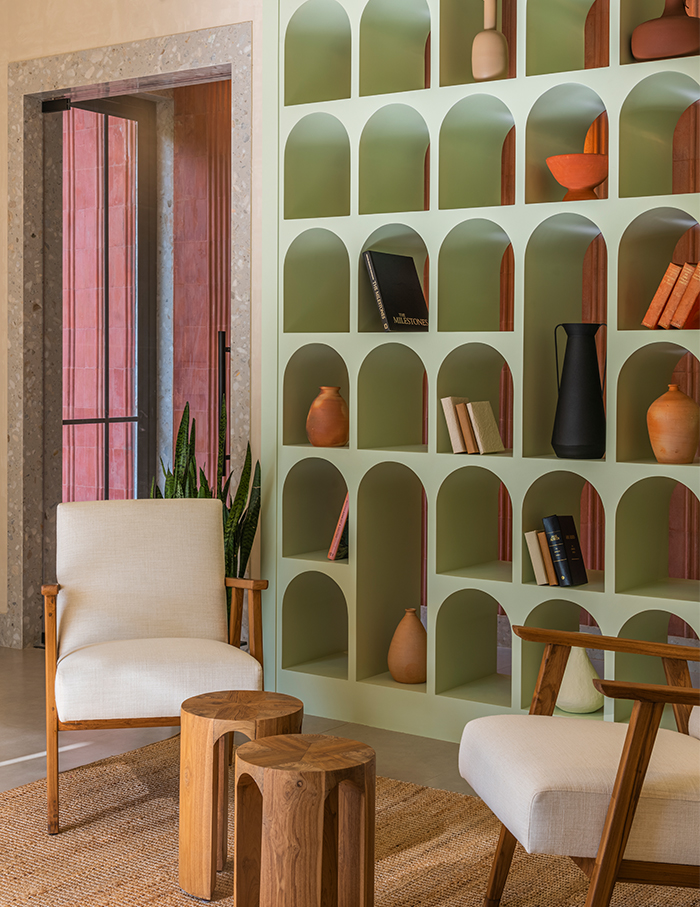 ​​An Artful Welcome
At the heart of the reception lies a remarkable wall feature, an architectural masterpiece akin to sculptural art. 
"We affectionately call it the book wall inspired by the traditional Indian Jaali," explains Nakul. Further adding, "You can either borrow a book to savour in the various nooks of the building or indulge in quiet reading right here."
These walls adorn both local and city-sourced art, doubling as a pop-up gallery and inviting Alibaug residents to engage in recreational activities beyond their homes. Traversing into the café— deep, inviting sofas and armchairs create intimate seating for groups, while a long, stylish bar, complete with bar stools, separates the arrangement. Smaller tables and chairs are designed with the same organic sensibility to accommodate different sizes of groups. The highlight of the café is its extension to a charming patio, a cosy oasis of its own.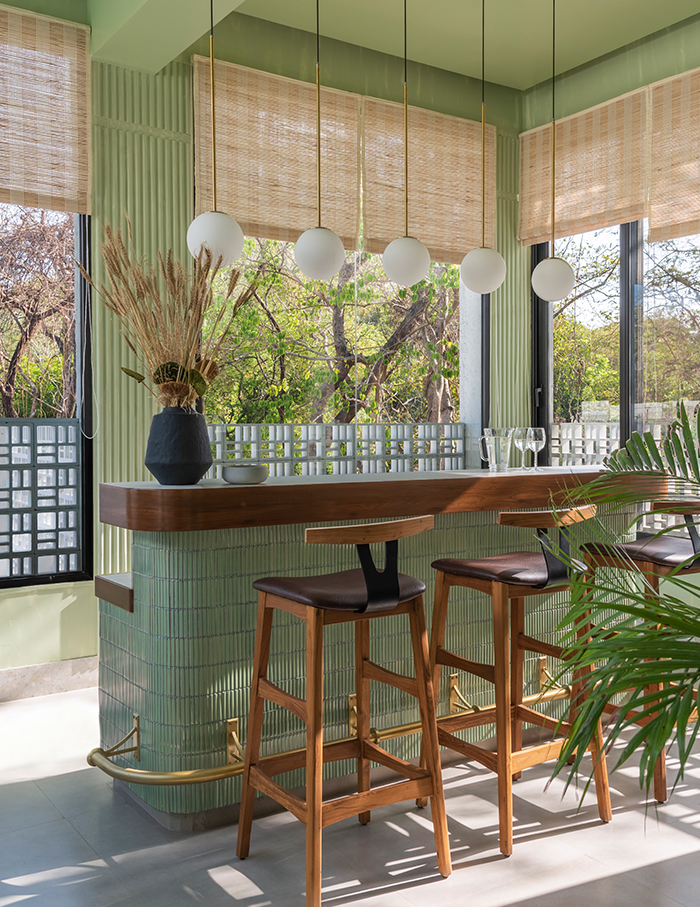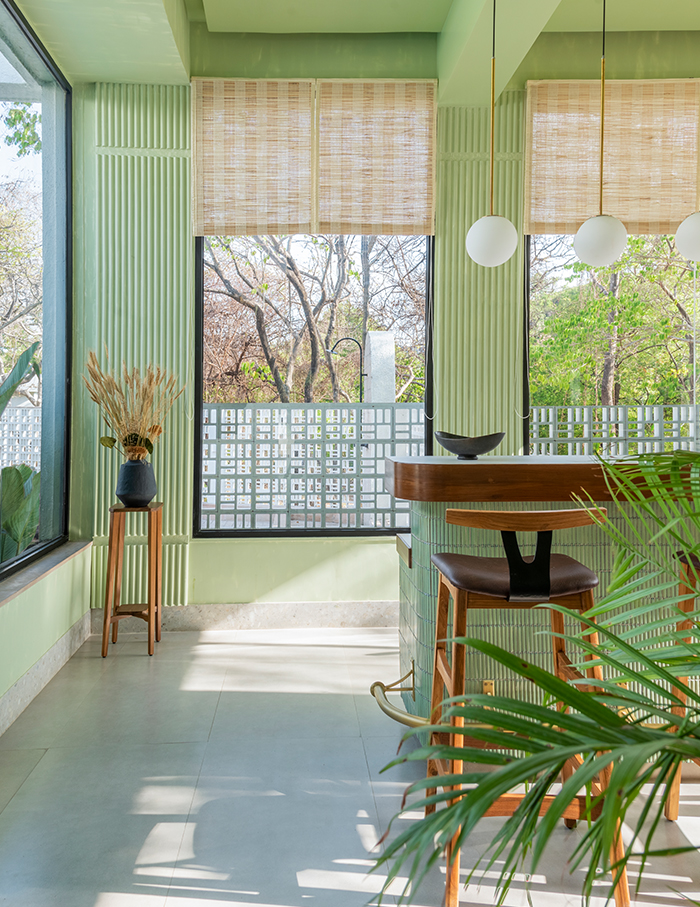 Glamorous Hideaway
A short ascent, flanked by the exquisite terracotta-tiled wall, leads the way to the poolside lounge and hangout room. A splendid bar awaits, distinct from the café bar in both colour and vibe. This is the perfect spot for evening cocktails or leisurely poolside lounging. Open shelves hold coffee table books, board games, and objets d'art, while the room's central seating area faces a stylish TV wall.
The lounge opens up to the grandeur of a 27-metre swimming pool and its surroundings. Along one side of the pool, a captivating terracotta grill wall provides both safety and seclusion for the seated guests, all while allowing the gentle breeze to caress them. Poolside furniture is a harmonious blend of comfortable sunbeds and custom umbrellas, their colours and patterns carefully curated.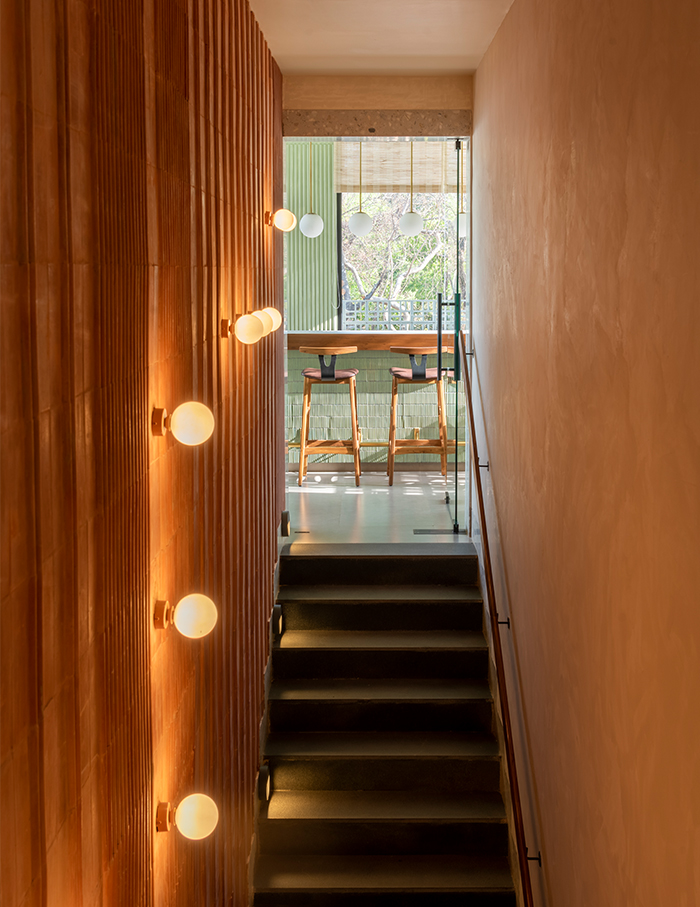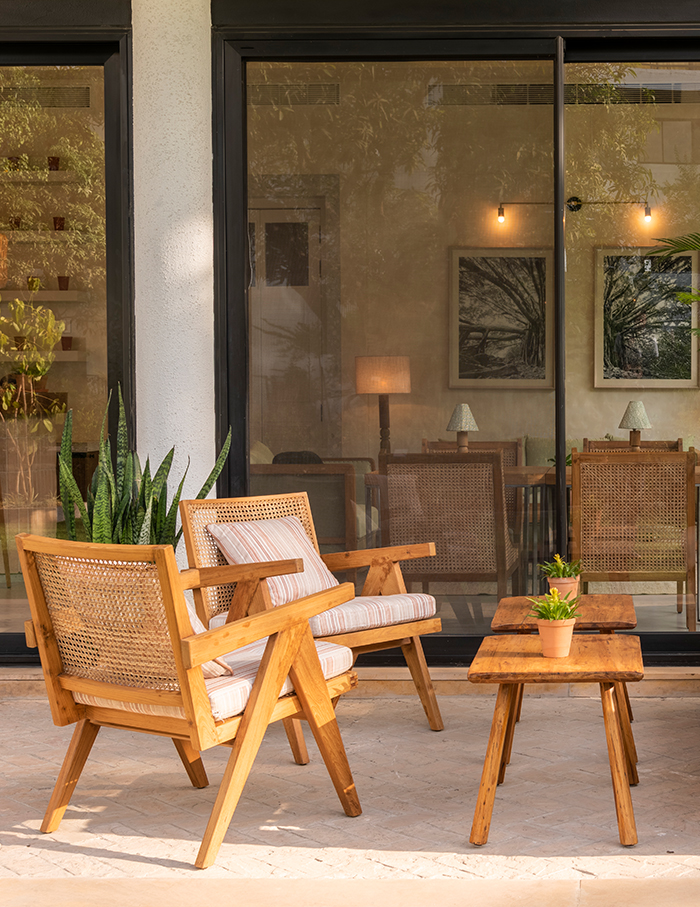 Floor-to-ceiling windows frame lush greenery outside, creating a tranquil backdrop for an invigorating workout. Mirrors stretch from floor to ceiling, reflecting every effort and achievement. With its minimalist interior and top-tier equipment, the gym becomes a space that exudes positivity and motivation, a sanctuary away from the hustle and bustle of the city.
Striving to craft an organic yet unquestionably stylish ambience, they embarked on a journey guided by the captivating hues of terracotta, the soothing shades of green, the timeless elegance of ecru, and the rich embrace of brown. These colours not only evoke a sense of groundedness but also breathe life into the space, infusing it with a perpetual sense of freshness and vitality.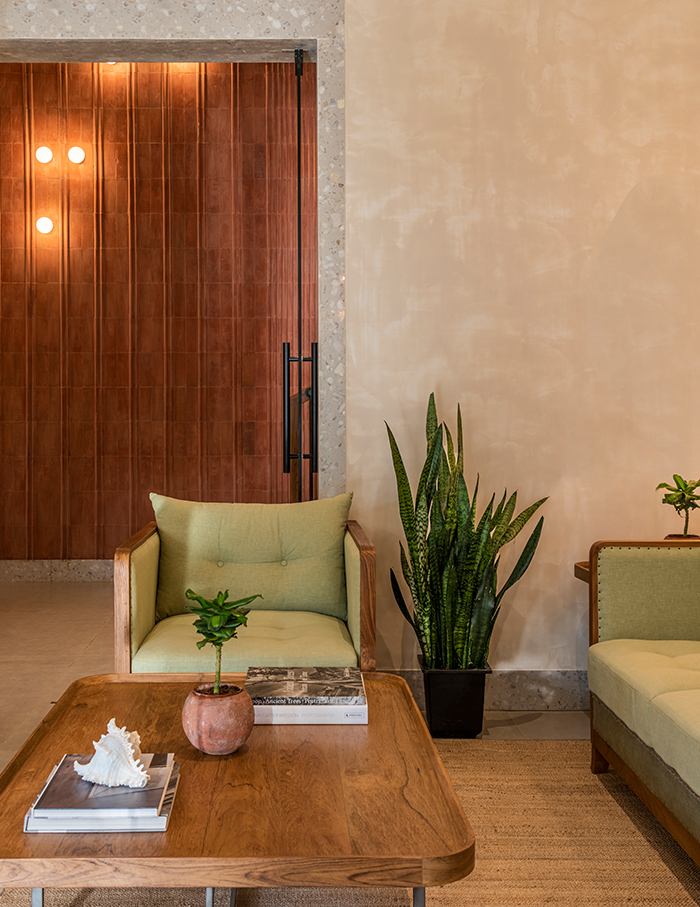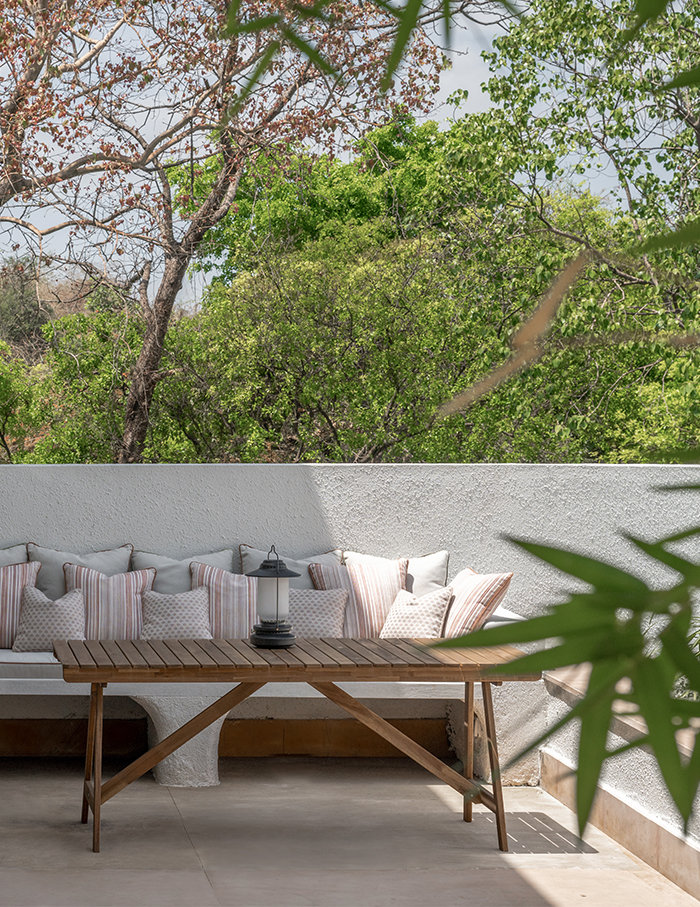 It Takes Two To Tango
At its heart, Supriya's design philosophy is "staying true to your surroundings and the context of where you are designing a space. It is important to take inspiration from where you are." while Nakul believes, "My design philosophy is completely non-formulaic, where understanding my client's needs, purpose, and way of using the space is always the starting point and is therefore entirely style-driven."
Amalgamating these two unfolds the clubhouse, which is a delightful experiment with intricate design details, serving as the unifying thread that seamlessly weaves together the various areas within the space. Each distinct zone offers a unique experience, yet they all converge effortlessly, creating a fluid and harmonious journey for all who enter.
Also read: Nakul Munim rethinks slow and soulful living in an Alibaug home