Homes
This Ahmedabad home by 16th Avenue Interiors pivots around sinuous detailing with hints of mellow and minimal
JAN 28, 2022
| By Kashish Kaushal
Crafted into an earthy environment rendered in a soft palette, this 2,400 sq ft house draws on an extensive brief from its homeowners. Deftly put together by Dimple Motiani and Meetali Mehta, Founders and Principal Designers of 16th Avenue Interiors, the home sprawls as a beautiful 2-BHK space.
Located in Ahmedabad, Gujarat this home belongs to a young couple, who own a jewellery brand, hence the imperative and obvious focus was on the details. "Another brief we had to work on was to keep the colour palette as earthy as possible because the clients wanted every corner of the house to feel like home and not like a hotel room," says Motiani. 
Keeping these instructions in mind the duo conceptualised a plush, personal and refined space, making a conscious effort to break away from the rustic and rugged attributes.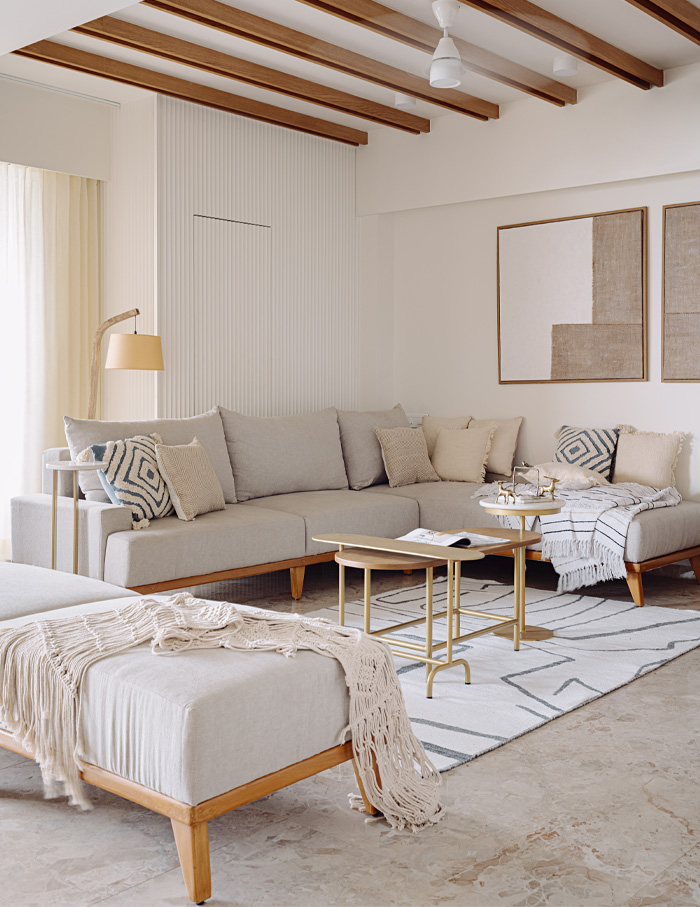 "We were sure we wanted to use a lot of whites, in combinations of crisps and milky to magnify the insane amount of natural light that washed in once we opened up the space after the significant civil changes," shares Mehta.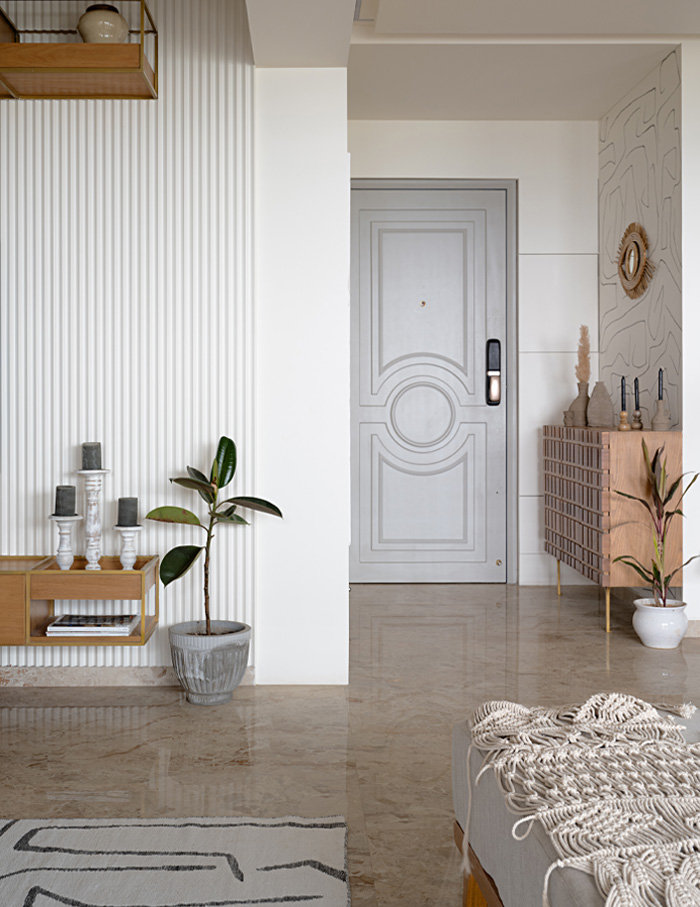 The entire space sticks with the boho chic trend, while fusing styles like vintage and minimal neoclassical. It is threaded together to feel warm and autumny, without overwhelming the surroundings. Finished using only wood, metal, marble and glass, the material palette is kept as basic as possible.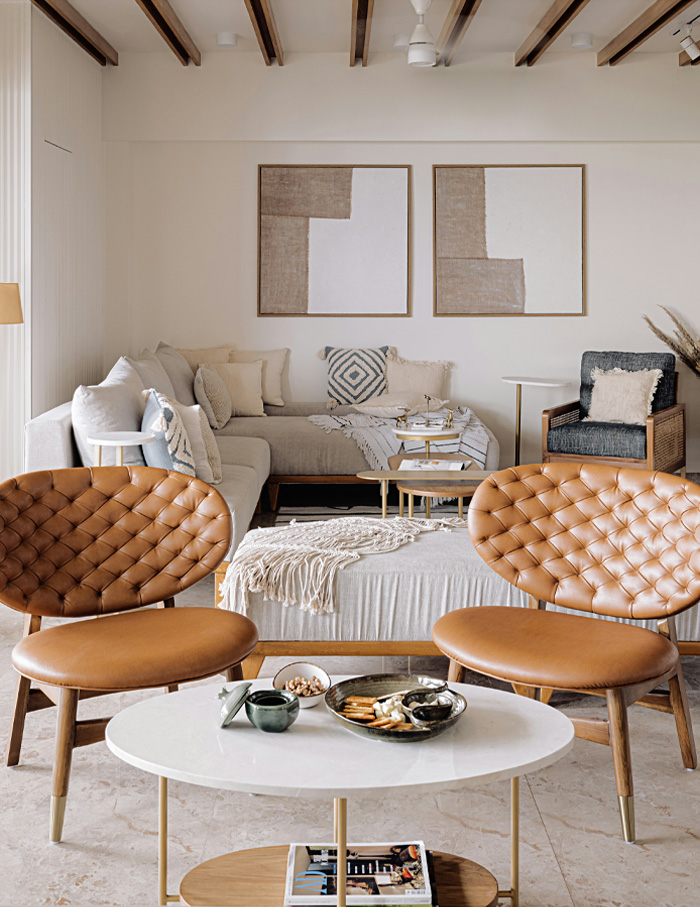 A vestibule with a wooden console welcomes you, the facade of which is made from small pieces of wood put together. Towards the right is the living/lounge room that opens up to an extended living zone that has additional seating and overlooks the balcony.
As you walk further into the house, a vintage style dining area stands in front of the neoclassical design open kitchen. Moving further, a passage leads to the two bedrooms.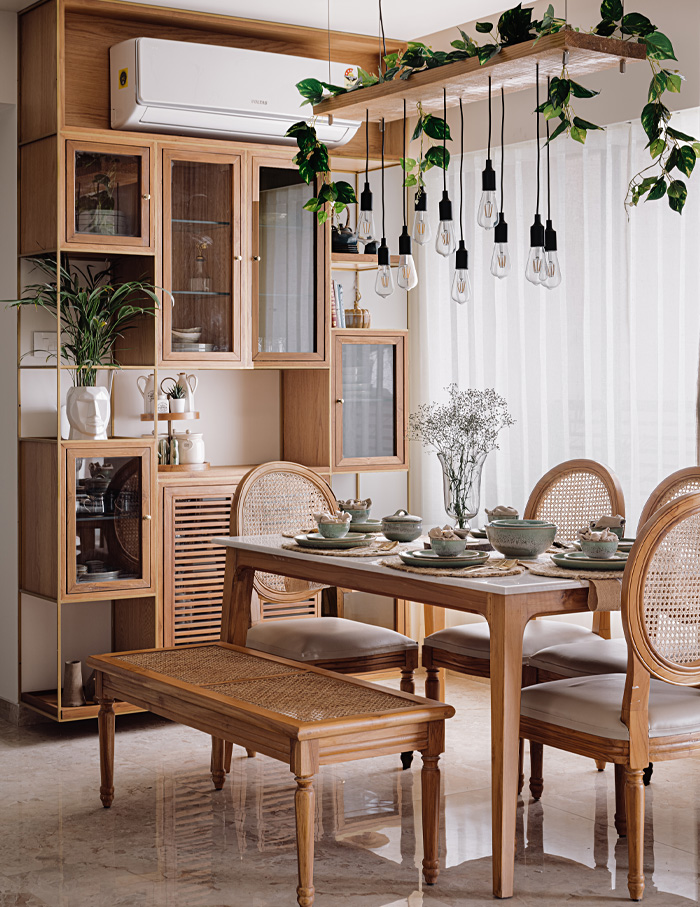 The primary bedroom shows off a beautiful poster bed made in wood. A monochromatic black and white artwork graces the wall behind the bed, highlighting the use of basic geometric shapes in distorted forms.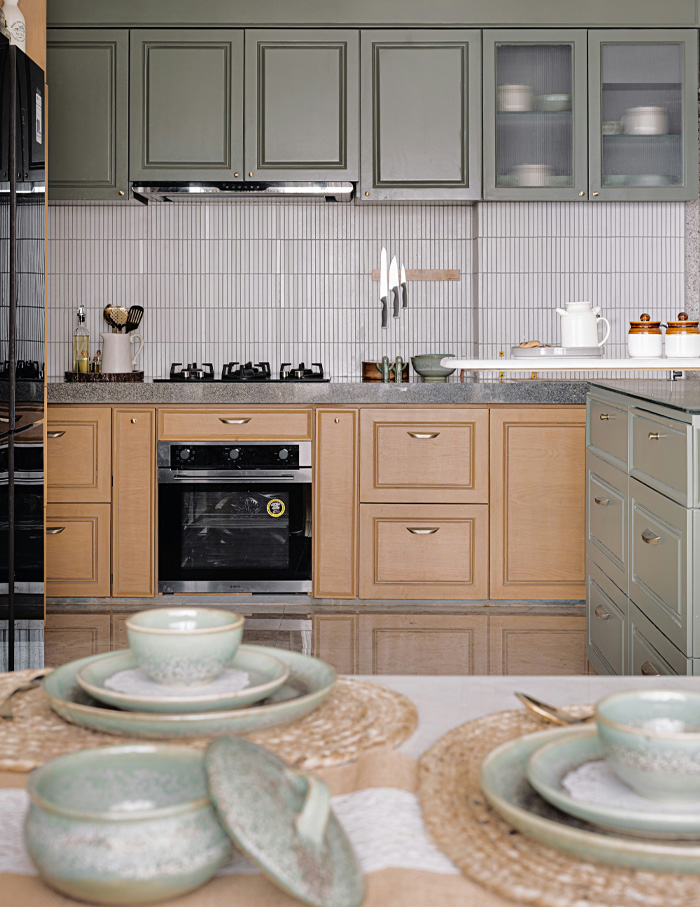 Next to the it is the guest room that has all four walls half panelled and half painted in a faded green shade. The warm golden brown flooring of this room offsets the green shade that finds prominence in the space. 
Talking about the positive excerpts they encountered while designing the home, Mehta shares, "Using the boho style as the base canvas, we loved creating minimal clean details in terms of only a few basic materials throughout the space. It is insane how you can create such a multifaceted, opulent space while still using only a few materials with colours drawn from nature."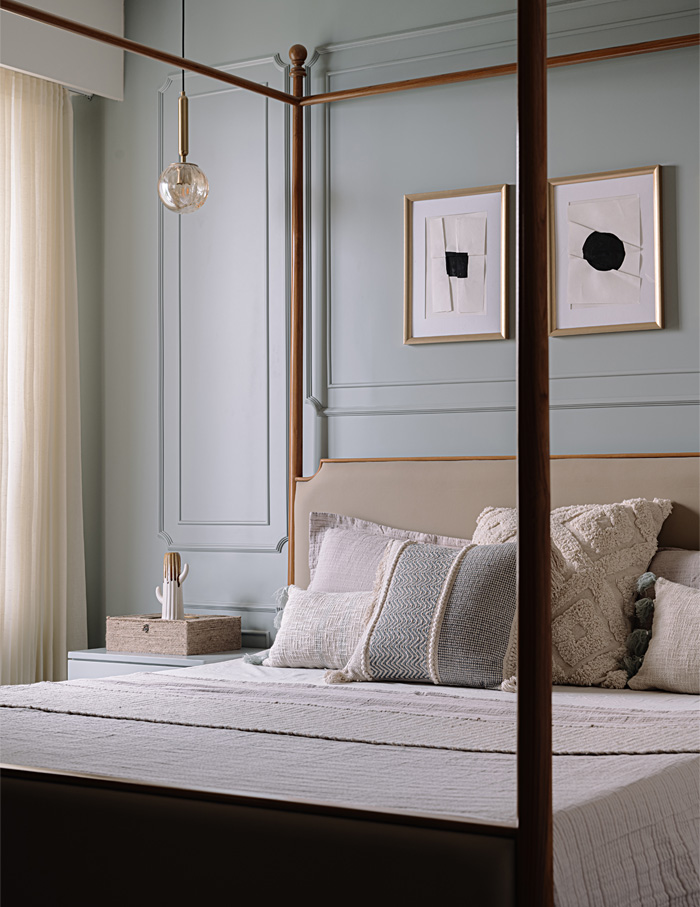 In this project, 16th Avenue Interiors have experimented with a melange of styles. What's remarkable is the way they have managed to both contrast and merge them throughout.
If this home left you captivated, make sure to check out this Chennai home by AWOL Design Studio that brims with minimal luxury