Homes
Architects at ADND design a contemporary backdrop in Mumbai to exhibit an extensive collection of private artwork
MAR 6, 2023
| By Siddharth Babani
Stepping away from conventional design, Art Haus, the 3000 sq.ft residence in Mumbai designed by partners Shobhan Kothari and Anand Menon of ADND, prioritises the wishes of the homeowners to deliver a project that plays house to a lavish collection of private artwork.
"I think we stuck to the idea of being contemporary. We start with a particular language and hold ourselves to that," explains Shobhan. Apart from being a private gallery, the house needed to serve as a home to a pharmaceutical executive and his family, a hotel that made it feel like the owners were on a perpetual vacation and an office for the owner to be connected to work.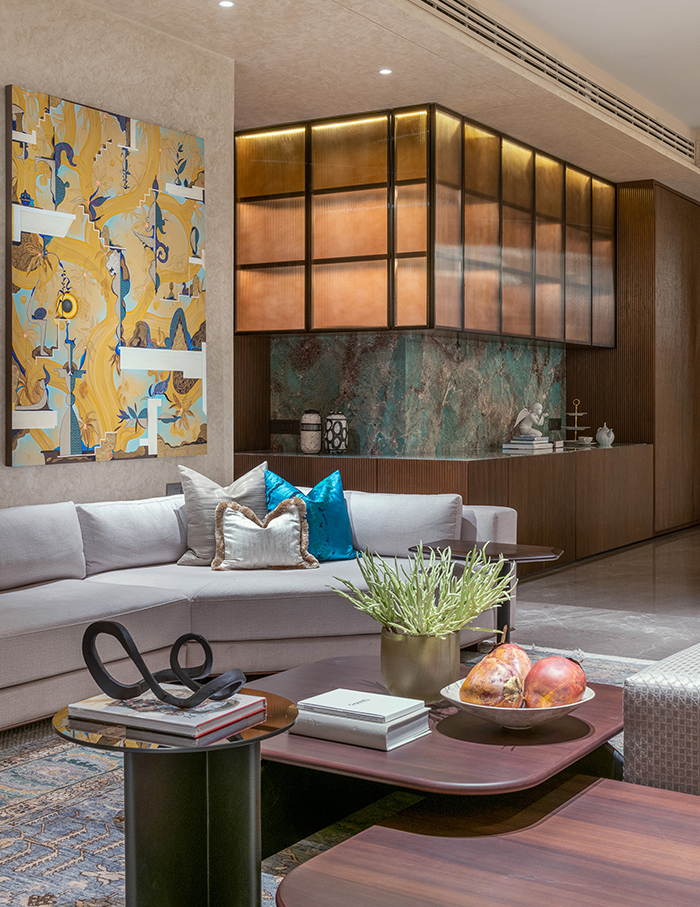 Tour every corner of this home
The entrance to the home is through a lengthy corridor that features an installation by artist Seval Raj. The wooden infinity sign levitates above an inspired bench made of driftwood. Even the walls opposite, as you settle to take off your shoes, holds artwork created by Sebastian George. The vast home has a considerable amount of open space, serving as a fitting backdrop to feature artwork from revered artists such as Martand Khosla, Thukral & Tagra, Diwakar Khatao and Jagannath Panda.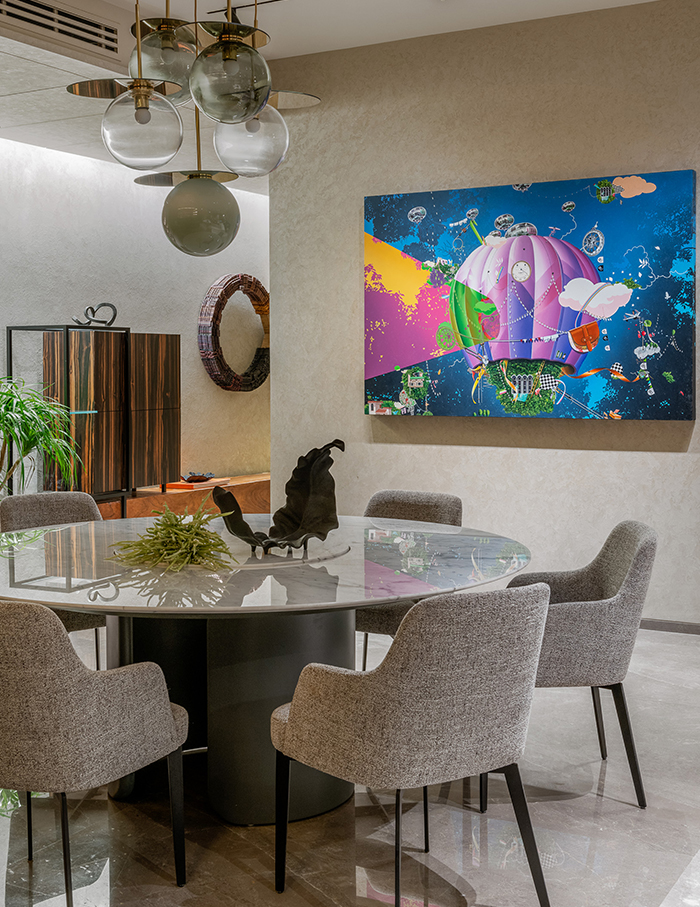 Created as a space purely for entertaining, the living and dining rooms are marvellously adorned with a vivid variety of patterns and textures. Devoid of an entertainment unit, the living room with its attached balcony frames stunning views of the Bandra Worli sealink. The dining room showcases an exotic marble backsplash above the console with concealed storage and fluted glass cabinets. One can find the fluted panels continuing in wood at the base of the bar counter located in the corner of the living room.
Tucked between the living and dining room lies a passage that leads to the bedroom designed for the children. The boy's room is crafted to be masculine with a black and white patterned marble backsplash with a pair of cabinets on either side along with a bold Moroso sofa to round up the furniture. The daughter's room is extremely young and feminine, with pastel shades and soft fixtures. The cushioned headboard along with a delicate set of lights fit the overarching theme of the room.
The master bedroom with its monotone palette and wooden accents add warmth to the space. One side of the wall features a cantilevered marble study and television unit. The bed is enveloped with a leather sitting placed under a dramatic backdrop of marble.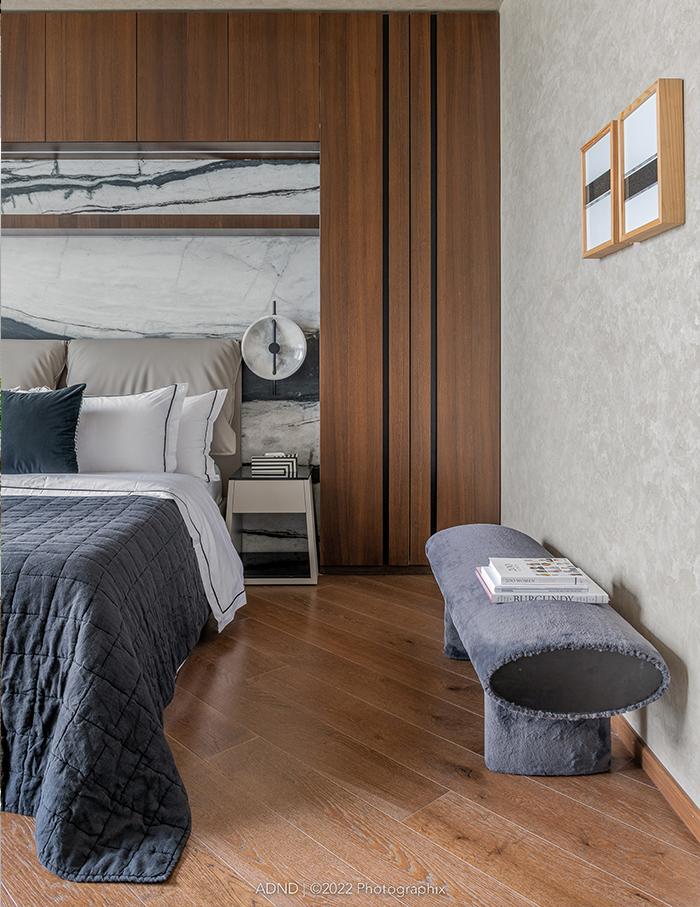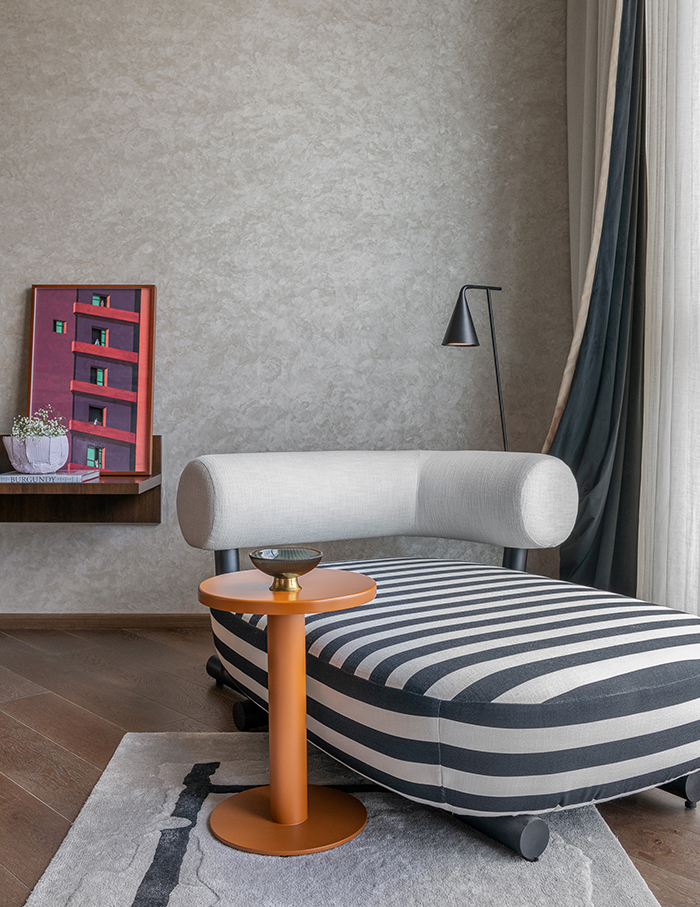 Ideas to bookmark
The home does a wonderful job of remaining neutral to play host to the owner's collection of artwork on display throughout its rooms. If the house was designed with a brighter colour palette, it would only be in contrast to the vivid canvases mounted on its walls.
You may also like: The perfect blend—Cappuccino home by The Little Details in Mumbai is an amalgamation of western design sensibilities and traditional vastu systems