Homes
Aashni Kumar unravels the bounds of dimension to create this coruscating city apartment in the backbone of Bombay town
MAR 10, 2023
| By Siddharth Babani
Long ago, French soldiers would mettre un pied-à-terre—that is, dismount their steeds at the end of the day and spend the night in transient housing. In the 1700s the term was abbreviated to pied-à-terre which was used to describe interim lodging. However the French would have been rather surprised if this delightful home assembled by designer Aashni Kumar greeted them at their next visit. 
This 1394 sq ft house in Worli, Mumbai of the Aurangabad-based family is designed to be a home away from home. The architect successfully manages to find an equilibrium between elegance and functionality erstwhile being a space of low maintenance. Even though the house would not be a primary residence, it needed to feel like a congruent extension of the lifestyle of its inhabitants, playing host to their daily needs.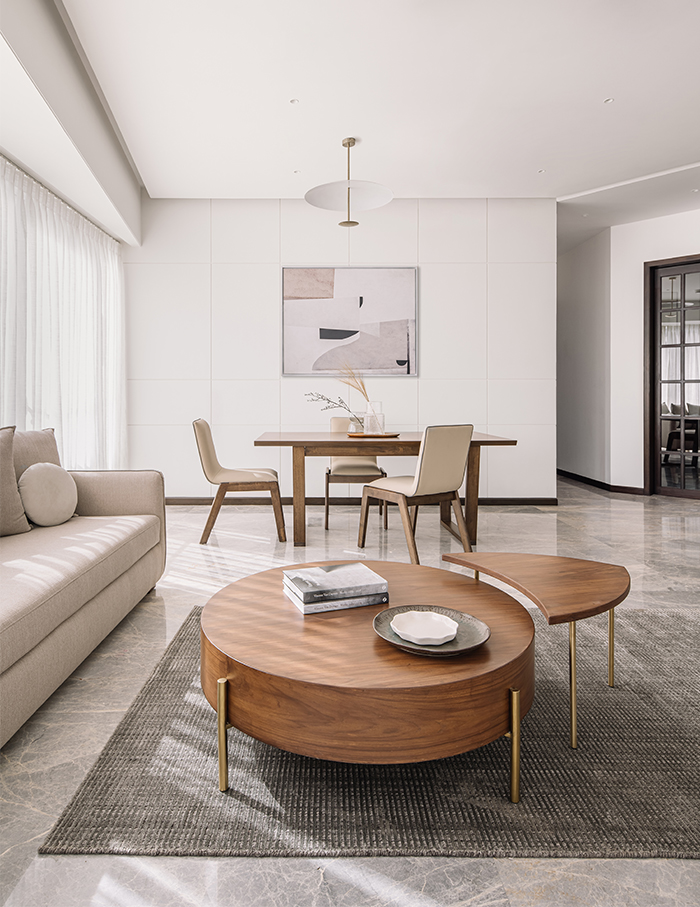 Tour every turn of this home
Having been ushered into the home, one is embraced by an irradiant and noticeably hexagonal anteroom. A fitting prelude to the home, the foyer provides the required separation and privacy, only disclosing a fragment of the living room through its graceful wooden French doors.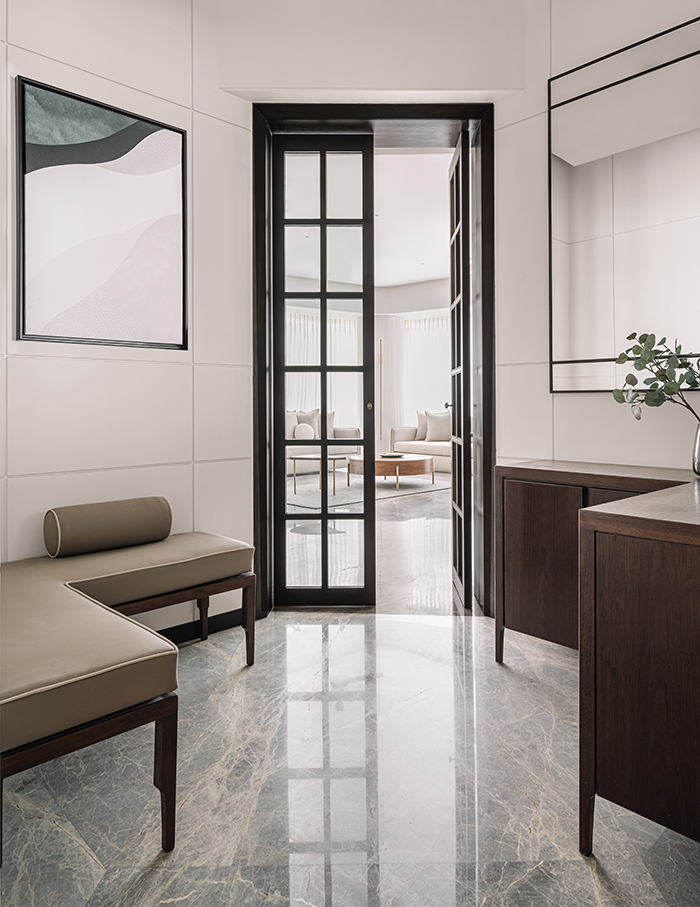 The substantial veined marble flows into the effervescent living room, a soothing oasis of comfort and opulence, untethered from the stir of urban life. The generous open plan features furniture with soft, organic geometry that echoes the unobtrusive flow of space. The minimally upholstered sofas and the intimate dining table help frame the room while supplementing the fundamental theme of this home. Oversized abstract artwork adorns the gridded walls to add a pop of colour, harkening back to the shades in its floors.
The three bedrooms of this home revel in their sense of purpose. Being a 'Pied-à-terre' the rooms are conservatively embellished. The intentional shift in materiality from cold marble to the warm and tactile hardwood creates a cosy and intimate space for repose. The charming selection of furniture adds a delicacy to the bedrooms in contrast to the deep umber flooring laid out in herringbone. Beside the captivating quality of light coming in through the linen sheers, a most splendid surprise awaits through the panelled wardrobe. The en-suite is concealed by the central panel of the beautifully crafted cabinets. The rich hardware opens the door onto a rich blend of mosaic tiles, marble and stained wood creating an elegant experience.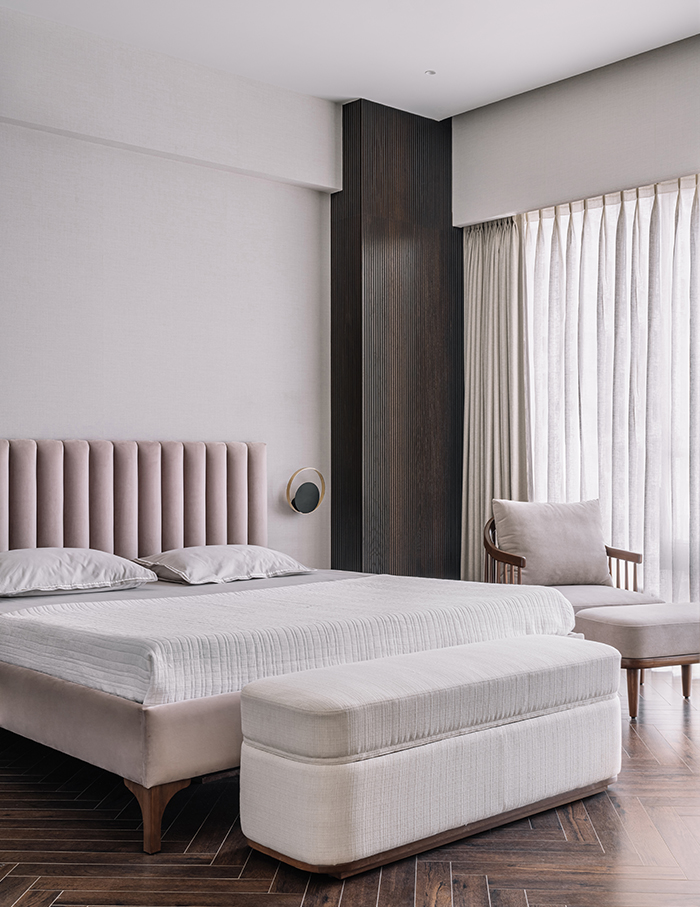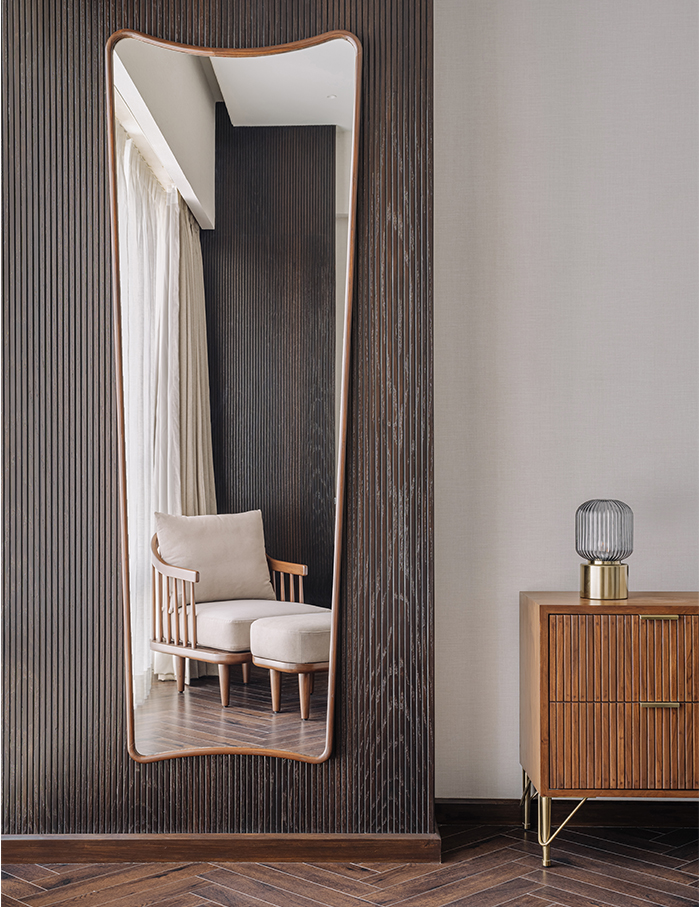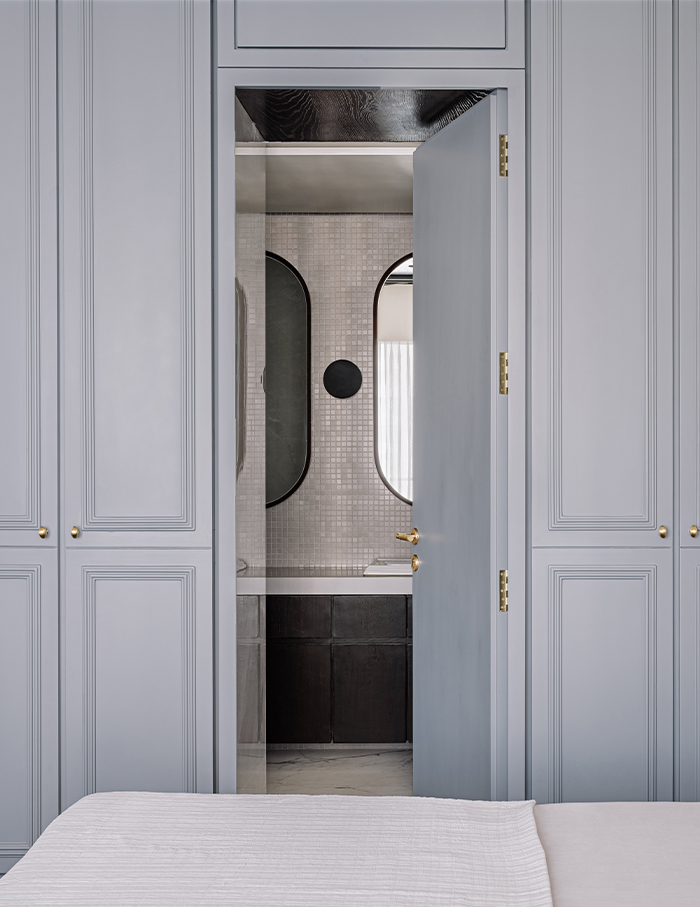 The quaint guest bedroom was envisioned as a rather informal media room, flush with warm greys, beige and white. Reminiscent of traditional divan beds, the room holds a spacious daybed to unwind. Finally, a pair of shelves run overhead, displaying the family's collection of books, curio and artwork, recycled during their visits.
An idea to bookmark 
Among the myriad of wonderful finishes one can find within the home, locating the door to the en-suite is going to be rather difficult. Appealing to the eye, the bathroom door is crafted to perfection, concealed within the wardrobe unit to create a singular flowing facade.
You may also like: The essence of Parijat—Megha Kedia curates an exploration of hues and textures in this sprawling Mumbai home set alongside the queen's necklace