Design
A rare gem—Peninsular India gets a flavour of Rajasthani regalia in this jewellery store designed by Cochin Creative Collective
AUG 18, 2021
| By Kashish Kaushal
Breaking stereotypes of a quintessential jewellery store design, Cochin Creative Collective have crafted Pure Allure in a raw concrete finish, emanating a mystic vibe. Located in a residential area of Cochin, it is spread across a humble and quaint 650 sq ft area. 
Principal architects and founding partners Lijo John Mathew and Madhushitha Aravind along with the design team Kannan Cherthedath and Sidharthan Sally Paul have worked on a minimal theme, finding the right materials and strategically placing the jewellery for display. 
What's exceptional about this store is the theme itself. Since most of the jewellery displayed at the store was made in Jaisalmer, Rajasthan, the design team incorporated this fact as the key design generator. "The Idea of mono materiality as a backdrop and free flowing stepped spaces was developed as the heart of the project, giving loose references to the stepped well typologies of Rajasthan," shares Mathew. Capturing the essence of the stepwells, they incorporated a similar geometry and the use of a single material—stone.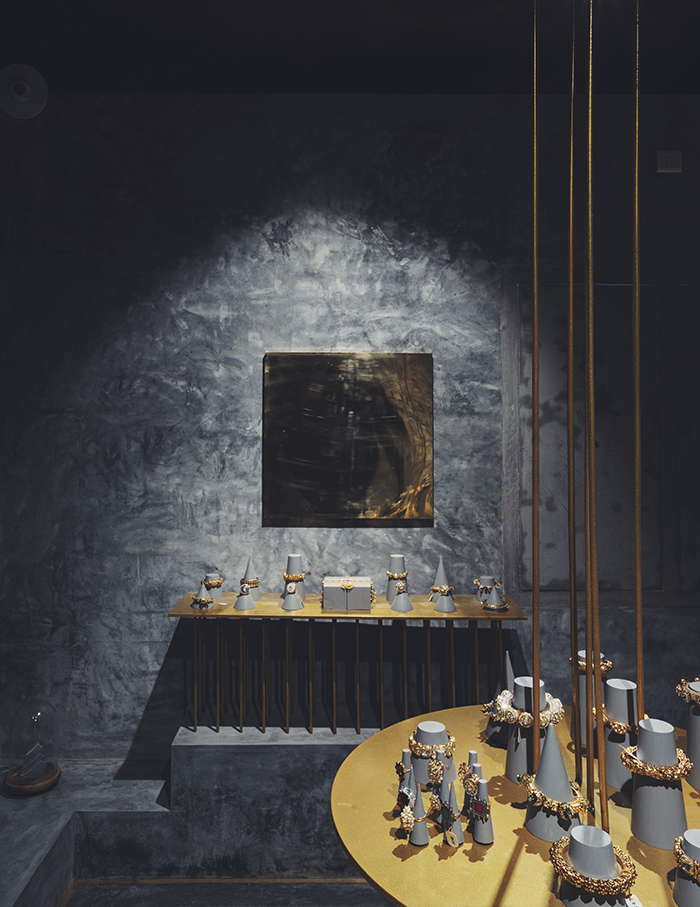 Muted colours achieved with cement finished walls, floors and display cabinets impart a monolith character. In addition to stone, brass was also used in select areas of the store. "The material and colour palettes were chosen so as to create a mono material space where the jewellery would stand out when placed in the designed display stands," further elaborates Aravind.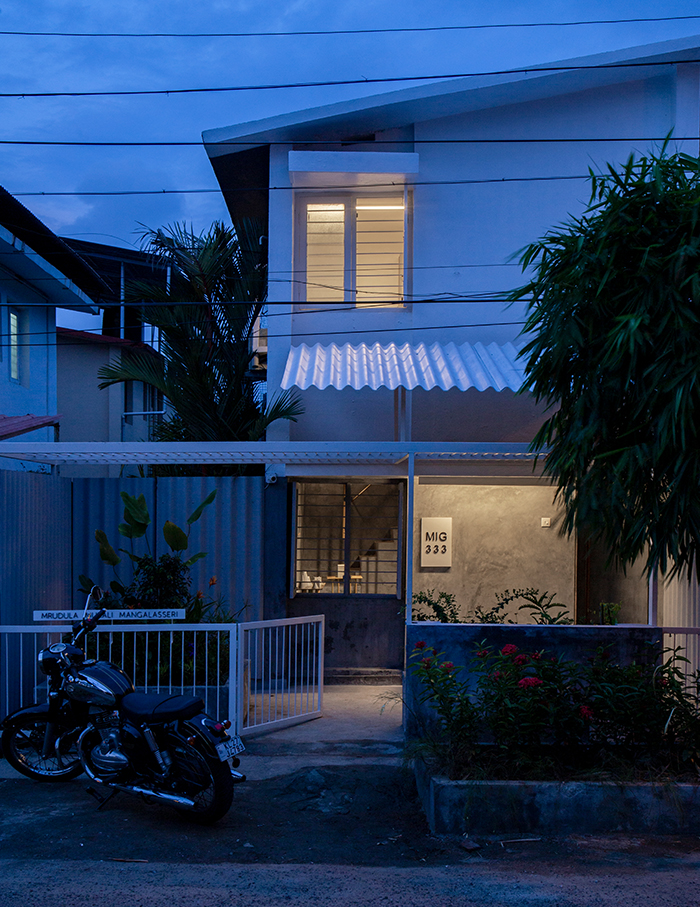 Pure Allure is divided into three areas—the entrance, lounge and the exhibit space. In an attempt to not stand out from the rest of the neighbourhood, the entrance marks a neutral palette of white and grey exteriors.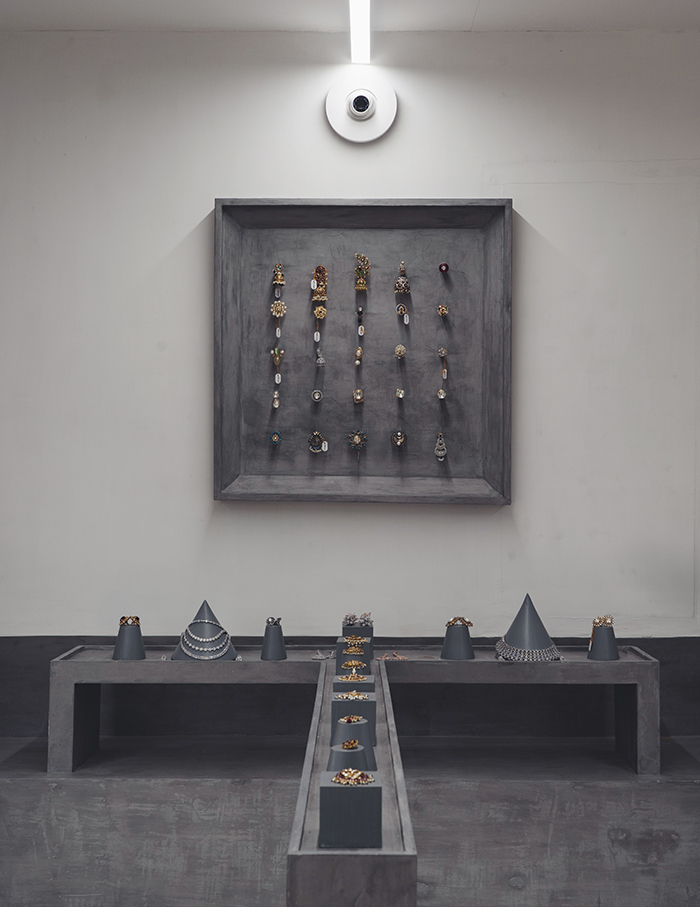 However, a whimsical contrast awaits the visitors in the lounge area. The combination of raw cement finish and brass hangings in primary shapes, under the sharp rays of spotlight beams, makes the space instantly mysterious.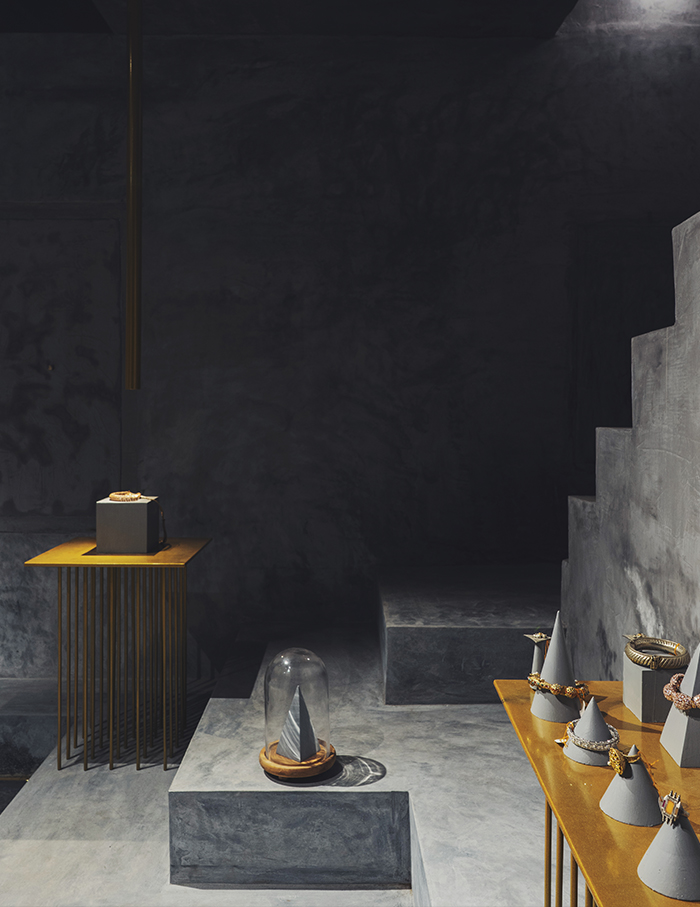 The staircase leads up to an illusionary corridor space on the first floor with a continuous mirror plane inducing a deep character to the exhibit space. An elaborate arrangement of gridded display planes tilted according to the sightlines from the eye level of the standing user facilitates easy viewing.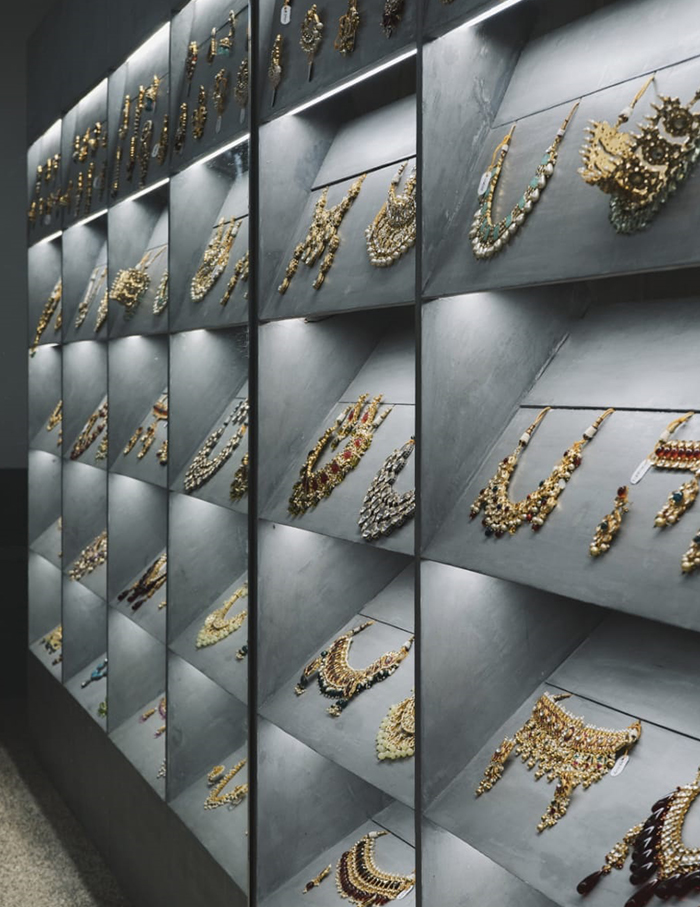 The products that are sold at Pure Allure are crafted by hand and involve intricate craftsmanship. This idea motivated the design team of Cochin Collective Creative to use raw cement plaster as the main architectural finish. A conventional jewellery store is usually ostentatious and has an amalgamation of expensive finishes. This store is exactly a counterpoint to those notions. 
Scroll down to catch a few more glimpses of this stunning jewellery store—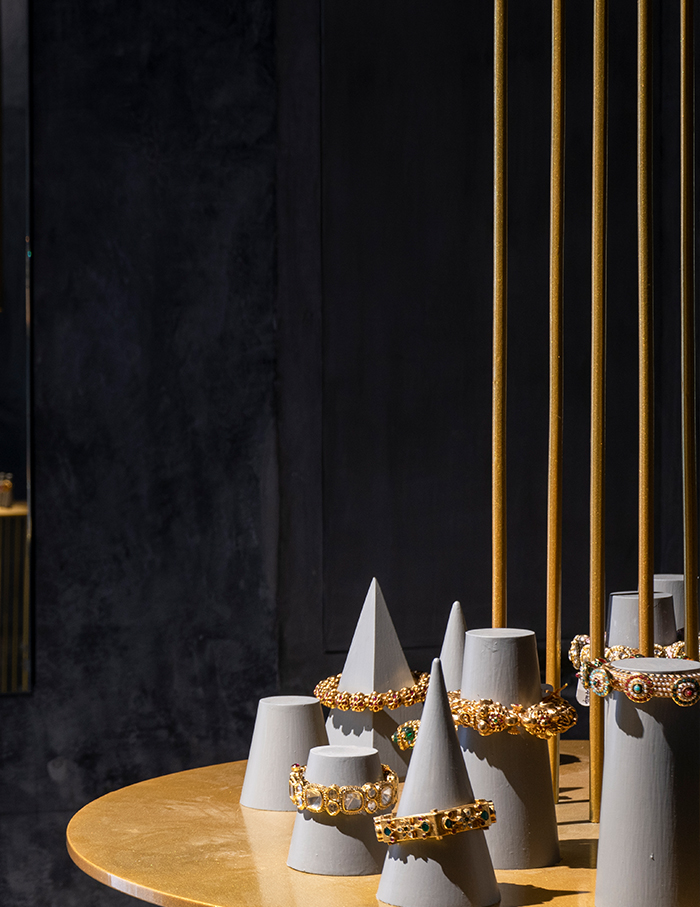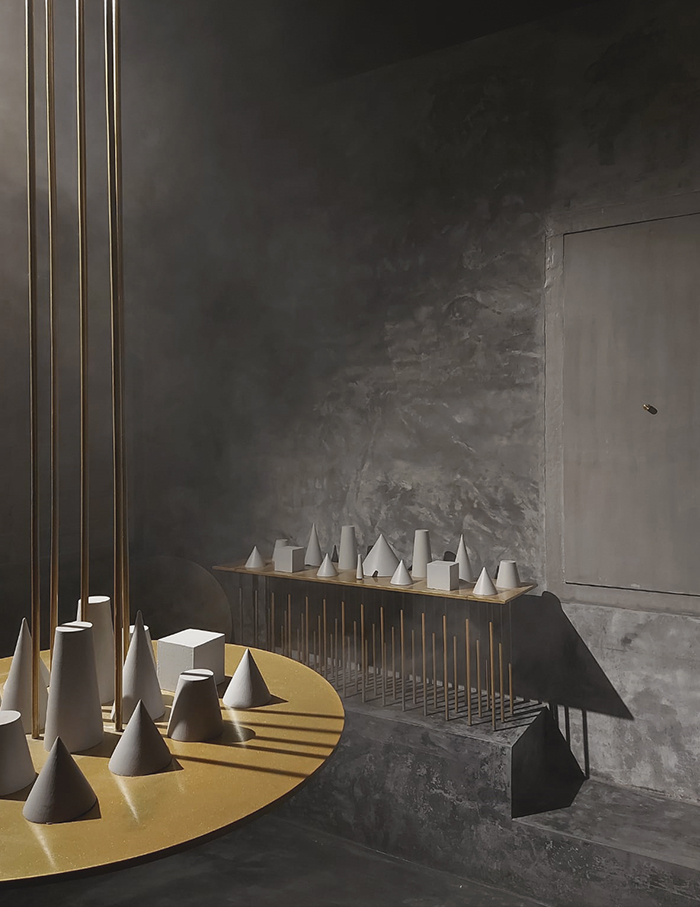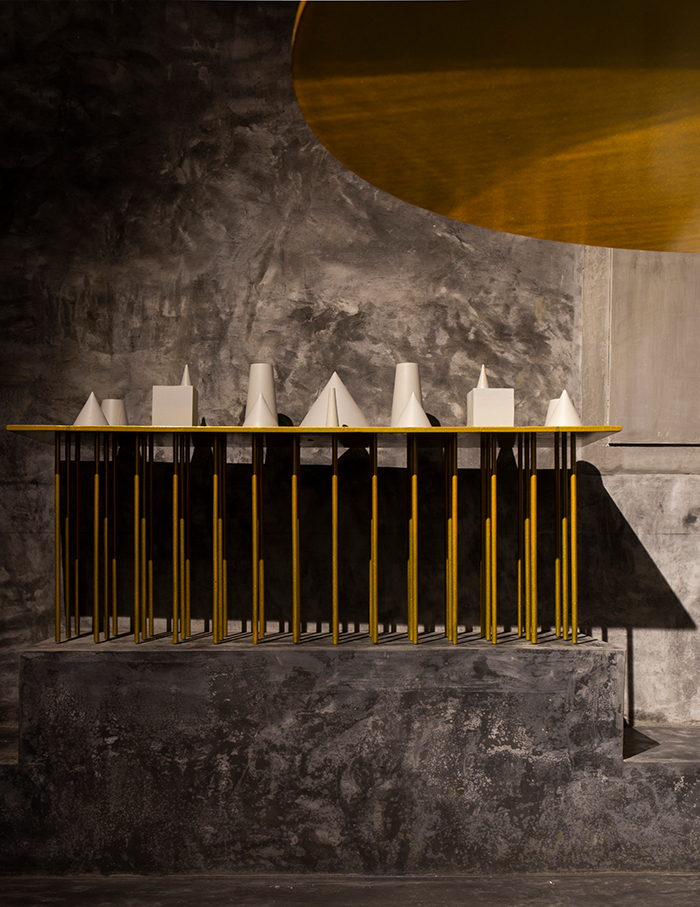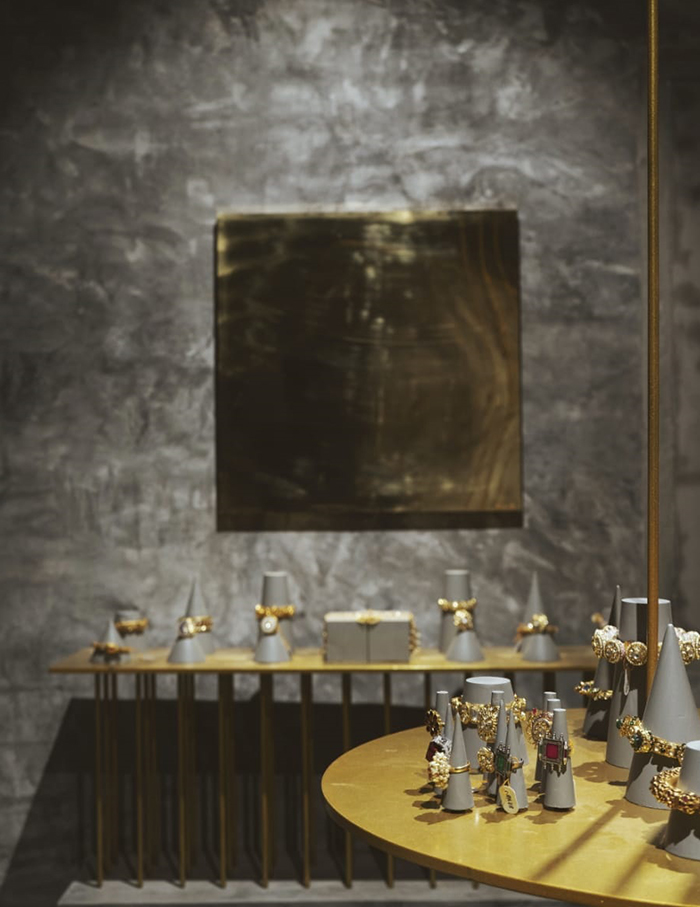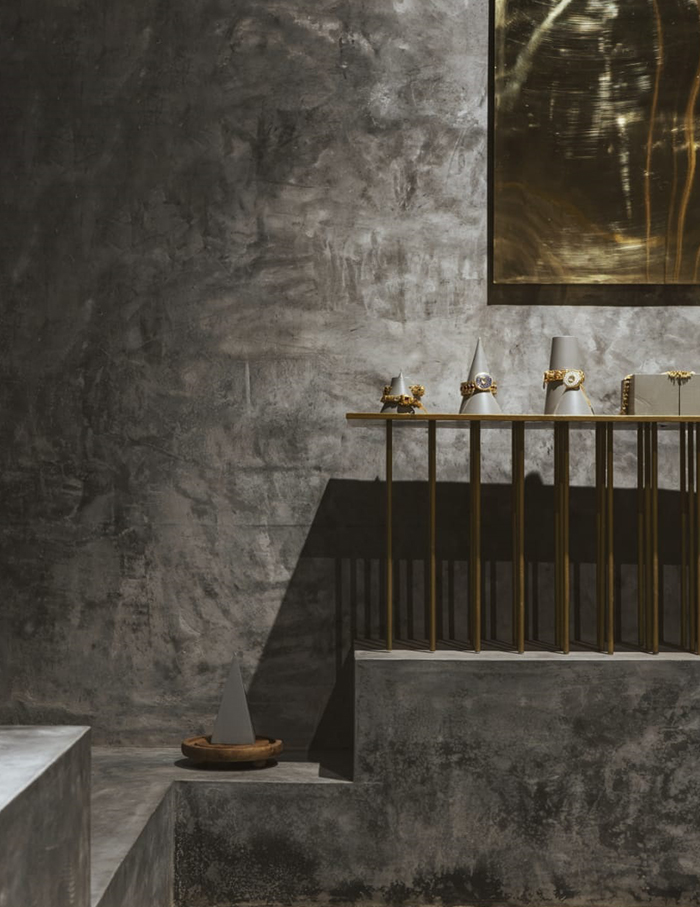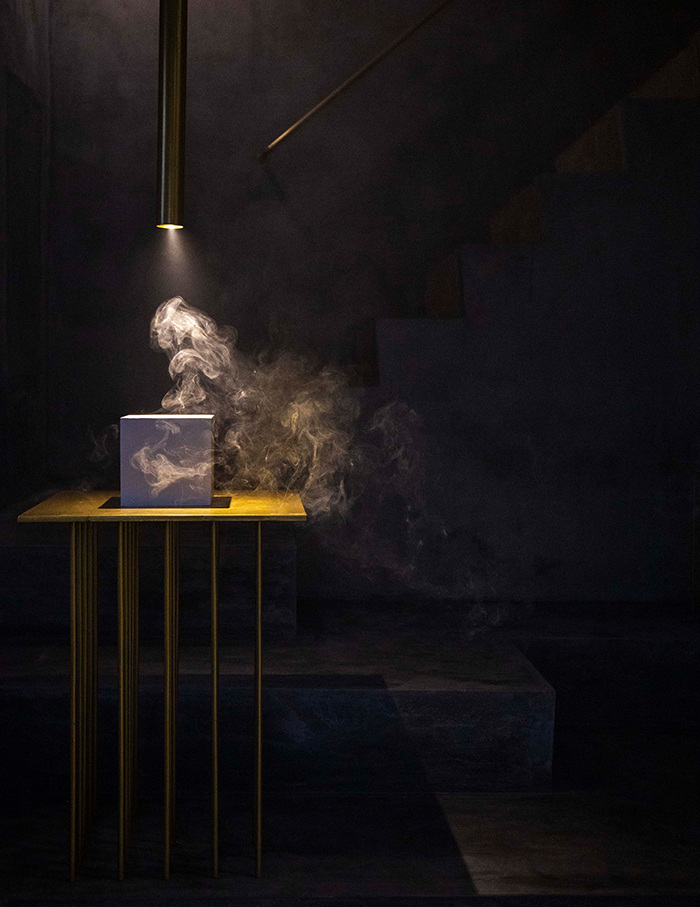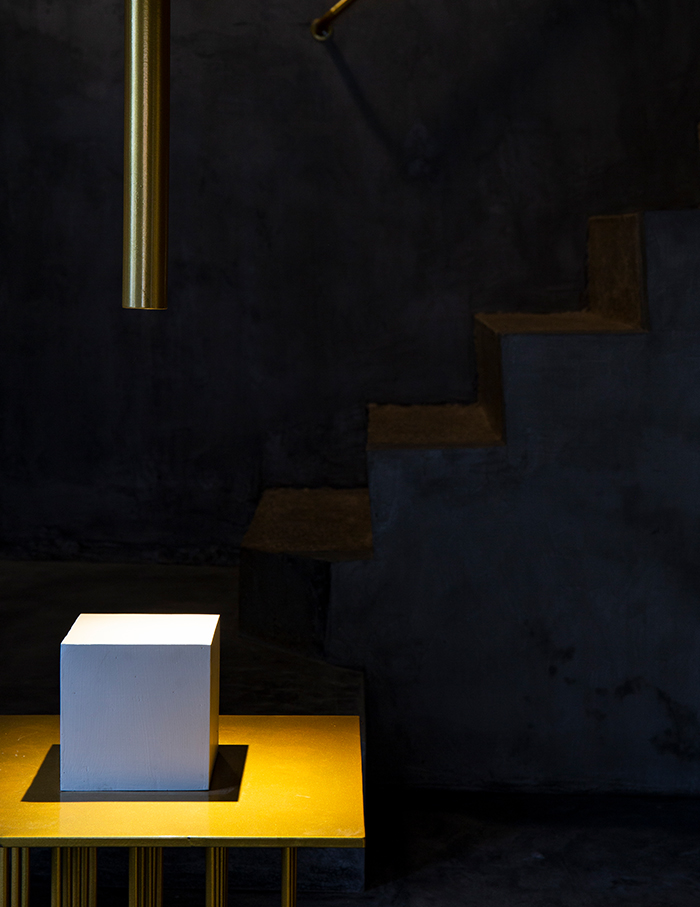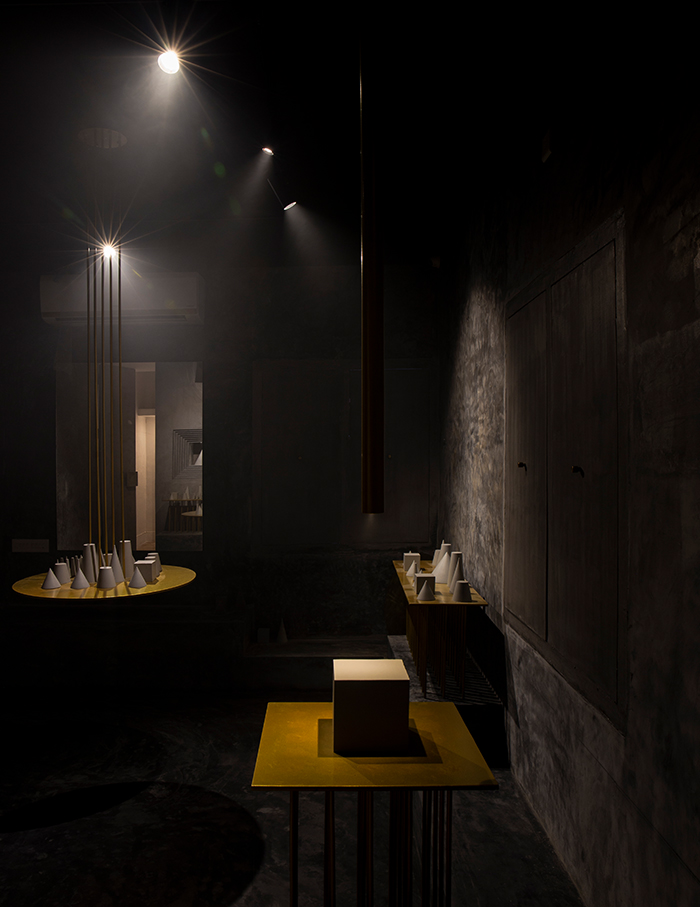 If Pure Allure gives you pure joy and delight, make sure you check out Still Life—an experience centre by Mumbai based Studio Nishita Kamdar.