Design
Studio Nishita Kamdar crafts an experience center for WALTZ Partitions by JB Glass imbibing the tranquil and meditative quality of Japanese Zen gardens
JUL 21, 2021
| By Kashish Kaushal
Extending over 1,200 sq ft in a fairly old building compound, Still Life promises to be a pause from the infamous Mumbai chaos. An existing shed has been transformed into an experience centre for the Door and Partition Systems vertical called Waltz Partition for JB Glass in Mumbai by Mumbai based Studio Nishita Kamdar.
Nishita Kamdar, Founder and Principal Architect of her eponymous studio along with Ameeta Kankhara integrated a minimalist philosophy by making use of natural materials, patterns of light, and a near-monastic rejection of clutter. The gardens representative of Zen culture in Japan embody the concept of shibumi, an elusive, empty term that implies beauty, elegance, imperfection, complexity as well as simplicity and the natural state of things. Accomplishing this Zen design concept, she crafts a relaxing, contemplative, restrained and visually balanced space.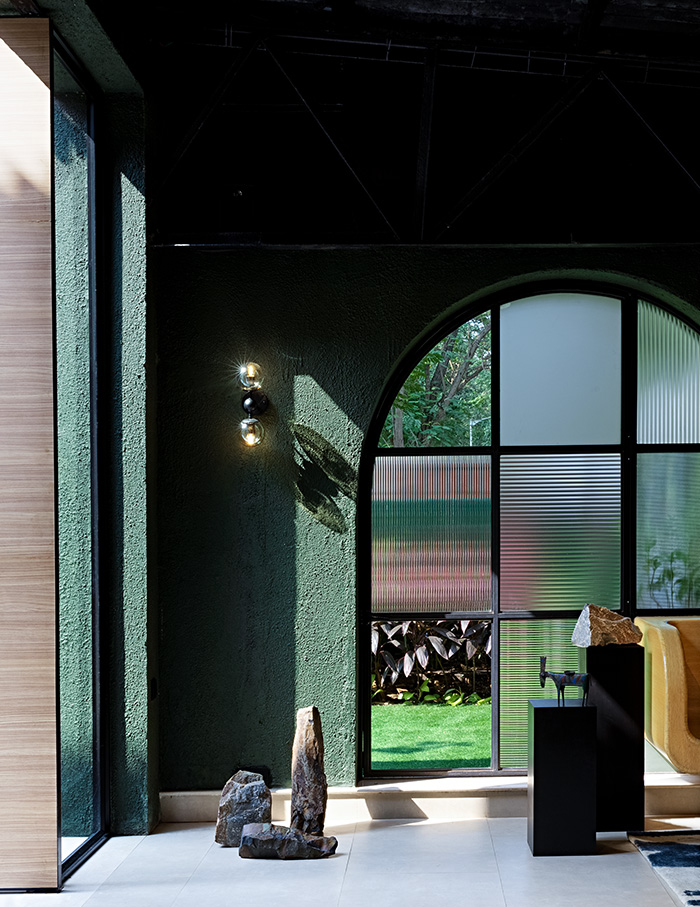 "At the entrance to the olive green painted shed, the Genkan of the store is greeted with a 12 ft tall door, with two slit windows giving a little sneak peek into the store. The height of the door visually makes the shed look taller than its original height," shares Kamdar. Dividing the structure into four distinct zones—reception, zen garden, conference room, and utilitarian product display area—Kamdar's design provides visitors with a soothing experience of movement through integrated partitions and openings, achieving a coherent and harmonious aesthetic.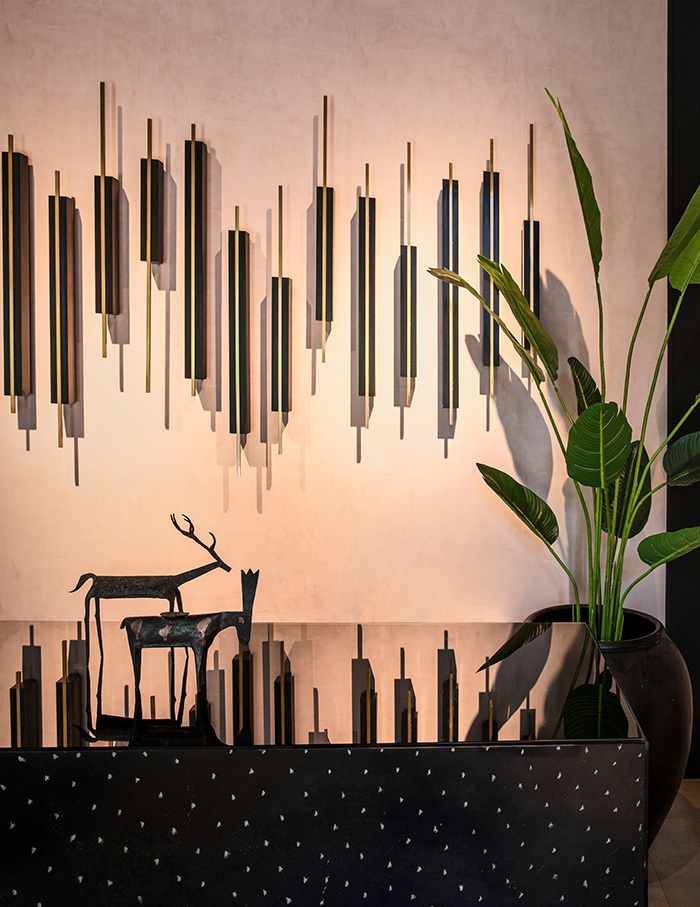 The solid olive green wall continues from the exterior to the reception zone, with arched Crittall windows overlooking a sprawling garden. Greeted by beautiful high ceilings, a granite carved reception desk against a powder pink wallpaper and black Sri Lankan terracotta pots, the area emanates a pragmatic design approach. Surrounded by aluminium and glass partitions of various kinds, the central space also known as the Zen Garden allows the visitors to walk around and experience it from all sides, sometimes even strolling through it casually and walking out of it through another partition.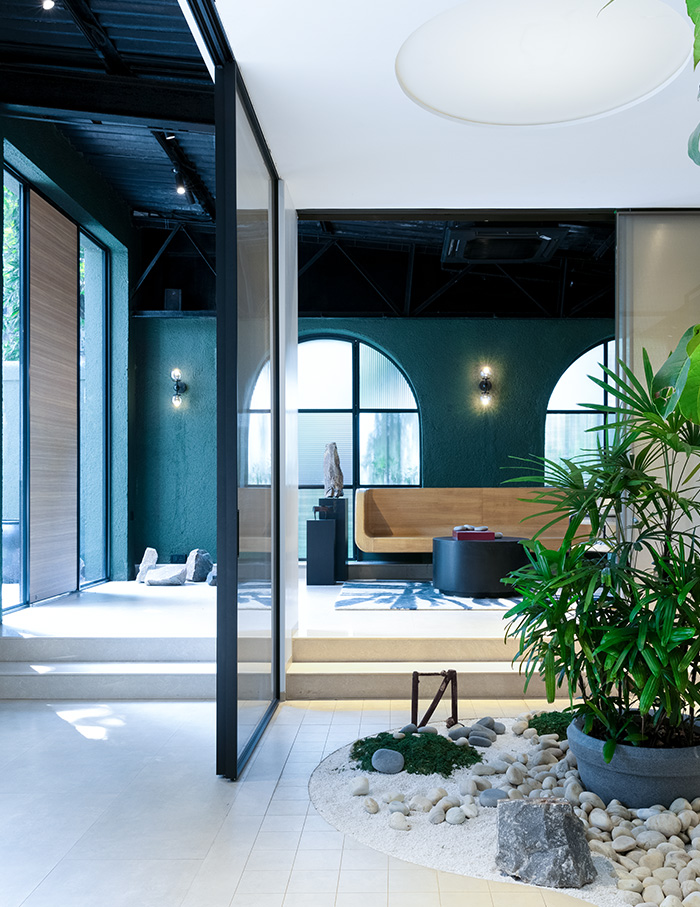 Reminiscent of the popular Triad Rock formation in Zen Gardens, Moss Gardens and Pebble Zen  Gardens, a spotlight in the form of rocks, moss and pebbles are curated in the courtyard. The pebbles are arranged in a concentric manner, larger ones towards the interior and smaller ones moved outwards, representing serenity. Custom made oven fired clay sculptures by Naraina, and two distinctly large moss-covered Planters, bearing a Raphias Palm and Brassia Plant, fill up the space.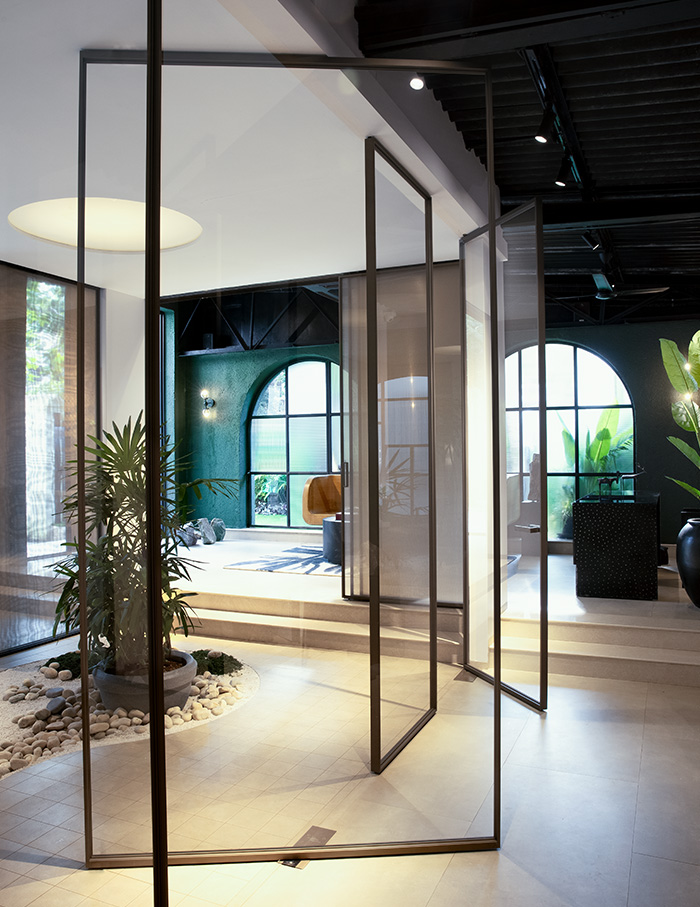 Right in the centre of the store and in front of the Zen Garden, a circular window made of round metal and a glass fixed partition represents "a window of spiritual enlightenment" apropos Zen Buddhism. Forming gripping focal points, The Rock finds itself inconspicuously appearing in corners sitting atop black pedestals, creating a visual spectacle.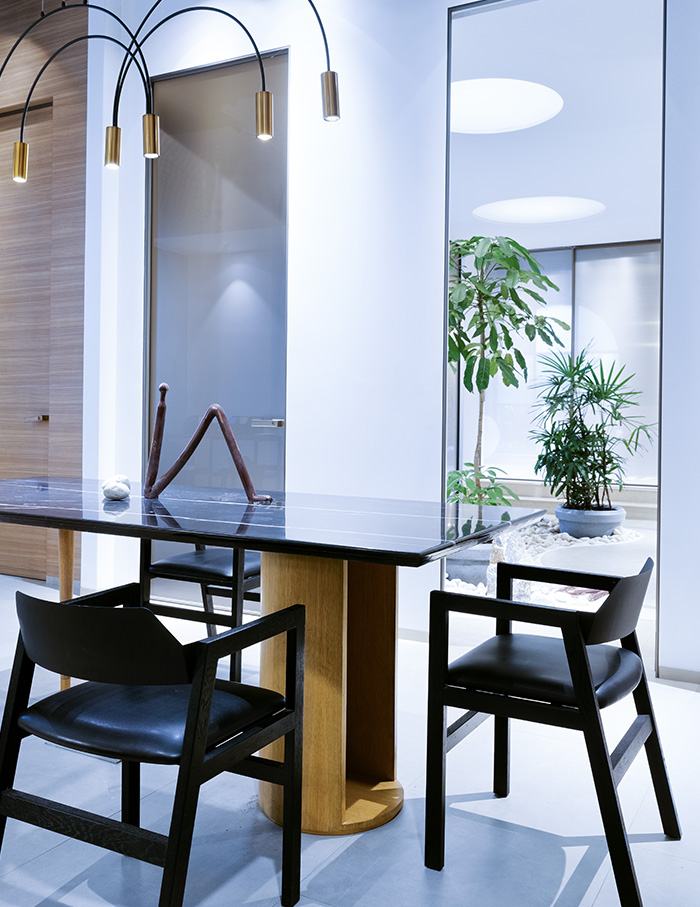 Moving towards the other side of the Zen Box, the conference room section is decorated with a large  Black Marquina Marble Tabletop in the centre, with a striking geometric arched pendant light looming on top of it. The marginally low backed black ash wood and leather chairs from Made with Spin make the table look decluttered. Towards the end storage and pantry spaces are concealed within partitions. 
Natural light penetrating through the distinctly shaped windows acts as a boon to this space creating an enchanting play of light. Still Life is arguably, an ethereal retail experience that guarantees a tranquil escapade, akin to a meditative walk through a garden. 
Scroll through for more images from Still Life…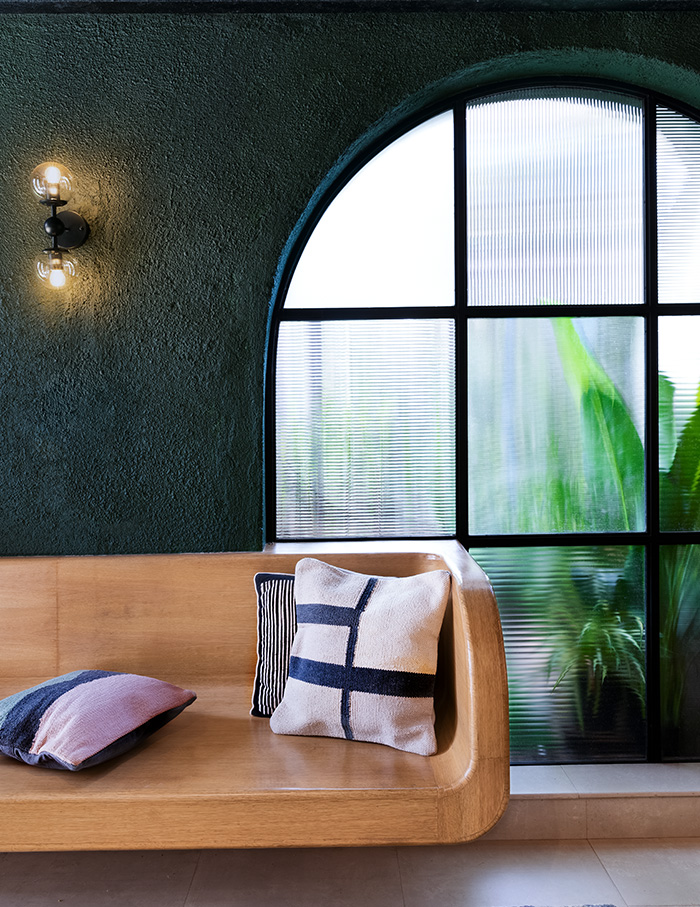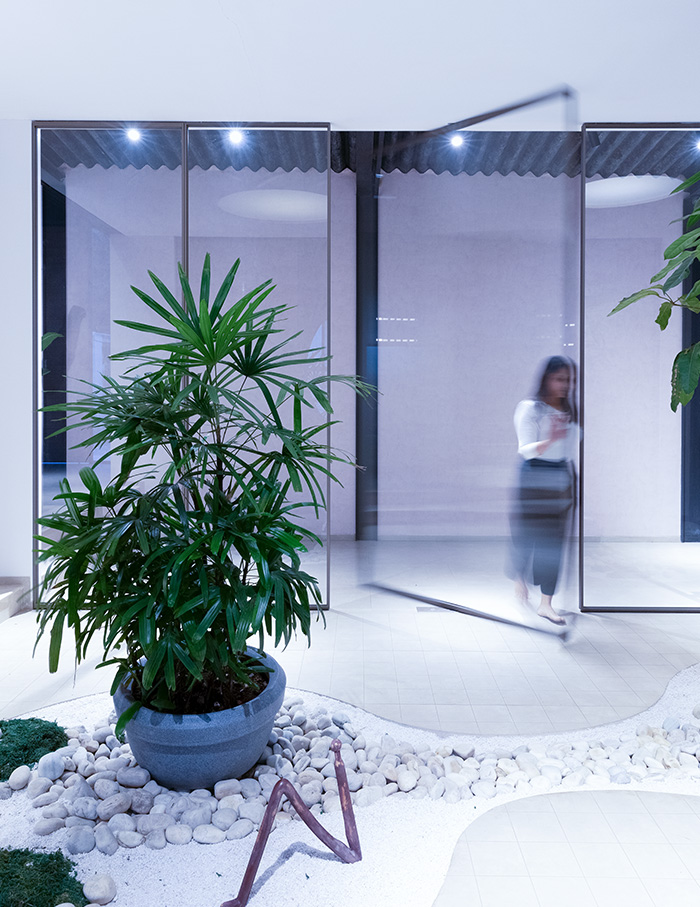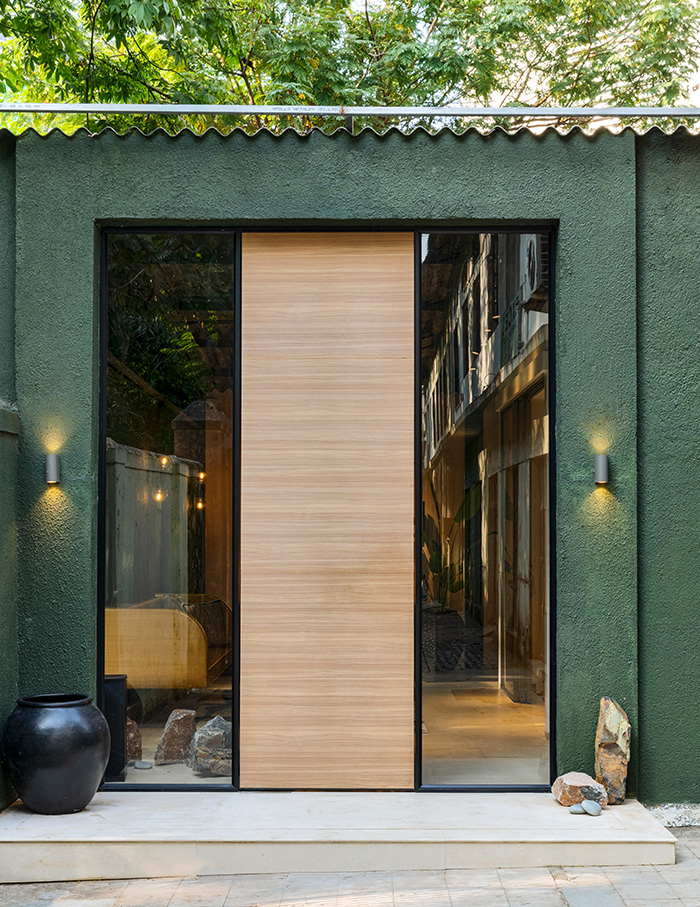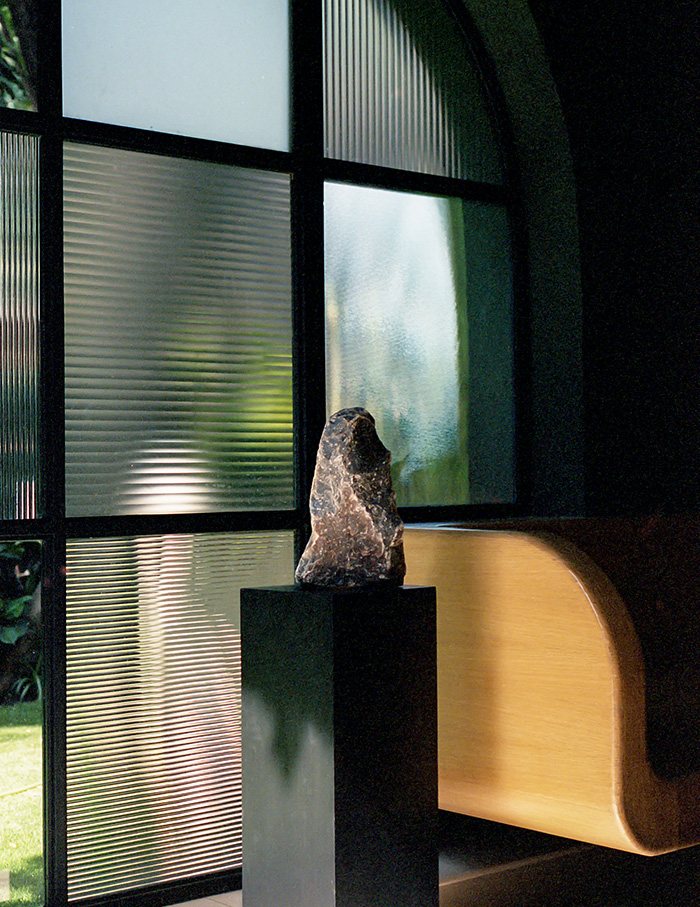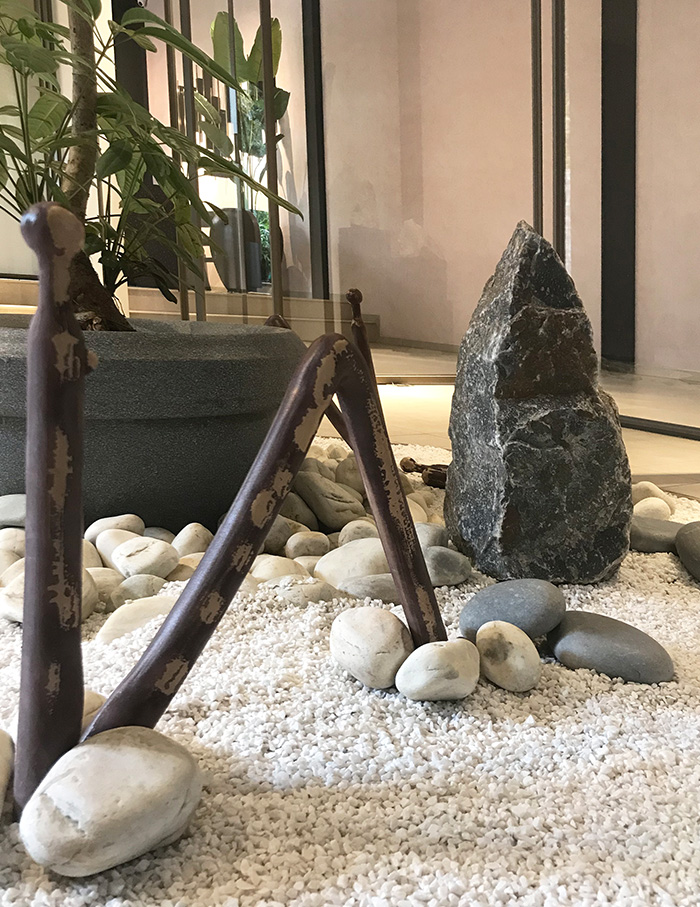 If you enjoyed reading this story about Still Life, do check out the ELLE DECOR India June – July 2021!