Homes
A mid-century spirit revisits the Autograph Home in Switzerland as Alexandrine Lukach of Intemporary Design Studio curates this apartment
JUL 14, 2021
| By Saloni Rege
Coined as the Autograph Project, the 1,076 sq ft two-bedroom rented apartment has been decorated with vintage charm by interior designer Alexandrine Lukach of Intemporary Design Studio. What started out as a revamp project to create a student-friendly living for the designer's kids, extended to a full-fledged home as the pandemic struck in.
Located in Lugano, a small town on the shores of the eponymous glacial lake that borders Italy and Switzerland, the apartment is encompassed with a Mediterranean character and an impressive, varied nature.
"This gorgeous part of Switzerland became a home for my two adult children who moved here to finish their education. Initially, this unfurnished house only consisted an equipped kitchen. Since both my kids adhere to the principles of ethical consumption, we decided to refurbish the apartment in elements that were bought at flea markets and from vintage shops, collecting charitable funds from their sales," explains Lukach, founder of Intemporary Design Studio.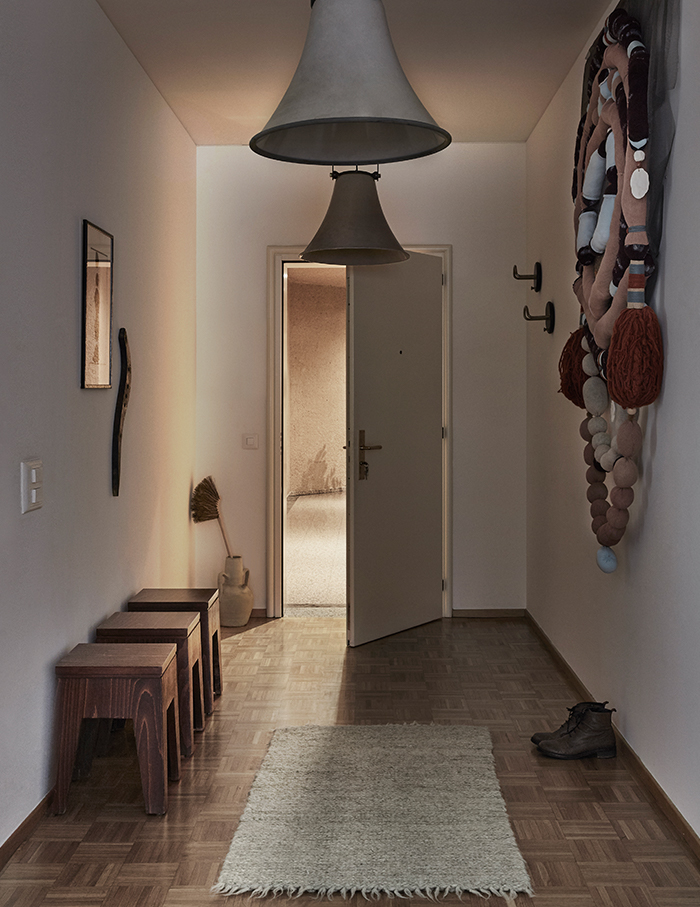 In an attempt to give a second life to decor objects as well as providing social support to local communities, the flat has been rendered in minimal furniture and artefacts. As the pandemic demanded, the designer has further transformed the design narrative to suit all the family members, creating a modern space with assemblance of European vintage, inexpensive mass-produced items and design rarities.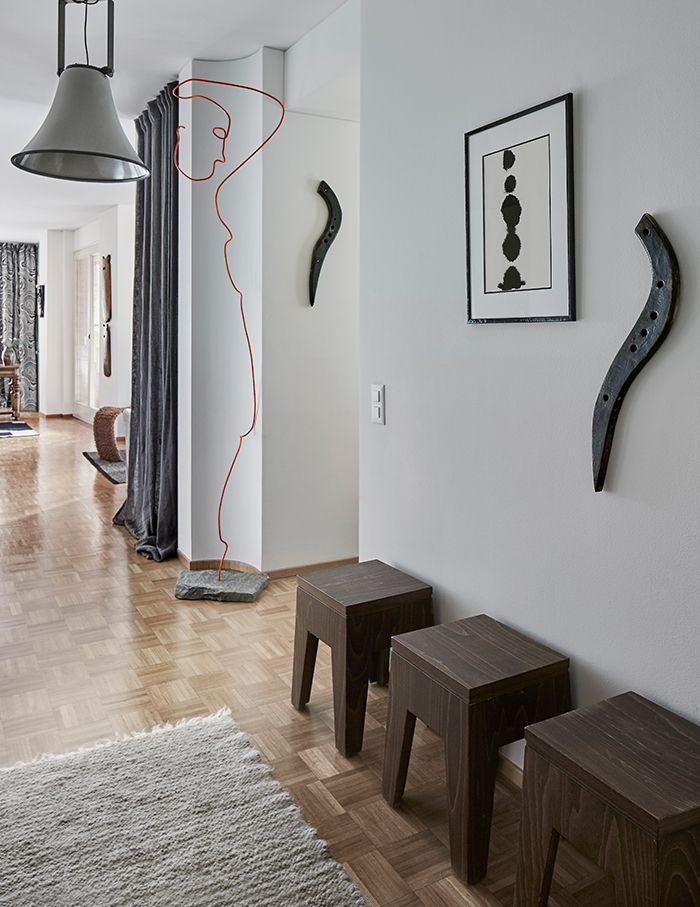 The designer reveals, "In creating this interior, I started from understanding what each member of my family needed in new circumstances. At the same time, I had no stylistic limitations. Therefore, the decorating process was an act of pure creativity!"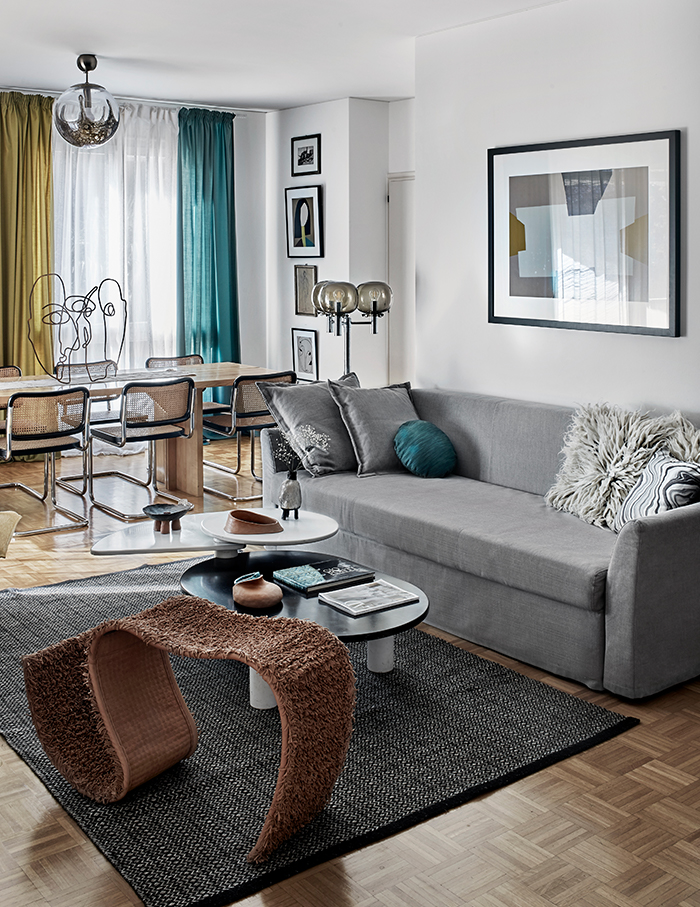 Owing to the leasing terms that did not permit change of colour and materials for walls and flooring, a pristine white wall engulfs the entire abode, acting like a canvas to embrace a combination of textures and fabrics that render depth and sensuality. A mid-century vibe envelops the space, lined with shades of wood and monochromes.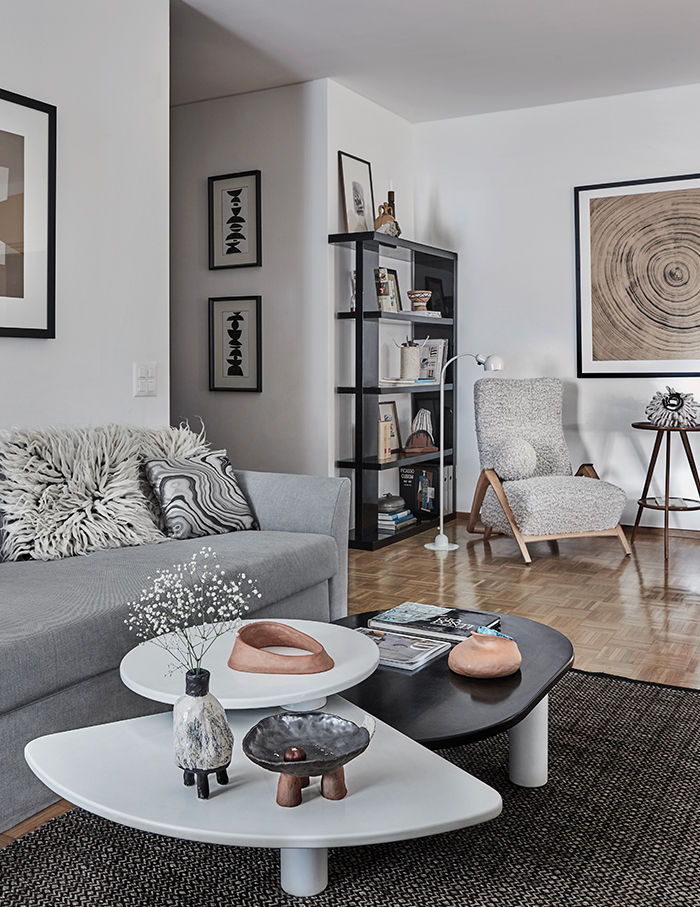 Upon entering the apartment through a foyer, a spacious living and dining area comes in sight. Exuding a cosy yet airy vibe, the space radiates a certain quality of lightness, which is further preserved and enhanced by artworks from Ukrainian artists and creative objects. Splashes of colour pops accentuate the otherwise subtle space.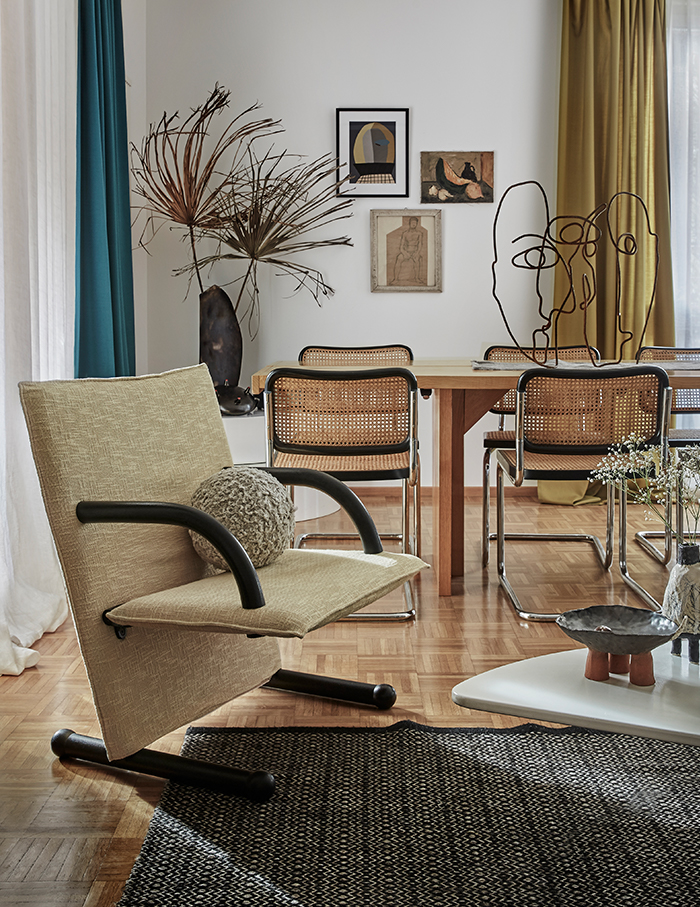 The main characteristic of this space is its stability. At the functional level, no structural changes have been incorporated thereby retaining it's soundness and integrity. Lukach adds, "I had to work within limitations, which indeed has been a challenge. But for me, it's always a reason for creativity to thrive! Here, I have only worked with decor and accessories to stylise the apartment."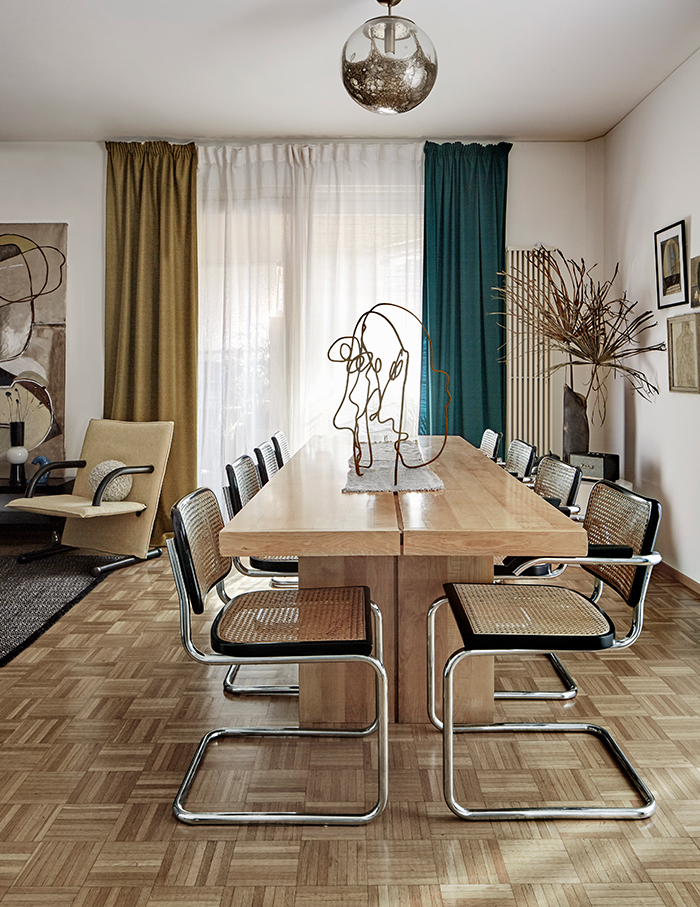 Undoubtedly, the most essential and interesting component of the apartment is the bountiful variety of art. The designer believes that if not for art, the faceless abode with a conventional layout wouldn't have been a very livable and homely space. Art and artefacts have brought in a lot of emotions and crafted a distinct atmosphere within each room.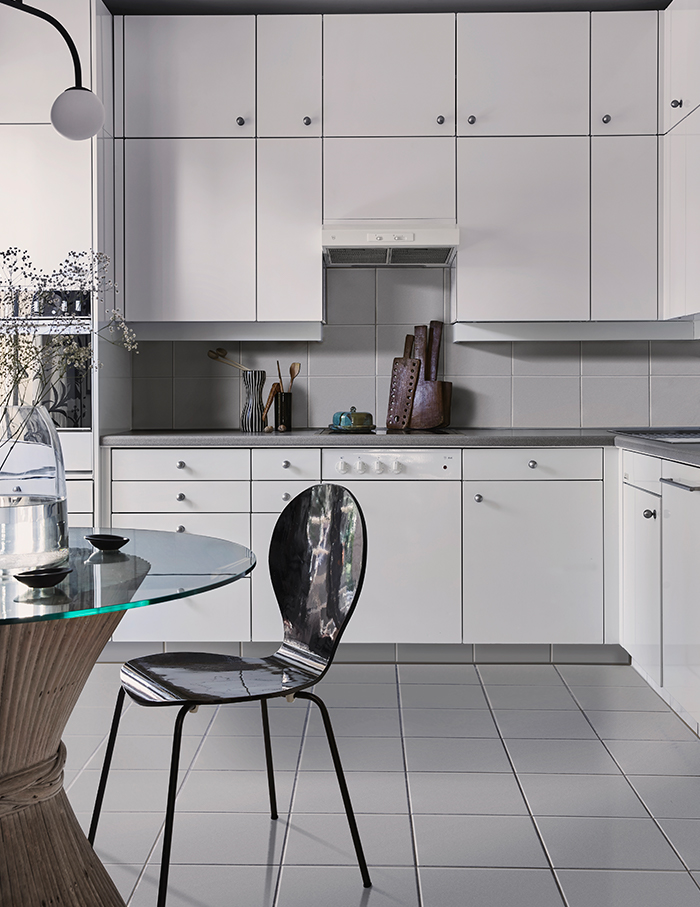 Ukrainian art forms a crystalline grid that ties the whole house together, with each of the accents chosen by heart. The abode features Oksana Levchenya's large, customised collectible art that's made of multiple different socks, gracing the hallway in a unique totem composition. Also seen are paintings by Alexandra Gromova.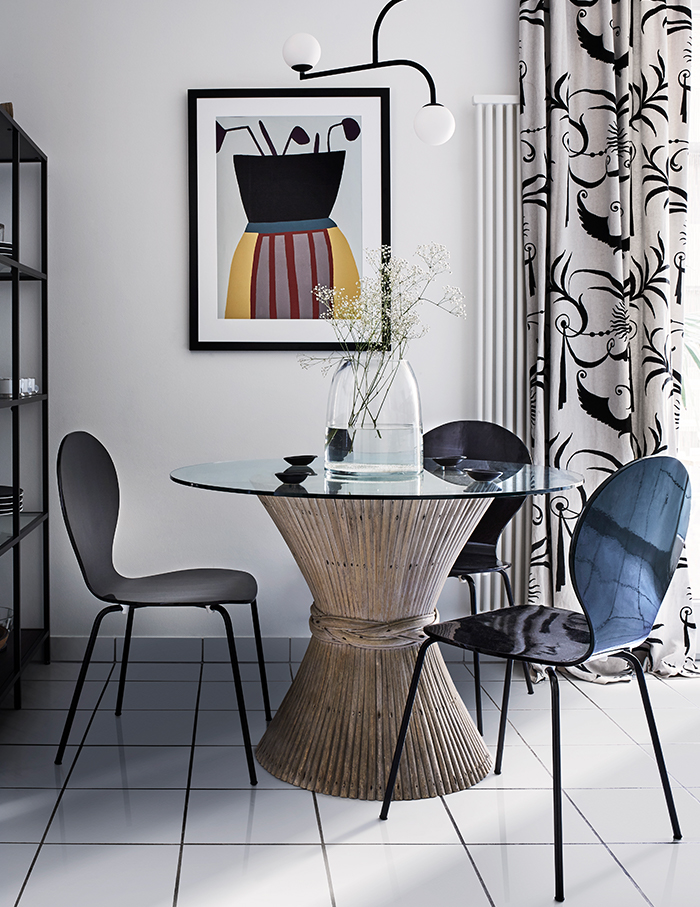 Witnessed throughout the house are monumental sculptures, bespokely crafted in painted wire! Swiss artist Pierre Grumbacher has further set the graceful and light tone of the space by infusing it with wire figurines that certainly stand out as a unique form of art.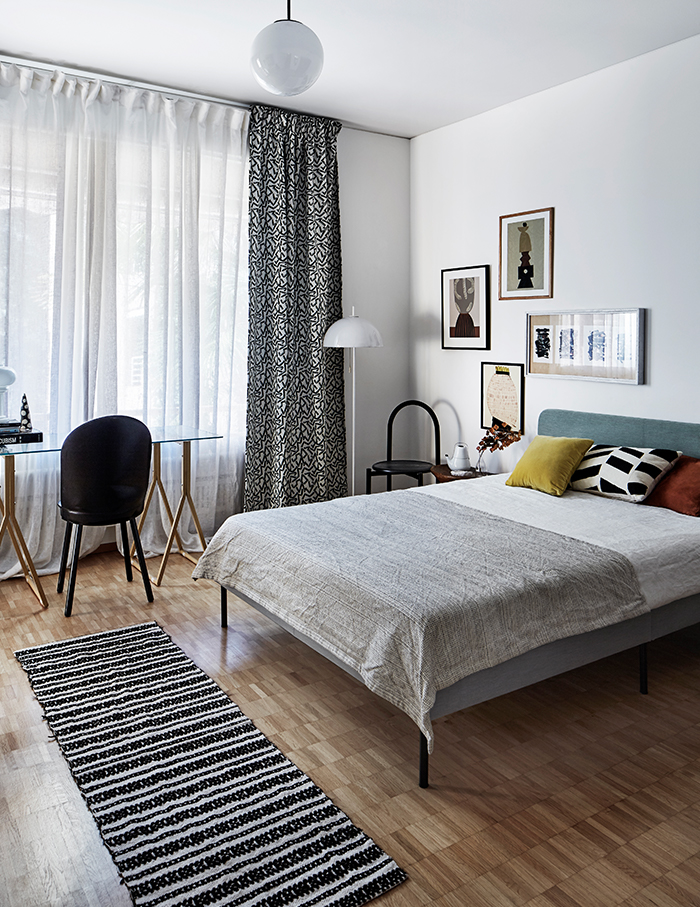 Apart from the ethical furniture and artwork, the apartment also houses ecological furnishings. Carpets and pillows made of Carpathian sheep wool from Ukraine deck up the fabric domain while covers from washed hemp fur wrap the old armchairs, sewed by the designer herself. "For me, the textile is also about a manifestation of ethics and sustainable thinking, about preserving traditions and touching nature," shares the designer.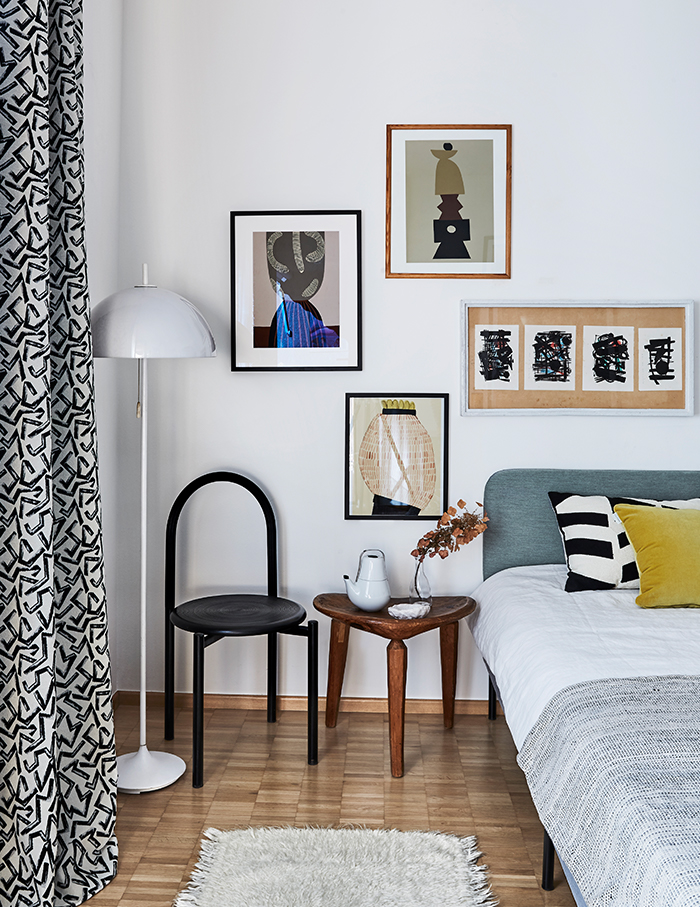 She further adds, "The conditions of lockdown and our ethical attitude towards everything, helped us to remember and master different skills that are impossible to use with brand-new things. With our own hands, we have decorated the paintings with vintage frames, stretched the canvases, sewed curtains and assembled furniture. It has been an interesting family time, working together and enjoying the experience."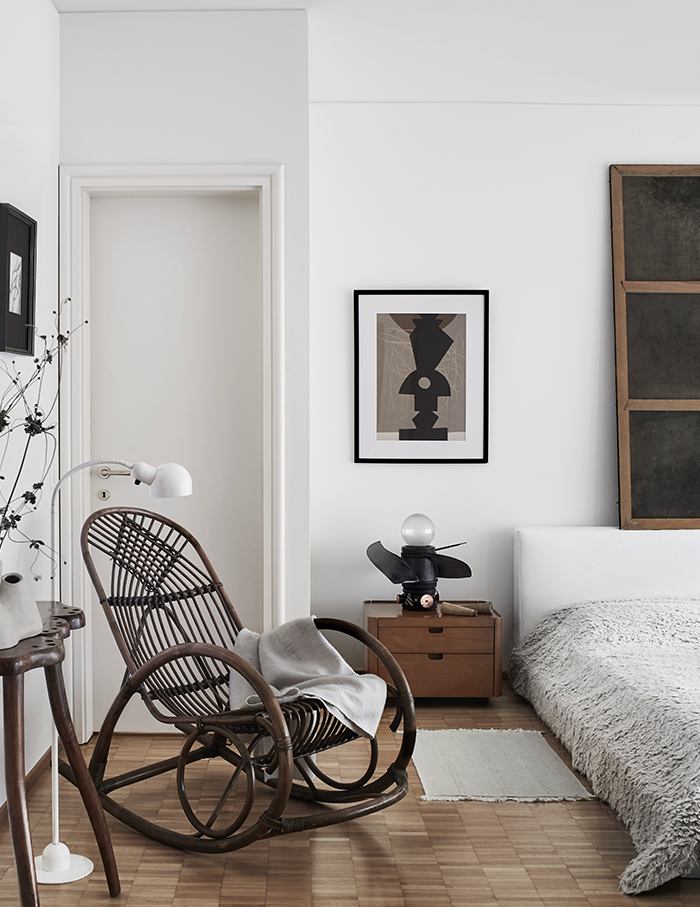 Punctuated with a personal touch and decor that reflects the thought process of its homeowners and is kind towards the nature, the abode is a bearer of multiple autographs—signed with love!
Scroll below to see more images of this vintage residence, revamped by the Intemporary Design Studio…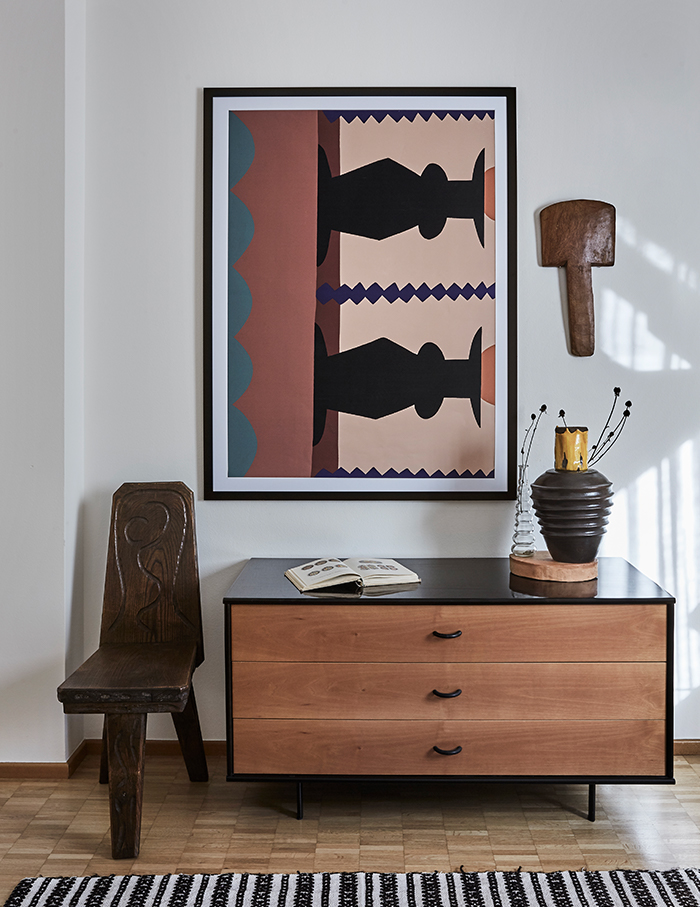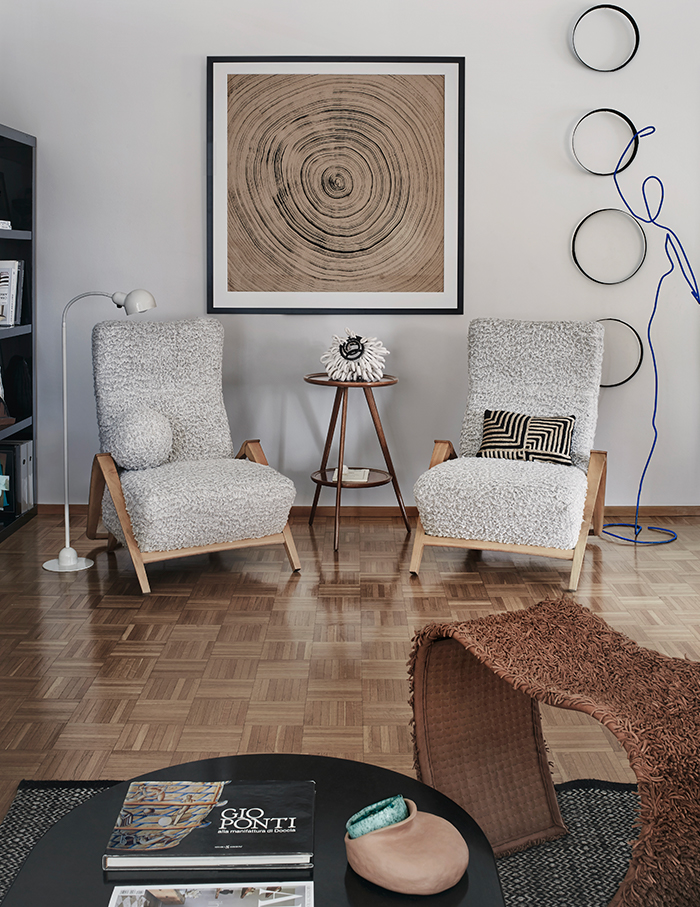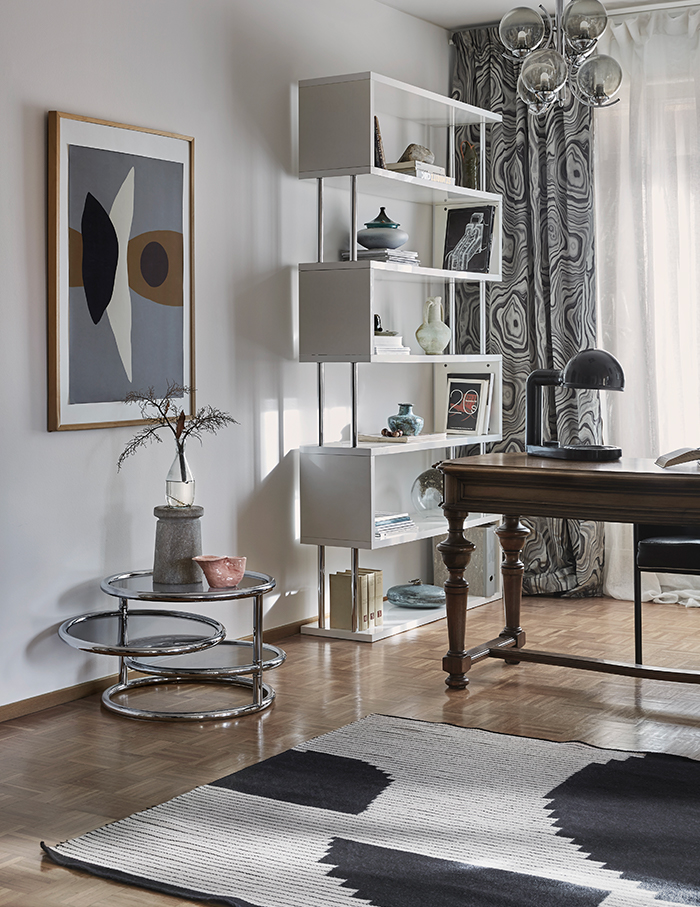 If this vintage abode allured you in its captivating charm, then we're certain you'll adore this Los Angeles mid-century home by Mass Studio!