Homes
A home in Shanti Niketan, New Delhi by Rajiv Saini bears testimony to the love of art, colour and happiness
NOV 17, 2022
| By Shriti Das
A grey area often creates reason for reservation and cause for concern. And for Rajiv Saini's long standing client and friend of 25 years, grey was perhaps not her calling. "We go back a long way. She is one of my first clients and I can say I began my career with her family in 1995 or 1996," says Rajiv. "Having worked with her family on umpteen projects over the years, a sense of friendship prevailed between us. She insisted on colour and glamour. And I would show her samples of grey basalt stone," he laughs. And no prizes for guessing how the home turned out—a grand gesture in grey speckled with colour and art.
Located in Shanti Niketan, Delhi, Rajiv was entrusted with crafting the interiors for the magnanimous structure spanning across approximately 16,000 sq ft engineered by Verendra Wakhloo. Being a city home, this residence afforded no views. "The concept was to make a sequence of vistas within the home," he says, to create little glimpses through rooms, such that every turn and termination offered something to look at, to behold and appreciate.
Built as two independent units, the larger primary unit for the family has the master suite and bedroom suites for the children with a common lounge, family room, a guest room, an office room, living and dining areas alongside a gym and utility areas, and a separate, but connected unit for the grandparents, if they were to ever move in at a later time.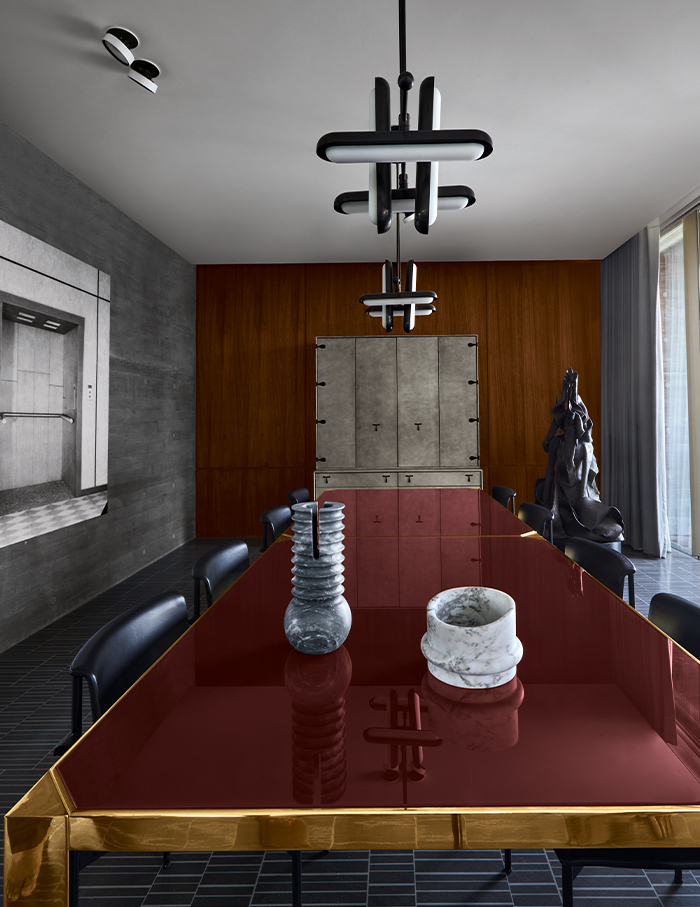 Faced with crafting the spatial language and decor for the bare shell, the starting point for Rajiv was the stream of thoughts that emerge before he gets to the drawing board.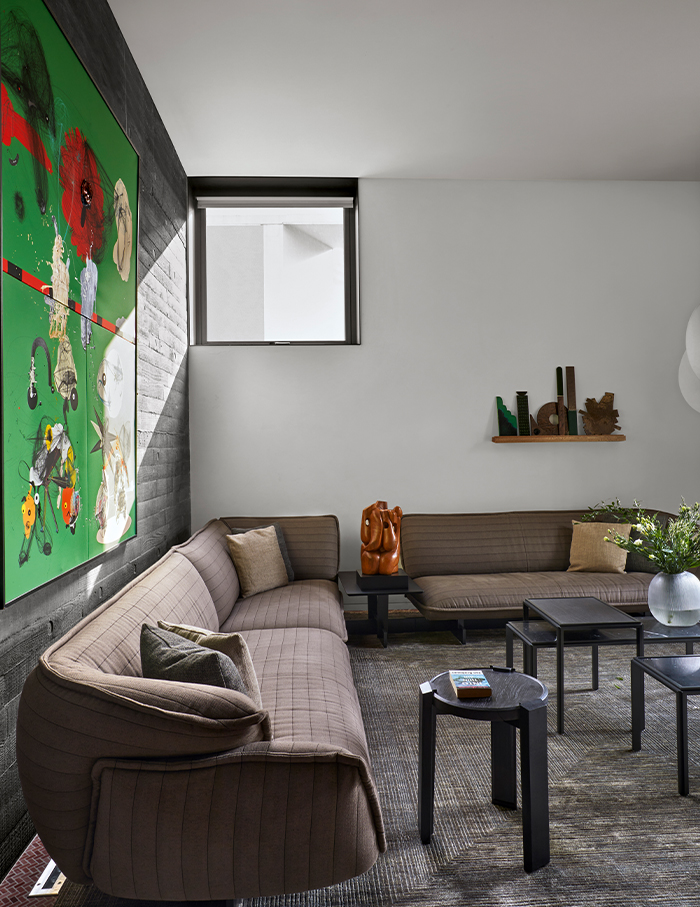 "I don't have a picture or an idea of the imagery. I listen a lot, I observe a lot. So when my clients are talking to me, narrating their requirements, I tell them to choose their words wisely because every word will influence me.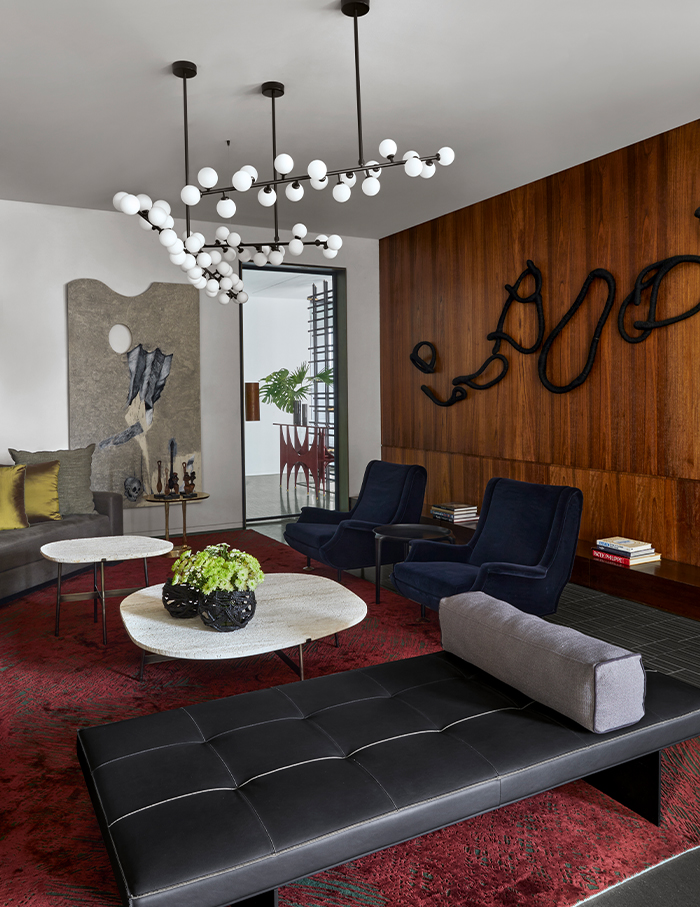 The conversation leads to a direction. You understand their requirements, needs and key elements important to the project. And you build from there," says the designer. Dialogue and ideation lead to mapping function and spatiality. And for Rajiv, the materiality gets superimposed subconsciously. "Space, volume and materiality go hand in hand. You cannot stick materials like an ornament," believes Rajiv.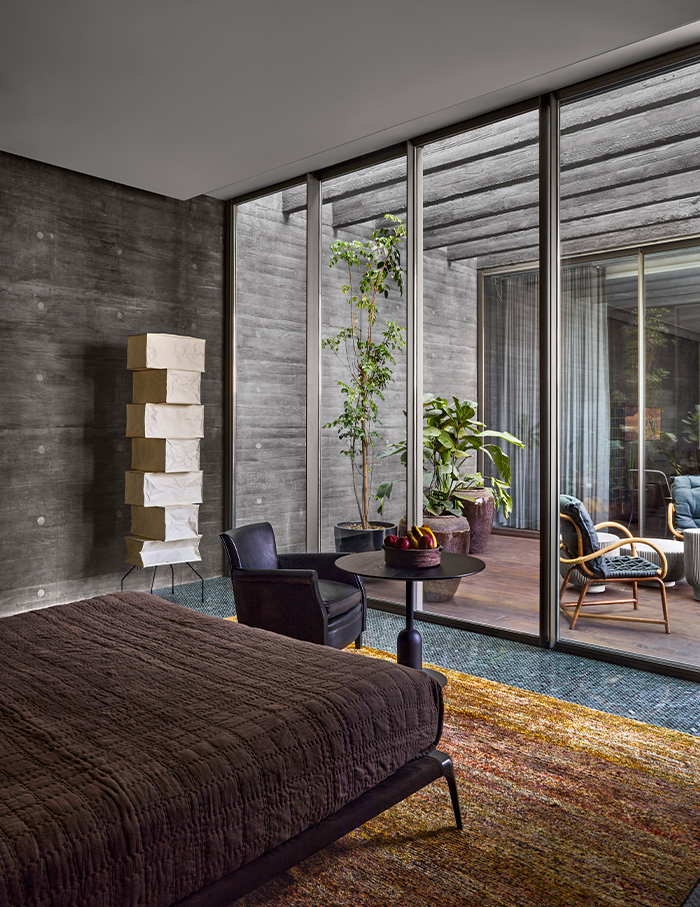 The idea with the Shanti Niketan home is to create a contrast of materials. Having used grey basalt with different dark veneers and brass accents, screens are used in certain areas to divide as well as create visual continuity. But grey emerges as a hero in moments big and small—walls in exposed concrete and basalt, as dyed wallpaper on cupboard shutters, in the art, marble cladding and so on.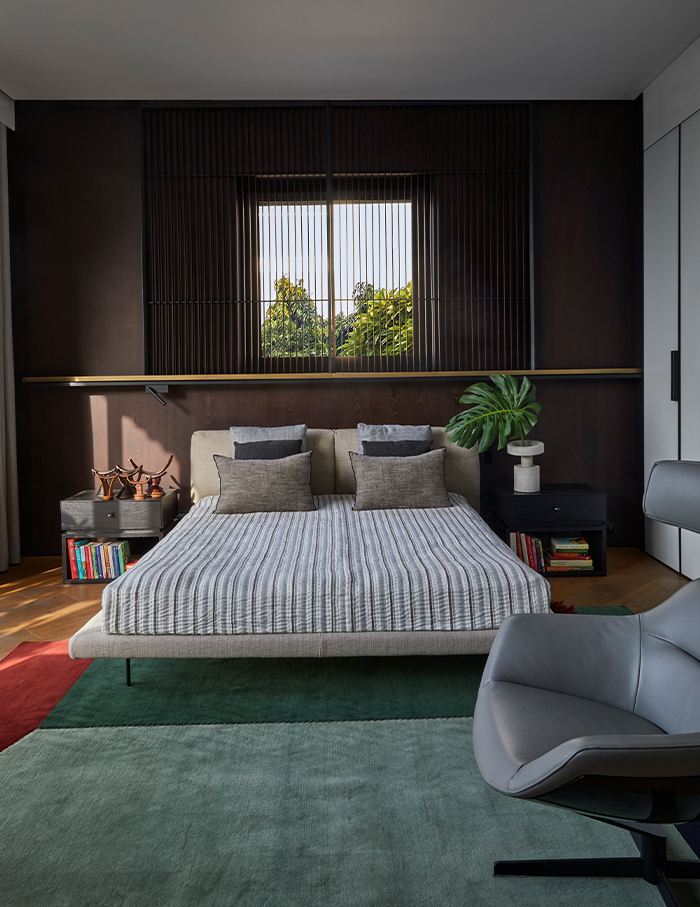 He prefers bathrooms white, crisp and sharp but made an exception when the homeowner saw a black marble and fell in love with it. But beyond the colours, textures, materials and finishes, there is a whole other narrative—of the art across the home. "Art for a home as big as this is another project in itsnown right! The process of crafting an abode as magnaminous like this takes two to three years. I tell my clients, if you see a good piece, buy it. They ask me where it will go, and I tell them that in the end, it will all fall in place," he smiles.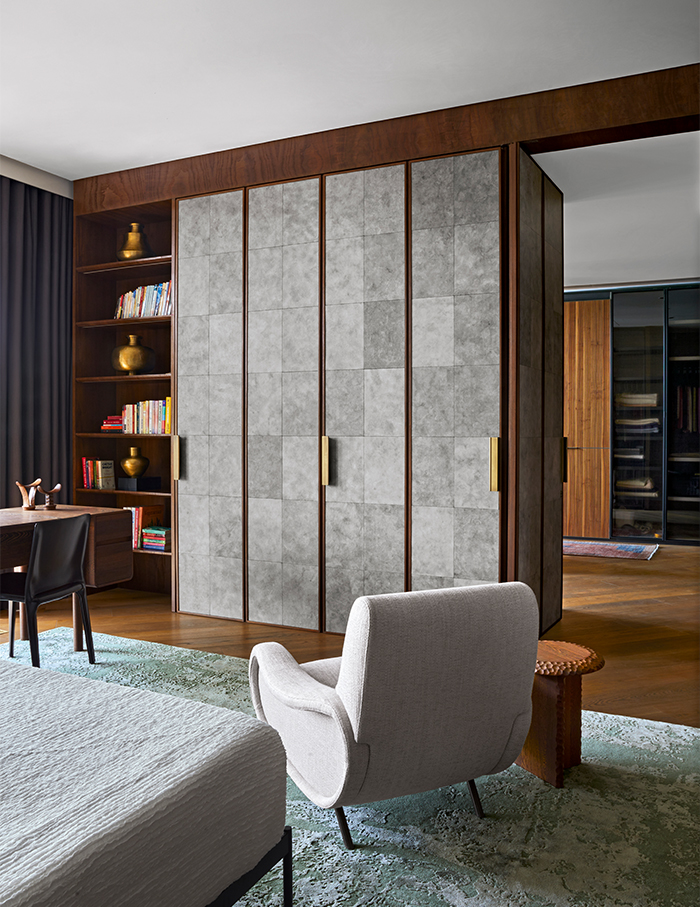 And that is what typically happens. This home too, is a melange of the homeowner's former belongings, some curated by Rajiv and sourced from around the world. The grey offers a sublime backdrop for the pops of colour that transpire throughout the home with an overlay of subtle textures. Rajiv articulates, "Once the site is complete and everything is in place —the lights, the furniture, I style the art, sculptures and objects. I take the biggest space in the home and lay it all out there, and for me, that is the most enjoyable part. You start making connections.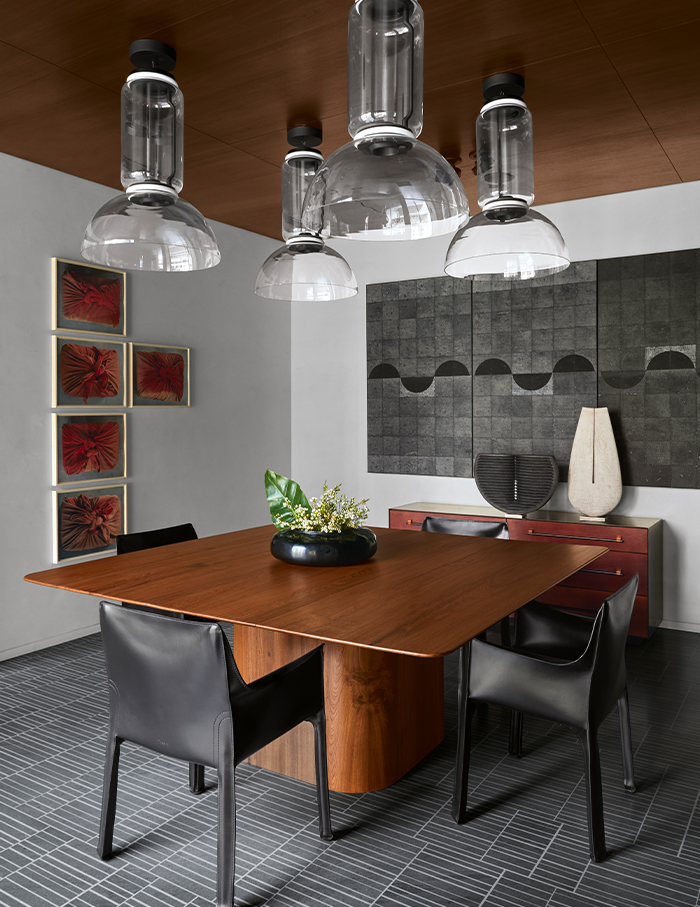 Something responds to the architecture, in some works you'll find a common narrative, or a piece may have been a forgotten memorabilia. Achieving that critical balance between everything is imperative. Two extra things may ruin it, a single missing element will not cut it."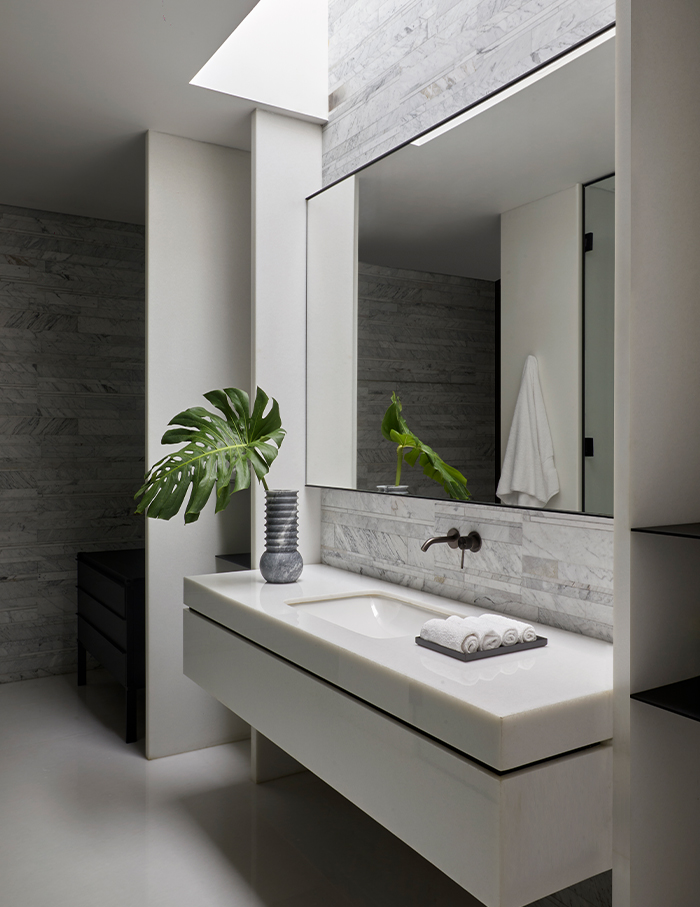 The designer is not shy from admitting that it is the culmination and conclusion that holds excitement for him. With an unabashed twinkle in his eye, he says, "In the lifecycle of a project, there are stages that make me happy and there are stages that I want to run away from! The start excites me, when it's all coming together, the thoughts that take shape into things and then the last few months, when everything fits together like a jigsaw puzzle." And it is this moment, that he calls the most fulfilling, "It is the joy of creation. But joy is still too trivial a term to define what I feel. At the end of the day, we are the designers, not the users. We will not be inhabiting the space. Yet, we build with as much gumption and love, to make something as beautiful and then to pass it on to its rightful owners." Simply put, as famous poet John Keats wrote, 'A thing of beauty is a joy forever', brings felicity to the sentiment that his work holds! 
You may also like: A plane puzzle—New Delhi home by MOVA1 surprises with its balanced wooden compositions.