Homes
A home in Jaipur by Shantanu Garg interweaves tales and glories of the past with a vision to redefine contemporary Indian design
DEC 23, 2022
| By Shriti Das
In a truly bespoke Jaipur-based home by Shantanu Garg lies a multitude of ideas and learnings that offer many readings of modern Indian design by challenging the notion of Indianness beyond ornamentation and ethnicity.
Embodying the idea of India Modern for the palatial abode spanning 25,000 sq ft and 10 bedrooms, the designer explains, "I've tried to create a modern interpretation of Indian architecture by presenting the country in a contemporary avatar.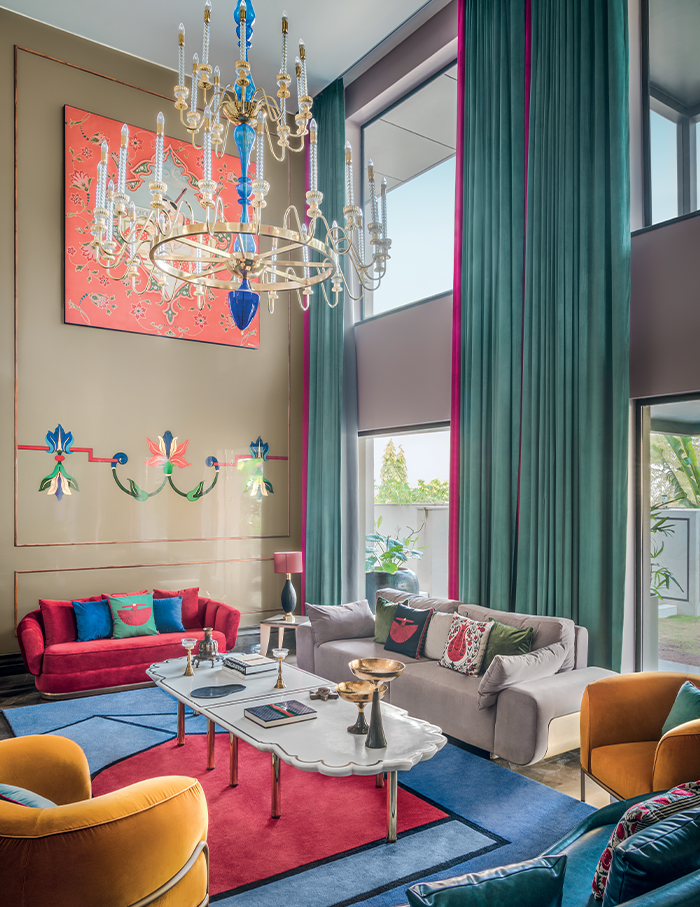 This home is not ethnic, in fact, I want to project our culture beyond ethnicity by redefining and raising the bar of all things Indian." Given the country's diversity, it is no surprise that he sought inspiration from Lord Krishna as well as Mughal concepts of Diwan-e-Khaas alongside myriad folklores, celebrations and ideas that are quintessentially Indian. Designed for the Mangals, two brothers and their families, it accommodates the young couples with children who are on the cusp of adulthood.
The home strikes a perfect balance between modernity and tradition, spaces that are extroverted yet encompass cosy cocoons for solitude and oneness.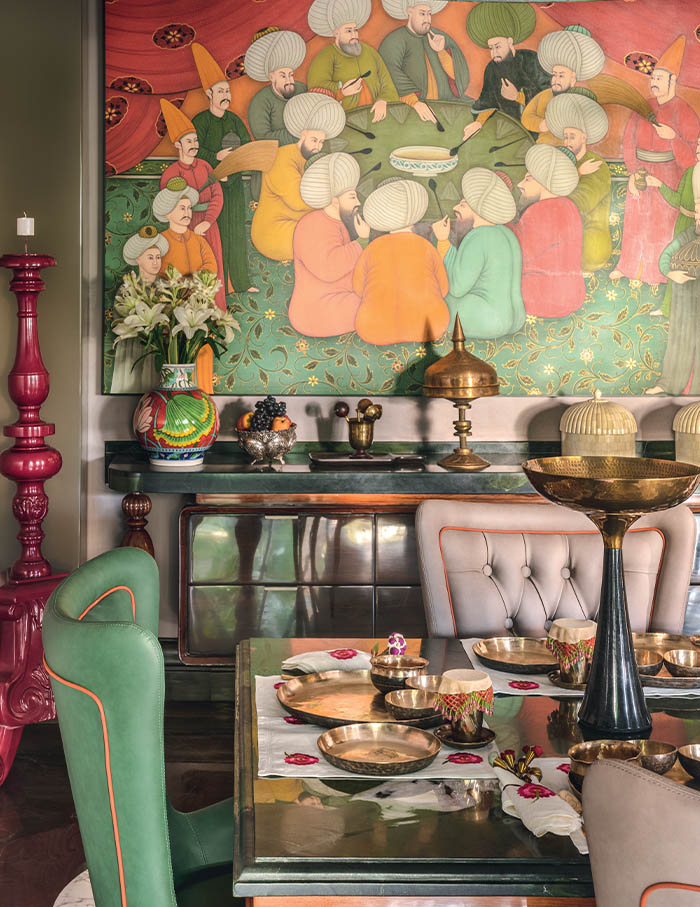 The abode spans across four levels and a basement. The ground and first floors are occupied by couples Rahul and Meenakshi while the second and third floors are occupied by Ashish and Shalu with separate kitchens and dining areas. The basement accommodates a party lounge called the Diwan-e-Khaas, a home theatre system, a squash court and a spa.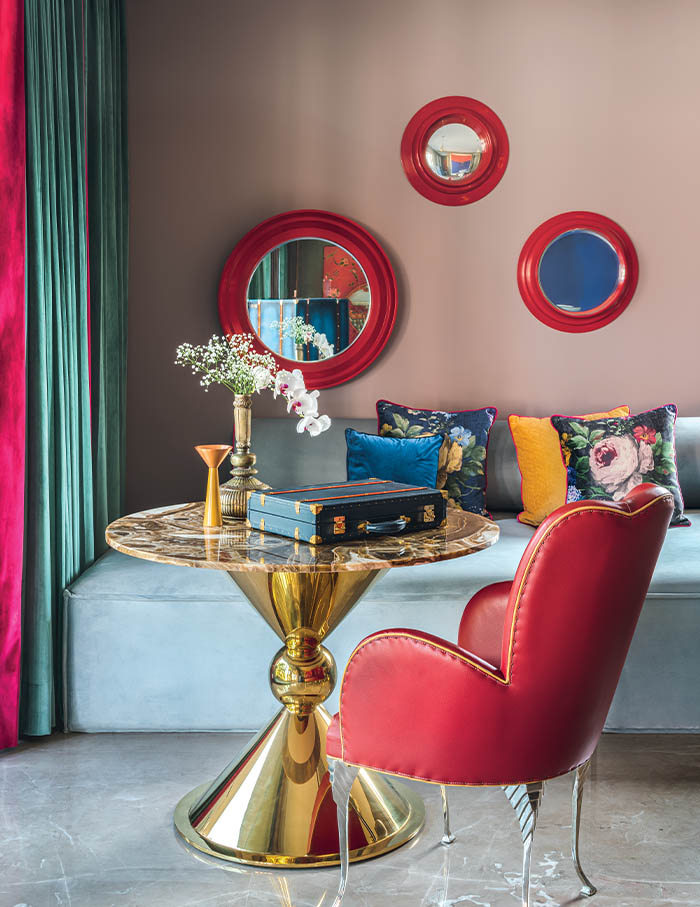 The entrance is flanked by a minimal carving of Nandi on stone, while the staircase connecting the floors follows the design language of bawris or stepwells. It commences with a sprawling expanse of steps on the lower level, staggered to create a dramatic sense of arrival.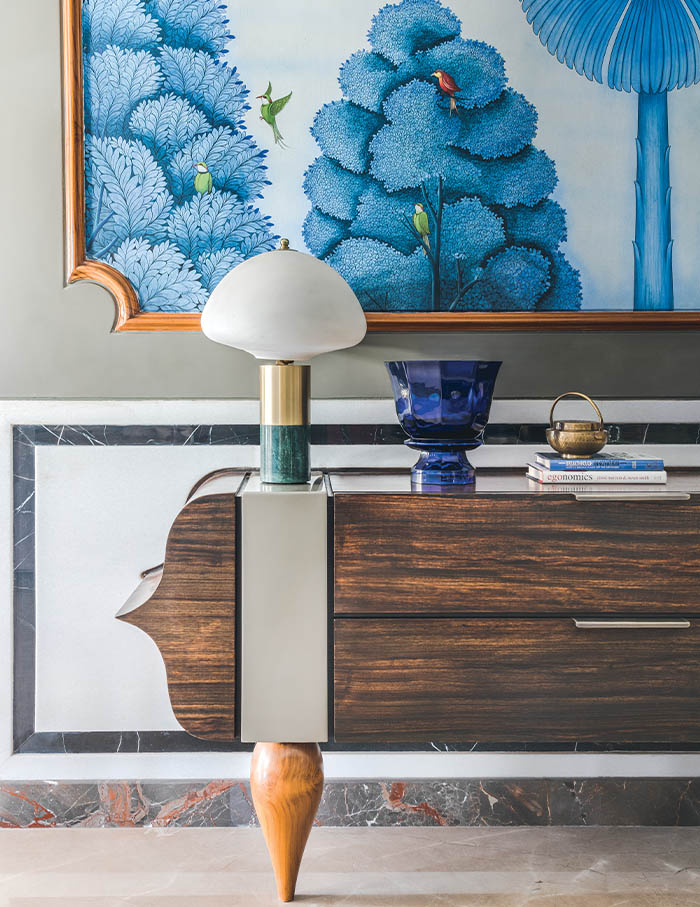 While the staircase is an artistic abstraction of the bawri, his mettle is evident in the flamboyant use of colours and explorations of larger than life motifs in the furniture and art that has been mostly conceptualised by him.Case in point is the lacquer hand painted wall in the ground level living area that wears a motif inspired by the inlays at the Taj Mahal, Agra. "These inlays are usually done in semi-precious stones over marble. I enlarged their form and had them hand painted," he explains.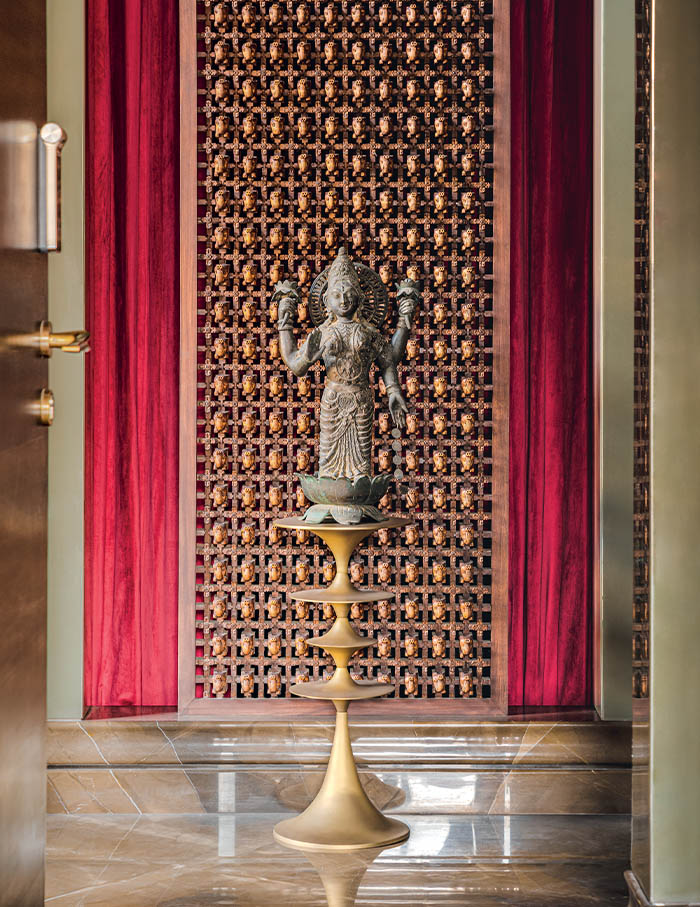 The magnified artwork is emphasised by a double height ceiling that has been achieved when the upper floor slab was demolished to encompass the enormous volume. He has dismantled many walls and ceilings to reorient the spatial configuration to generate planar volumes and levels, rendering a lavish backdrop for the colours and motifs to frolic.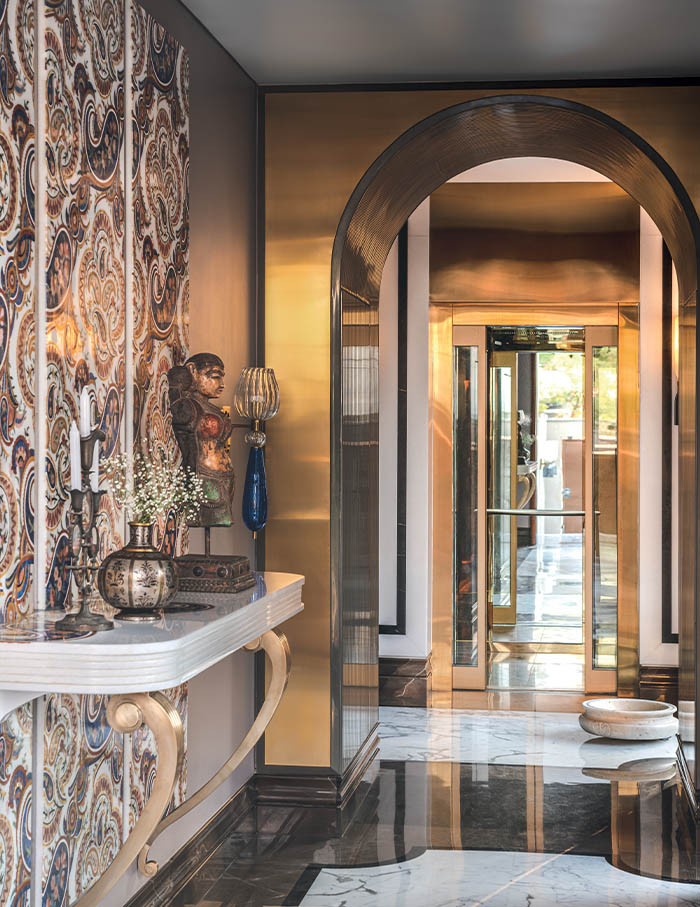 The colour and India-inspired translations are not merely a manifestation of an artist's imagination and prerogative to his project. They find way into everyday utility and functions that were outlined as a part of the homeowner's brief. "Their requirements were fundamental — ample storage, organised spaces and a functional home. But they were keen on colours and traditional details too. I borrowed their affinities and interweaved it into their lifestyle," he explains.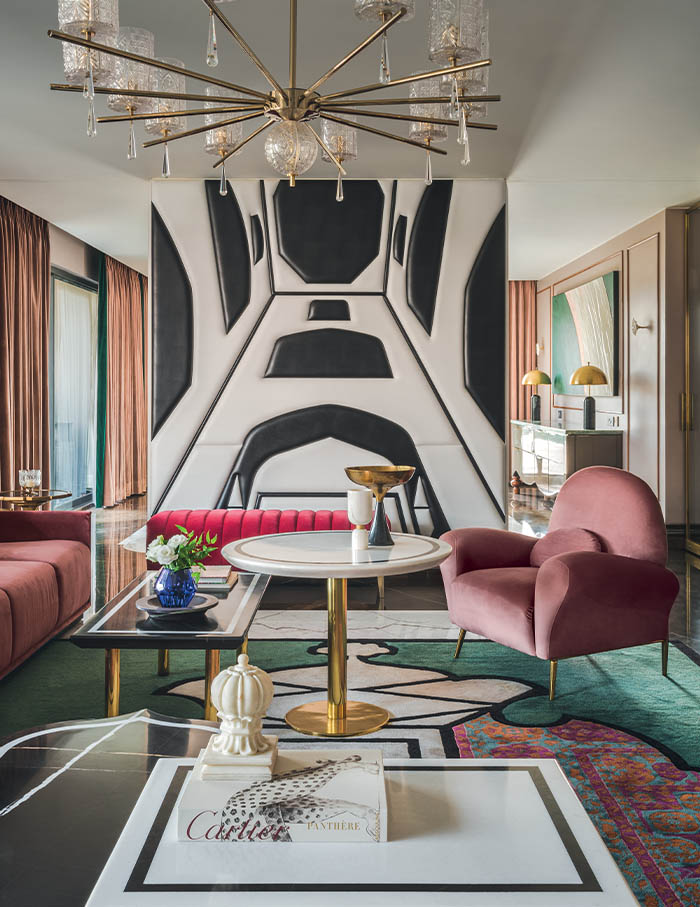 He designed their vanities, crockery units, wardrobe and even pantries with brands like Trunks Company and Anantaya to organise their everyday life efficiently. And these pieces flaunt bespoke handles, legs, knobs, and more that are abstracted from Indian motifs and symbols.
"I designed a pantry for the family that looks like a beautiful piece resplendent with arched doors. Within it, it houses an inbuilt refrigerator, induction, oven and so on, although it does not resemble any modular furniture or a conventional pantry," says Garg.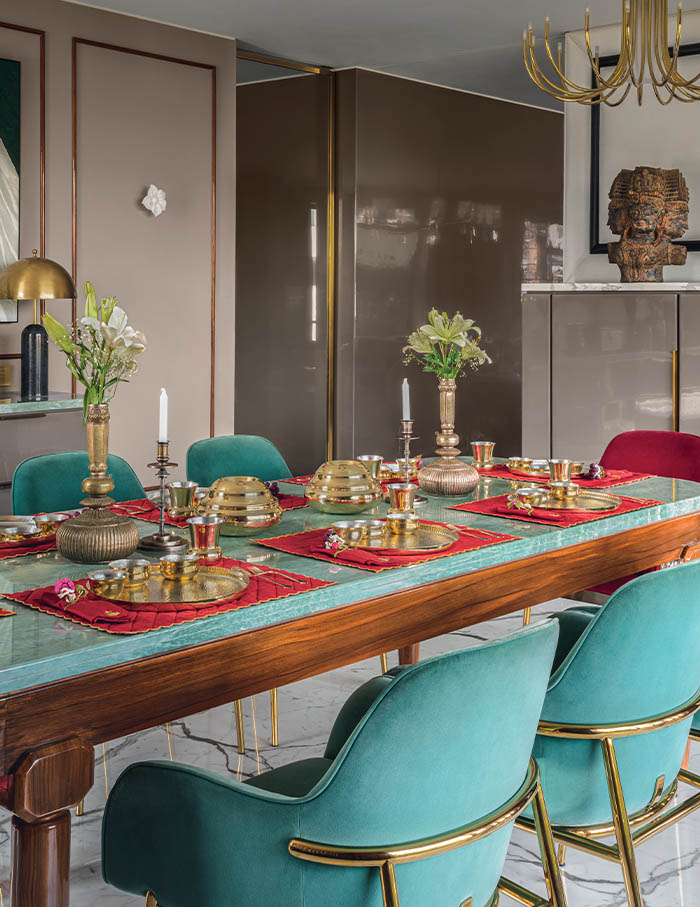 Celebrating the nuances of India, the maverick hardly shies away from going big and bold. He offers an interesting spin on balancing this feisty demeanour to design, "I like going overboard and I love experimentation.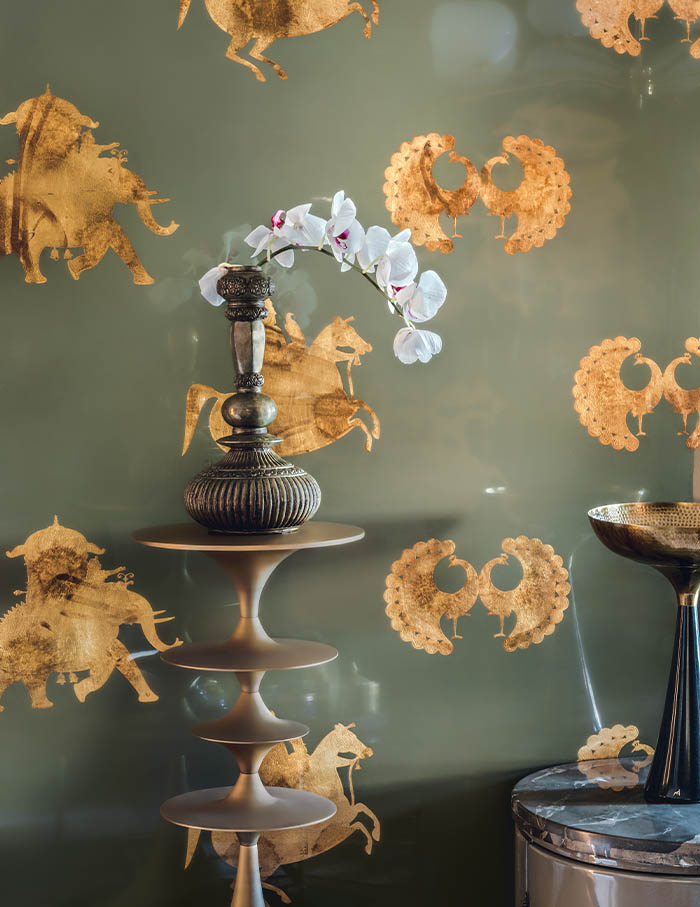 Balance for me is not in muted tones and everything being in sync but in contrast which could be in the form of colours, accessories, geometry, etc." Illustrating the idea is the Meera Room on the first floor that is designed for Meenakshi to host her guests. "Meera is a spin on the names of the owners' — Meenakshi and Rahul. It's also a metaphor since the owners are Krishna devotees and who better represents devotion to the Lord than Saint Meerabai?" ponders the architect.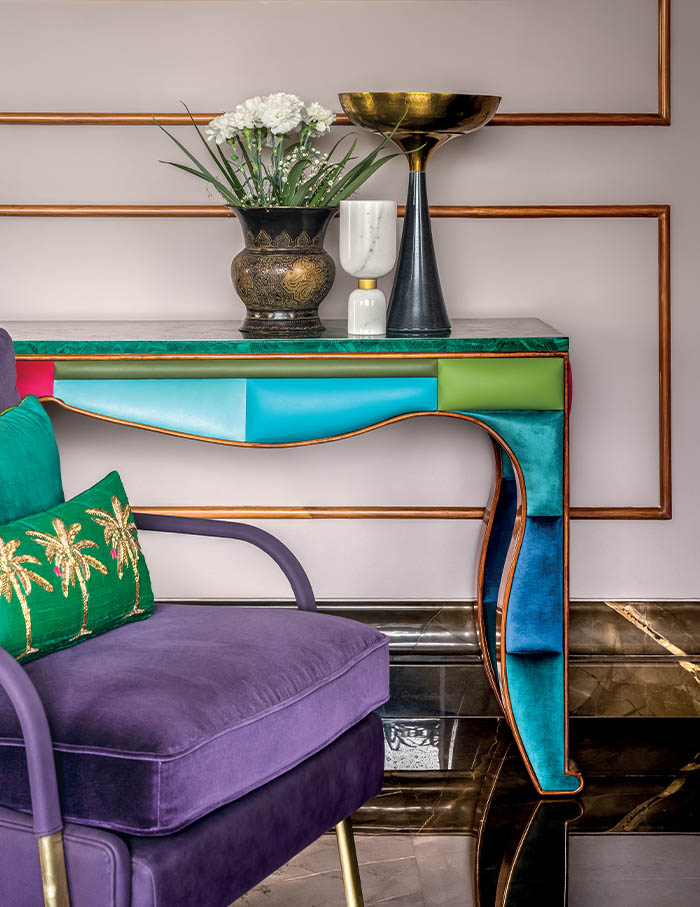 Painted in blue, one may assume that the colour is derived from the Lord's dusky skin as popularly represented in his portraits. But Garg mentions yet another narrative that shaped the space. He explains, "I wished to follow a blue theme to celebrate the nuances of blue pottery. It is crucial to Jaipur as it has been a part of our culture and trade.The walls are adorned in customised wall art by Shami Banoo Sharma, a miniature painter.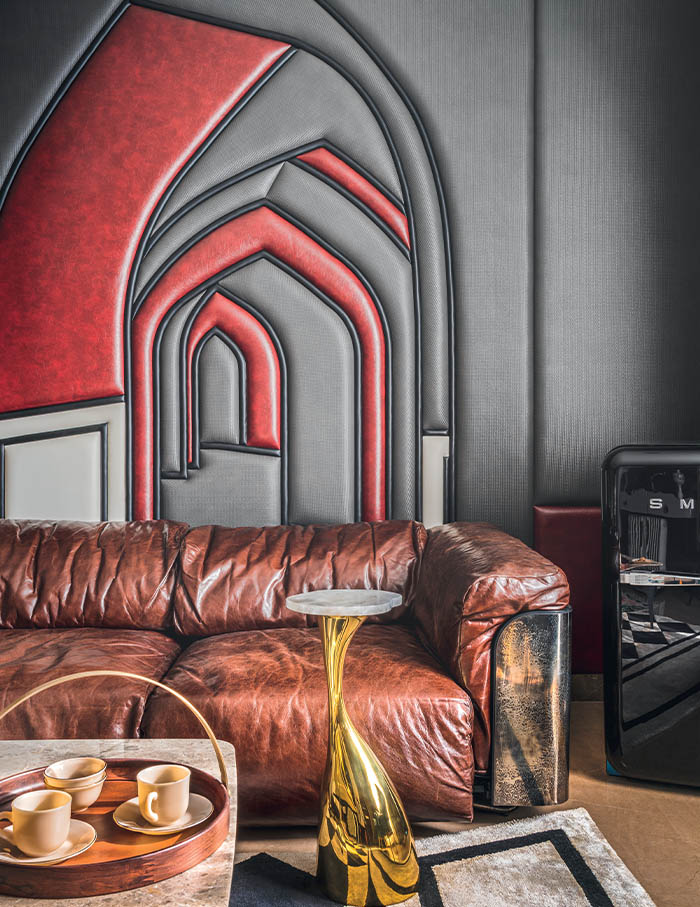 The space inspired by Krishna Bhakti is graced in scaled up versions of miniature paintings depicting Mughal women frolicking around water bodies. And to this beautiful disparity, there existed another layer of contrast, of the women who used the space. "At one of the kitty parties, I saw these strong modern women having a gala time. They resembled the ladies in the paintings but in a different avatar — a new world with a traditional backdrop. This is what I want to celebrate and bring to the fore; the old and the new; the contrast and the rootedness," elaborates Garg.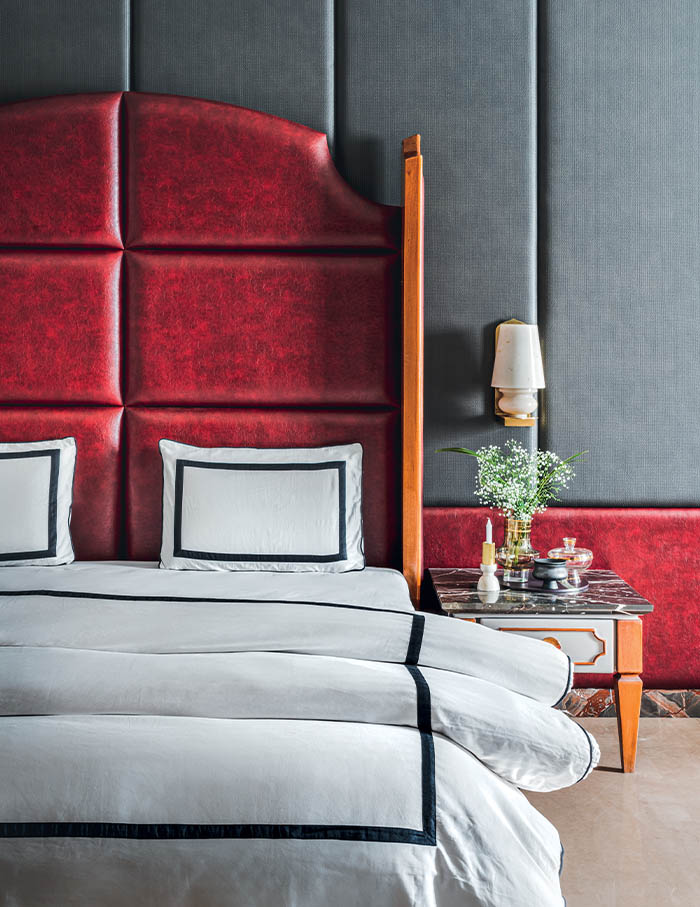 Post the COVID-19 pandemic, even as lockdown restrictions eased in their city, the family preferred using the house over stepping outdoors.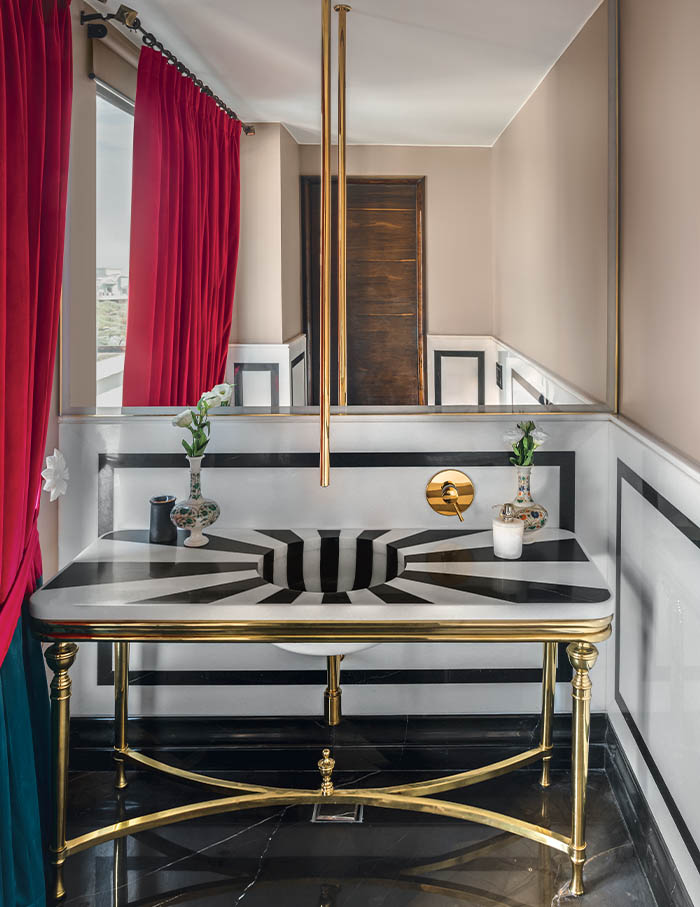 The homeowners are quick to quip, "Shantanu spoiled us completely with this home. Every nook and corner of the rooms have been privy to us making beautiful memories with our children. We have had our parties and our times in peaceful solitude. To which Garg concludes, "I follow them on social media to see what they are up to in this home and there is no bigger joy than watching them use every corner with as much gusto and fulfilment!" 
You may also like:  A sprawling Jaipur home crafted by Shantanu Garg