Homes
Design alchemy: A fusion of cultures in Central London home by House of Sui Sui interiors
OCT 23, 2023
| By Maheshwari Vickyraj
Giving birth to a unique style in a delightful alchemy is this apartment crafted by Creative Director & Founder, Melissa Bolivar, of House of Sui Sui Interiors. Nestled in Central London and styled by Daniela Jurado, it pulsates with excitement and innovation, fusing the opulence of Indian tradition with the minimalism of Japanese all while being kissed by contemporary British colours and materials. A fact that Melissa shares with us, "The space used to be an artist-in-residence studio in the early 1900s, later converted into an apartment."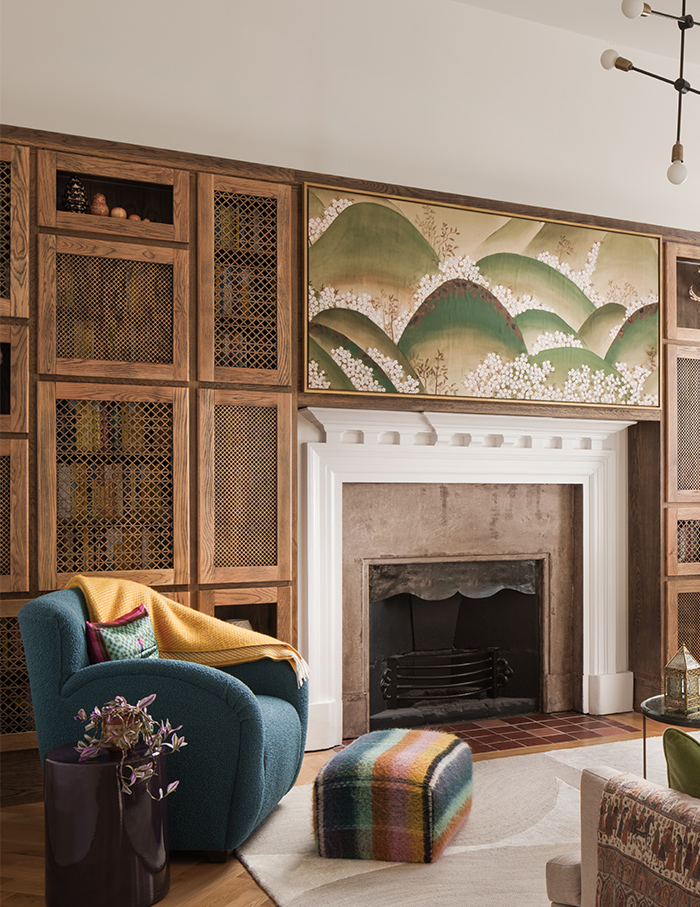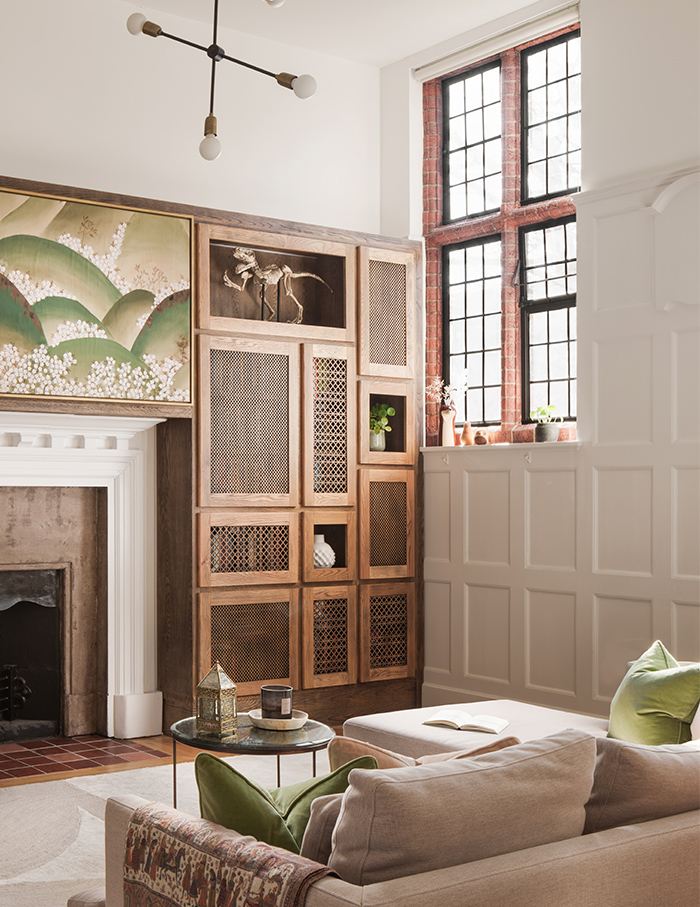 Crafting Timelessness
A treasure trove of memories was unveiled with the homeowner's wedding photos. A grand Indian spectacle amidst the enchanting landscapes of Slovenia—having combined the vivid tapestry of colours and emotions and being inspired with the design practice's previous work in Japan. The couple yearned for a seamless fusion of Japanese and Indian design aesthetics, and with the vivacity and exuberance of these two, the seeds of inspiration for the design journey culminated in an extraordinary home.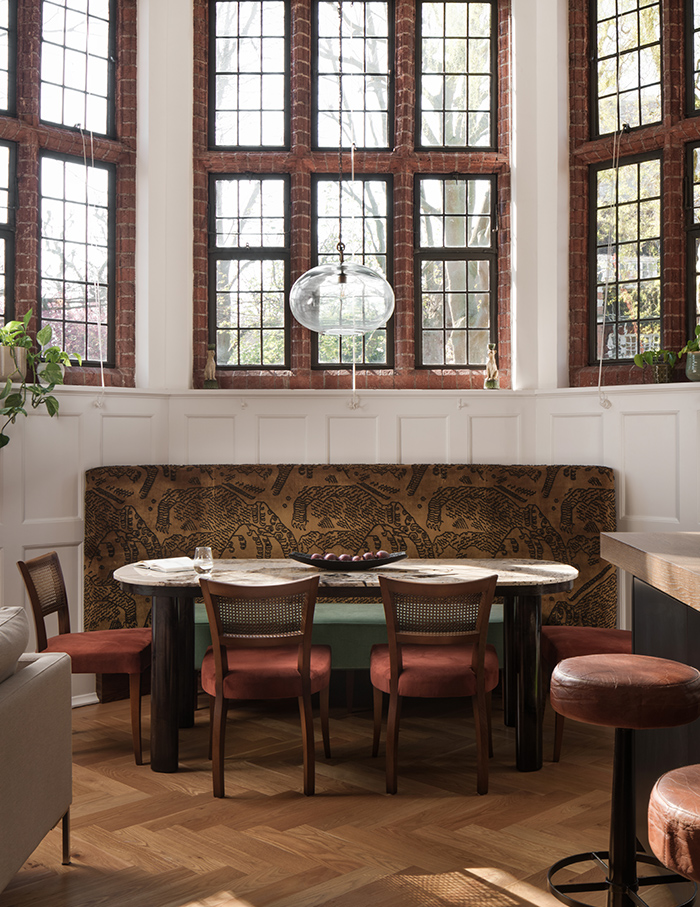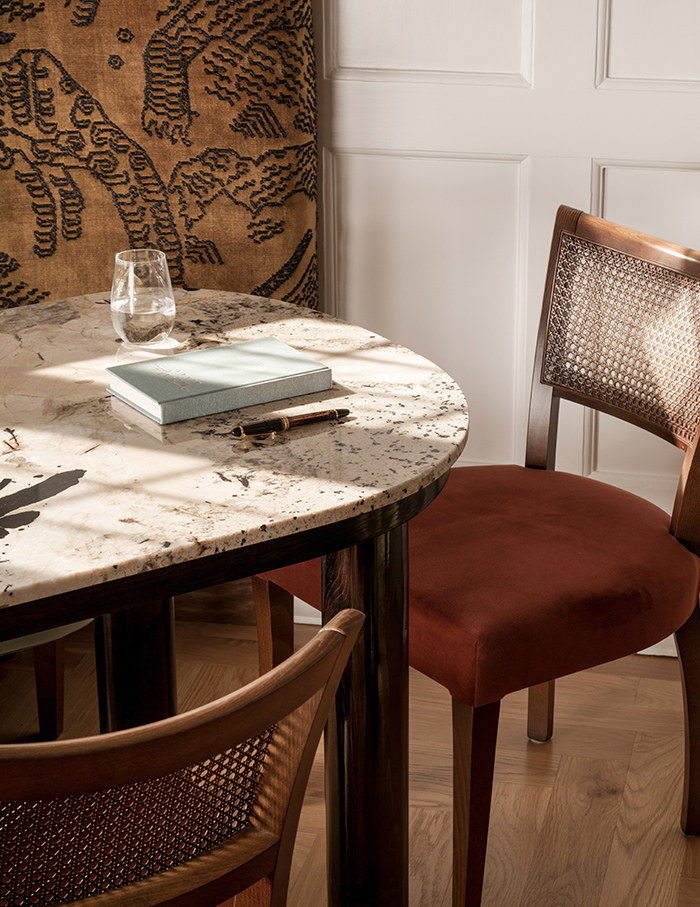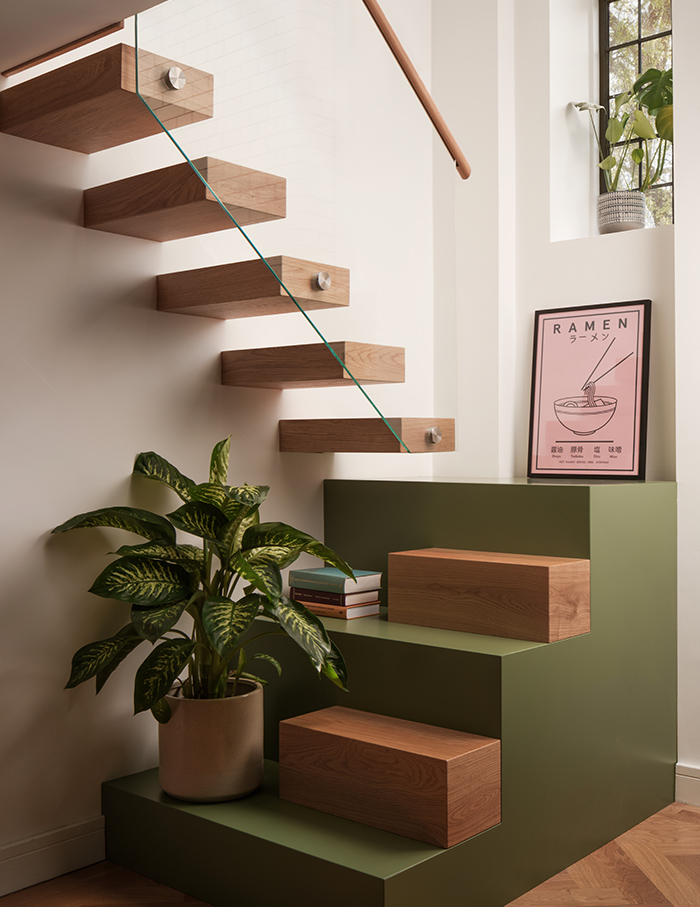 Journey through Indian and Japanese aesthetics
Enter this space, and history whispers through the walls. The entrance room, cocooned in subway tiles dating back to the 1900s, retains its original charm. "Unable to disturb these time-worn relics, we crafted a bespoke freestanding marvel, a masterpiece of joinery adorned with an array of jackets," explains Melissa. 
A rich, regal plum hue envelops the corridor in dramatic elegance while enormous Japanese lanterns hang, casting a warm, inviting glow. To the right, boasting a minimalistic design with hints of luxury, the master bedroom beckons. A sanctuary of double-height ceilings painted in a delicate, soothing pink, while gilded cherry blossoms by de Gournay adorn the walls, creates an ambience of dreaminess and tranquillity. A built-in headboard, inspired by Japanese simplicity, is upholstered in soft pink velvet, punctuated by vibrant red bouclé cushions.
Across from the bedroom lies a charming dressing room, featuring the same pink hue, a bespoke Japanese-inspired built-in wardrobe, and exquisite wallpaper adorned with Japanese cranes.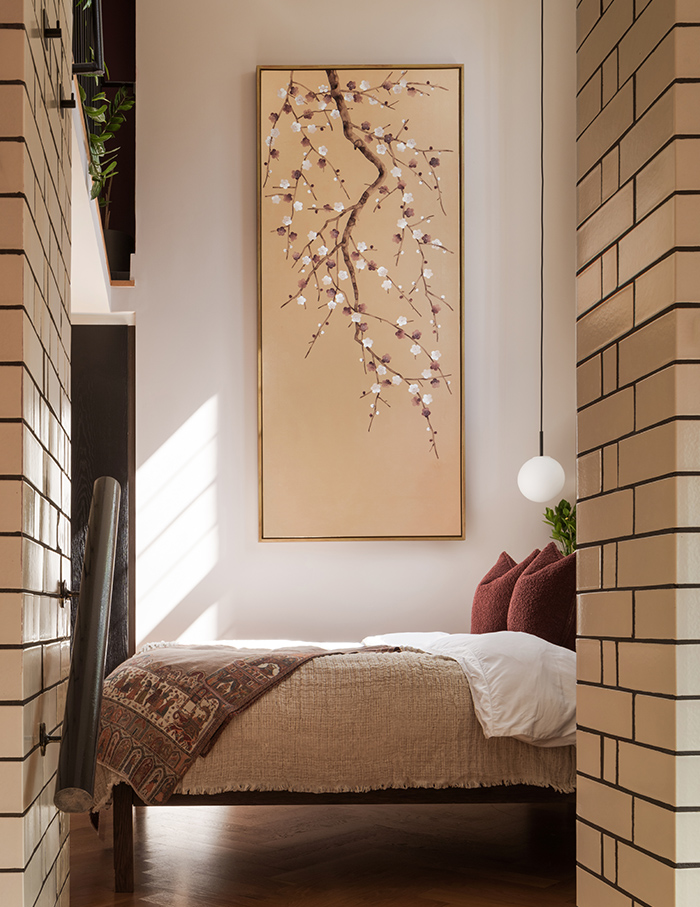 Stepping into the living space; the essence of Indian heritage takes centre stage.  Adorning the walls is de Gournay's "Kiso Mountains" hand-painting, a stunning depiction of Japanese green landscapes, perfectly harmonising with the oak shelving. At the same time, a teal bouclé armchair from House of Sui Sui and a bespoke mohair tartan stool offer a touch of eclectic flair.
In the dining area, an Indian-style built-in bench, dressed in Dedar's "Tiger Mountains" fabric, maximises seating in the bay window and a bean table in Patagonia marble complements the space seamlessly. The kitchen island, disguised as a table, conceals the hob and sink beneath its surface, adding a dash of clever functionality.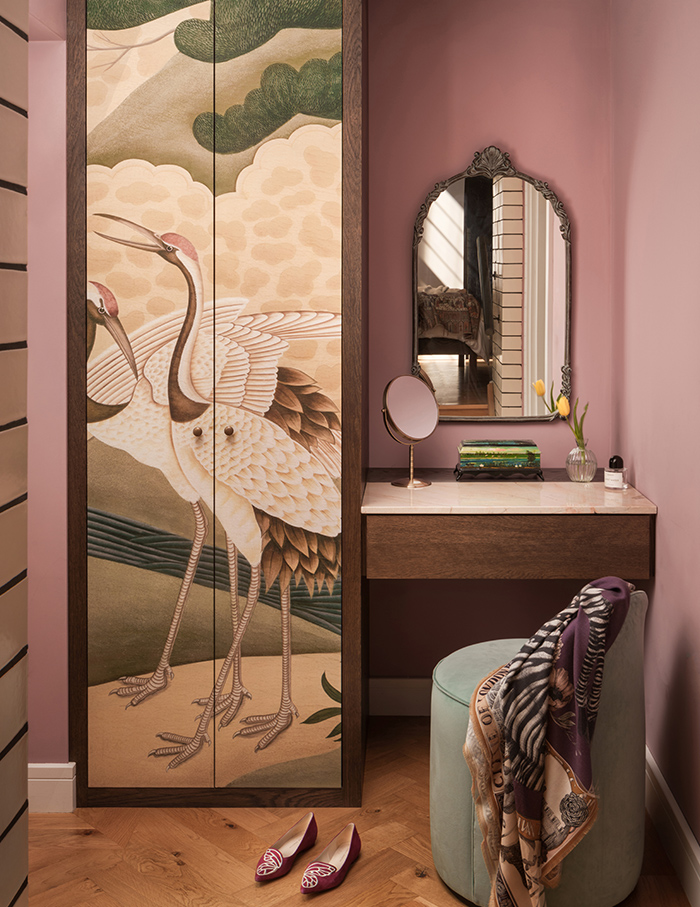 To culminate, the pantry is designed with a burst of electric YSL blue. Bespoke cow and pig floor tiles inject a playful touch, while Calacatta marble serves as a soothing backdrop. 
The Masterful Design
The material palette envelops in warmth, where wood takes centre stage and hand-painted, nature-inspired artworks grace the home like whispers of the wild. The colour scheme used is a soothing symphony of muted tones, inviting serenity into every corner. Yet, it's the carefully placed bursts of colour that punctuate specific areas, adding both a sense of calm and a visual delight that beckons exploration throughout the house.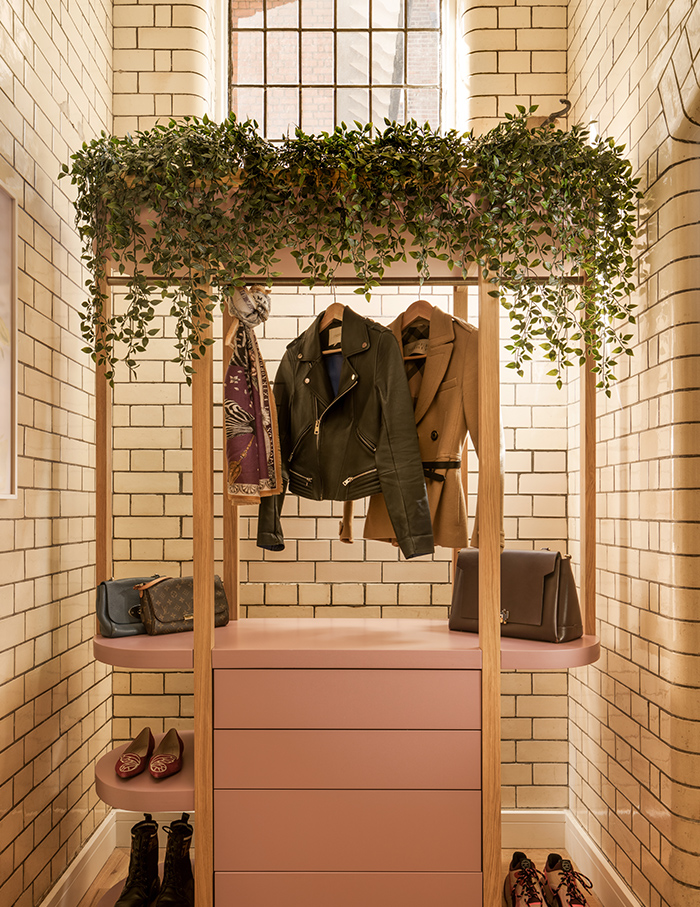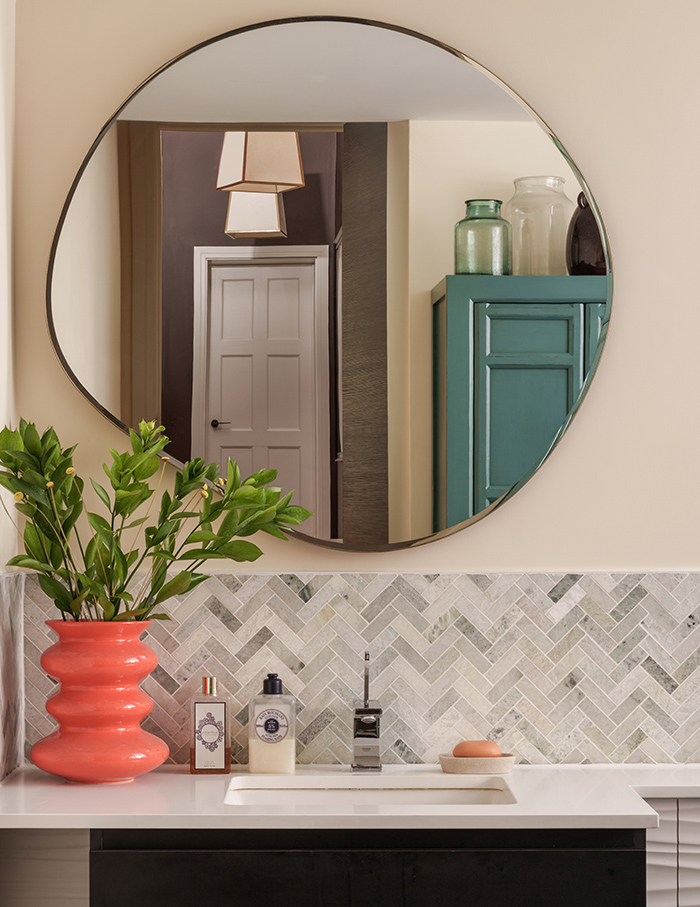 What Melissa fell in love with 
 Embracing the belief in pushing design boundaries while sparking inspiration with the aim of empowering individuals to express their authentic selves within homes is an extraordinary odyssey that came about in this Central London home.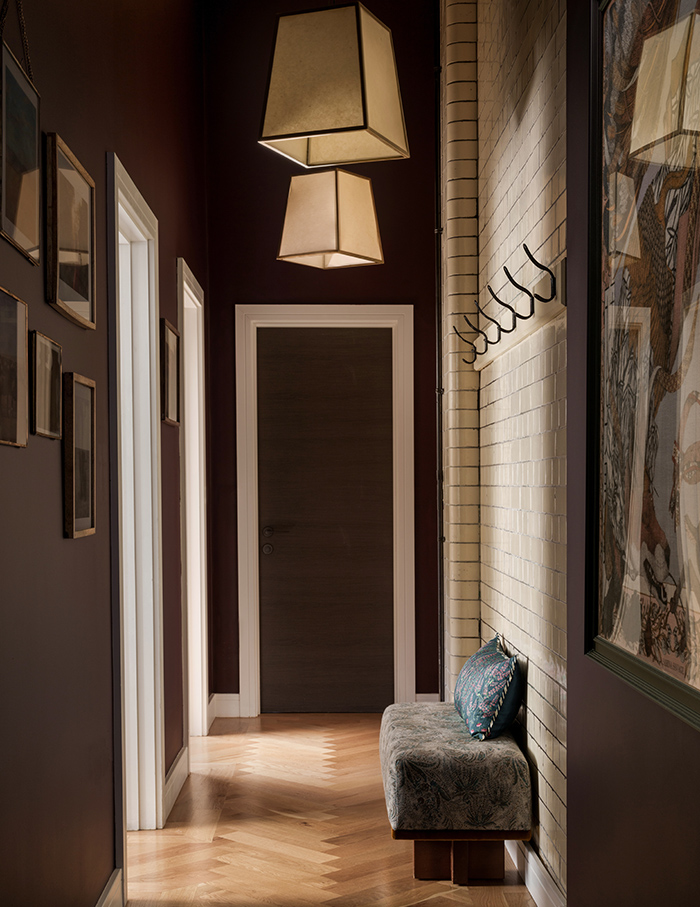 Following her design philosophy of crafting spaces that evoke genuine well-being and authenticity, it became an adventure to connect with the client's culture while also drawing inspiration from previous works in Japan and infusing it into this architectural embodiment to make it unique.
"I  definitely enjoyed designing the Indian lattice detail joinery piece because it was something that was so niche and I've never seen before in any house in London," explains Melissa.
You may also like: Of tropics and London— Temple Town crafts this Kochi home with a dramatic dash of clean white, crisp green and bold red