Homes
A blue breeze engulfs this Bengaluru home deftly put together by Swati Seraan of By The Riverside
JAN 14, 2022
| By Pratishtha Rana
Delicately bundled up with a passion for design and a vision to create a private sanctuary for a family of four, this Bengaluru home nestled in a gated community in Whitefield is birthed with an enthralling vocabulary of its own.
Christened The Grand Finale Home, a name that makes you agog and intrigued to unravel the story behind it, this 1,800 sq ft residence is authored by Swati Seraan, Principal Designer and Founder, By The Riverside.
Although the space emanates moods galore but the very foundation of the residence is underpinned with one strong, intuitive design approach that spells unity and harmony, be it through decor, colours, textures or the family's sense of leading a lifestyle—that includes the couple Priyanka and Kishore and their daughter and son, aged 18 and 14 respectively.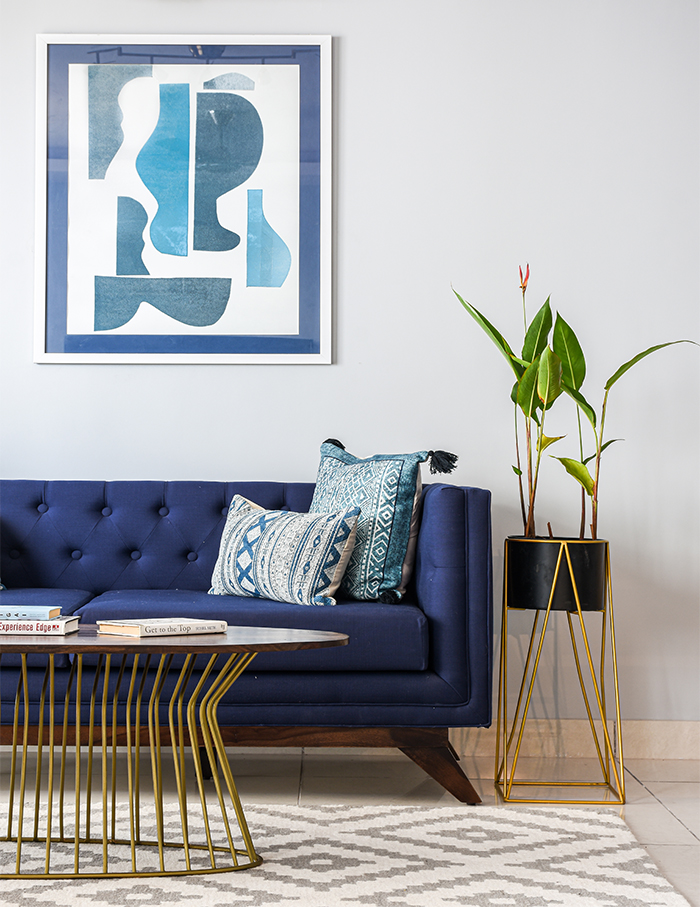 With the kids moving abroad for career aspirations, the name The Grand Finale Home finds its roots in the idea that the parents will inhabit this space as a final home. "We'd like to think of it as a home that allowed Priya and Kishore to make the bare canvas their own, a warm space for the kids to visit over the holidays and for them to relish across the year," muses Seraan.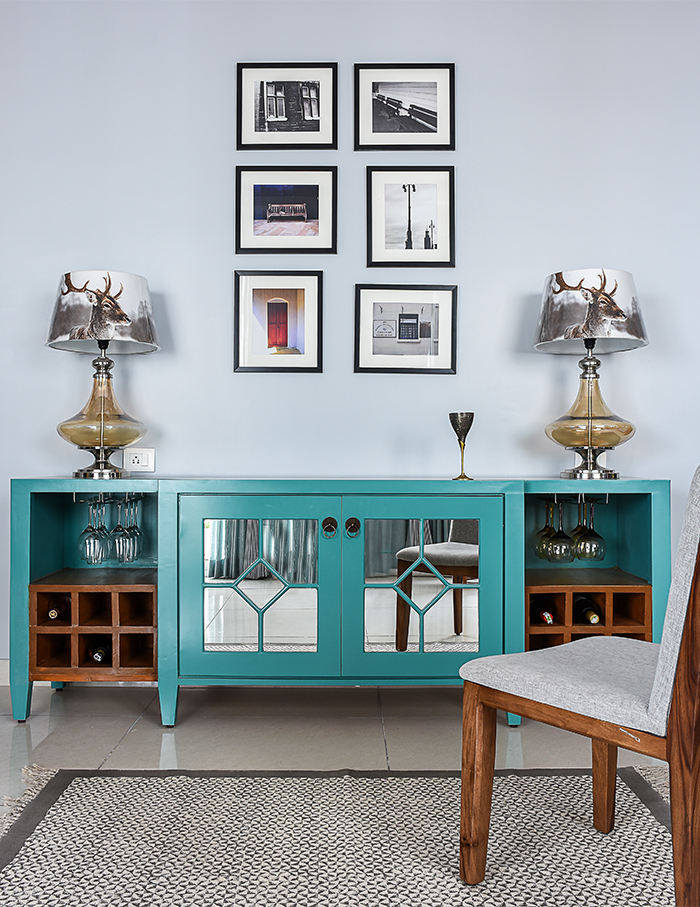 Premised on a brief to imbue modernity, minimalism and layers, this home is awash in myriad tones of joyous blue with cameo appearances of saccharine pinks, yellow and beige so much so that this upscale address looks like a poised yet breezy frame right out of a hearty summer movie. 
Inventive inclusions of lighting, handpicked art and woodwork throughout the home in the living and lounge area, dining zone, bar, kitchen and master bedroom readily add a sense of warmth. The designer sought to establish design details that were not solely aesthetic but equally functional in everyday life.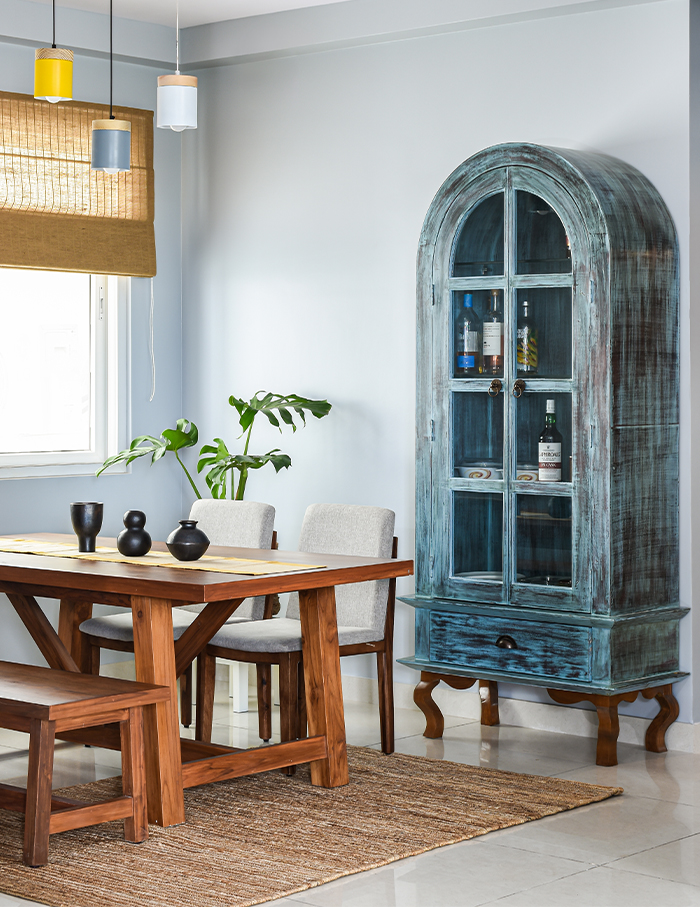 Keeping in mind that the dwellers are dedicated hosts and often make time to socialise as family, the living zone is sectioned smartly, sans any partition, into two key functions as a formal entertainment space and a TV lounge. Cosy wingback seaters and sofa in deep blue hue are teamed with a light-toned rug and brass coffee table in the entertainment area while a powder blue sofa romances a live-edge coffee table on the other side.
A sublime, blue abstract art print hangs on the wall with a quiet but powerful demeanour binding the space together at once.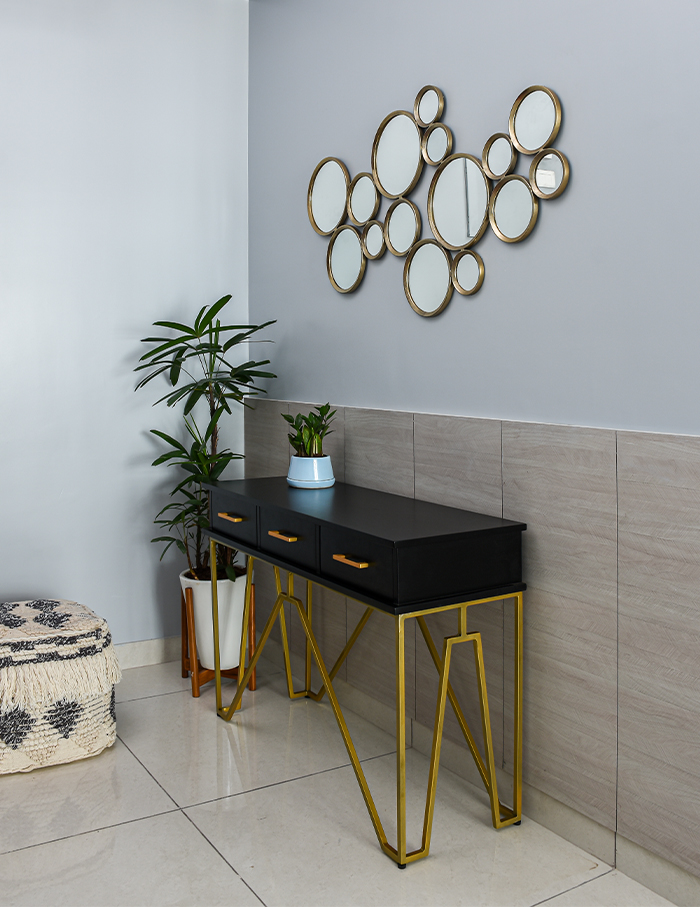 Ambling a few steps indoors, a bespoke bar credenza wrapped up in a vivid teal tone fashions mirrored shutters, beautiful fretwork and custom done teak-lined brackets to accommodate the client's tipple collection. Glance right up, the wall behind exhibits a collage of vignettes of cities around the globe by photographer Pallavi Krishna.
Brimming with the zest of warm meals and warmer family conversations, the dining corner strikes perfect chords with By The Riverside's design sensibilities. A fluent spread of teakwood table, chairs and bench speak of rustic modernity that synchronises further with the placement of the jute rug and an alluringly antiquated crockery cabinet with glass infills.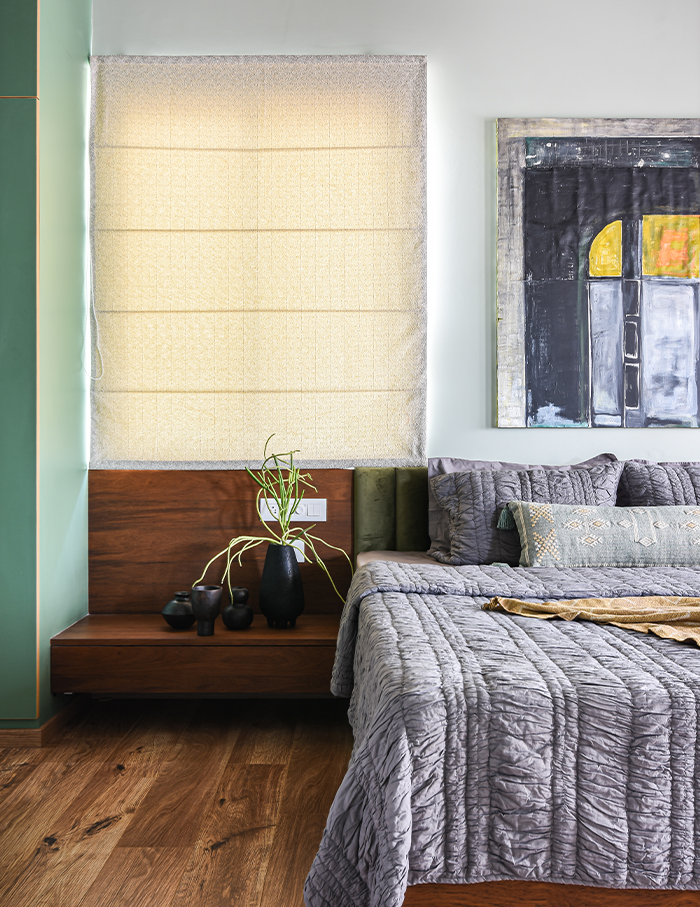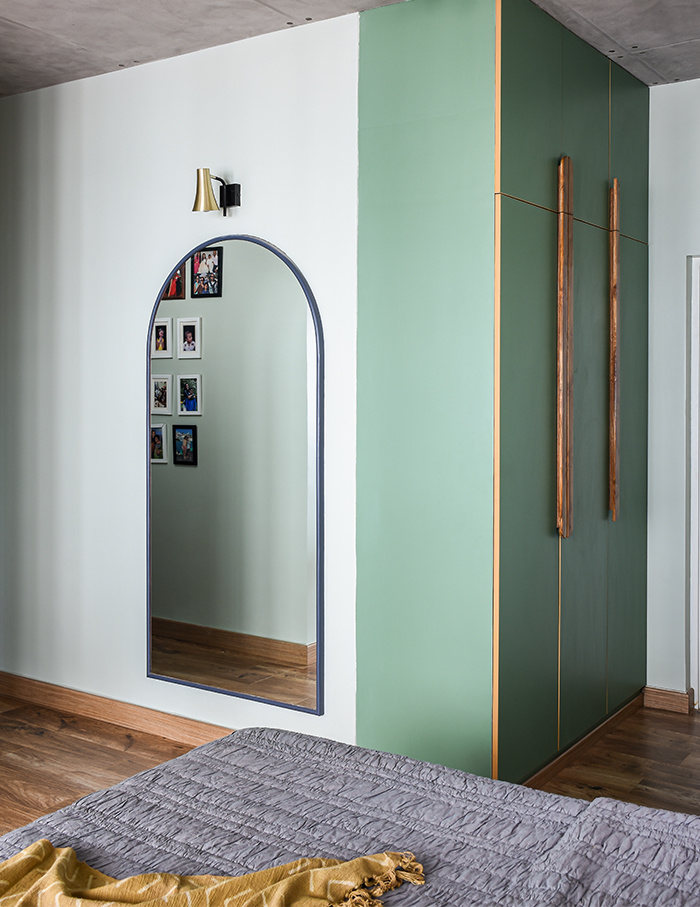 The daughter's bedroom finds life in earthy tones with a flush of salmon pink overall and white-toned furniture around. Adding a sense of personalisation, the ivory desk and wooden bookshelves are accompanied by the wall behind stamped with prints of musicians the daughter admires.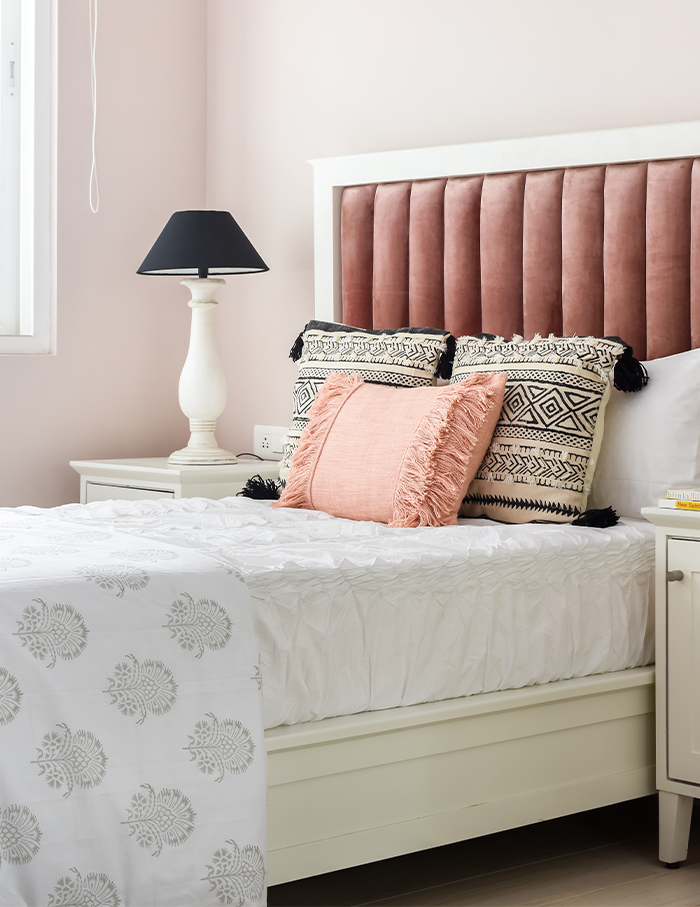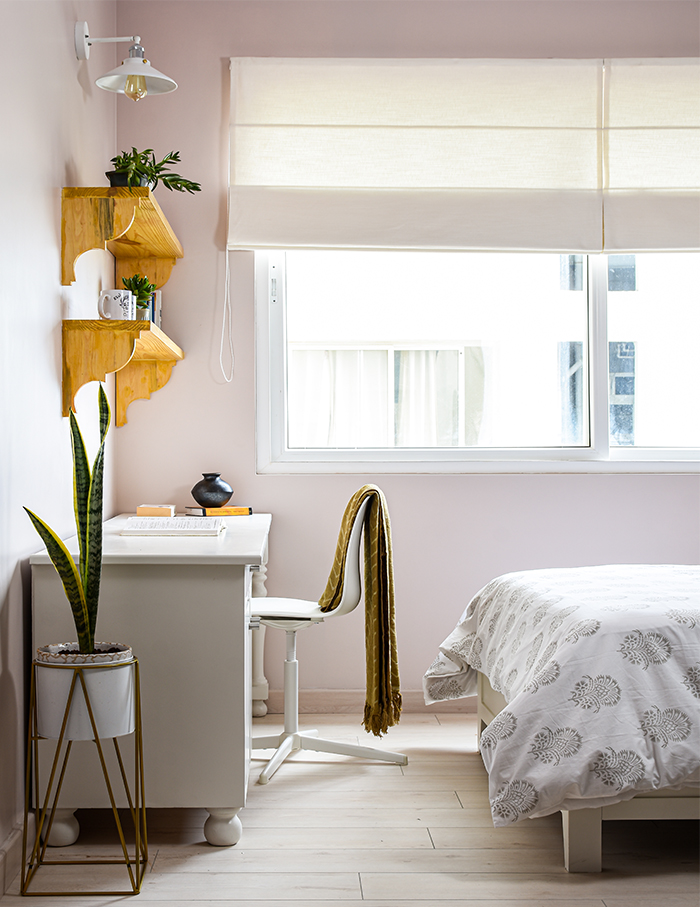 Pronounced with the pale blue and white wallpaper, the son's bedroom is rather sober in its choices of colours and textures.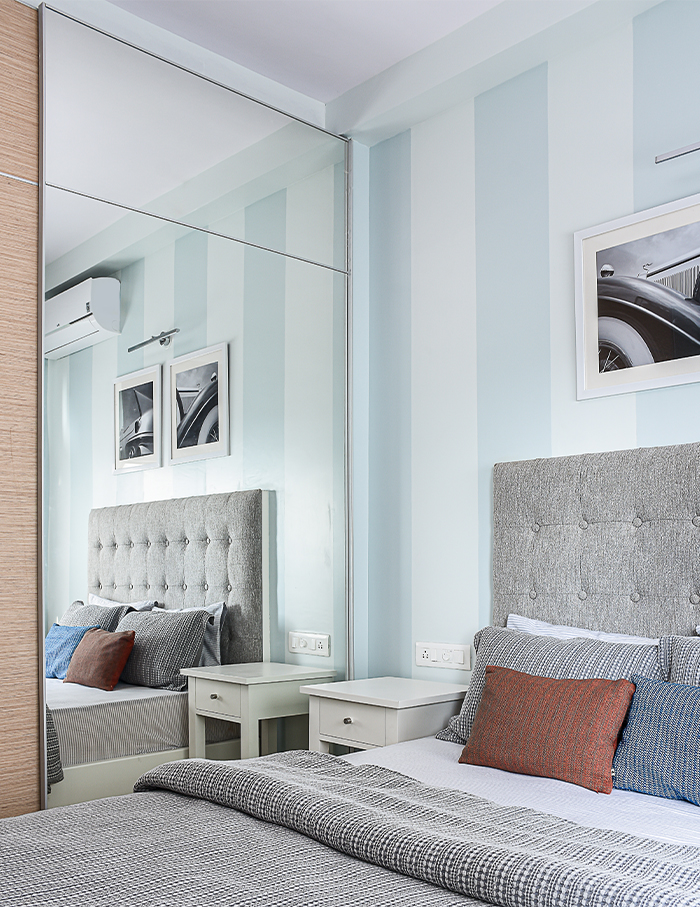 To ensure the room is always splashed with lots of daylight, a sliding shuttered wardrobe is placed with mirror-lined panels that amplify the light and volume of the otherwise area-restricted space.
If you loved delving deep into this dreamy Bengaluru home, do check out this Juhu home by Kavan Shah filled with light, lush greens and vintage finds