Bedroom
6 kid's bedroom ideas straight out of a story book that uncover the whimsy of pastel colours
MAY 11, 2023
| By Dyumni Pandit
Subtle and elegant, pastel tones haven't always been the first colour choice for kid's bedrooms. But we say, pastels are definitely not a palette to be overlooked. The scope of experimentation and calm these hues bring to a child's room can surprisingly elevate the mood of the space. In fact, the secret to using pastel colours in kid's rooms is the refreshing hit of whimsy it brings along. ELLE DECOR India curates the perfect edit of the most delightful kid's bedroom ideas where pastel hues of pink, blue, yellow, and green take the centre stage. 
Spoiler alert- these rooms could be right out of a story book! 
Subtle and playful with AN Designs
Tiny, colourful knitted flowers lay sprinkled on the cosy comforter of this vintage-inspired, modern kid's bedroom. With some pastel colours for subtlety, a bunk bed for jest and the childrens' art on the walls as a common ground, AN Designs accommodates two distinct bedroom aspirations of a nine-year-old girl and 12-year-old-boy sibling duo. Although the room is cosy, it isn't obstructive; it's comfortable and warm. The study table and other furniture are placed neatly against each other to form an orderly symmetry and make the room feel more mature for the boy. While strings of lights, an encompassing pink, and a family of soft toys makes it more playful.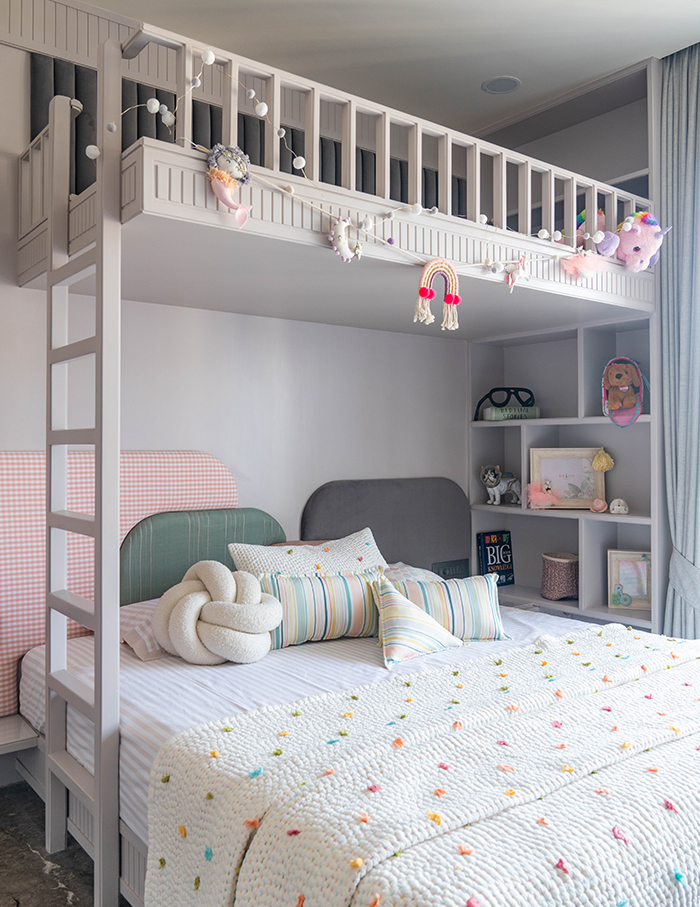 Timeless and functional with Frolik + Co 
Birch ply with a natural wood finish, White Pu, and Bamboo sofas. Natural elements come together in all forms in this unique and subtle kid's bedroom by Rootu Kinarivala, Designer and Founder, Frolik + Co. Polished wood stands against the quirky green wallpaper that draws imagination to the beauty of a forest. The spacious room uses minimal furniture to make it breathable and uncluttered. It accommodates a small table with small wooden chairs, the perfect place for some playdate games. The high ceiling calls for a wooden bunk-bed that delightfully attaches to a slide. A couch sits under the bed with an array of knitted cushions and soft toys.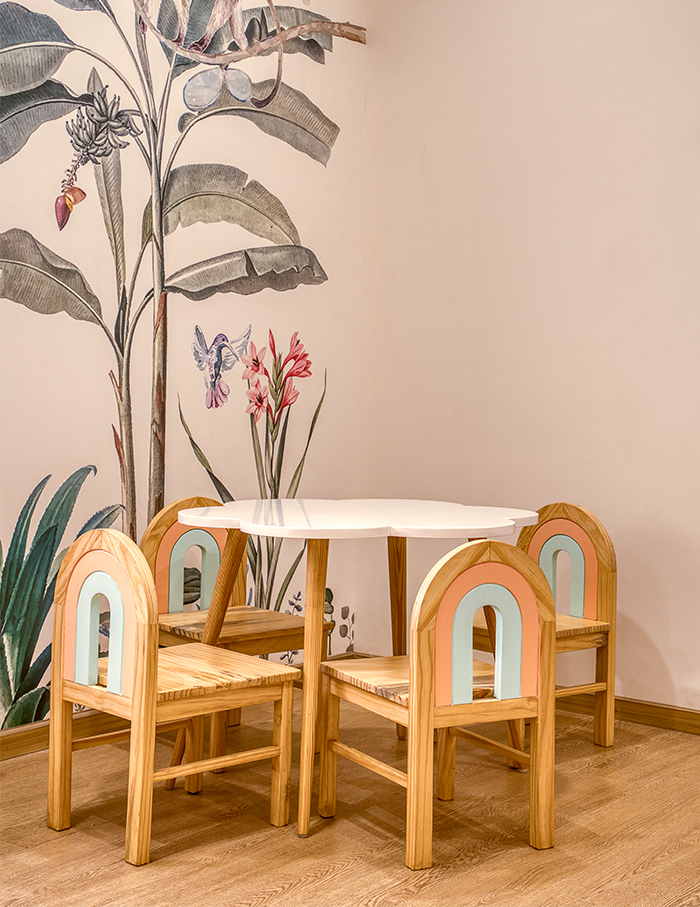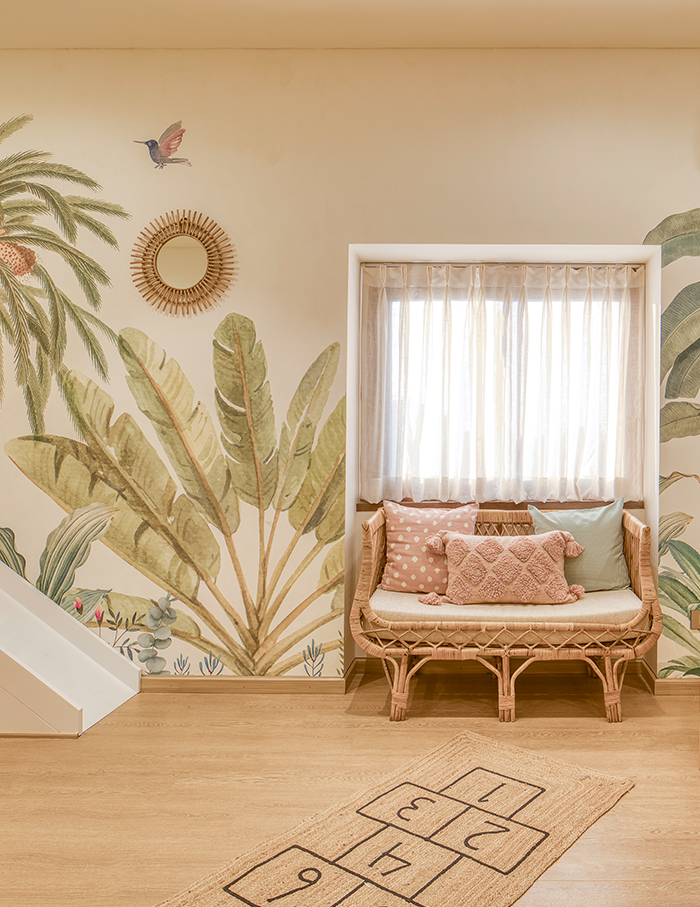 Simple and artistic with Studio Gulab 
Green canopies nestle the wooden cot. Butterflies and hummingbirds fly above the crib as plush soft toys sit snugly in it. This kid's bedroom by Akshita Ladhani, Interior Designer, Studio Gulab embraces a realistic animal-themed wallpaper to make it cosy, comfortable, and playful. The minimalist aesthetic is a great way to allow the children to move around in the room and make it look elegant simultaneously. Akshita adds some moulding and beading to the wardrobe to add some chicness and dresses the windows in sheer cotton curtains with a stripe pattern to complement the wallpaper.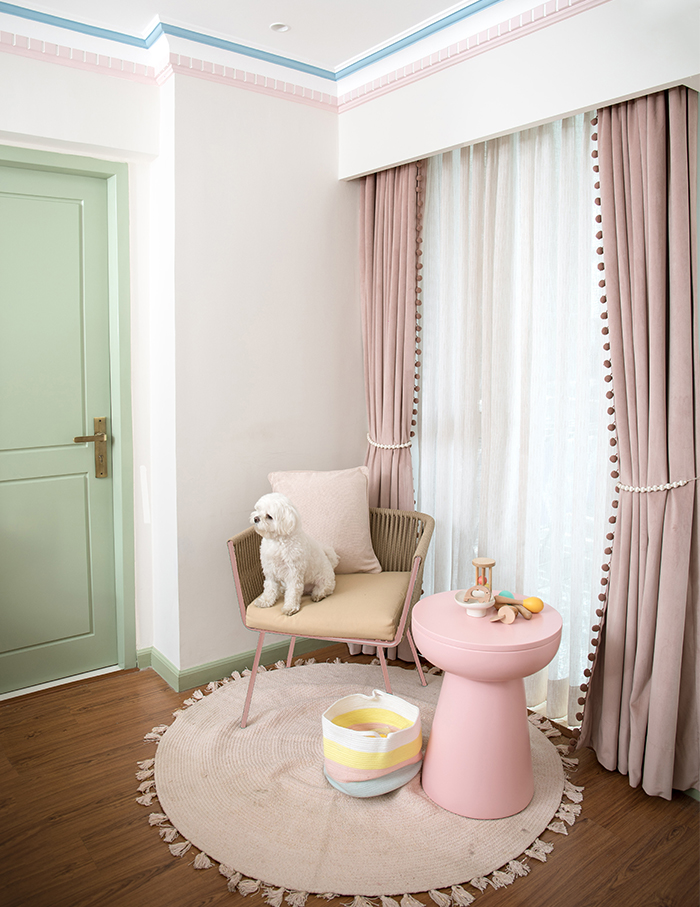 Tropical and paradisiacal with Furbishy 
It's every child's dream to live in a treehouse amongst animals. Tejaswini. P, Founder, Furbishy, fulfils this reverie by designing this mellow but fun kid's bedroom that's a welcome to the (mighty) jungle. A wooden bed, resembling a tree house, sits against a whimsical backdrop of hand-painted cartoon animals that peek through creepers and walk on (astonishingly) strong branches. Tejaswini uses bamboo screens as windows and natural materials in rugs and storage bins to enhance the theme. The room adopts a soft colour scheme to imbibe some lightheartedness and also accommodates a small library. It uses various elements to enhance the children's' sensory experience subtly and playfully.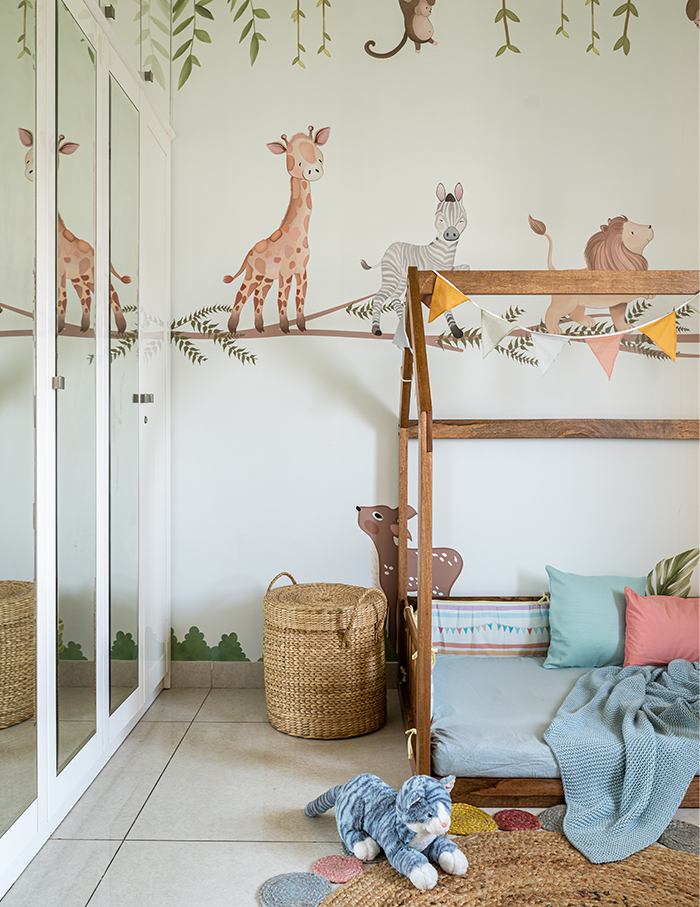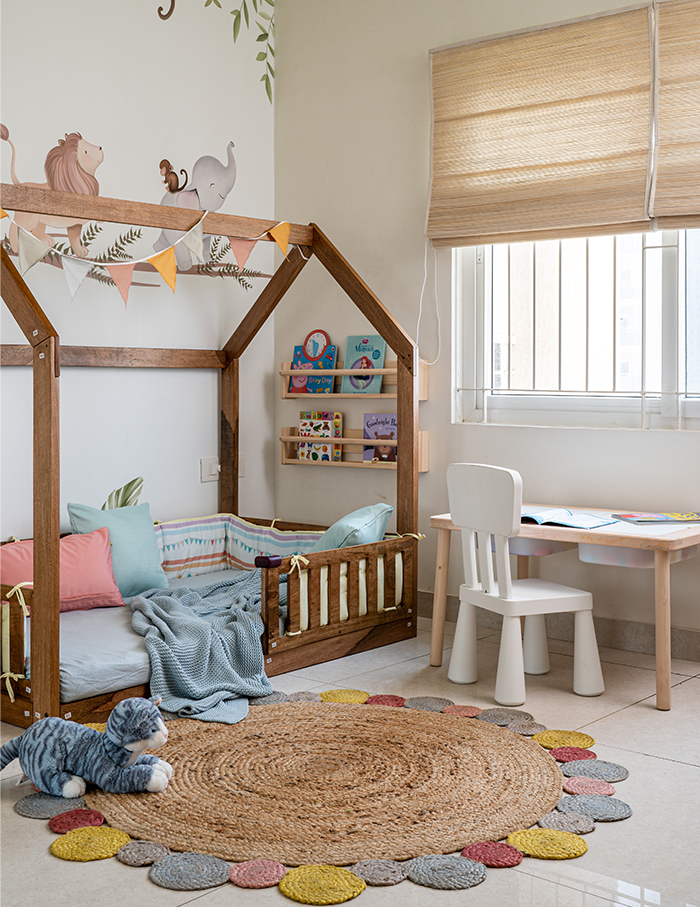 Vivid and quirky with Inari Atelier & Architecture Saga 
This Bengaluru home adopts a minimalistic style with a vivid, individualistic essence in every room. Keeping up with the theme is this fun kid's bedroom designed by Deekshitha Sanjay and Ruthvik Prakash, Principal Architects, Inari Atelier & Architecture Saga. Pastel shades of blue and pink complement each other as vibrant-coloured doodles adorn the wallpaper. A tropical rug adorns the floor to add to the aesthetic. Simple and casual, the room leaves a lasting impression with its bright but subtle tones.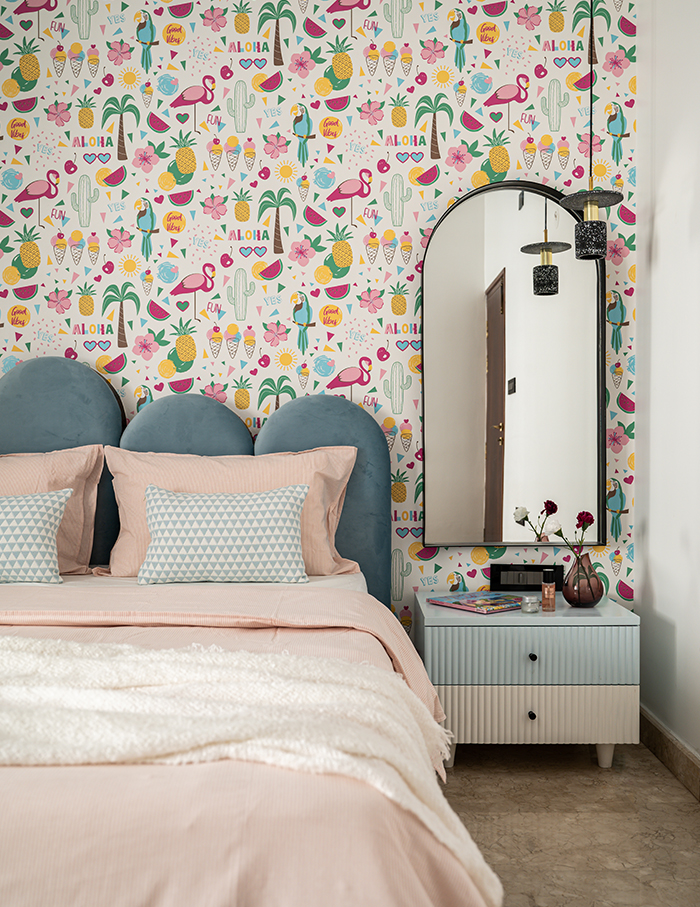 Unique and curious with Smartsters 
Who says puzzles are the only way to activate your child's inquisitive mind? Furniture and decor in a child's room piques their curiosity before anything else. And so, Bikram Mittra, Design Head at Smartsters, consciously curates aesthetic, multifaceted furniture, furnishings and decor accessories to make learning fun and comfortable. Vibrant colours of the furniture contrast the pastel tones of the home's interiors as the unique shapes add playfulness.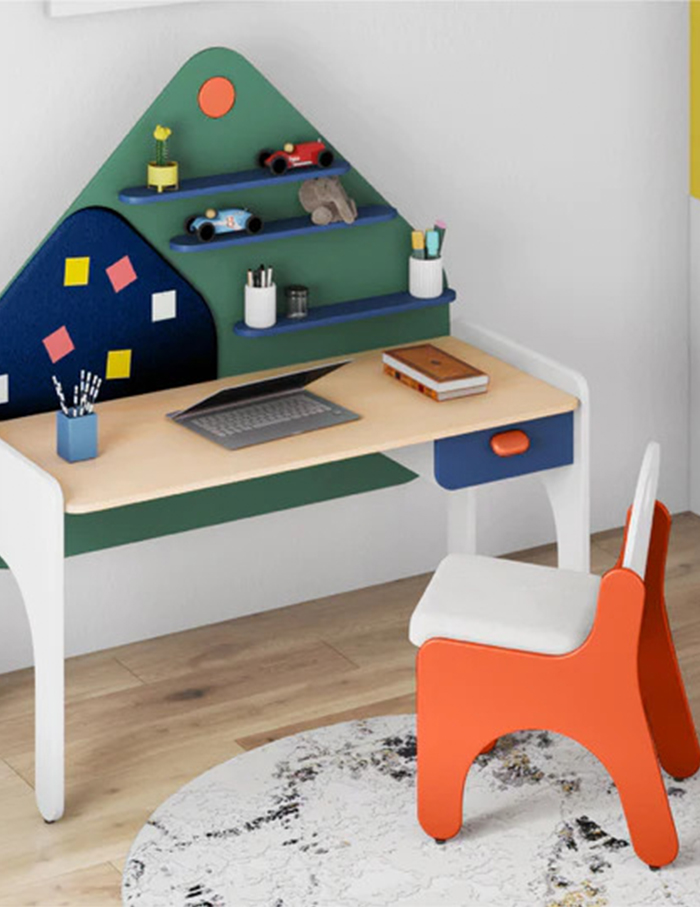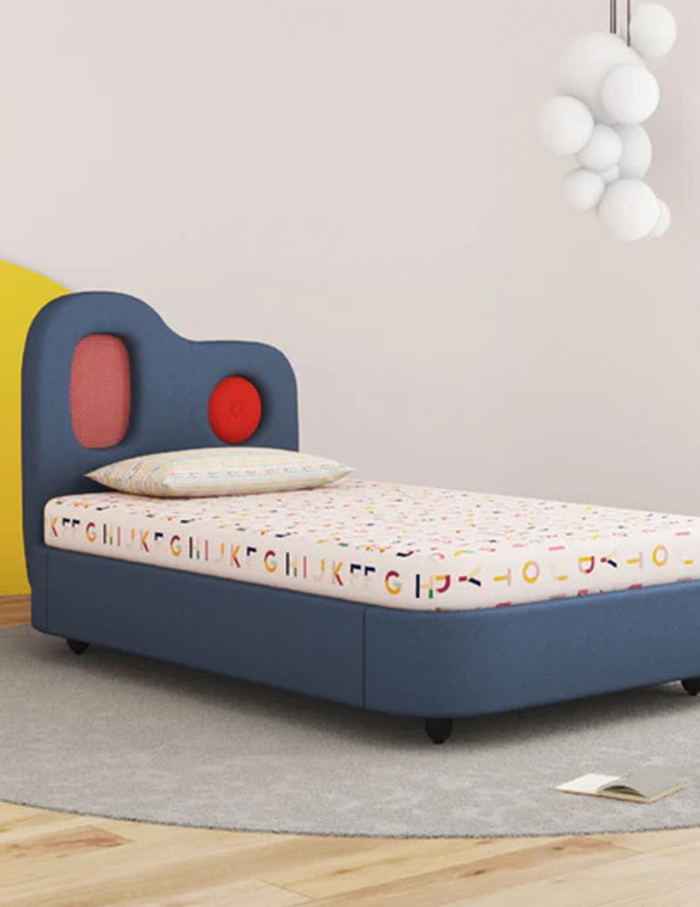 For more inspiration on kid's bedrooms, read: ELLE DECOR India reveals the best fantasy themes for kids bedrooms