People
5 questions with Gaurav Malhotra of Hansgrohe India charts the transformational rise of modern, wellness-centred bathrooms
OCT 11, 2023
| By Hitakshi Nagda
As we decompress from a weary day and make our way towards the shower, losing all the unsettling worry away, we always seek for a rejuvenating experience. Hansgrohe India is known to channel this escapade with a whiff of progressive technology and lifestyle elevations, that makes the bathing experience indulging, gently submerging into a habitat of sustainable design. Within this context, ELLE DECOR India jumps into a conversation with Gaurav Malhotra, Managing Director of Hansgrohe India, on how he views the motif of bathrooms, as a space for therapeutic relaxation, seamlessly blending with innovation and sustainability, soaking one in pure bliss.
On being asked about a bathroom design trend that he is currently inclined towards, Gaurav reveals,"My favourite bathroom design trend right now is biophilic design. It brings nature into the built environment, reducing stress and improving well-being. This trend resonates with people because it creates a sense of harmony and tranquillity, making the bathroom a true oasis of relaxation and rejuvenation."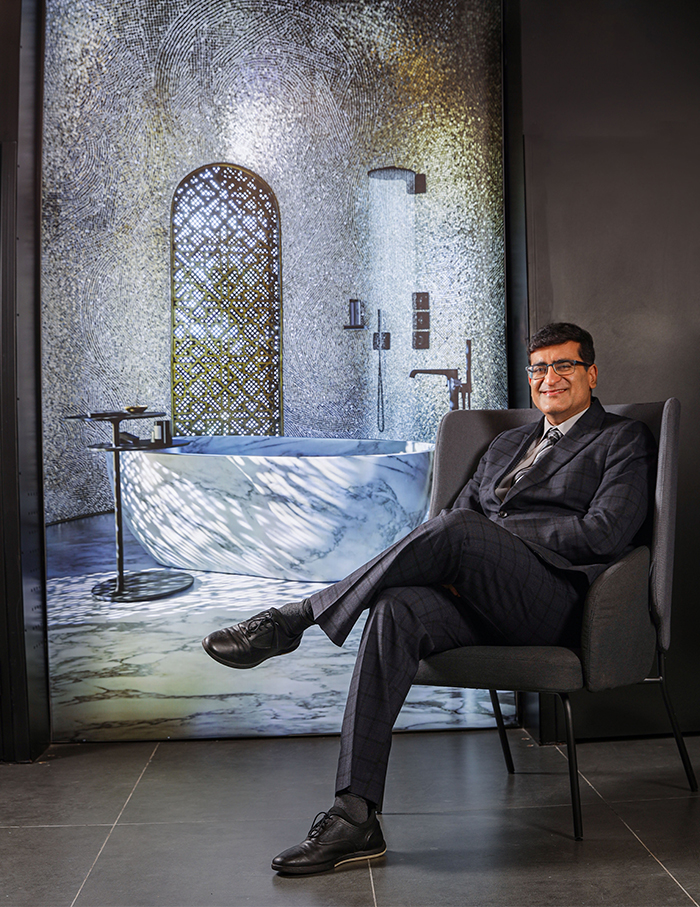 With bathrooms becoming a space for rejuvenation and recreation, what will the new collection bring with it?
At Hansgrohe, we firmly believe that bathrooms have transcended their traditional role as purely functional spaces. They have evolved into sanctuaries for rejuvenation and recreation, becoming the pivotal room in the home where one can truly unwind and find solace. We've observed a significant change in consumer behaviour – they no longer wish to assemble their bathrooms piece by piece, selecting individual bathroom products from various manufacturers. Instead, they aspire to curate complete and immersive bathroom experiences. In response to shifting consumer preferences, we are committed to offering holistic bathroom experiences that transcend individual product choices.
To cater to this demand, we've reimagined the bathroom as a canvas for an incomparable water experience. We no longer think in terms of individual product solutions; instead, we've elevated our approach, which now integrates ceramics alongside inspiring ideas, faucets, showers and accessories. This comprehensive approach allows us to craft perfectly coordinated, interactive environments that cater to our customers' unique tastes and preferences.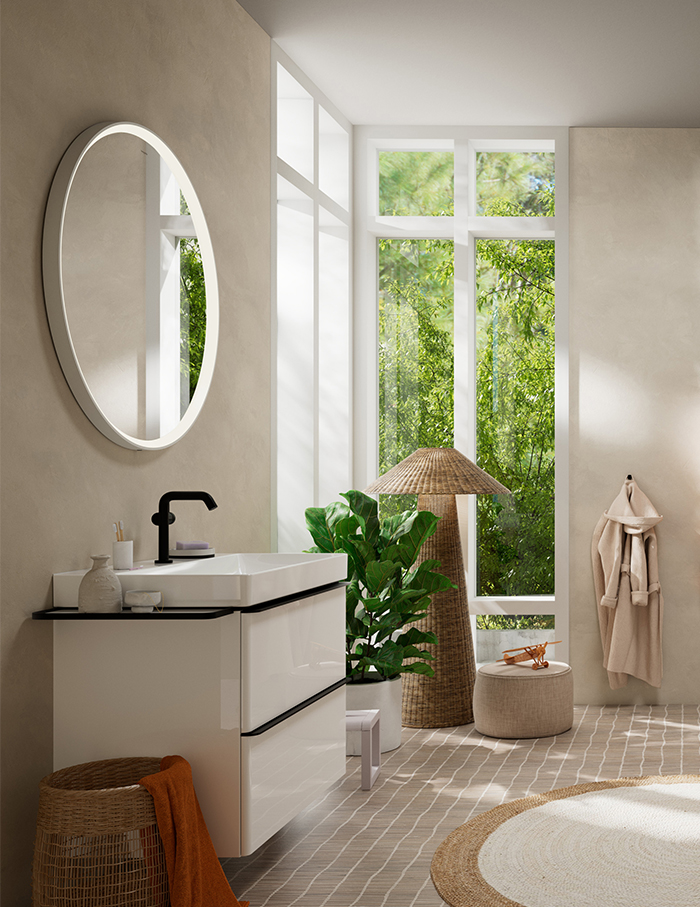 What design style are you drawn to while coming up with new pieces?
At Hansgrohe, our approach to design is guided by a fundamental principle that every customer is unique, with their own distinct taste and preferences when it comes to design. Therefore, we don't adhere to a specific design style. Instead, our design philosophy revolves around the idea that the bathroom should reflect individuality.
Our primary focus is on transforming our product installations into perfectly coordinated bathroom experiences. We place people's experiences at the centre of our design process. In our pursuit of design excellence, we aim for a balance that is both elegant and playful. We appreciate the importance of minimalism for a clean and uncluttered look, yet we also understand the desire for cosiness, where the bathroom feels like a welcoming retreat. Our designs seek to harmonise these elements, ensuring that our products can seamlessly integrate into a wide range of design aesthetics.
What is the intent behind introducing ceramic sanitary fittings to the Indian market?
The introduction of sanitary ceramics to the Indian market aligns with our commitment to offering our customers perfectly coordinated, interactive bathroom solutions that cater to their specific styles and needs. This is not just about individual product offerings; it's about providing a holistic bathroom experience that harmonises various elements. In our vision, ceramics, faucets, showers, and accessories seamlessly come together to create an unprecedented Hansgrohe bathroom experience. We understand that every individual and family has unique preferences, living situations, and spatial conditions. Our aim is to help our customers realise their dream bathrooms, based on their styles and needs, making their daily routines more enjoyable.
At Hansgrohe, innovation is at the core of our design philosophy. Our innovations feature timeless aesthetics, and clever functions, and are crafted from high-quality materials. This commitment ensures that our products are not only visually appealing but also durable and functional, contributing to well-thought-out bathroom concepts that enhance everyday life. Our focus on product quality and design allows us to cater to every family situation while upholding the well-known Hansgrohe standard of excellence.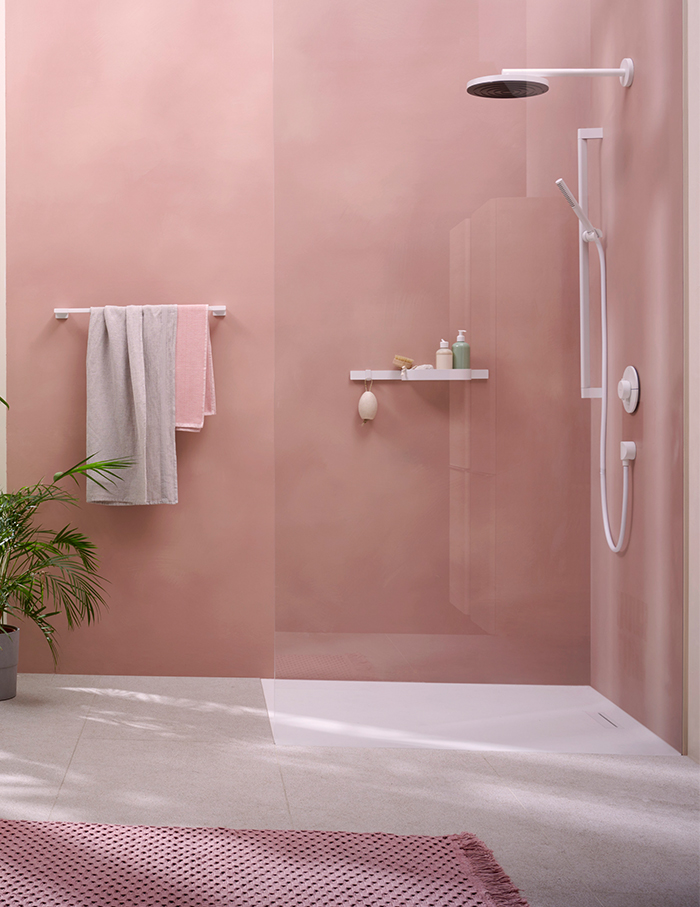 What are some sustainable elements that guide the new collection? And what strategies is Hansgrohe employing to expand its presence in India?
Sustainability stands as the cornerstone of our innovative new collection design. We recognise our duty to safeguard the environment, and this commitment is evident in every aspect of our product development. Central to our approach is the conscientious use of precious resources. Our products predominantly incorporate natural and recyclable materials, with ceramics being a prime example. This not only ensures durability and quality but also reduces the ecological footprint. In addition to material choices, we've embraced eco-conscious packaging practices such as plastic-free packaging for our wash basins and toilets is a testament to our dedication to minimising plastic waste, a pressing global concern. We understand that sustainability is not just about the products themselves; it extends to the lifestyle they support.
Our new collection's durability promotes longevity, decreasing the need for frequent replacements and thereby reducing overall resource consumption. Hansgrohe is strategically expanding its presence in the Indian market by focusing on delivering optimal bathroom solutions, emphasising on product quality, and fostering innovation. We've structured our product categories with a consistent timeless design language, providing endless possibilities for customisation. Additionally, we're pursuing category expansion to reach a wider premium audience while continuing to innovate, making our products the preferred choice among architects and designers. We're also working on expanding our footprint across India, addressing areas where we have yet to establish a presence.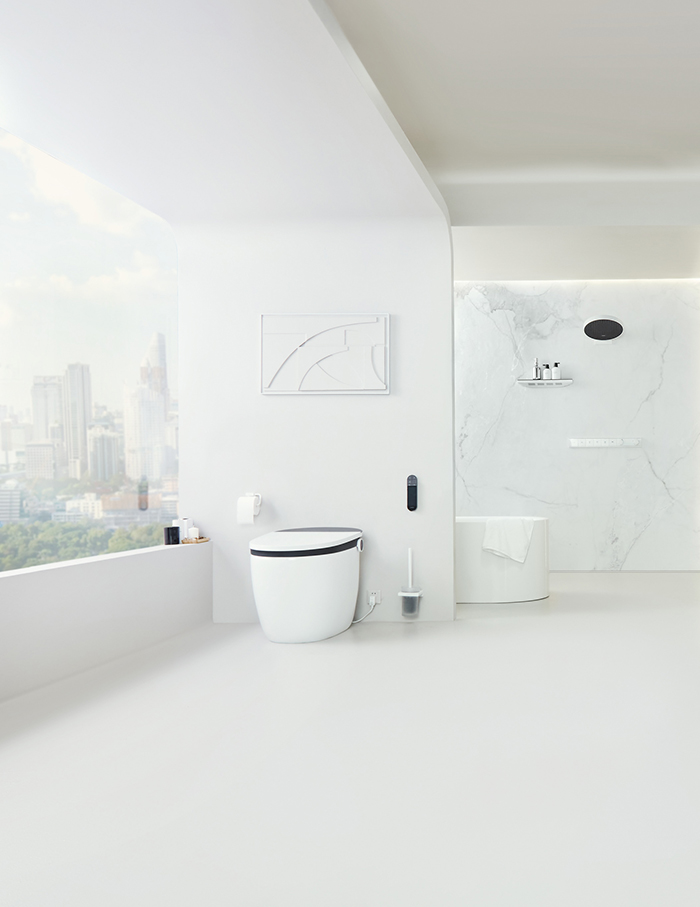 What is a non-negotiable feature a bathroom must have? 
A bathroom must have a warm and inviting atmosphere coupled with sustainable materials. Evolving from a utilitarian space; a bathroom has evolved into a sanctuary for relaxation and well-being. Warmth in design creates an environment that is welcoming and comfortable, allowing individuals to unwind and rejuvenate. Furthermore, the incorporation of sustainable materials ensures that the space not only serves its functional purpose but also contributes positively to the planet. This includes choices such as water-efficient fixtures and the use of recyclable or natural materials.
Also read: A peek into the future of design — Leopold Cavalli of Visionnaire along with Alessandro La Spada explores the connection between architecture and nature in Dubai's Bulgari villa