Homes
Zaki Shaikh reminisces about the chic decor that set the tone for his former Mumbai residence
AUG 31, 2020
| By Sakshi Rai
The act of curating one's own residence brings to mind unparalleled joys that are similar to picking yourself a gift—it's driven by instinct, comes with a pre-approved, definitive design vocabulary and has little, if any, scope for error. Plus, it serves as a literal canvas to one's skill and imagination.
Such an opportunity presented itself several years ago to Zaki Shaikh, founder of Mumbai based Parthenon Architects. "I wanted my house to be simple, elegant and timeless," shares the creative. And he achieved just that. Over a span of five years, the property also seamlessly transitioned from a bachelor pad to a warm home for a young family.
This Mumbai penthouse—Shaikh's former home—overlooks the Arabian Sea and mangroves, and occupies the two, uppermost levels of a residential tower. Separate apartments with a total of six bedrooms are restructured into one integrated unit of three spacious chambers.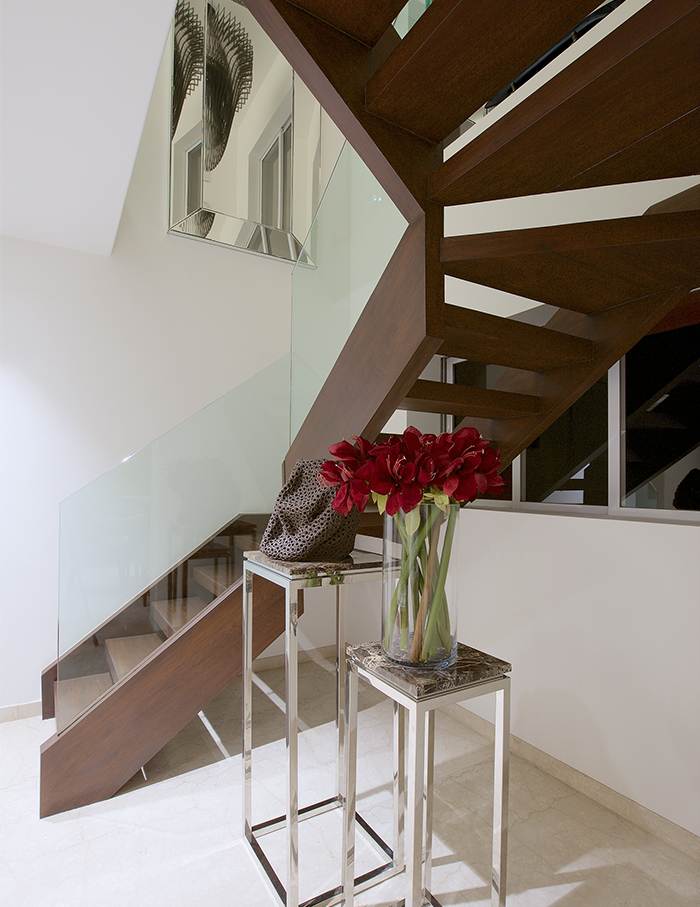 Soft browns and greys characterise this otherwise white-cloaked, classy 3,800 sq ft home. The entire space is seamless for its use of marble and wood flooring to complement the pristine walls. Accessories such as textured Rugiano carpets and stunning Zaha Hadid chandeliers from Slamp definitely spruce up the interior glam quotient. 
The residence opens directly into a formal living room, which features seating arrangements in two configurations so as to host a large number of guests. Special care was taken to separate this space from the dining area and kitchen, allowing independent activities and functionalities. Since Shaikh and his wife often host friends visiting from overseas, a guest bedroom and powder bathroom is accommodated on the lower level.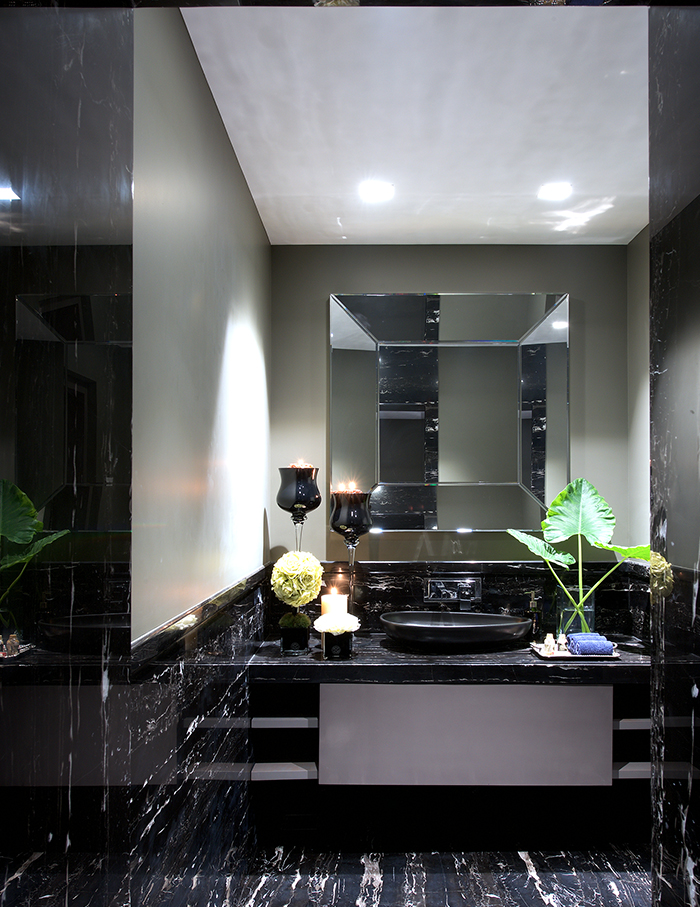 A geometrical, wooden staircase, located at the intersection between the living and dining settings, leads to a stylish terrace—Shaikh's favourite part of the house—with outdoor furniture from Loom Craft. Further along, lies the master bedroom with custom created, wooden furniture and wall mounted and black and white portraits of his family. 
Apart from the children's bedroom, a small pantry, powder bathroom and family lounge, all connected by a staggered wooden panelling detail, complete this wholesome environment. The lounge on this upper level serves as a less formal, more intimate gathering ground.
We love the recurring eco touches seen in the form of indoor potted plants, and statement green walls that bound both the dining room and terrace. However, the unifying element across the abode is the art and artefacts. Varied works and accessories, part of the family's collection or collected during their travels over the years, are seen across the home. These include works of both Indian and international artists such as Srikant Kadam and Senaka Senanayake as well as accessories from decor labels like Gilles Caffier and Vanessa Mitrani among others.