Homes
This sea facing Kochi apartment by Aatira Zacharias and Bhyrav BR of 1leapingfrogstudio is a mix of quirky interiors and a beachy vibe
FEB 6, 2020
| By Vedika Nair
Among the high rise homes dotting Kochi's Marine Drive is Neptune 3051 designed by 1leapingfrogstudio's Aatira Zacharias and Bhyrav BR. The uninterrupted view of the waters is the focal point and the house is designed as a fun and free flowing space that posed as the perfect holiday home for the Dubai based family. For the owners to disconnect from the world, the interiors are designed to look minimal and playful.
Circular arches and soft curves flow throughout the home keeping things fluid. Upon entering the home, the foyer is hugged by a screening element, lending privacy to the spaces beyond, while a framed arch directs you to the living area. Seen in the foyer is a refurbished cane sofa, complemented by two signature chairs, a side table and newspaper stand, all made using cane.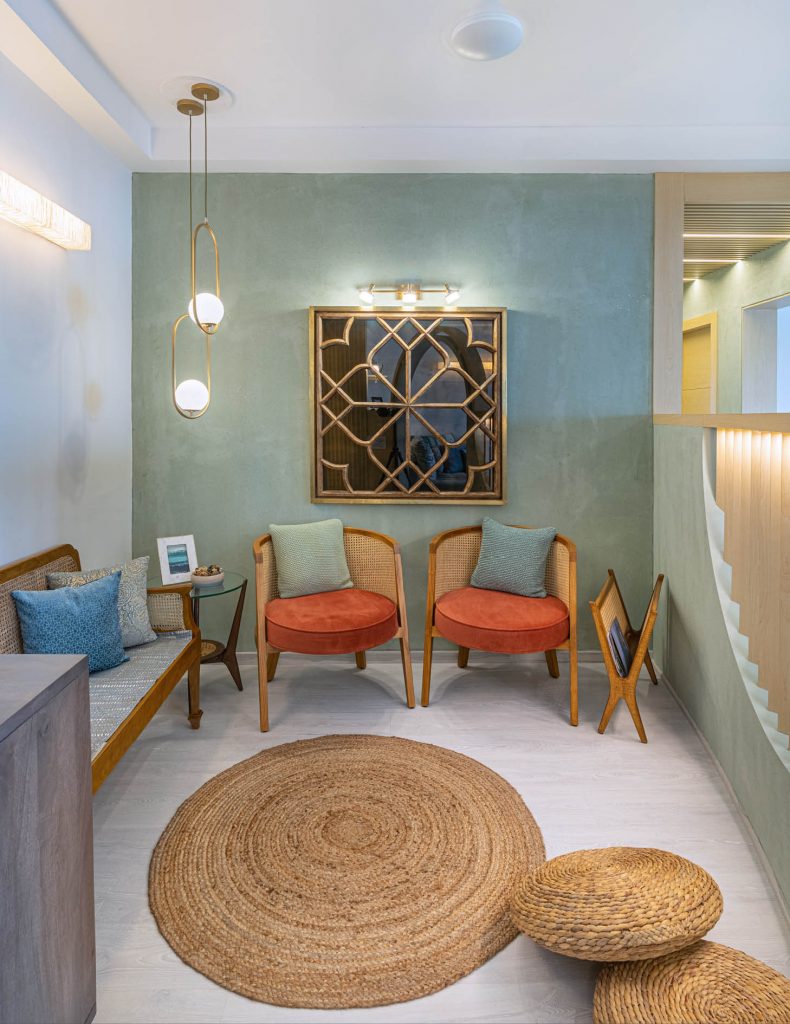 Entering the archway, we step into the long living area, which faces the fourth bedroom turned dining space. Set against a blank wall with a single statement art piece, the room features two seaters, a black cane armchair and a side table, with dainty hanging lights and rugged carpets.
Taking inspiration from the water, the material palette is a refreshing blend of whites paired with shimmering walls in mint with mica chips, while beach wood accents and units add warmth and balance to the abode.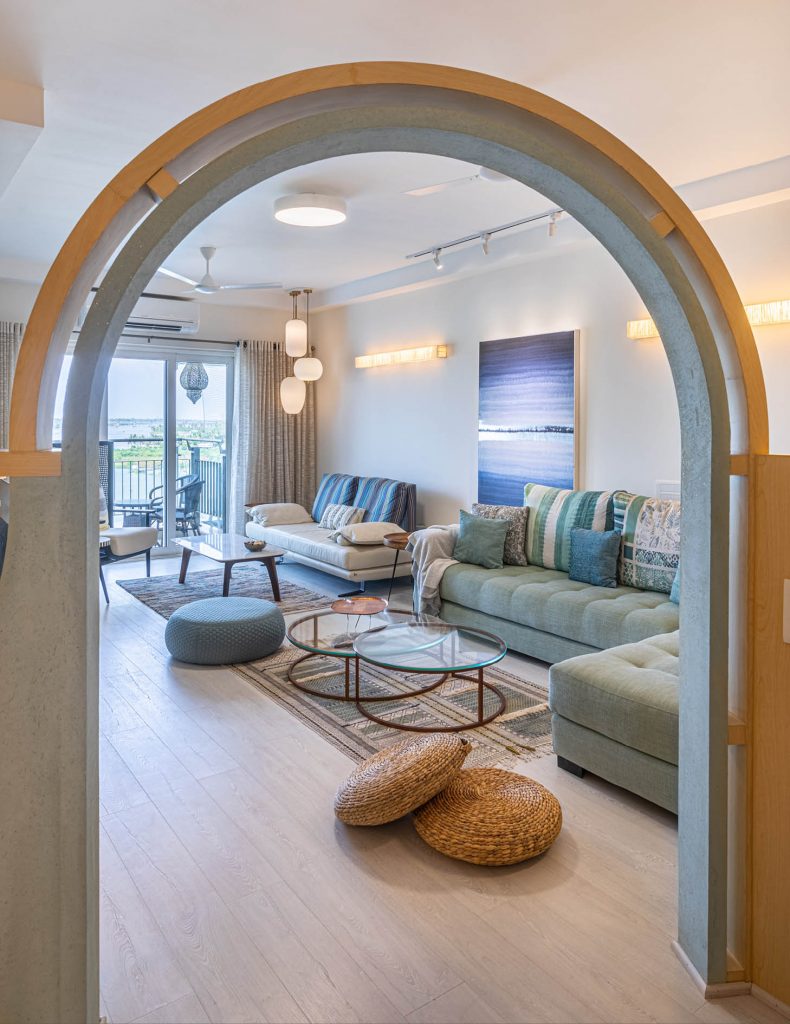 Featuring a custom made, curved Corian top table that folds to transform into a television unit, the dining space is decentralised. A day bed sits against a large window that allows for casual lazing or additional seating. A small prayer area is integrated into this space with beech cladding that forms an elegant backdrop.
We're introduced to the kitchen with a customised blue and beach wood kitchen top with a colourful dado through an arched glass door that visually connects you the dining space. Bridging the living spaces to the bedrooms is the corridor treated with mint walls and beech panelling lit up by strip lighting.
As we step into the elegant master suite with a view of the sea, the space houses a luggage rack that seamlessly merges into the inbuilt study unit with hanging lights. A dark wood, four poster bed sits against a pale mustard backdrop with side tables against a white panelled wall, that conceals the walk-in wardrobe.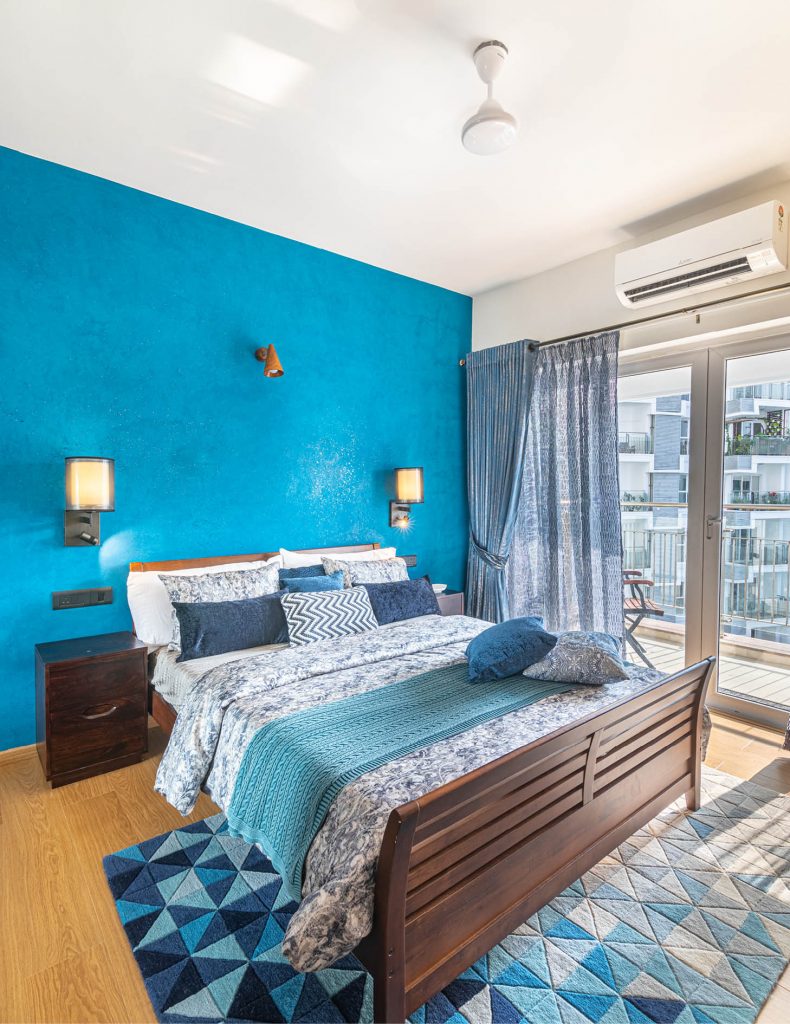 In the daughter's room is a compact blend of coral and white. With a bed, bench and side tables the room also has a custom fabric sandwich shutter wardrobe with locally sourced art on the wall. Meanwhile, the son's blue toned bedroom is an accent headboard wall and furnishings. The room is characterised by side tables and a unique chest of drawers with inlay work, while the end to end custom mirror wardrobes reflect the balcony's view.