Lifestyle
Redefine your wilderness retreat with the rustic majesty brought to you by Kaav Safari Lodge
DEC 31, 2020
| By Raashi Dev
Set amidst the serene environs of the Nagarhole wildlife sanctuary, Kaav Safari Lodge, transformed by Tony Joseph of Kozhikode-based practice Stapati offers a charming, refined ambience for a sojourn in the wilderness.
A very porous perimeter defines the property that sits right at the edge of the forest offering a tranquil atmosphere loaded with the entrancing symphony of the national park. The grand thematic entry sets the tone for the spatial experience.
A subtle path leads up to a semi-covered passage with a visual axis looking out to the distant pool area beneath the banyan tree. The spreading canopy of the beautiful banyan tree, accompanied by the hanging root formations create a distinctive ambience for the pool, further accentuated by the rustic granite deck. 
The architectural interventions are restrained. The ambience is a dialogue between heavy and light, closed and open, rough and smooth, light and shadows. This play of opposites creates a surprisingly simple, relaxed space that doubles up as the dining area and also the main area for social engagement. The open kitchen adds another layer, where guests are invited to partake in the culinary process making for an interactive dining experience.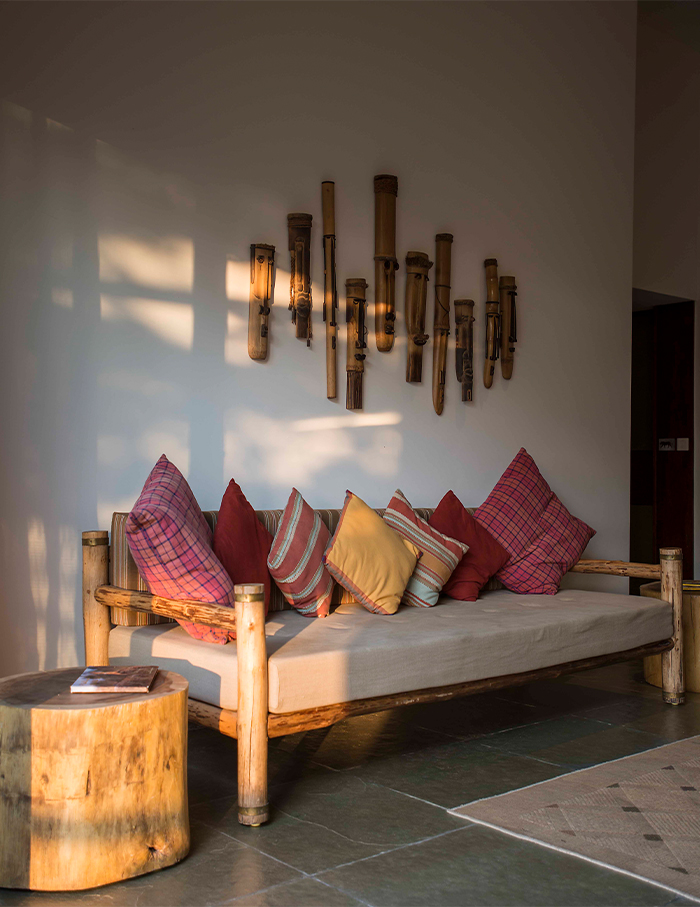 Guest rooms use materials such as saw-cut timber, polished cement concrete flooring, wired glass doors and white walls. These are coupled with carefully designed mirrors and light fixtures to create a rugged yet refined ambience. Rich textures provide vibrancy to the minimalistic themes of the interior.
The use of local elements and the consistency of the colour palette together impart an air of sophistication. Regional handicrafts are carefully integrated into the architecture with an innovatively designed lamp above the open pantry, incorporating the red rings of Channapatna toys.
"There was a nondescript, two-storeyed structure in the property, raised on stilts. And it formed the template from which the design evolved. A conscious decision was taken to alter and modify this structure itself to make it fit for a totally new spatial typology and functionality—an exercise in adaptive reuse. This naturally directed the planning strategy to address the design concern of leaving as minimal a footprint as possible on the terrain," concludes Joseph.