People
Renowned for playful concepts, Dutch designer Richard Hutten articulates his positive approach towards his creations
NOV 3, 2020
| By Aneesha Bhadri
"For me, designing is playing. When you give a child a football, he doesn't wait for inspiration to strike, he just starts to kick the ball and see where it ends. That's how I design," says Hutten.
Born in the Netherlands in 1967, the versatile creative graduated from the Design Academy in Eindhoven in 1991 and set up his studio the very same year. "I was born a designer—I have been making things from an early age—so I wouldn't call it a choice. I was 16 when I realised that I had been designing all along and I could make it my profession," says Hutten. A dabbler in furniture as well as interior design, many of his works have become iconic and been represented in museums globally.
As he talks about his passion, Hutten recalls his very first project—a castle he built at 11 years of age for his brothers. Years later, it was the table chair he made for his graduation work, his premier professional project that launched his career when it was displayed in 20 museums worldwide. Hutten's work always conveys a playful approach. He says, "I don't solve problems, I create possibilities. It's about experimenting and interacting with others. I don't try to lure people with beautiful objects, I try to amuse them and I want them to have fun."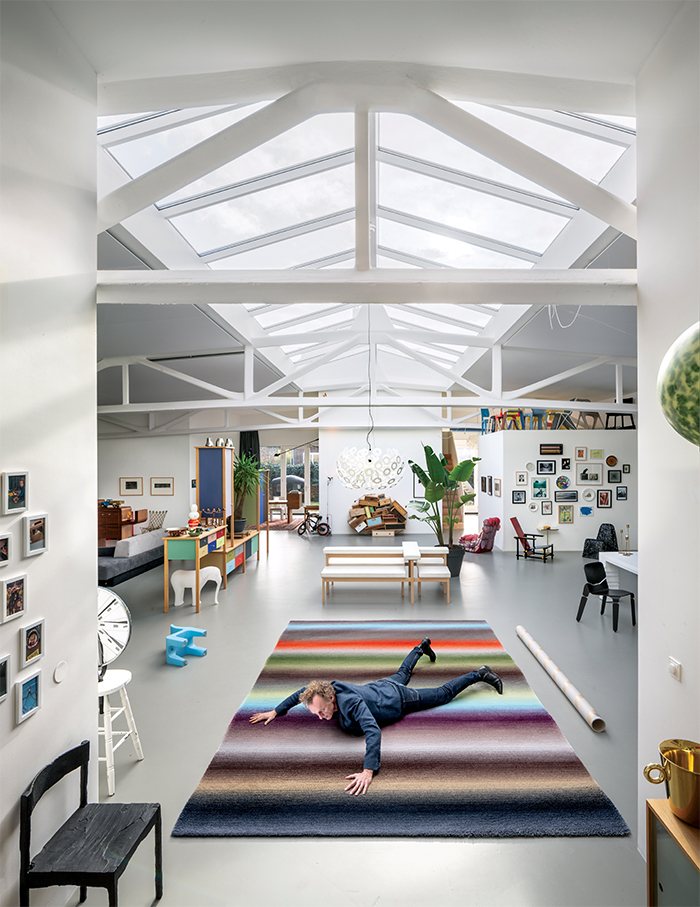 While his parents encouraged him to follow his heart, the designer mentions Gerrit Rietveld, founder of the de Stijl movement, as his professional role model for his explorative approach. It is Hutten's similar, curiosity-driven and innovative outlook that compelled him to be wholeheartedly involved in Droog Design, the Dutch Design movement founded by him along with Marcel Wanders and Hella Jongerius in 1993.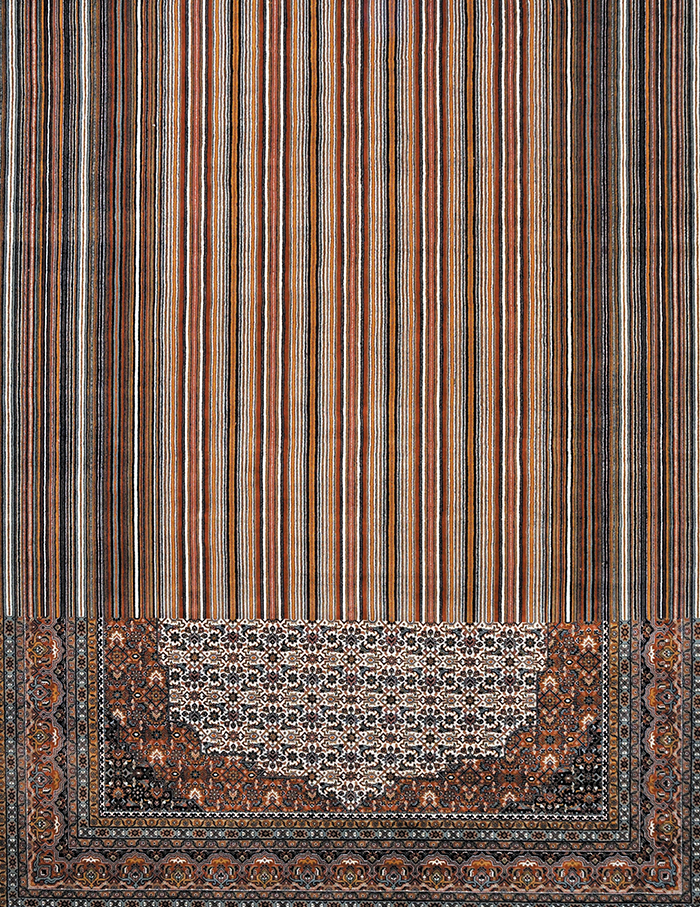 "Design was mainly about aesthetics and beauty. We added humour, social awareness and sustainability to the equation. We stirred up the design community with a human centric approach," he says, talking about the biggest design movement since Memphis in the 1980s.
His best known piece, the Dumbo mug, made in 2000, is one such creation that combines humour and humanism. "My older son was two then and I thought it would be awesome if I could design a mug as big as him," laughs Hutten. The disproportionately big handles actually made it more ergonomic.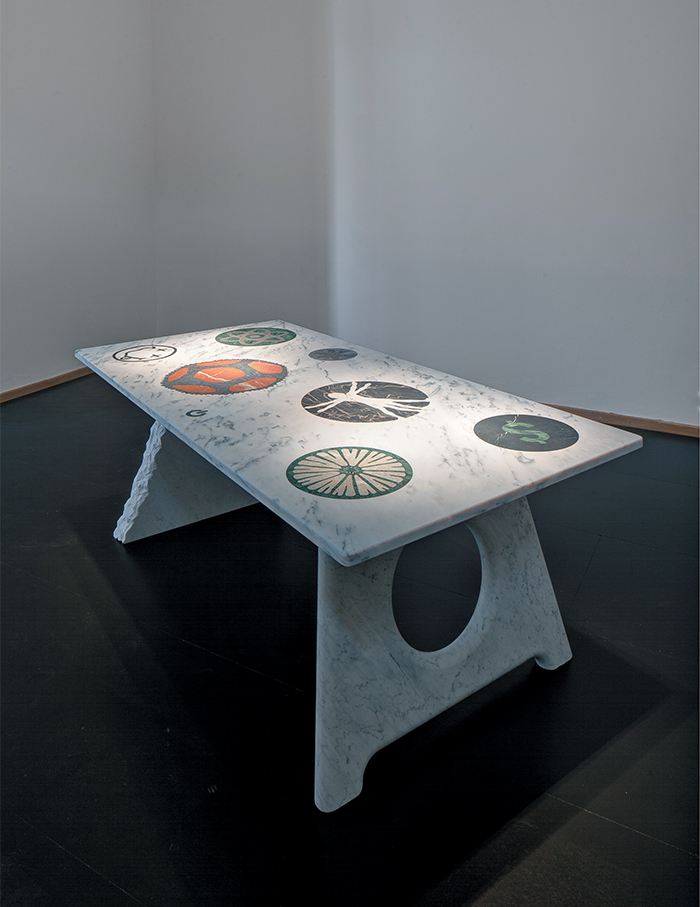 Hutten recounts for us some of his other exciting works—the elegant and whimsical Dandelion lamp for Moooi in 2004; the Layers Table for Dutch furniture brand Gispen in 2009, whose structure of stacked blocks in a playful way mimics contemporary architecture; and the Slingerlamp in 2011, also for Gispen, with a large pendant having an open structure that produces an enigmatic moiré effect.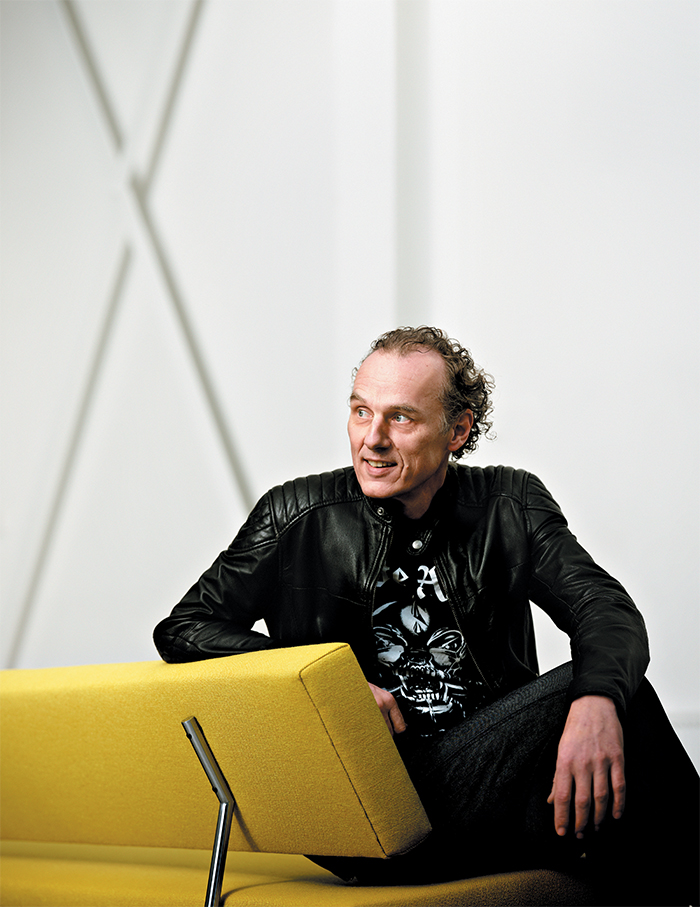 Eight years ago, Hutten crafted The ID cutlery for Royal VKB, characterised by his trademark loop. Part of the permanent collection of the Stedelijk Museum, Amsterdam and Museum MUDAC Lausanne in Switzerland, the loop allows users to play with it or mount it, and its exaggerated proportions make each meal more theatrical and fun. Another feather in the creative's hat is the Satellite chair for Offecct created in 2014, which won The Red Dot Design Award for high comfort and round features.
"To me, the circle is the most elegant form, it can go in all directions which means it's never out of place," says Hutten. The same year, he conceived the chubby Layers Cloud chair for Kvadrat with an explosion of colour, using 545 layers of wool and took 600 hours to complete. "Rather than simply using the material as a cover, I created an object with the material. We made the same chair for Scarlet Splendour and were going to launch it at Milan this year," he smiles ruefully.
It's no wonder that this Dutch designer has won several awards and accolades, worked with leading designers and brands, and has had his work displayed in museums globally but it's the latter that means the most to him.
"I don't just design products and interiors. I design my life, which I intend to enjoy by collaborating with amazing people and brands who share my vision and passion. However, it's as important to me that over 50 museums have collected my work. Ever since I started, I wanted to make long-lasting designs and the best way for a product to achieve this feat is for it to be displayed in a museum," divulges Hutten.
Presently, juggling between crafting face masks for a client in China and furniture pieces for Scarlet Splendour in India, Hutten is also making the world's first circular designed airport seats in light of social distancing norms. "Parents can sit with their children as proximity is important when they travel. So, I have added a love seat typology," explains Hutten. Design that's not only functional but also optimistic and human, seems to be the overriding theme of Hutten's work. Upbeat, chic, humourous and refreshing—these are some of the words that come to mind upon engaging with his creations.