People
At work with Nisha Mathew and Soumitro Ghosh
AUG 9, 2019
| By Soumitro Ghosh
Situated above a ground floor residence, Nisha Mathew and Soumitro Ghosh's practice in Bengaluru features a billowing, overhanging roof to engage the practice with the neighbourhood as well as its weather. The workplace is split into two planes—the private design studio and library with objets d'art and antique surveying instruments are on the first floor, while the public studio is located on the top storey.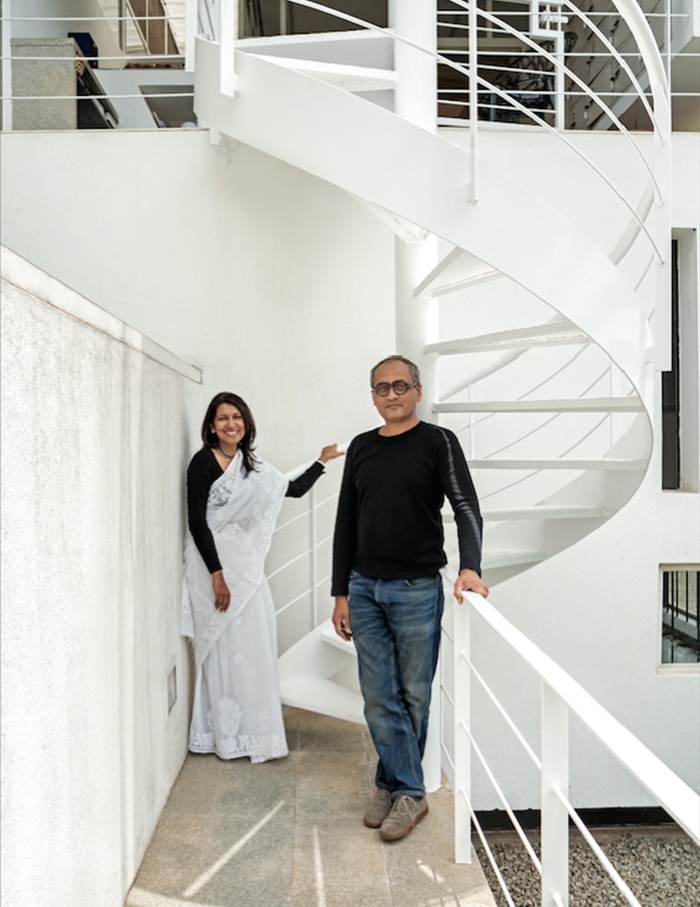 The principal architects shed light on their workspace and their workday. A separate entry is planned for our office. There is a deliberate fragmentation of spatial elements—the open staircase that catches the rain, the shaded verandah and the upper overhanging space. The design studio is located at the upper tubular space. It houses all functions of an architect's office in a seamless airy studio with a transparent meeting room tucked at one end of the railway carriage shaped space.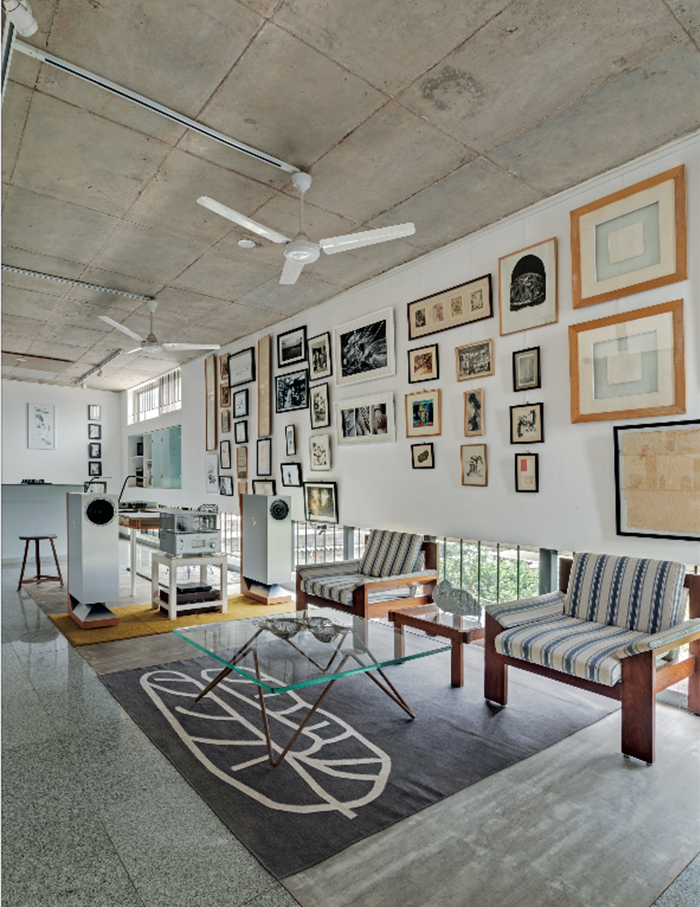 The lower level, which was built later, houses 14 architectural tables and open meeting zones. Here, 576 sq ft is assigned to function as a private work den with a library that holds drawing and photography collections. This area is tucked away and screened through an administrative cell to enable privacy. The studio and the private den are designed to be poles apart. While the former is pristine with models, ongoing works, drawings and sketches being the only embellishments, the latter is a personal workspace filled with objects of interest.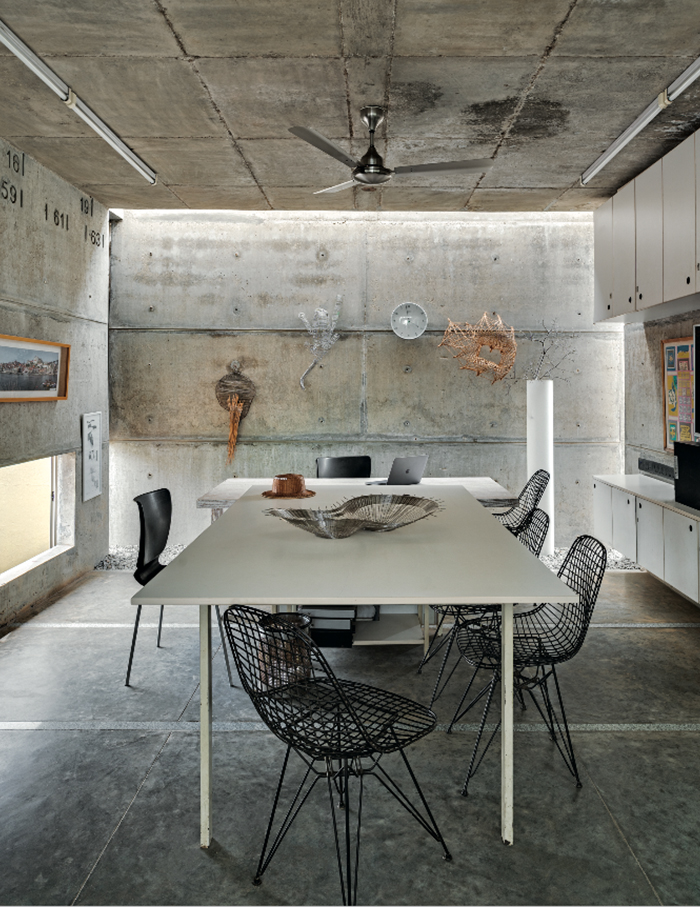 HOW WE FUNCTION…NM: At the drawing table, I am a tough negotiator who does not compromise on design or values. My desk is an organised mess because there is a lot going on at the same time but the Bible lying on it fuels me to meet challenges head-on.SG: I like silence but that does not necessarily mean the absence of noise. It is important for me to be in a neutral zone that is easily accessible. Good light, natural materials and nondescript spaces are where I work best.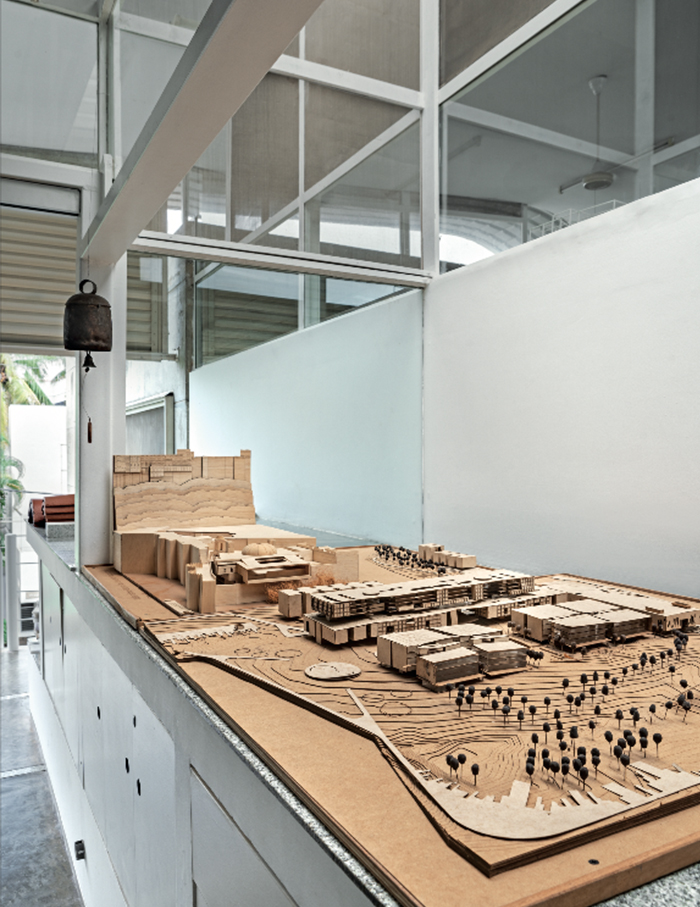 A TYPICAL DAY…NM: I allot my time to different activities such as our architectural projects, writing and reading, spending time in my textile workspace, at the steel weaving studio or working on some jugaad teaching material for kids of migrant workers. My downtime begins after 9pm, when I enjoy some quietude by reading the Word of God or singing.SG: My work begins at 9am and ends when it ends. Outside of that, I like to read books, listen to music and watch movies on architecture or art.
Scroll below for more images!