Homes
We can't get enough of this minimal home by Mahek Lalan of SML Architects
AUG 7, 2020
| By Vedika Nair
The one thought that comes to mind as we take a peek of this Mumbai home is that 'less is more'. Fashioned by Mahek Lalan of SML Architects, this 720 sq ft abode weaves minimalism, colours and textures to create a cocoon away from the city's bustle.
"What we realised from the initial meetings that we had with the clients before starting work was that they enjoyed a simple lifestyle. That, for us, was the starting point for the design of the home, which played a pivotal role in determining the materials. They were extremely open in letting us set the brief for the project," explains Lalan.
Inspired by the sky's dramatic transitions, the home is cloaked in pink and grey tones, which pair well against the yellowish gold of teak and dull yellow of the Shahabad floor. Ample use of natural materials is seen with reclaimed Burma teak for door frames and wardrobe shutters. Lalan adds, "The home achieves a sense of tranquillity with clean lines, simple design and natural materials."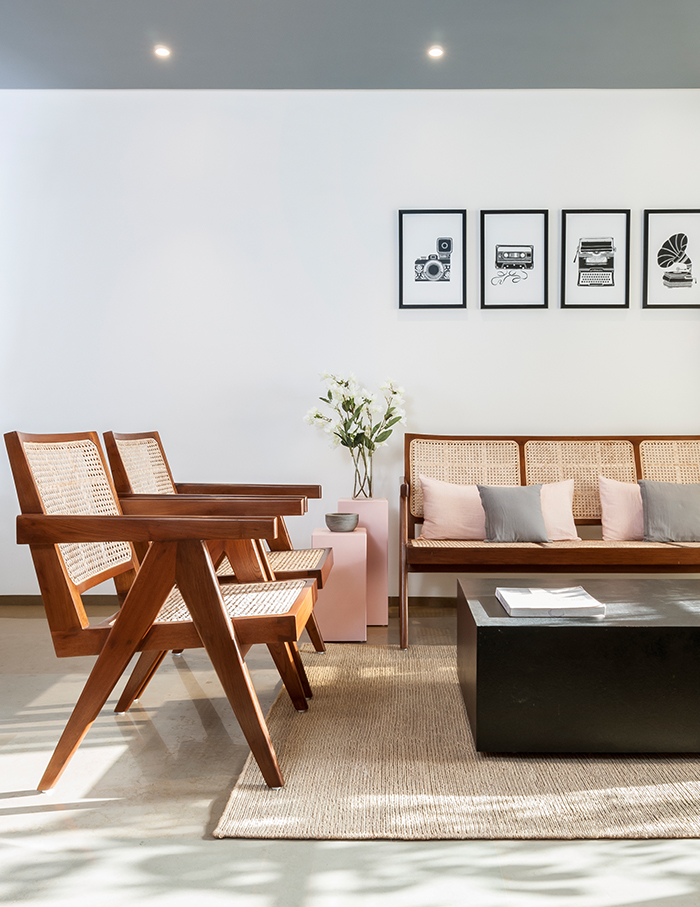 The first space that catches our attention is the dining room, which is located on the right of the living area. Furnished with Pierre Jeanneret seaters, the living room's central space features a river-finished black granite table floating above the ground. All of these elements are bound by a large hemp floor covering.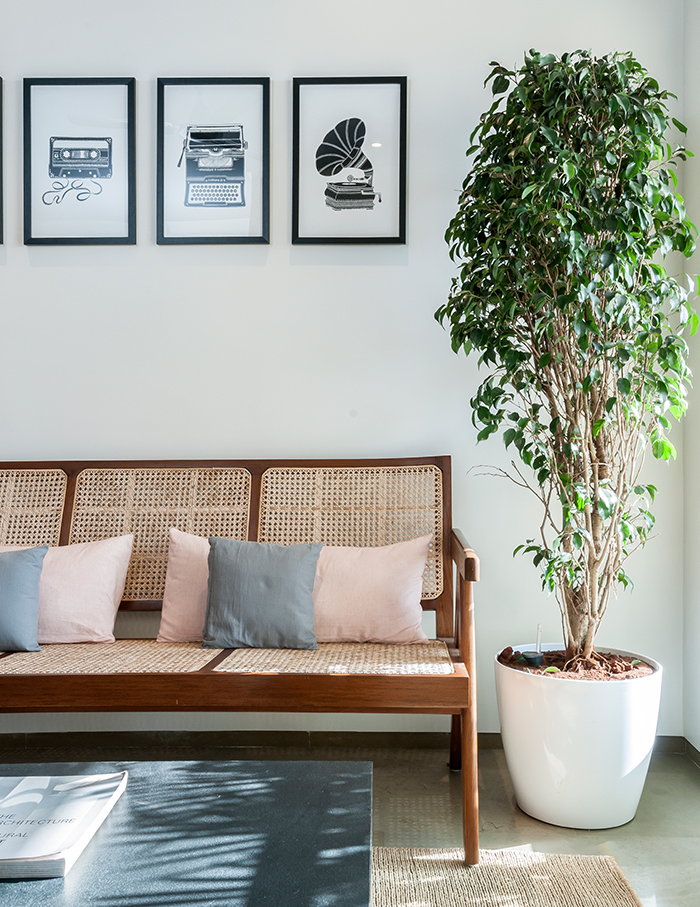 We love the reclaimed Burma teak dining table with a flame-finished, black granite tabletop that is paired with the iconic midcentury Wishbone Chair by Hans Wegner. The kitchen platforms are done up in black polished granite with teak and fluted glass cabinets.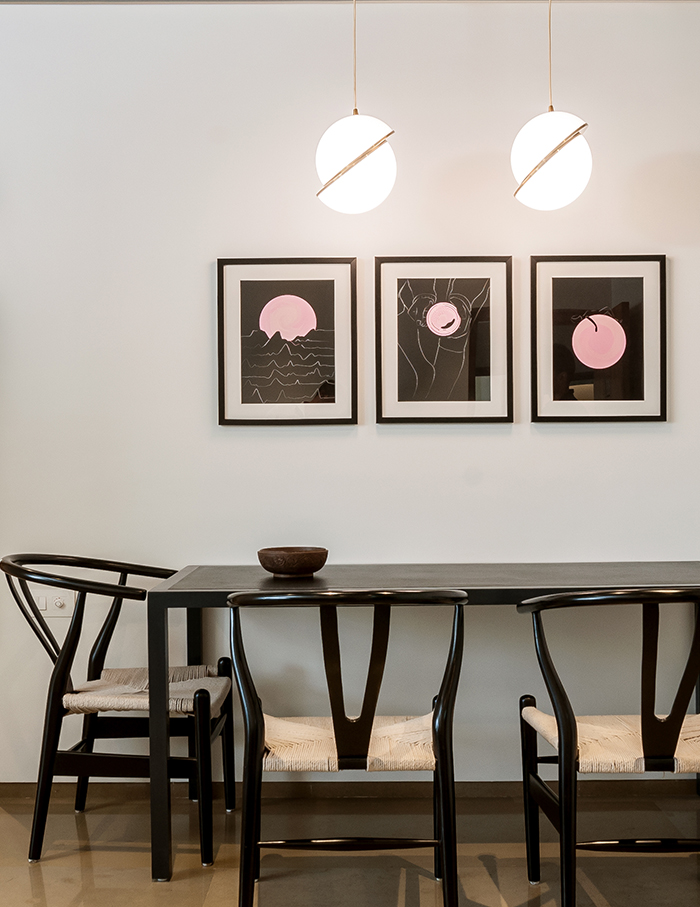 The passageway leads to the son's bedroom that hosts a single bed and study table. The wardrobe shutters are crafted with an old reclaimed Burma teak frame with fluted glass infill. This adds a level of transparency and depth in the otherwise compact room. Large, semicircular and handcrafted wardrobe shutter door handles with natural matte polish reveal the natural grain of the wood.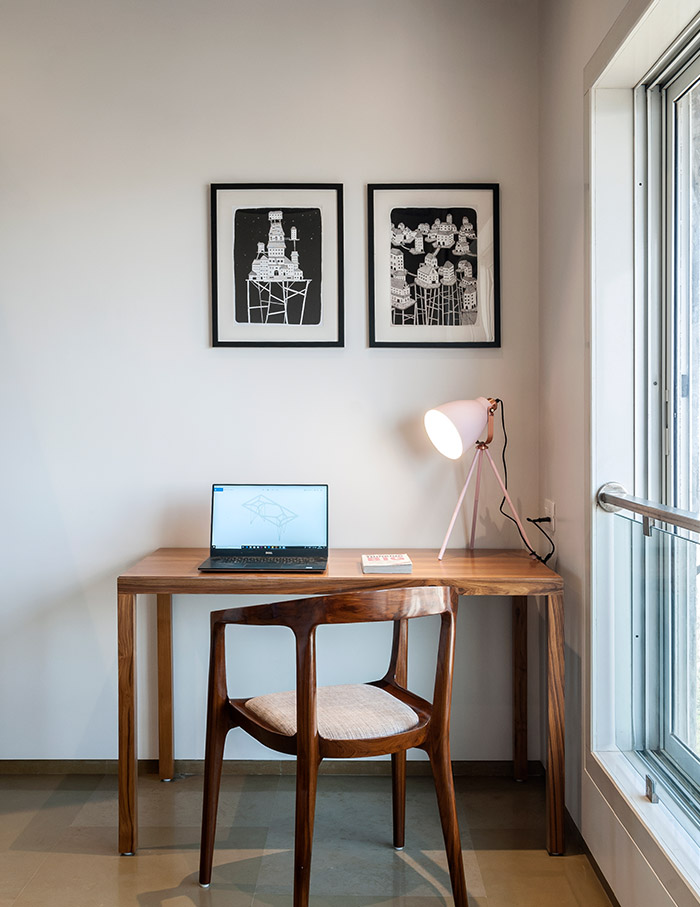 On the left of the passage is the master suite with ensuite bathroom. A teak framed headboard with handmade rope infill accentuates the double bed in the centre. Open shelves accommodate books, while the wardrobe is made up of fixed horizontal louvres and a recessed wardrobe shutter handle carved out of the shutter frame.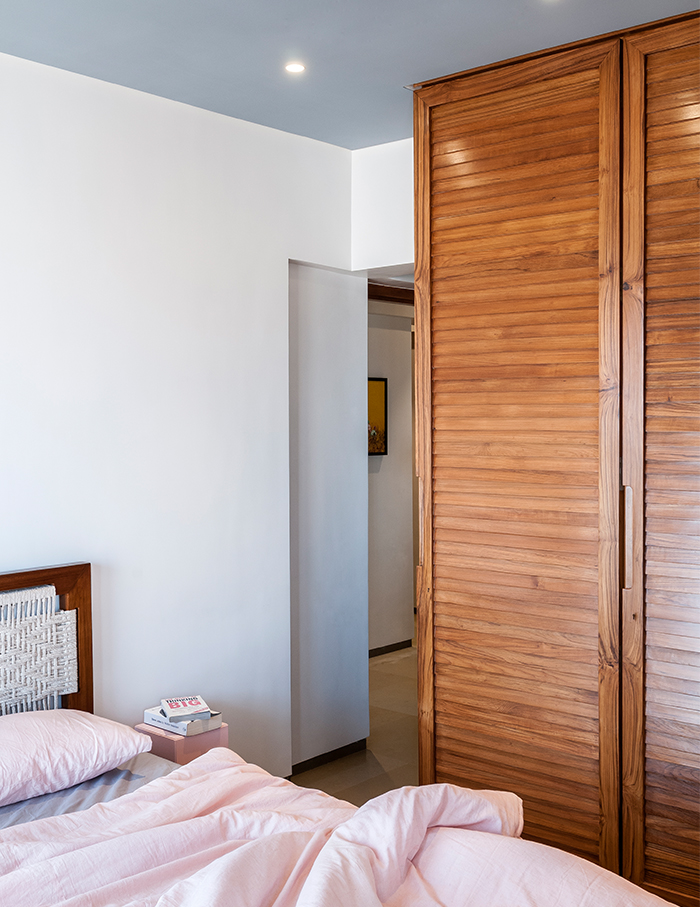 "We like to design homes that are warm, intimate and inviting along with it being extremely functional. This helps us create spaces and moments for a quiet respite from the surrounding city. This can be seen in the living space of this home," concludes Lalan.