Bathroom
VitrA X Terri Pecora launches Plural—A bathroom range that is equally bold and accommodating
OCT 6, 2021
| By Twinkle Tolani
Designed by Terri Pecora in collaboration with Design Studio VitrA, Plural offers the feeling of a vintage living room, inspired by the iconic mid-twentieth century look. Light and airy furniture are creatively embedded into the bathroom environment, introducing a welcoming domestic space where users can share time with others. 
Plural's refined design language creates an atmosphere of sensual luxury. With an aesthetic mix and match of forms, finishes and colours, it brings objects and people together in a delightfully harmonious bathroom environment.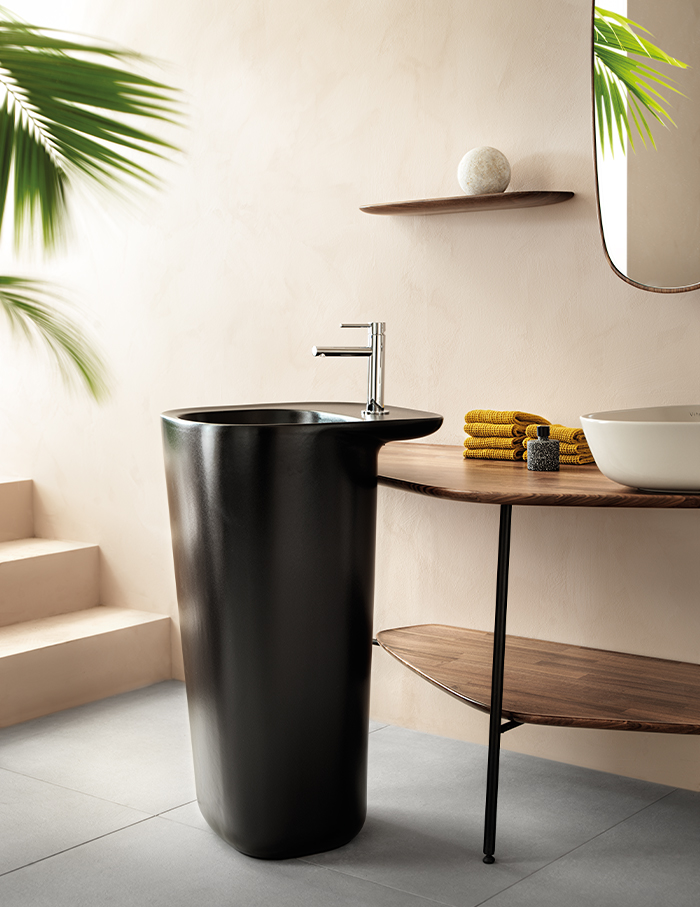 All the elements of Plural interrelate in a way that encourages social mixing and grouping together in a modern and fresh bathroom concept. The collection introduces a subtle palette of colours and materials into the bathroom space to break away from conventional design.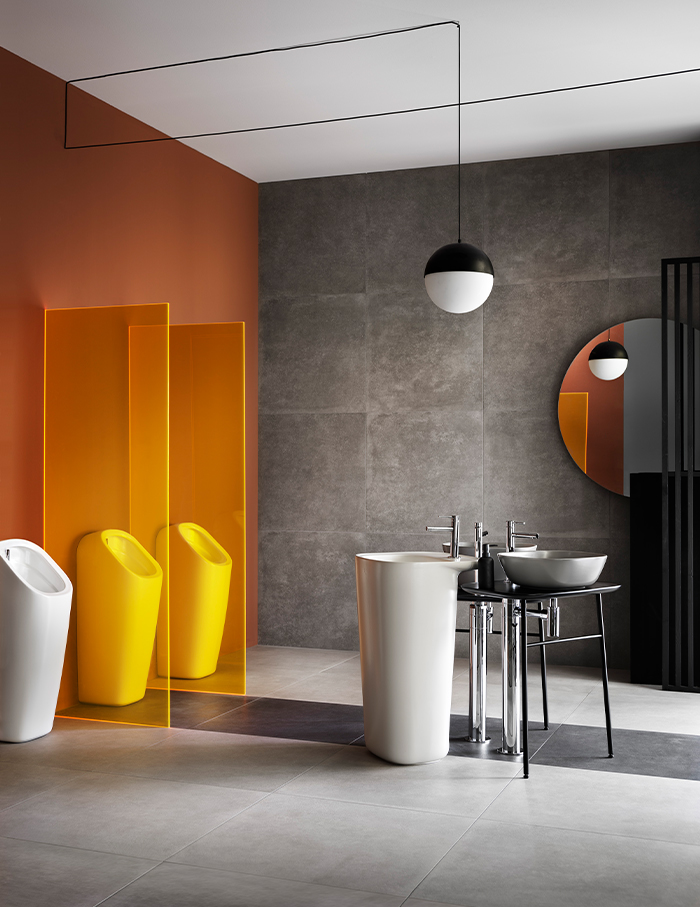 To strengthen the seamless harmony, Plural can be matched with the Origin brassware colours. The range of washbasins appear to float from the wall and can be positioned in unprecedented locations, even in the middle of the room. A contemporary interpretation of communal bathing spaces and rituals, inspires new experiences in shared intimacy.
Attractive, light-looking, yet solid and strong furniture with graphic black legs are characteristic to the collection. The wood countertop creates an exquisite centrepiece for any bathroom.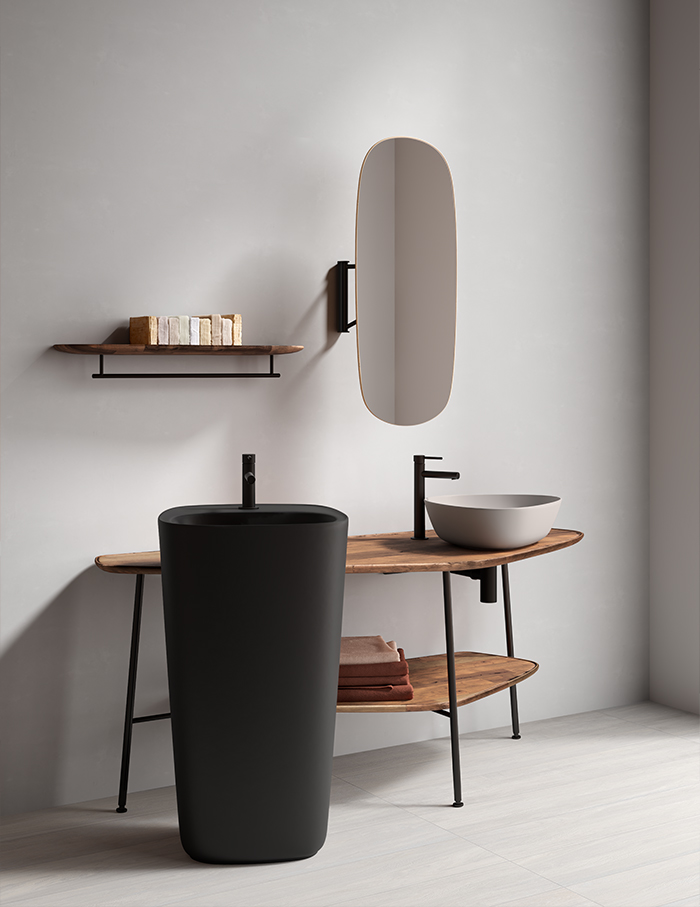 The collection also offers a compelling set of ceramic countertops in an innovative array of colours. The wall-hanging vertical mirror moves from side to side allowing the mirror to be used from two angles.
Three innovative and technologically—advanced syphon solutions conceal the untidy look of pipes, enabling washbasins to be mounted in any part of the room. One allows the ceramic basins to be placed at various angles as an alternative to conventional positioning against the wall, encouraging users to face each other and engage with their surroundings.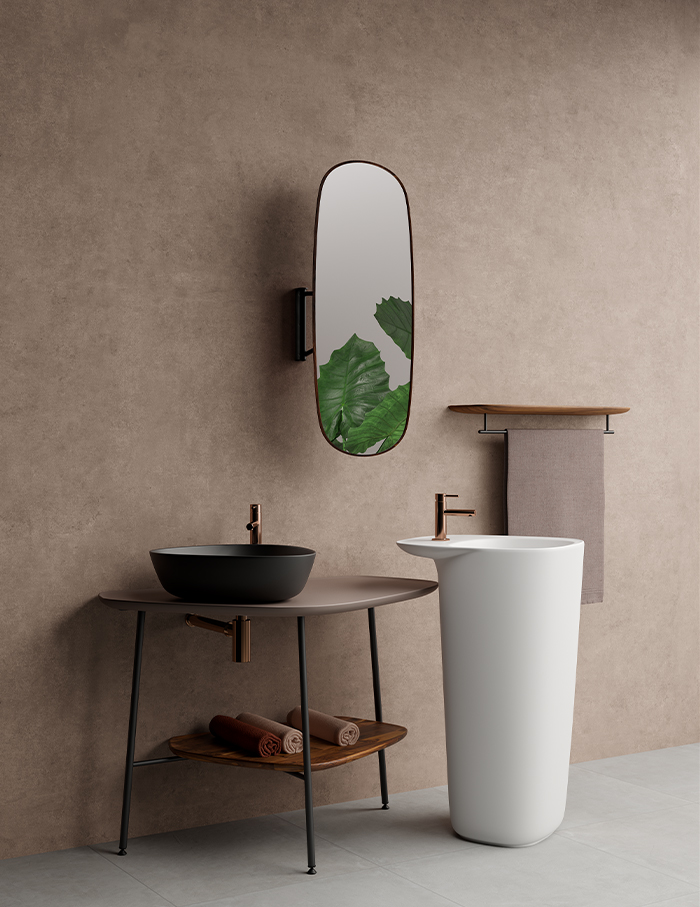 Another has been designed specifically to enable washbasins to be mounted in an open bathroom space whilst retaining a clean and minimalistic look. The third allows for the fitting of monoblock basins at free angles in the room instead of the more common 90° angle to the wall.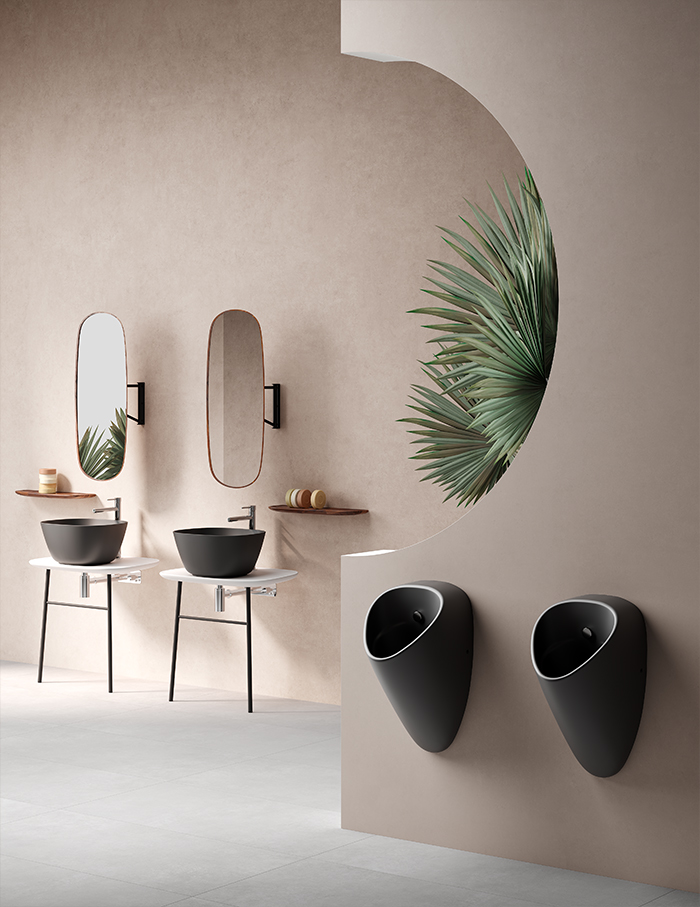 Plural WC pans have a clean, seamless look. To strengthen the seamless harmony, the seat cover hinge colour can be matched with your tap colours. With their compact and unique form, the new generation urinals add a subtle style to commercial bathrooms. Available in standard and monoblock versions, they also present perfect options for public bathroom environments.
Explore the refined Plural collection by VitrA X Terri Pecora on www.vitra-india.com/plural today!