Homes
Vinita Chaitanya crafts a luxurious yet sustainable, India modern home in Bengaluru
AUG 9, 2020
| By Nadezna Siganporia
In a quiet street of Bengaluru's upmarket Indiranagar area lies a sprawling corner property surrounded by old trees. It's a view the residents—a family of four—bask in daily. Spread over three storeys, the interiors of this 15,000 sq ft abode are a melange of luxurious marble, earthy wooden accents and art.
"For me, this is a timeless combination," beams designer Vinita Chaitanya. "We've used a dramatic amount of wood in a myriad of treatments from carved and fluted to decorative panels and upcycled accents. We were also really fortunate to find a translucent onyx like marble that works wonders to elevate the decor."
This combination is evidenced just beyond the main corridor on the ground floor. Flanked by handcrafted teak sliding doors, the passage culminates at Kalighat paintings especially chosen by Chaitanya for the family.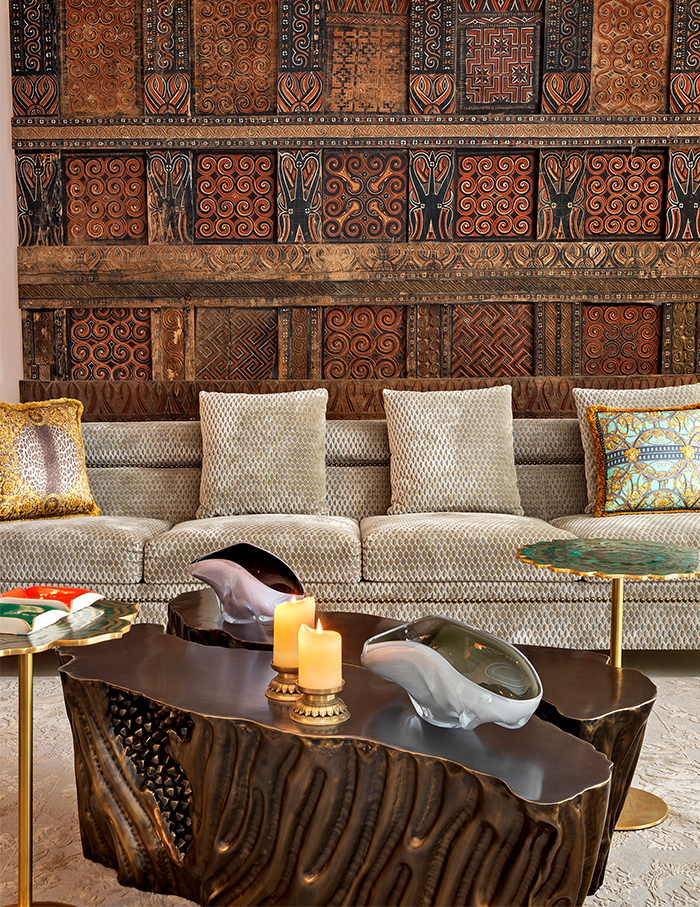 Behind these floor to ceiling, fluted wood partitions lie the public spaces. The living room is dominated by a tribal inspired, carved wood panel, set against a neutral palette of grey textured furnishings. This space is decked with metallic accents and luxe features like malachite topped side tables. In the adjoining formal dining space lie custom marble furniture, a dramatic chandelier and a vibrant piece by Suresh Kumar.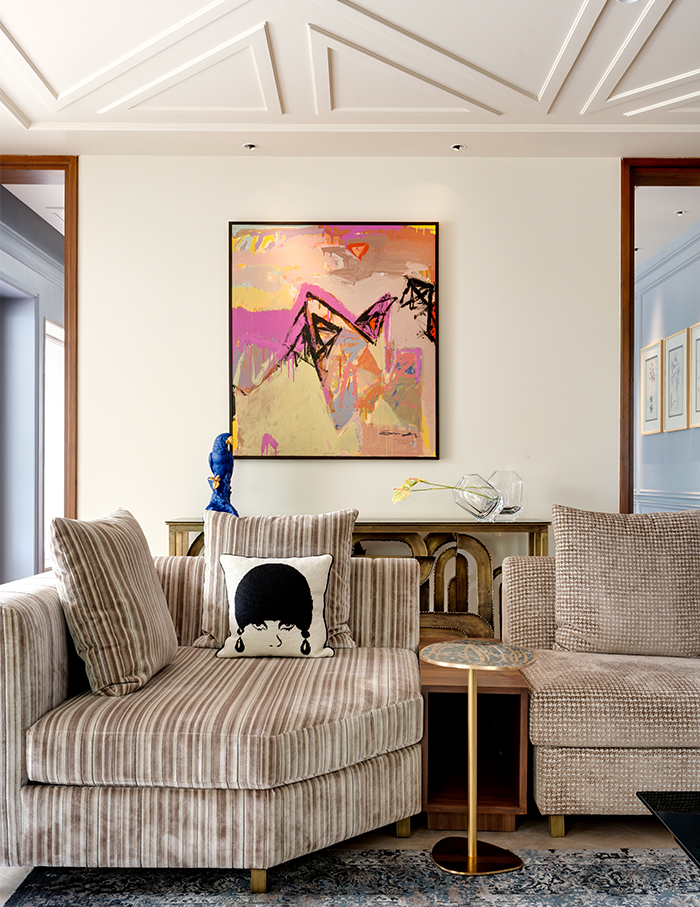 This is not a home that comes to mind when you think of an eco friendly lifestyle but scratch the surface and there exist elements of sustainability. A home does not have to be a microcosm of the entire 'green' lifestyle; sustainability comes in various forms. Chaitanya brought in energy efficient features like solar panels, LED lighting and home automation. She also favoured single wall mounted units for air conditioning over central ducts that cool down the entire home even when not needed. "They are a down to earth, soulful family with modern and traditional sides," says Chaitanya. "The home displays its occupants' eclectic style—a traditional Indian sense complemented by a contemporary feel."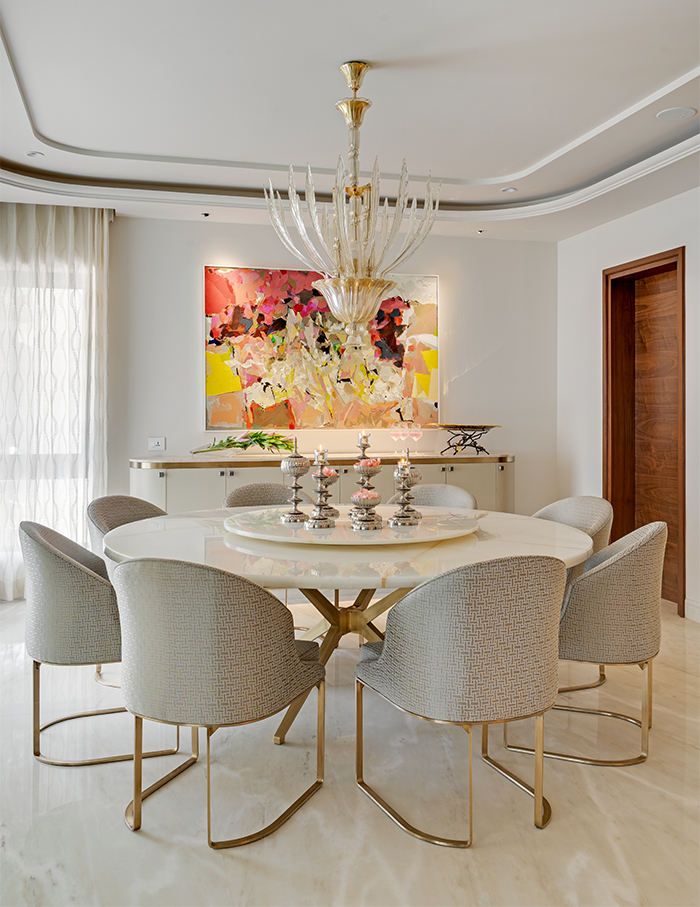 Take the wife's love for gardening, which is a recurring theme throughout the abode by way of motifs and colours. You notice subtle and strong veins of this everywhere; ora, fauna and botanic elements weave their way into the decor scheme. "When I meet a client, I delve into their lifestyle, understand their habits and movements. I knew I had to open out a few spaces yet divide other areas. We also used a lot of upcycled wood and sourced local raw materials. This home is primarily made in India, something both the owners and I are very proud of."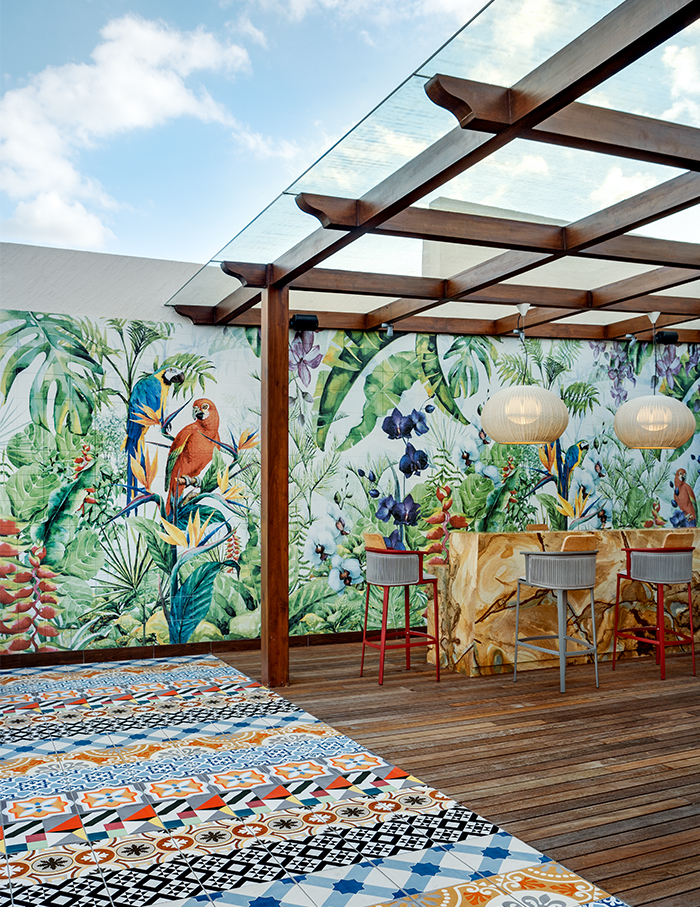 The first floor moves into private spaces, opening up into a family lounge that's accented by a decorative ceiling, eclectic art, and a combination of brass and wood. Nearby are two bedrooms and a study dominated by timber. The teak floor features marble and brass geometric inlay patterns, while the walls are clad with fluted wood panelling.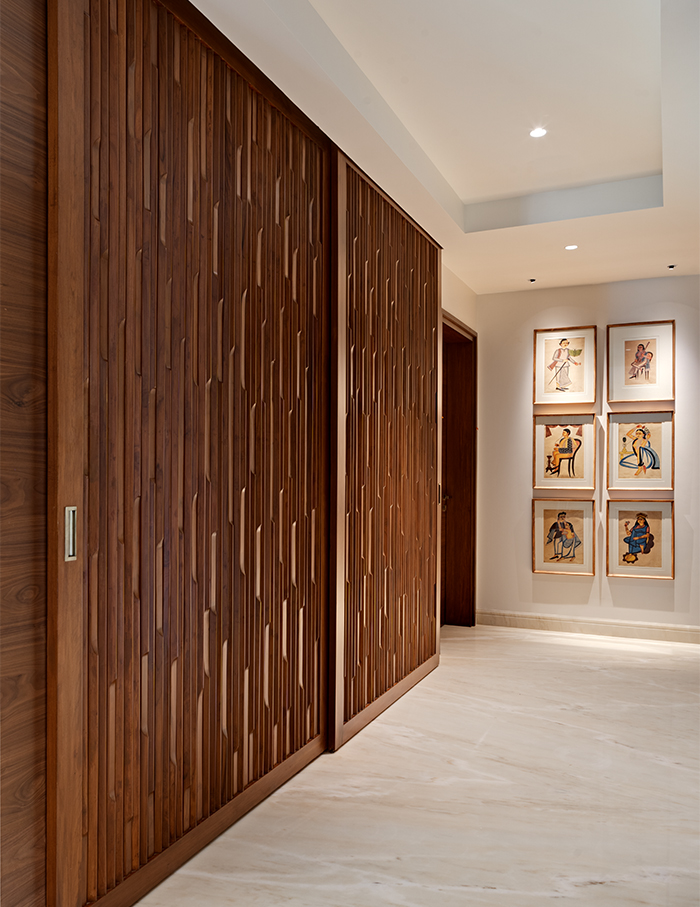 Meanwhile, the prayer room is characterised by marble inlay craftsmanship in oral patterns, silver leaf furniture and jaali doors. The second storey has more of a youthful vibe with warmer tones and sand finished flooring. It's also planned for the son's future family with two adjoining bedrooms for a growing unit.
Accessed through an imposing hand carved, wooded door with botanic motifs is the vibrant terrace on the top floor. The customised tropical wall mural, made using digital tiles and vividly patterned flooring, are the backdrop to a gold granite bar topped by a bespoke teak and glass pergola.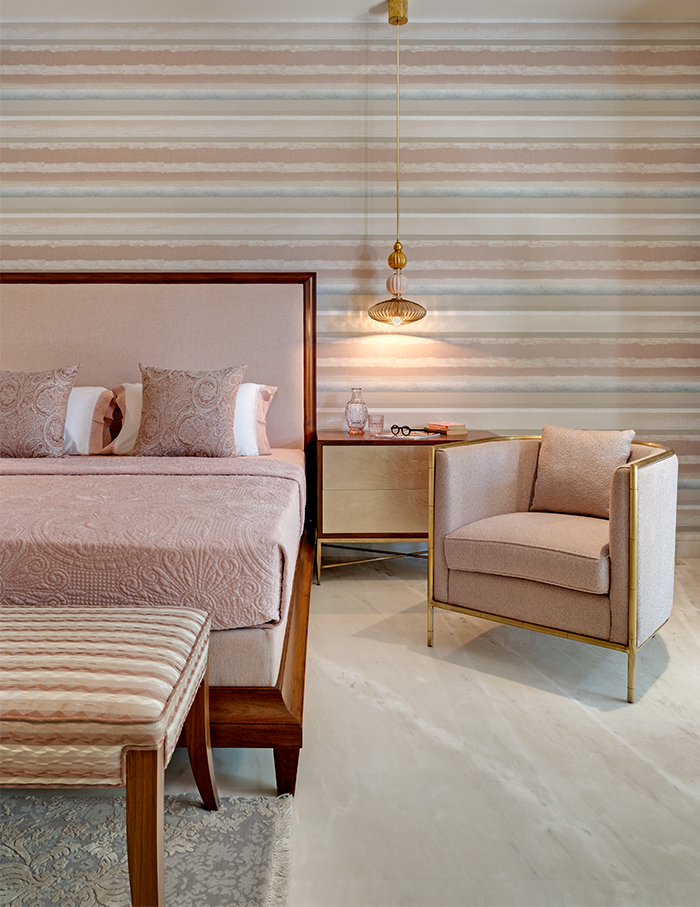 A spa like powder room adds to the earthy palette accented by wood detailing and slate finish tiles. Though the house is filled with timber, Chaitanya used wastage reducing features like a metal framework clad with solid wood for the terrace pergola. The end result is an elegant mix of influences in a classy and comfortable home filled with luxurious touches and sustainable features.
Scroll to see more images from this elegant abode…