Design
Vaishali Kamdar talks about her design for FCML's Pune store, which takes the concept of an experience centre to another level
JUL 30, 2020
| By Aneesha Bhadri
Enter the new FCML store in Pune with caution because you're sure to lose track of time or, in some cases, never want to leave. Designed by Vaishali Kamdar, it gives new meaning to the term 'experience centre' with entrancing curations and sumptuous materials spread over three expansive levels that make you want to linger and run your hands over all those tantalising textures and exuberant textiles.
Situated in the quainter, industrial district of Pune city, the conceptualisation of this 12,000 sq ft space began back in 2017. "This project took much longer than we anticipated and the interiors were completed in 2019, while the landscaping was finished early this year," says the designer.
"I have been collaborating with FCML for their store interiors for over a decade and have done nine stores for them across India. Now, there's a deep understanding about the brand's requirements and audience. More importantly, I am grateful to be working with a team that is equally passionate about design. I think we've reached the 'old married couple' stage in our relationship," laughs Kamdar.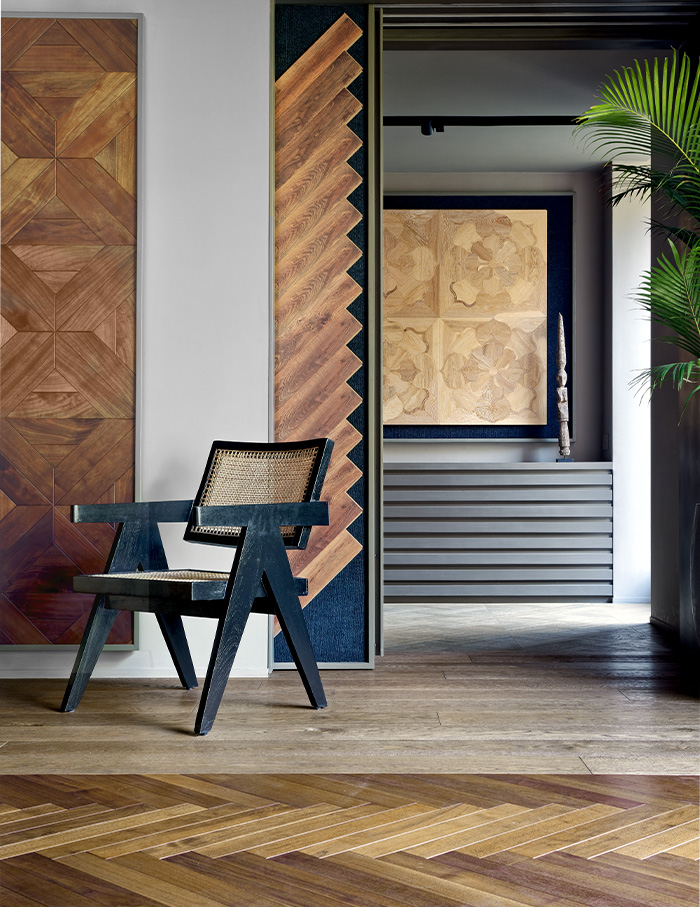 The emphasis was on creating a design destination that serves as a treasure trove of innovative ideas and creative templates. With unusual accessories and attention to detail, from layering with vintage accessories and accent furniture to the artwork, lamps, rugs and plants, the idea was to create an experience that engages visitors and makes them want to linger.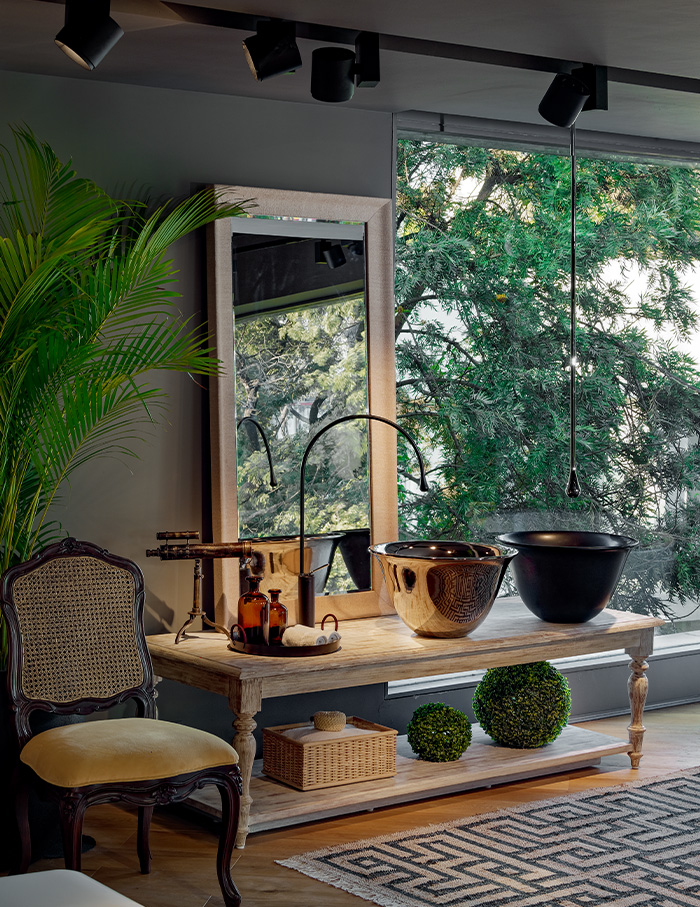 Capitalising on the natural surroundings of the site, Kamdar and her team worked on the spaces from the outside in, framing the vigorous foliage on either side to capture arresting vistas, while creating large openings for natural light and a spectacular backdrop that offsets the products.
The first level has a more pared-back, industrial feel to it. Kamdar blended raw textures, neutral shades and contrasts to showcase the curated, budget range of bath and wellness in a manner that is both aspirational and affordable. A grey palette with cement flooring and exposed surfaces, a glass-enclosed central courtyard with chevron tiles, and warm veneers punctuated by accent furniture and pops of colour bring the space together. Wood floors differentiate the raised areas. When layered with accessories, carpets, plants and lamps, this level exudes a timeless charm.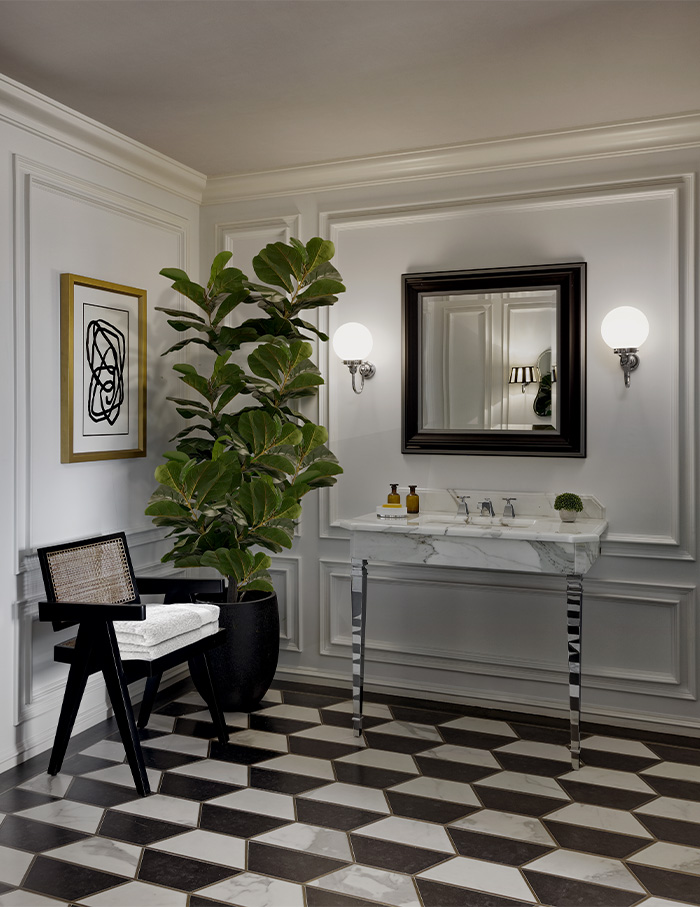 The second floor is a continuation of bath and wellness but with luxury offerings. A dramatic foyer-like space with bespoke hexagonal monochrome flooring and pristine white panelled walls greets you here. This opens into walls of muted grey, oak flooring and panoramic windows overlooking green treetops. Vintage furniture, art and accessories, brass accent trims, velvet drapes, pocket doors of oak slatted screens, ribbed glass and stone, among other decadent materials, engulf visitors in a warm embrace.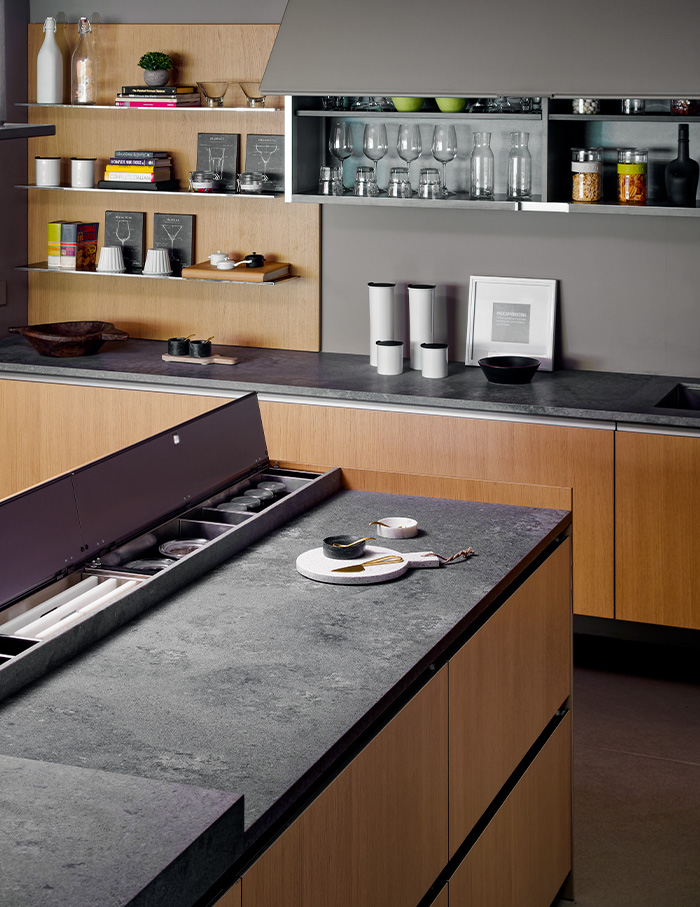 The muted grey palette and tiled flooring continues to the third and uppermost level, which displays kitchens. Each modular segment adds its individual materiality to this space and is offset by the textured matte black table with Chandigarh chairs.
In the wood floor studio on the same level as the kitchen, is a staggering variety of wooden surfaces. Here, warm tones are punctuated by grey walls, a deep blue velvet sofa and sisal rug. Floor-to-ceiling sliding doors open onto a balcony, flooding the space with light and soothing green vistas.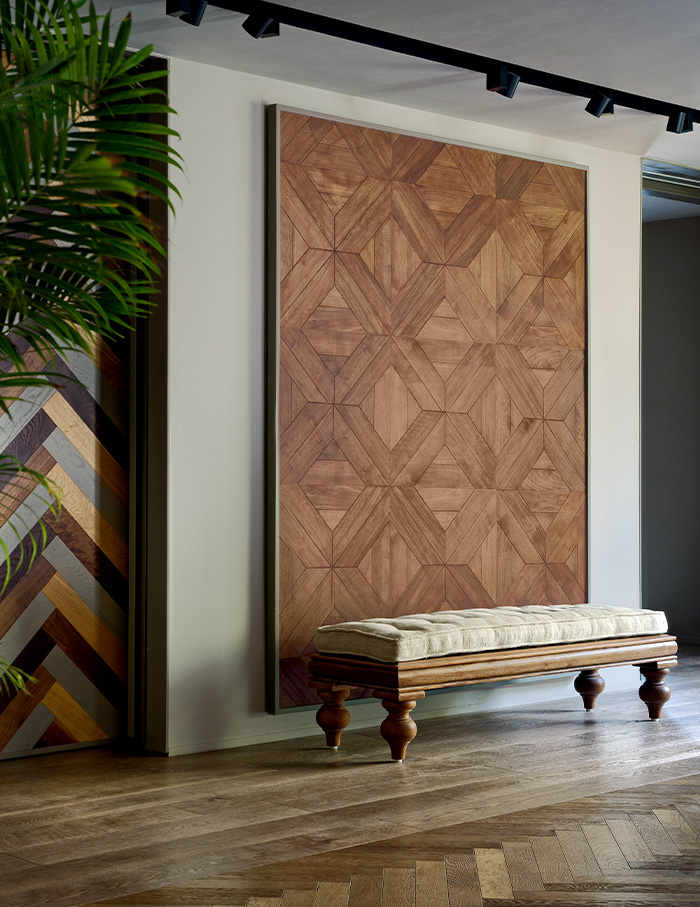 Working on a retail budget to showcase luxury products is "always a bit of a challenge but it forces the designer to think out of the box and be more innovative", believes Kamdar. One of the biggest challenges of the project, she says, was incorporating FCML's extensive product range without it being overwhelming—and yet ensuring each collection shines individually. "We worked on each level to ensure that it can be experienced individually with its own distinct identity and yet maintain a narrative that transitions seamlessly from one level to the other," she explains.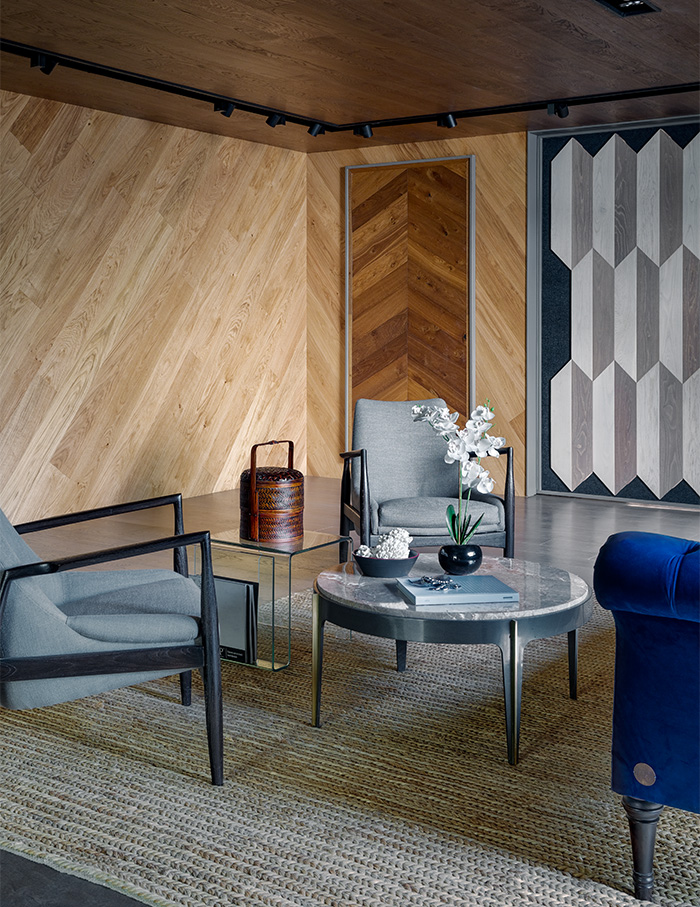 "In a store of this size, keeping it interesting and engaging enough for customers to want to explore all 12,000 sq ft of it, involves several factors. Visitors tend to recall the little details, the layering, the accessories and the varied material palette. We always try and keep that interesting but, more importantly, the hidden heroes are the spaces that also let you pause and reflect. The 'negative balance' is just as important," divulges the designer.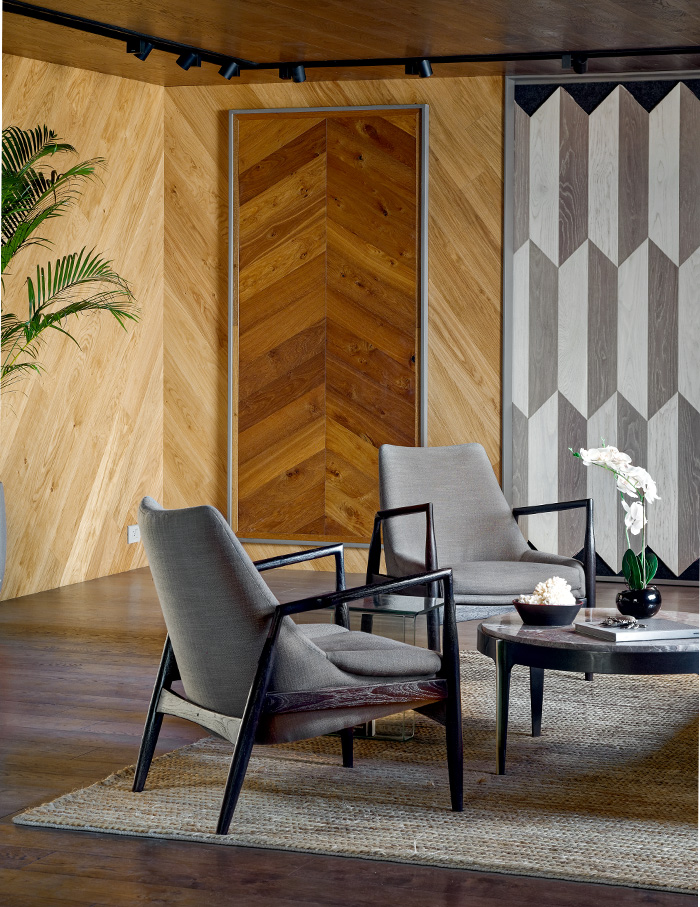 When asked about her favourite part of the store, Kamdar was quick to respond: "I have several—one on each of the floors—and all of them are the windows that frame the gorgeous trees! But if I had to pick one, it would have to be the Devon bathtub with its stunning backdrop of floor-to-ceiling window overlooking the trees, a deep green velvet chesterfield sofa next to it, and a wall of books and objects of curiosities behind it. It's the perfect spot to light candles, listen to a playlist of your favourite songs, and indulge in tea or bubbly drinking rituals!" Website: www.fcmlindia.com
Scroll below for more images of the FCML store in Pune by Vaishali Kamdar…