Homes
UA Lab renders an architectural symphony with the seamless Gable House
JUL 5, 2021
| By Vedika Nair
When a cul-de-sac often feels like a dead-end, UA Lab's (Urban Architectural Collective) Krishnakant and Vipuja Parmar surprise us with an arresting abode, christened The Gable House. Tucked away in the corner of a dense urban residential neighbourhood, this 4,000 sq ft home in Bopal, Ahmedabad is a reflection of modern architecture.
Moulded in a delicate scissor truss made out of mild steel against a simple bold RCC tower, the structure displays contrasting elements and makes for an alluring façade that sits in an open green space.
What looks like a refined grey geometric structure against the backdrop of a soothing blue sky, is The Gable House, offering us a rich variety of spaces. Well integrated with each other, every corner of the home allows a different experience during any hour of the day, in every season.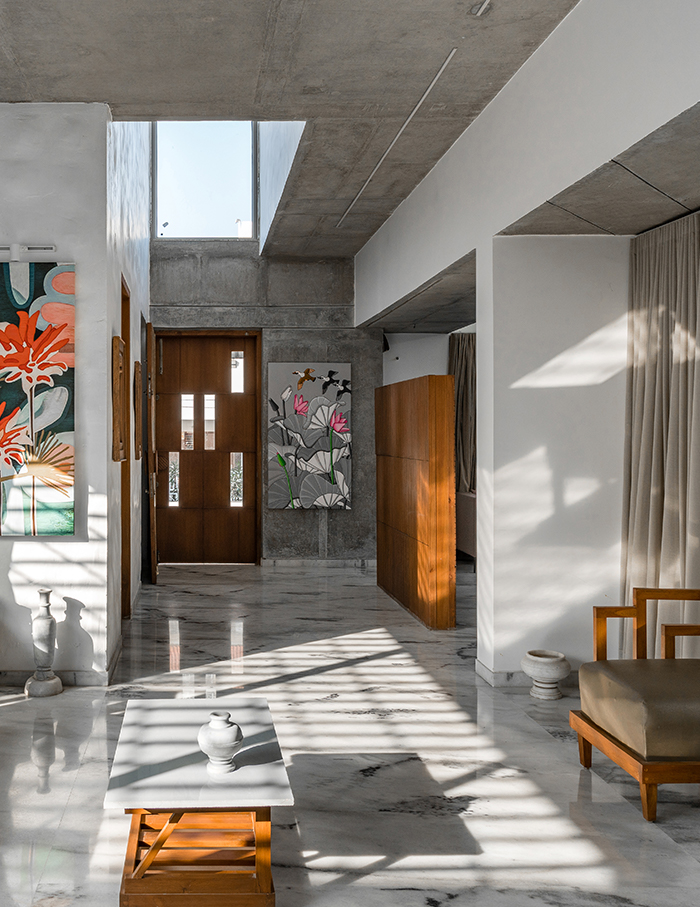 "From day one, the idea has been very clear. We wanted a house with very minimal materials and a rich experience of the inner space," says Vipuja as she walks us through the cove. A low height gable roof and a narrow vertical double wall heighten the entrance.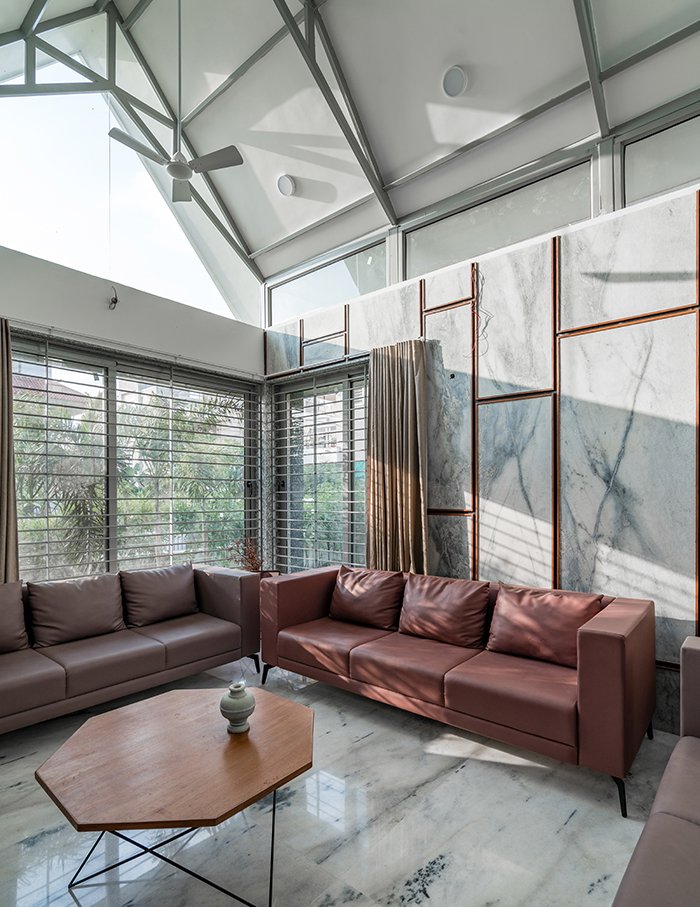 A tactfully designed scissor truss with sleek mild steel members holds the roof above and the living space below. Interconnected spaces and volumes define the home's layout making all the areas free-flowing within one another.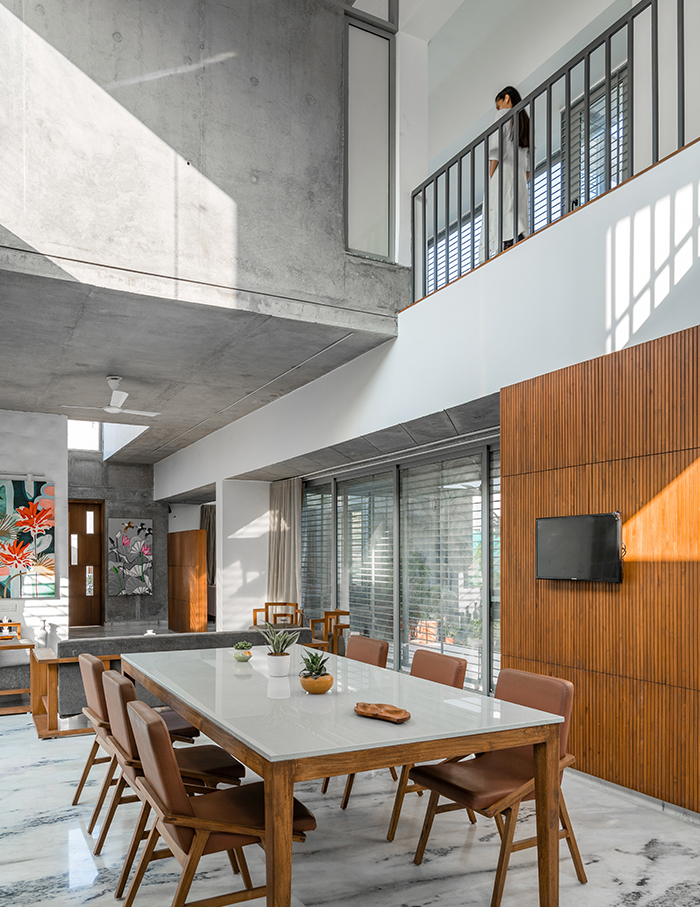 The formal living room and bedrooms are housed on the first level and hold the gable roof. Divided into two separate blocks the residential area features plastered and white walls, keeping in line with the minimal aesthetic. The garden and courtyard are seamless and add a pop of verdure against the home's grey palette.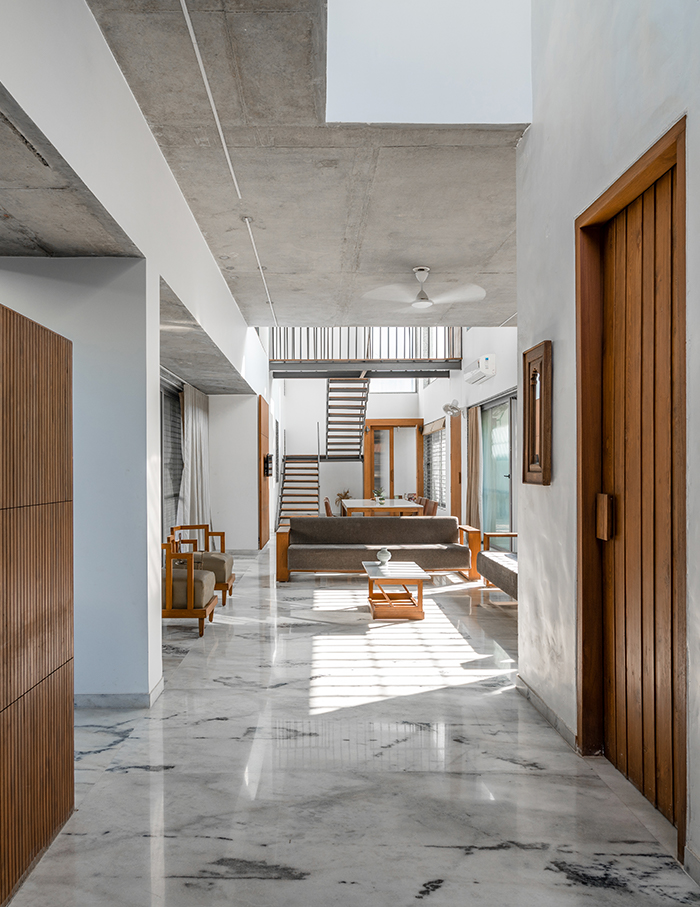 Defining the living and dining room is a middle height double volume, sandwiched between two open spaces and provides ample cross ventilation. Natural light filters through the panoramic windows and illuminates the intricate wooden influences.
"We developed a layout with open spaces running parallel to the indoor residential areas. This also allowed for maximum daylight and provided better cross-ventilation opportunities. We have provided a deep verandah and cavity walls to the southern façade of the building. The North courtyard acts as a cross-ventilation zone during the peak summer because of the breeze from southwest sides," concludes Parmar.
Scroll to see more images from The Gable House…