Trends
#TrendAlert Versatile: Spruce your homes with accents that are flexible and multifunctional
SEP 4, 2020
| By Sonia Dutt and Sakshi Rai
Charles Darwin's famous words—"It is not the strongest of the species that survives but the one that is most adaptable to change"—echo loud and clear amid the ongoing pandemic. Having reshuffled our old routines and lifestyle as well as shaped new ones, the situation has definitely taught us how to adapt and optimise.
And with us, our spaces have evolved as well. With minimal and compact settings fast becoming popular, we bring to you a range of versatile products and concepts that combine diverse functions and utilities and are sure to enhance your home. PLUS, we have a special surprise for you—read on and you'll find a gift awaits you! Style and Trend Prediction by Sonia Dutt. 
Grow Up Light-Bench by Kwon Jae Min
The Korean designer's organic-hued, solid ash wood seater is almost poetic in its form. Its slender shape branches out to an attached overhead lamp, making it an ideal two-in-one addition. Website: www.kwonjaemin.com
Vintage design dining pool table from Fusiontables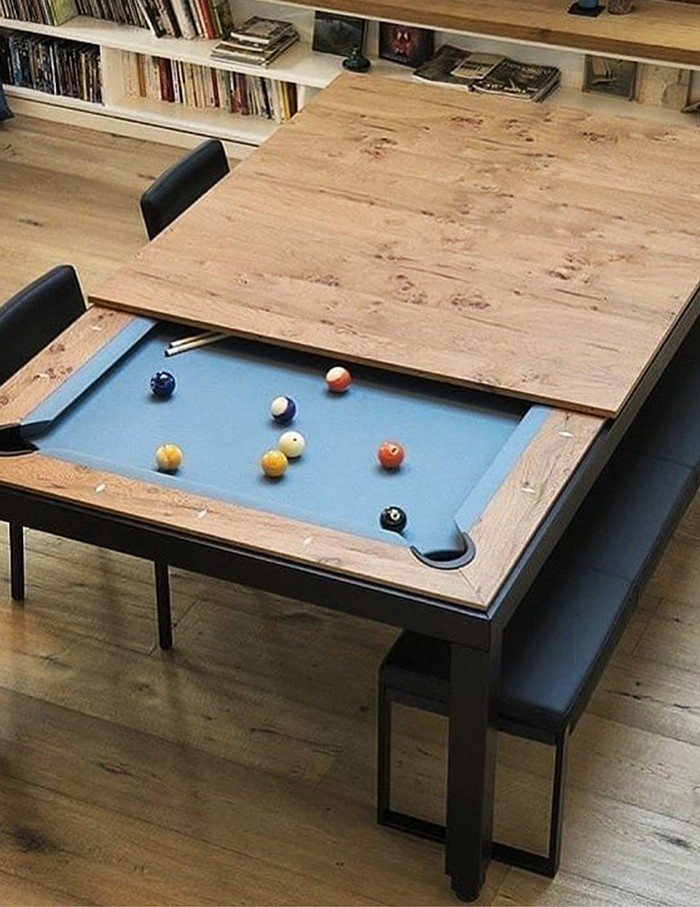 Part of the New Vintage collection by this Belgium based practice, the table delights with its dual functionality. What appears to be a chic countertop—reclaimed oak panels encased in a metallic frame—at first glance gives way to a playing surface underneath with a powder blue Iwan Simonis cloth (see below). Website: www.fusiontables.com
Bluetooth Wood Speaker Stand from Victrola Social
This New Jersey based, classic turntable manufacturer's new speaker stand lets one stream music from a distance of up to 33 ft. Additionally, the accent also serves as a side table for trinkets and has inbuilt dual USB ports for easy device charging. Website: www.victrola.com
Adler table from Draenert
Designed and conceptualised by Dr Peter Draenert over 25 years ago, the iconic Adler table remains a statement decor addition till date. The boat shaped dining table comes with a swivelled natural stone top as well as an easy expansion mechanism that's best suited for those who believe 'the more the merrier'. Available at Plusch Living. Websites: www.draenert.de; www.pluschliving.com 
Chiva functional coffee table by Morten Georgsen for BoConcept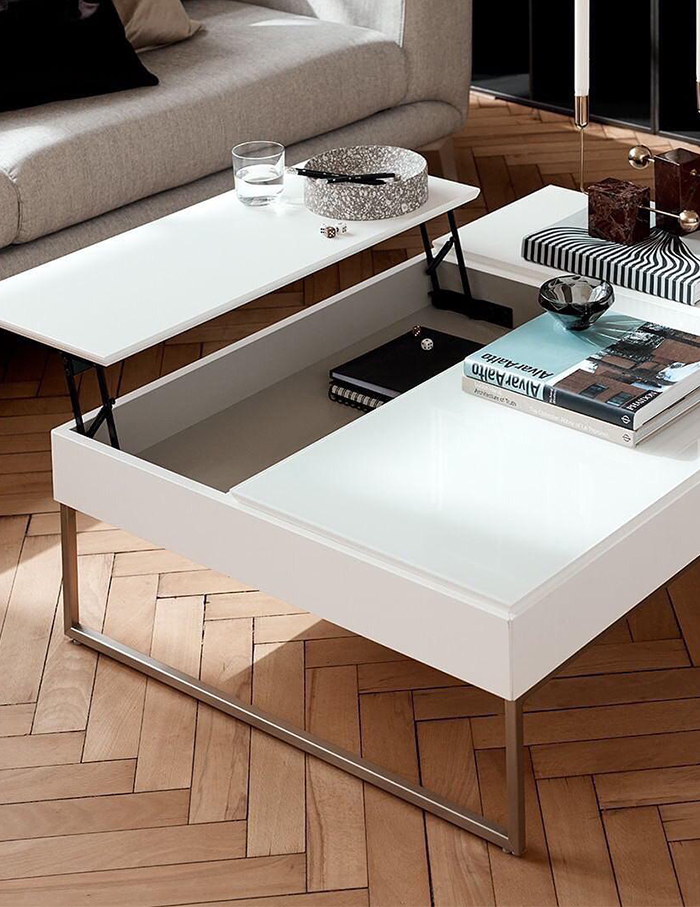 The Danish designer and brand together present a visual and functional treat in the form of this coffee table that's perched on slender, metallic legs. Its low lying, casual setting comes with sliding tabletops that can be elevated as desired. Plus, we love how the design also integrates storage space, ideal for remotes, magazines, chargers and cables! Websites: www.mortengeorgsen.com; www.boconcept.com 
Nightingale Pouffe-Cum-Table by Nivasa
This design by the New Delhi based label can be used as a compact seater or a handy accent table. Since its top is a removable lid-like surface, this is a two-in-one design that paves the way for uncluttered surroundings. Website: www.nivasa.com
Alcova Wardrobe by Tumidei
Bridging the gap between a seat and a bed, the Alcova Wardrobe by the Italian firm, offers numerous storage solutions and configurations. The Murphy bed can be customised with a closet at the back, hinged and folding glass doors or even an open bookcase. Available at Ottimo. Websites: www.tumidei.it; www.ottimo.in 
Raventown home office furniture for Ashley Furniture Homestore
With sleek forms and weathered textures, the series is designed to be used in collaboration or as standalone pieces. While the table has a nickel-tone finished metallic base and the bookcases have a wire-brush gray-brown coating, both are made using engineered wood and pine veneers. Available at Dash Square. Websites: www.ashleyfurniture.in; www.dashsquare.com
Studio Y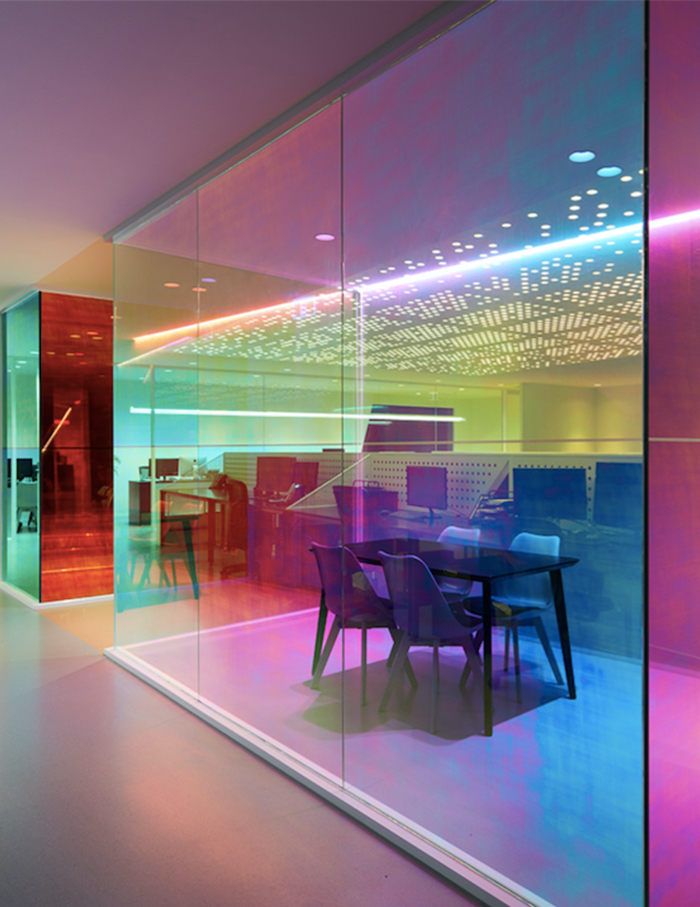 The Australian interior design studio curates a bold, interactive workplace for lighting consultancy Ambience's office. Centred around optical prisms, which scatter light into their constituent spectrums, these playful patterns and colours illuminate the entire labyrinth-like workspace. The hues are programmed to change along the course of the day and look different from every angle. Website: www.studioy.com.au
My Old New Series by Tatiane Freitas
Adding a new spin to the traditional Japanese art of Kinstugi, the Brazillian creative moulds a bespoke series of wood and acrylic fused furniture (and calls it 'Budget Kintsugi'). The two very different materials have been combined to create classic accents in styles that are both antique and contemporary. Website: www.tatianefreitas.com
#ContestAlert Eclipse tableware range from Ellementry

Floral silhouettes as seen during twilight serve as the inspiration for this set of four ceramic snack plates from the home decor brand. The layer appearance of these botanical motifs is achieved using a double glaze technique, lending a mystical greyish hue. Serve tapas in them the next time you're hosting or use an arrangement of the set as wall decor accessories. Website: www.ellementry.com
Participate in a contest on ELLE DECOR India's Instagram page here and you could win a set of Eclipse tableware in two easy steps!